Angus Cloud and Rockstar Energy pulled up to ComplexCon this weekend to drop a limited-edition Billionaire Boys Club collection. Angus served as the Co-Creative Director for the exclusive capsule, with 100% of the proceeds being used to support local artists in his hometown of Oakland, California.
"It's a blessing to be able to give back and support art for the youth," said Angus Cloud. "It shows you that anything is possible."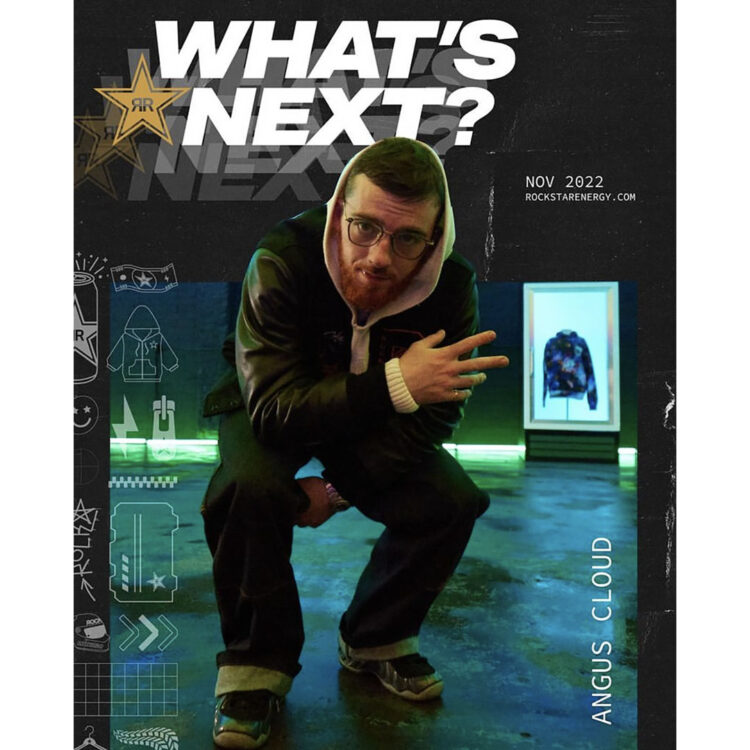 As a longtime fan of the luxury streetwear brand, Angus was eager to work BBC's Creative Director, Joseph Au. The collection included a hooded sweatshirt, graphic t-shirts, trucker hats, and special collector pins representing Angus' story and his partnership with Rockstar Energy.
"It was cool to partner with Angus Cloud, someone who is really passionate about fashion and is an inspirational force," said Joseph Au, Creative Director of Billionaire Boys Club. "We wanted this Rockstar Energy collection to represent what can happen when you are open to new things and experiences."
Billionaire Boys Club was founded by in 2003 by Pharrell Williams, so it was important to Angus that he delivered a capsule that lived up to the legacy of the brand. The audacious and grandeur aesthetic of BBC inspired Angus' approach, with Rockstar's "Fuel What's Next" mentality giving him the creative energy he needed.
"I've always been fascinated with fashion since I was young, so I was beyond excited when Rockstar Energy brought this collab opportunity to me," said Angus. "After sitting with Joseph from Billionaire Boys Club to brainstorm the designs, we found inspiration in not being limited or afraid to take an unconventional route in life. To me, this collection is about learning through experiences and always asking yourself what's next and trying something new."
Standouts from the collection include the Billionaire Boys Club hoodie with star-studded sleeves and Angus' doodled dollar-bill tee that features BBC's motto on the back — "Wealth is of the heart and mind, not the pocket." This ethos inspired the 510 tee, which is the area code for Oakland and shows love to Angus' hometown.
"I like the hoodie the best, but I had to shoutout 510," said Angus. "The whole collection is great quality. It's really soft, real proper. On the back of the hoodie, they put my clouds, stars, and rocketships. They took my all ideas and brought them to life. It's crazy."
Angus felt that his ideas were championed by the entire team and found it easy to work with Joseph saying, "He's a real professional guy. He knows what he's doing. I got to learn a lot from him. It was a pretty quick process from sketching ideas to talking with Joseph, and then the hand-drawn stuff. They took those and scanned them, then made it happen."
As for what's next for Angus Cloud, he feels that sky's the limit and nothing can hold him back.
"It's a trip. I would not have imagined this. I'm a creative dude, but it's all up in the air. It's in the universe. It's all up to you, you can create anything."
Check out the limited-edition Angus Cloud x Rockstar Energy x Billionaire Boys Club Collection below. Follow @AngusCloud, @RockstarEnergy, and @BBCicecream_US for other behind-the-scenes looks.
For sneaker news and release dates, follow @NiceKicks on Instagram.