Adidas in the earliest moments of 2019 has struck a chord that serves as the initial basis for what helped restore their success back in 2014. With styles like the ZX Flux and the Tubular series that would follow soon thereafter, the German company found a balance between archival aesthetics and modern-day sentiment that resonated heavily with sneaker purists and the far less culturally conscious consumer alike.
That union of time and space which ignited restoration in 2014 has been seen again in the earliest moments of 2019. Earlier this month adidas debuted one of their most exciting sneakers of the young year — the FYW S-97, largely a modern take on the elder adidas Salvation.
Now leaning on the foundational principles of the ZX series, the Originals label debuts its forthcoming ZX 10000C.
An answer to the lingering question of what would come after the beloved ZX9000, the adidas ZX 10000C was crafted in close consultation with the original designer of the ZX range and Torsion technology, Jacques Chassaing. His closeness to the origins of this series informs the relatability in this budding design. Chassaing keys on the design importance of the series that ran between 1984 and 1989, before later being replaced in 1991 by the equally influential Equipment line.
Retaining the Torsion system made famous in the mid-'80s, contemporary tooling partners with elder adidas tech to ensure that specifications are on par with the industry standards of today. In addition, mesh underlays are fused alongside synthetic suede overlays to enforce an air of elegance seen through subtlety. Its aqua, orange and neutral color language speaks to the nostalgia of the silhouette's starting position, marked by an era of old where coloring was of a similar volition.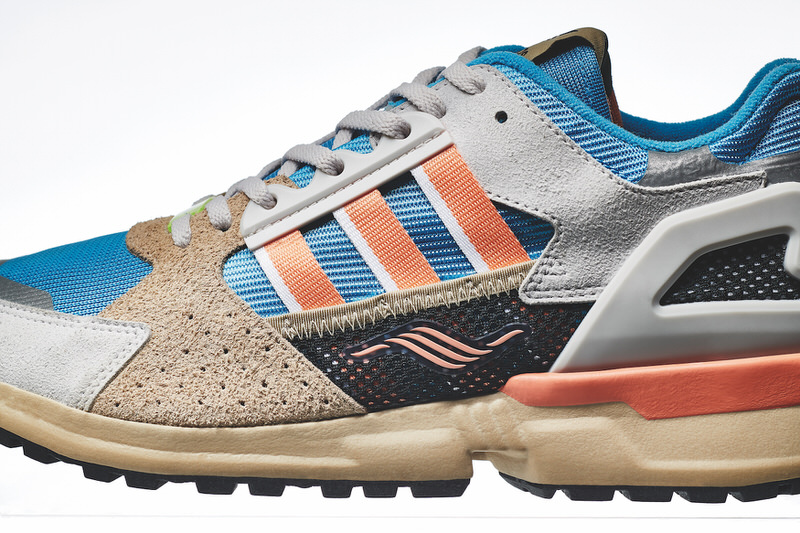 Continuing as a representation that adidas is looking to its history to add texture to its present, ushering in these releases through the Originals line at Consortium retailers places an emphasis on both heritage and quality.
The adidas Consortium ZX 10000C will be available on February 23rd at select retailers.