When it comes to sports, a lot of times the path to greatness is less like an old town road and more like gps-navigation with turn-by-turn directions.
That's why it was no surprise to most basketball fans that after Zion Williamson basically windmilled his way to internet superstardom and a #2 overall national ranking according to ESPN, his decision-making thereafter followed a tried-and-true roadmap.
First on that list, of course, was taking his talents to a top college basketball program to not only elevate his exposure, but also up his game under the lights of Cameron Indoor Stadium and the tutelage of Coach K. So, step 1, check.
Arriving at Durham was just the start of the trek, as Zion's next necessary step was to live up to the hype. And after racking up a litany of hoops honors and being instrumental in the Blue Devils Elite 8 berth in the NCAA tournament, his mission was moving. Step 2, check.
Making great time in only a few months on campus, Zion was already hoisting the Wooden and Naismith Awards as college basketball's most outstanding player, while being touted as having the most nba-ready physique since LeBron James. By now, you already know what was next up on the docket. And on April 15, 2019, just a week after the conclusion of the college basketball season, Zion crossed another item off his glory grocery list by declaring for the 2019 NBA Draft, where he's all but expected to be the top pick. Step 3, check.
Like I said before, when you're at the top of the game looking to the top of the mountain *wink*, what's a chess move to others is more like playing connect 4.
And coincidentally, that brings us to what is very likely the most uncertain decision Zion has had to make in his young career: deciding on what sneaker brand to sign with on an endorsement deal.
Ordinarily, for your standard run-of-the-mill top-tier lottery pick, oftentimes, what logo they sign with is largely decided by how many dollar signs are attached to it and their personal familiarity with a particular brand.
With Zion, those things are definitely a factor, but are lessened by the fact that, frankly, Zion is a tremendous transcendental talent, whose personality is nothing less than a gravitational force. Basically, Zion is Bo Jackson on the basketball court with Shaq's smile. All of which adds up to someone who would most definitely be the face of a brand from day one and years to come, with Sonny Vaccaro, the famed former marketing executive with Nike, Adidas and Reebok, quoted in a piece by ESPN's Nick DePaula as saying "Zion has made me feel like it's 1984…I'm serious." Referring back to the year Vaccaro famously gunned for Nike to throw the bank at signing Michael Jordan for $500,000 a year, which at the time was the Swoosh's entire athlete budget.
While you'd think things have changed since then, the stakes have only gotten higher as the last time we saw a rookie sneaker free agent of this caliber, LeBron James in 2003, REEBOK reportedly offered him a $100 million deal and a $10 million check if LeBron signed with the brand on the spot. With adidas initially offering 9 digits as well, before infamously lowballing the future legend. And as the story goes, LeBron went on to sign with Nike for a fully guaranteed $87 million that's now turned into a lifetime deal.
Given the nature of this industry, one would think Nike would be in the driver's seat this time around for Zion, but one could also argue they might not be the case due to the infamous incident back in February, during the biggest game of the Blue Devils' season. Zion's first matchup against the North Carolina Tar Heels, where he sustained a grade 1 right knee sprain in the first minute of play and was sidelined for 6 games, with the injury being largely attributed to his left shoe exploding while performing a routine basketball move. The shoe in question? A Nike PG 2.5 that may or may not have been specially engineered for Zion.
So, assuming Nike was the front-runner in the Zion sneaker deal sweepstakes, this unprecedented event could slightly throw a wrench in the Swoosh's campaign, serendipitously opening the field up at the time with arguably the most actually viable options to choose from.
Think about it. Aside from Nike and Jordan, Adidas is always a major player, Puma's disruptive marketing approach has made a huge splash over the course of it's basketball return, New Balance is riding a Kawhi wave that, for what it's worth, has led to sold out releases, and even in the case of Li-Ning, their wallets have opened up with D-Wade's timely retirement.
It's the perfect time for a lot of brands to throw their hat in the race, so we've ranked each brand that stands a chance at landing Zion, weighing their respective pros and cons, and in turn, giving you some insight and perspective on Zion's big decision.
NEW BALANCE
If Kawhi Leonard leaving Jordan Brand wasn't a shocker enough, his greener pastures being New Balance was an electric charge that unexpectedly jolted Newbie's back in the performance basketball sneaker ring, making them the most viable they've been since acquiring Matt Bonner. So, with the leanest roster of those in the running, Zion has plenty of space to be a major focal point for the brand.
That said, if we're basing it off of the way they announced the Kawhi signing and the marketing around him, it's wishful thinking to believe they'd do it big enough to match just how game-changing Zion would be for them if they could manage magnifying him properly, because straight up, they just don't have the track record.
UNDER ARMOUR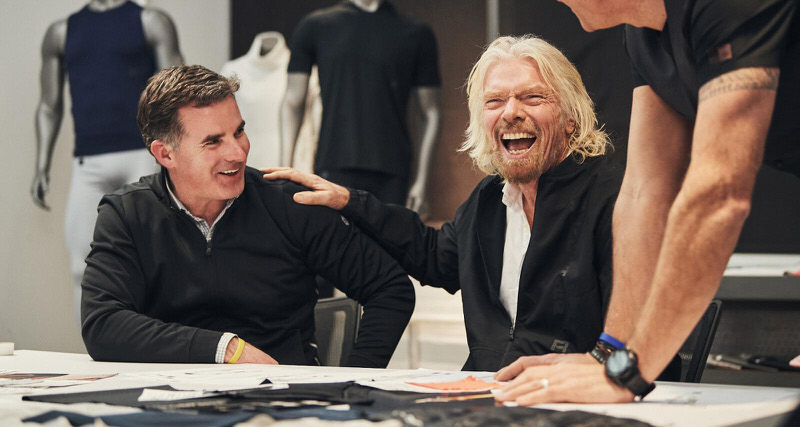 Where New Balance doesn't have the track record, Under Armour is a big step up in that department, as Steph Curry's signature line already has the Curry 8 in development, and a roster that includes Mo Bamba, Dennis Smith Jr. and the biggest sneaker contract for a big man in Joel Embiid. If Under Armour is looking for a second signature athlete that doesn't step on Curry's toes, it's Zion. And another thing that Zion has that gels extremely well with the brand is that he looks like a linebacker, straddling the fence in pushing Under Armour's basketball fast break in addition to tapping back into UA's roots being the ultimate weight room brand. And honestly, if they don't do that, they'd be dropping the ball AND the weights.
However, assuming Zion goes number #1 overall in the NBA Draft this June, and in turn lands in New Orleans, that city's small market in addition to Under Armour's reach in said city might not be the right fit to properly amplify Zion's marketability and locally grow UA as a brand.
PUMA
You know how Reebok missing out on LeBron James opened up the big bag for 50 Cent and G Unit? Well, how much money do you think PUMA was paying Kylie Jenner and Rihanna? There's a chance Zion Williamson might get to find out. With the heritage brand flourishing in the lifestyle space but out to high budget endorsers, maybe some of that money will be allocated to their booming basketball brand. Despite a strong roster only a season in, Zion would undoubtedly be the big dog if he signed with PUMA and their disruptive marketing style may be a match made in heaven for the biggest basketball star born in the digital age. On the flip side, Zion has never played in PUMA to our knowledge so familiarity is low. PUMA also hasn't put out a signature shoe for basketball since they signed and basically rented a rookie Vince Carter over 20 years ago.
After Reebok whiffed on LeBron James in 2003, a good portion of that 100-million-dollar bag was wired into 50 Cent's account for his exploits In Da Club. Now with funds freed up after a done deal with Rihanna, it's possible that budget might be reallocated to their booming basketball brand. Taking that into account, Puma can afford a lot of time and attention spent on Zion and given their disruptive off-kilter marketing strategy, Zion could draw major attention to the brand and vice versa, so it'd make for an interesting experience seeing what the form stripe folks cook up for the biggest basketball star born in the digital age. All of that is contingent upon Zion holding top priority should he sign with PUMA, and it would absolutely require a signature sneaker, as outfitting Zion in what everyone else is wearing (currently the Clyde Court Disrupt and the Uproar) most certainly would be more like a belly flop instead of the tidal wave it should be. And Puma just isn't big enough in the public eye to maintain the market's attention otherwise.
ADIDAS
Adidas takes one of the top spots for a number of reasons. First off, Zion has more or less been an adidas fan from Day 1, dating back to his days balling in AAU for his hometown's South Carolina Supreme team, a squad sponsored by adidas. His love for the three stripes then extended into his prep playing days, often seen tomahawking in the Harden Vol. 1, with some folks within the brand pondering Zion being the one to debut the Harden Vol. 2 prior to its release. Then as a member of the Duke Blue Devils, a Nike-sponsored program, Zion was known to wear adidas when away from the hardwood, most notably in the viral instagram live video, while nursing his knee injury, donning a full adidas tracksuit. Given the fact that adidas has been in the running for big rookies in the past, they're most definitely a front-runner to land Zion, but just making it rain won't get it done.
It's 100% going to take a signature sneaker, especially after giving Donovan Mitchell his own shoe, but with James Harden, Damian Lillard and even Derrick Rose being signature athletes, in addition to Kristaps Porzingis holding the biggest bag ever given to a European basketball player, their roster may be crowded and their money may be tied up. So, unless they can find a clever way to get Zion involved with YZY BSKTBL, adidas's bandwidth and pockets might be a little stretched, as evidenced by letting at least 12 players go, including Joel Embiid, Andrew Wiggins, Harrison Barnes and Kelly Oubre Jr. Those aware of the brand's involvement in the FBI investigation into illegal payments at the NCAA level, might chalk adidas hitting the brakes on that situation, but regardless it's safe to say it plays a part in hindering the Three Stripes from going full speed ahead at landing Zion.
NIKE INC
It is what it is.
Nike's at the top of the mountain, and if Zion wants to truly summit his sneaker deal peak, it'll have to go through the Swoosh. Yes, his shoe exploded, making for the biggest kick story of the year, but letting Nike make up for it with a damn near indestructible signature, and marketing it as such, would be epic. Yes, Nike has a stable of signature athletes, but with ? of the league wearing Nikes and 4 out of 5 top-selling signature sneakers being either Nikes or Jordans, they have more than enough cash to devote a WHOLE DIVISION to Zion. And if those cons prove to thwart Nike's push for Zion, they have an ace in the hole.
Don't just sign Zion to Nike, sign him to Nike Inc.
By that, I mean, give him access to not only Nike signatures, but also Jordans, both new models and retros, and since Converse is also owned by Nike and getting their feet back on the hardwood, let Zion's aura shine over every model Nike Inc is trying to push but outfitting him in a bezy of PEs spanning the full range of what the brand has to offer. Every brand is going to put money up, that's a given, but this is a power move that only Nike could flex.
Zion's next decision on his path to greatness might not be that hard after all.