The luxury outdoors brand Moncler teamed up with the leader in 3D printed footwear, Zellerfeld, to produce a limited 3D-printed run of the brand's signature hiker, the Trailgrip sneaker. Utilizing a mono-material design, the shoe offers a unique aesthetic to Moncler's product offerings while also offering significant environmental benefits.
Zellerfeld produced the shoes from its farm of several hundred custom-built 3D printers in Hamburg, Germany. The company's technology presents a revolutionary shift to footwear manufacturing.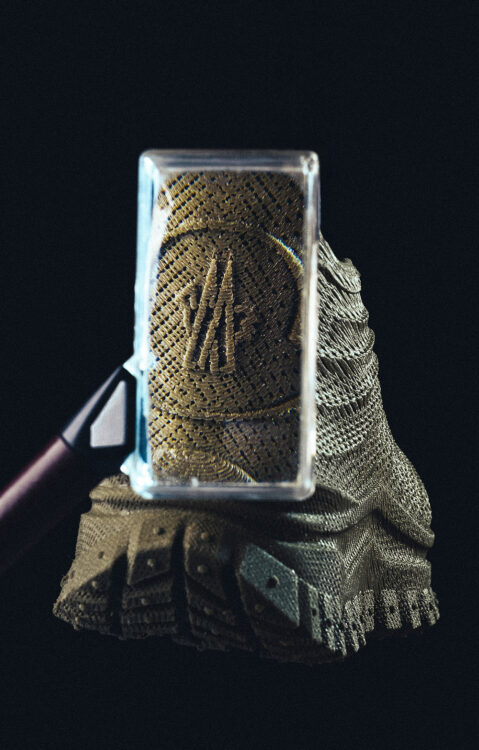 Moncler's Zellerfeld-manufactured shoe is crafted from a recyclable mono-material, aligning with both brands' commitment to sustainability and eco-consciousness.
Cornelius Schmitt, Co-founder and CEO of Zellerfeld, commented: "We are honored to partner with such an iconic and visionary brand.
"As Moncler's first venture into 3D-printing, this collaboration serves as a monumental moment for the footwear industry and further underscores the significant shift brands are taking to break away from the conventional factory manufacturing process. Luxury fashion houses like Moncler are driving the future of fashion by embracing 3D-printing production models as the new standard."
The Moncler Trailgrip 3D sneaker will be presented in the brand's Paris footwear showroom that houses its latest innovative designs, Studio Ascenti. The Zellerfeld-produced shoe will be in good company with Moncler's collaborations, which include Adidas Originals and Salehe Bembury.
The Moncler Trailgrip 3D sneaker will be presented in the new edition of Studio Ascenti, Moncler's footwear showroom in Paris that houses the brand's latest innovative design. The limited edition release will be exclusively reserved for Moncler's global footwear community members.
While the Moncler Trailgrip 3D sneaker will not be available to the general public, the collaboration between the luxury brand and Zellerfeld should provide a glimpse what the future holds for 3D footwear.