Nike continues its defense of its trademarks including the trade dress of the Nike Air Force 1, Air Jordan 1, and the Nike Dunk in a lawsuit filed on January 25 against BAPE, accusing them of producing look-a-like shoes.
BAPE, also known as A Bathing Ape, was a pioneer in the Japanese streetwear scene in the early '90s and expanded with footwear at the turn of the century. For more than two decades, the BAPE STA (which is alleged to be a copy of the Nike Air Force 1 Low) has been a mainstay in fashion & culture alike due to its shooting star-like logo, eye-catching patent leather, and variations of colors that distinguish itself in the competitive footwear space.
According to court documents, the trademark infringement lawsuit goes after the brand as Nike states that "BAPE's current footwear business revolves around copying Nike's iconic designs."
The lawsuit is the latest from the Oregon-based brand as the Swoosh has been aggressive over its trade dress with lawsuits ranging from Warren Lotas, John Geiger, Kool Kiy, Omni in a Hellcat, Li'l Gnar, and others.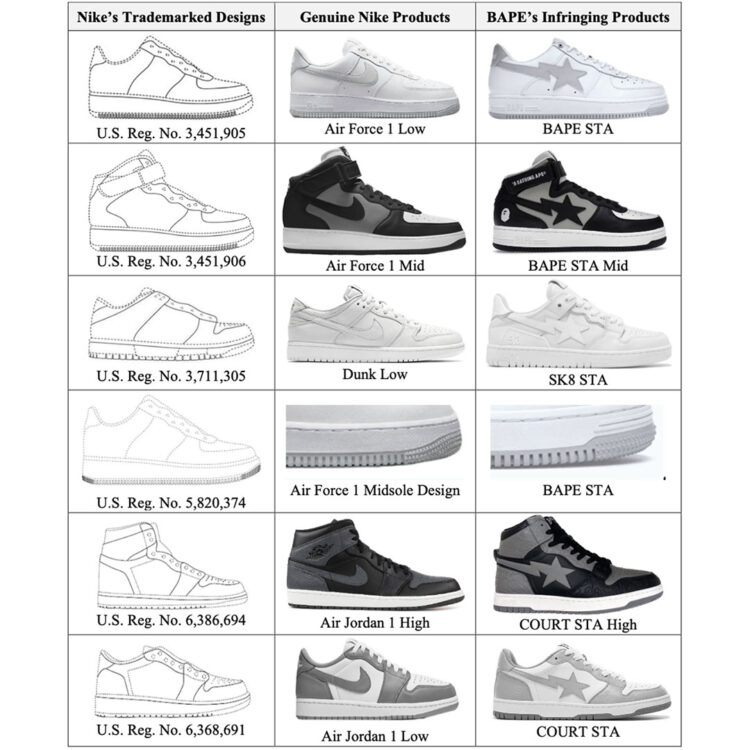 In the complaint filed on January 25, Nike issued a trademark infringement and violation over the BAPE STA Mid, SK8 STA, COURT STA High, and COURT STA, which the brand claims are "near verbatim copies" of the Nike Air Force 1, Air Jordan 1, and the Nike Dunk.
For years, Nike and BAPE's overlapping models have existed in the marketplace as the Swoosh indicated that its limited availability and the minimal amount of physical presence in the U.S. as the shoes in circulation were "never more than a small fraction of the millions of pairs Nike sells annually," the brand said in court documents.
BAPE drastically increased the volume and scope of its infringement.

After a five-year period where BAPE sold a redesigned version of the BAPE STA in low volumes, BAPE returned to its initial infringing BAPE STA design.

Nike, Inc. via court documents
Nike goes on to state that BAPE increased its production and opened several U.S. storefronts beginning in 2021. Additionally, the lawsuit states that Nike notified BAPE of the ongoing infringements and asked the company to stop. BAPE, however, did not comply.
Nike asks BAPE to account for all of the profits earned over the trademark-infringed shoes and to "award three types the amount of compensatory damages and increased profits."
Keep it locked on Nice Kicks on Instagram as the story develops.