interview by Nick DePaula & Ian Stonebrook
You won't confuse Will Barton with any other player in the NBA and he wouldn't have it any other way. Every bit an individual while every bit a team player, the Baltimore product is the perfect walk-it-like-he-talks-it endorser for Baltimore's product: Under Armour.
While at the Las Vegas launch for the HOVR Havoc, we spoke with the Nuggets swingman about his new starting role, taking the game seriously while still enjoying it and how a pair of Currys convinced him to sport another star's signature.
Just not against him.
See what Will had to say below.
Nick DePaula: You're from Baltimore, and you've really been on a journey in the league with the brand, growing all at the same time too.
Will Barton: We started from the bottom, and now we're just elevating and getting bigger and bigger.
NDP: You've worn a ton of shoes over the years, what've been some of your favorites along the way?
WB: Last year, I was surprised, because I really liked the Pi 5 Stephs. I was so against it. [laughs]
NDP: I was talking to Stoney [Kris Stone] and he said, "You know, Will doesn't wear another guy's signature shoe." What went into that?
WB: Nope! [laughs] When they first were about to drop, I had seen a picture of them, and I said, "They're kinda dope!" [laughs] At first it went from being curious, to then, "How do they feel?" I hit one of the reps up and told them to send me a pair. I just was messing around on an off day and working out in them – "They feel pretty good!" [laughs] I said, "Ok, you know what, I'm gonna try something." Like you said, I'm so against it. I'm against wearing guys' shoes. I'm not a fan of it. I wore 'em, and I liked 'em. [laughs] So I wore 'em for the rest of the season.
NDP: Have you ever talked to Steph about that?
WB: Nah, I haven't, but people that know me, know that's my thing. I've known Stoney since I was in high school, and he always was trying to get me to wear different signatures. I'd say, "I'm not doing it!" It's nothing against Steph at all, that's just for any player.
Ian Stonebrook: Does that carry over into off the court too?
WB: I ain't really trying to wear nobody's shoe ever. [laughs] That's just something that, I don't know why, but there's something wrong with it when you go against guys. Gary [Harris] on my team wore Paul George's last year – and those shoes are dope and he killed in 'em, but no way.
NDP: Mirotic on New Orleans was asked about playing in KDs versus the Warriors in the second round, and he said, "Man, they're comfortable though."
WB: Oh, I couldn't do that. I was thinking about that. [laughs] If we played the Warriors in the first round, even though I'm liking the 5s, I'm not gonna be able to wear those. I would've switched. [laughs]
NDP: Since you're able to make your own PEs and individualize your shoes, what are some things you always want to incorporate?
WB: Just my logo, and anything that's close to me and my family.
IS: When you talk about identity and not wearing someone else's shoe, how much does that come down to your pride and not wanting to be mistaken for anyone else?
WB: Having a strong sense of wanting to be different and be my own player and my own man. I don't want to be like anyone else. When people ask me who I play like, I don't have any answer but me. I think it shows. I don't want anyone to define me by the way I play, and that was my whole thing. That's why a lot of fans like me, and they'll say, "He's creating his own wave and it's cool." Not everyone can be Kevin Durant or be Steph or LeBron, but you can be the best you. That's what I'm trying to do.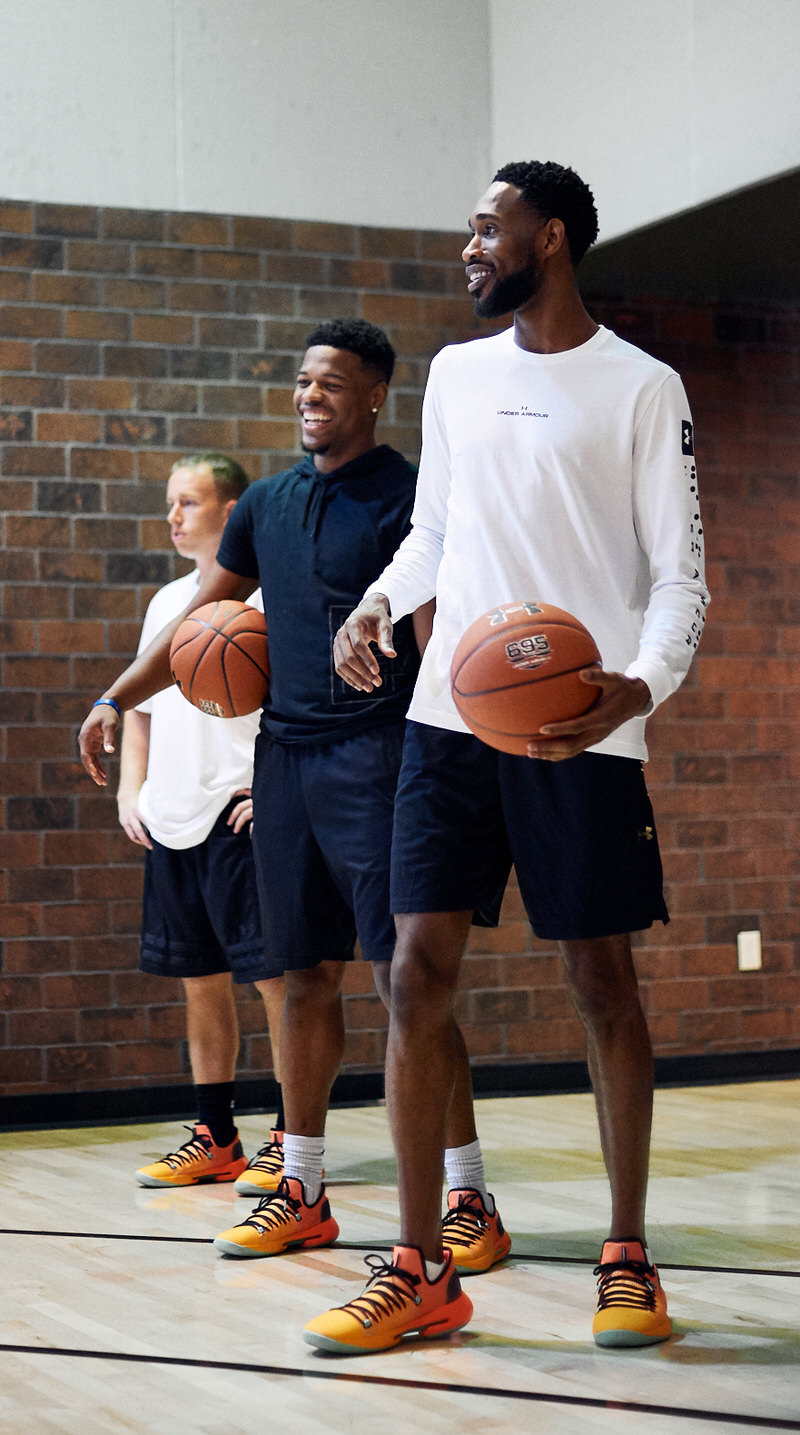 NDP: What are some of the things you're doing in Baltimore? I know you've been super active with your team and in your hometown mentoring the next generation of kids.
WB: I live there in the offseason. I try to teach them little stuff, and when I play, I don't care if it's against an NBA superstar or my own AAU team – when I step on the court, I'm going to play. I try to teach them that. That's how you really get better at the game, is taking it serious all the time. You can always find a player, where if he's playing against LeBron, he's really playing hard. It's hard not to play hard against him, but what are you playing like against someone that's not known?
That's what separates the good from the great players. Guys that make it to the league or don't. When I come to the gym with my team, people are going to play hard against me, cause they see me on TV all the time and I'm known. Why not play that hard when it's against your peers? That's what's going to take their game to the next level. That's hard for a kid to understand. That's what I try to drill into their heads – it doesn't matter who you're going against. Just be you and play hard. Don't try to be cool, 'cause that's not gonna get you nowhere.
IS: It's an interesting dichotomy too, because you also play the game with a lot of joy. You can tell that you're happy to be out there.
WB: At the end of the day, it's a game, and it's what I'm good at. So I'm always going to have fun with it. I'm not playing good when I'm not having fun. At the same time, I'm serious in the aspect that I'm competing, I want to win and I want to build my own. You're gonna respect me after I play against you. Around the league, any time guys bring my name up, they respect my game. It's never been about fame or fortune – it's about winning my peer's respect when they go up against me. When you look at the schedule, they know when they see Denver, "We got Will Barton tonight – it's going to be a long night." [laughs] If you ain't ready to play, I'm gonna come at you all night.
IS: It's been like that since jump for you. Is that a bit of the Baltimore in you?
WB: Yeah, and when you're always the underdog, I feel like I'm living in a movie, because I've already played my role so many times. In High School, I was an afterthought. Then, I got ranked top 10 in the country. I had stalled in college and people forgot about me, and I slipped and went second round. Got to the NBA and started off slow, and now, time and time again, I've lived this role that I'm playing and I know how to play it.
NDP: Jamal Crawford always had this great line about being a star in your role. This season, that role is really going to be different and expanded with Wilson [Chandler] being traded. What are your expectations for your new role and the season ahead?
WB: We came down and just missed the playoffs – one game out. We had a good season and missed it, so the playoffs has gotta be our next goal as a team. For me, keep demanding more from myself. I went from being a rotation guy to the 6th man, and now I'll be a starter. I need to keep wanting more for myself and setting high expectations for myself. That way, I'll always be expecting more than everyone else. People were saying, "You'll start now!" Well, I already thought I was a starter. [laughs]
IS: Back to shoes real quick. The Nuggets have some new colors for the season and are going back to the navy and red accents. How will that change what you're wearing on the court?
WB: Red is my favorite color, so I've gotta really come with it with my sneakers now.