With six Grand Slam titles already in the books, Serena Williams looks to clinch her seventh title at the US Open in 2018. Aside from a buzzing subject in the tennis community, she's also become a popular topic in the footwear community as well – mostly thanks to her recent collection with Nike and OFF-WHITE, which entailed a series silhouettes for both on the court and off.
With the US Open final taking place on Sunday, her recent collection has also made her a relevant talking point for our What's in their Wardrobe? series. And with '90s track and tennis attire becoming so popular in streetwear right now, this feature will reinforce the meaning of pushing the limits and breaking the norm.
Queen's Court
With more than 20 singles Grand Slam titles to her name, it might make sense that Serena Williams can be seen wearing lots of tennis apparel and footwear. And even though style is enough to earn you points off the court, a little bit of performance technology just might make the day on the court a little bit easier, especially since everyone else wants that number one spot. Serena has shown an array of apparel style over the years, ranging from bright and technical to classic and minimalistic.
Last spring, she pushed the status quo of tennis attire much like Andre Agassi did in the late '80s and early '90s by breaking out her signature cat suit at the French Open – along with her exclusive NikeCourt Flare 2 of course. The French Open, AKA, Roland Garros recently issued a statement saying that they would no longer accept this sort of dress code. A risk worth taking and one that certainly paid off.
Serena has been redefining the limits once again over the course of this particular Grand Slam tournament, showcasing her Virgil Abloh designed tennis collection. Aside from the Blazers, Air Max 97s and her own signature shoes, Abloh also created the dress she's wearing which features an off the shoulder design with one sleeve that's been graced with a ballerina flare.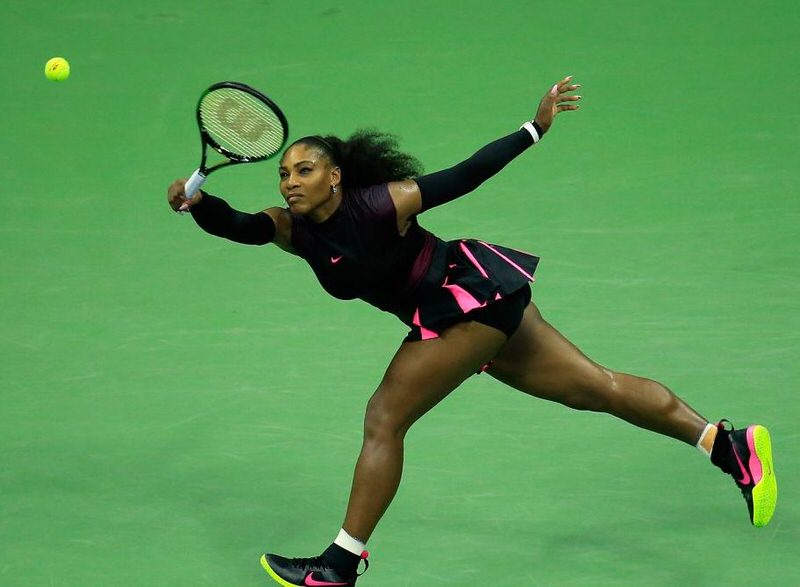 Acing Athleisure
Most often when Serena Williams is off the court and sporting popular sneakers, she usually has them paired  with just about anything Nike athleisure or workout essentials. Usually, these essentials consist of form-fitting hoodies with 3/4 length yoga pants with a pair of the latest Nike running sneakers. Of course, now that her OFF-WHITE collaboration is finally out, she's got a couple pairs of vibrant takes of the Air Max 97 and Blazers to work into the mix. Fortunately, Nike and the rest of the fashion community has some pretty wild color palettes right now that will match the silhouette with ease.