Over the weekend, the latest episode of Gilbert Arenas' No Chill Podcast – which is great, by the way – made headlines for an unarchived NBA story. However, it wasn't Agent Zero who was the subject of said story.
Telling tales of the Black Mamba, Gil dropped a gem about when Kobe Bryant and Michael Jordan faced off twice in MJ's last season in Washington.
"Kobe Bryant was a f**king psycho"

Gilbert Arenas tells us the story of what led to @KobeBryant scoring 55 against MJ and the Wizards that night ? Mamba was a sicko. More stories ??

(FULL EPISODE): https://t.co/2E42bQnNVh https://t.co/RnvfN5NCwt pic.twitter.com/mF4FybxueB

— Ball Don't Stop (@balldontstop) September 2, 2019
As the story goes, the Wizards beat the Lakers in their first matchup of the season with Mike throwing a jab at Kobe saying a statement to the effect that Kobe could wear Jordans but never truly fill his shoes.
Idols talking trash Kob, how do you respond?
Months later in LA, the Black Mamba put 55 on Mike and Co. for a 14 point win.
While the two clearly made nice at the 2003 NBA All Star Game that took place between the two matchups, Kobe's clearly cut from the same cloth as Mike in that anything said or done against him can and will be used as motivation.
A sneaker free agent during said season, Kobe made sure to wear Jordans against Mike each time they crossed paths.
As pictured above, Kobe wore his Air Jordan 7 PE in the first matchup where Mike won and made the seething comment.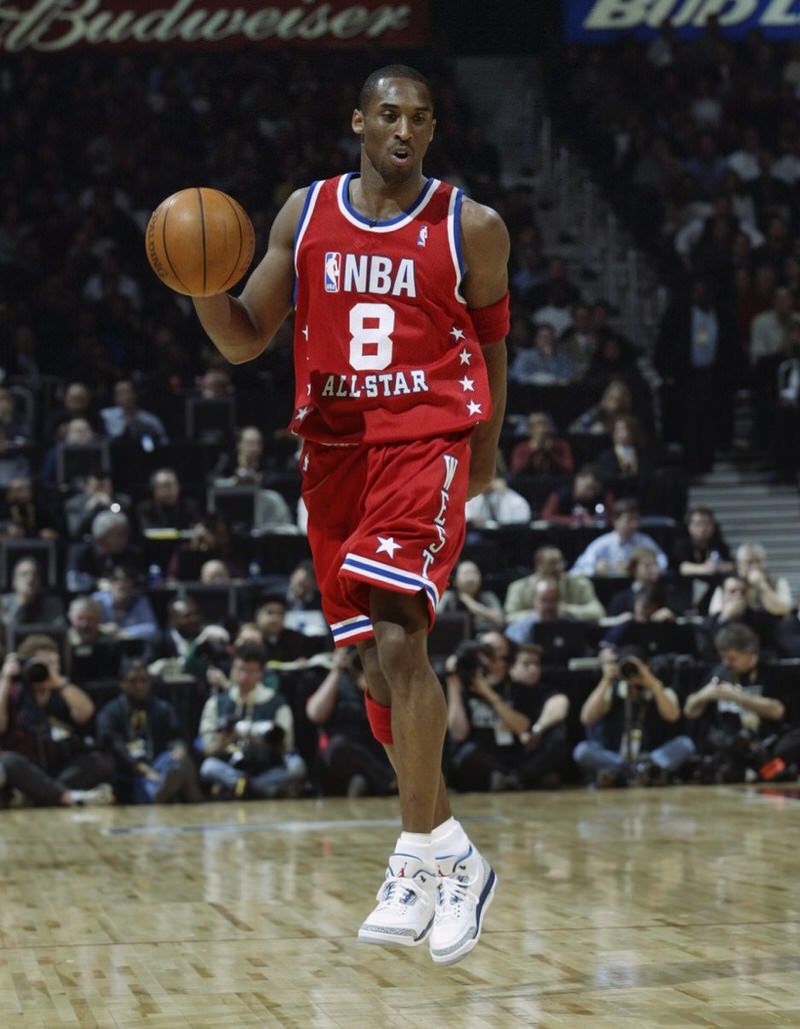 When facing off in Mike's final All-Star Game months later, Kobe honored his idol by wearing the "True Blue" Air Jordan 3s.
For the 'revenge' game and the two's final face-off, Kobe left a lasting impression by rocking his Air Jordan 8 PE at home for the 55 point finale for the constantly compared champs.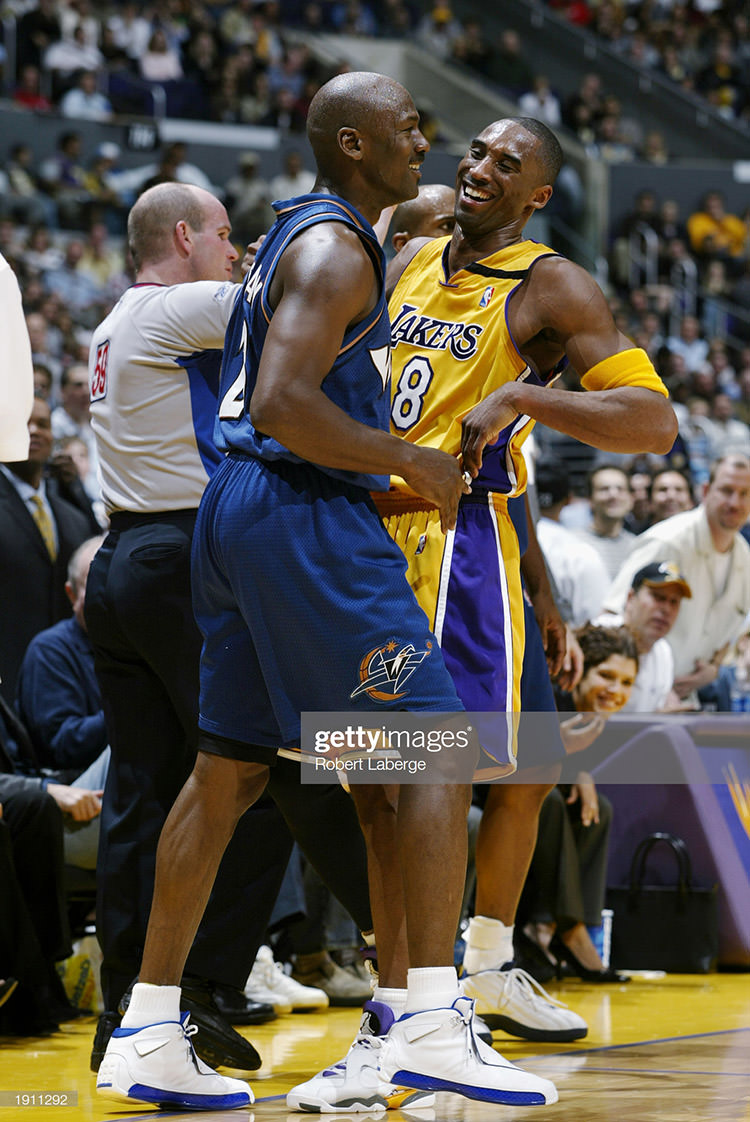 As expected, Kobe was all smiles in the press conference after the game.
Say cheese!
As time would tell, Kobe would ultimately sign with Nike rather than Jordan Brand after the 2002-03 season. Around that same time, it was even said that Kobe considered leaving the Lakers for the Wizards to play for MJ.
While that didn't happen, MJ and Jordan Brand did gift Kobe a complete set of Air Jordan PEs upon the Black Mamba's retirement. Jordan Brand even seeded its top friends and family Kobe themed Air Jordan PEs to include an homage to the AJ8 Kobe wore in the 55 point game.
Fittingly enough, Jay Z wore that pair to Kobe's last game as a Laker.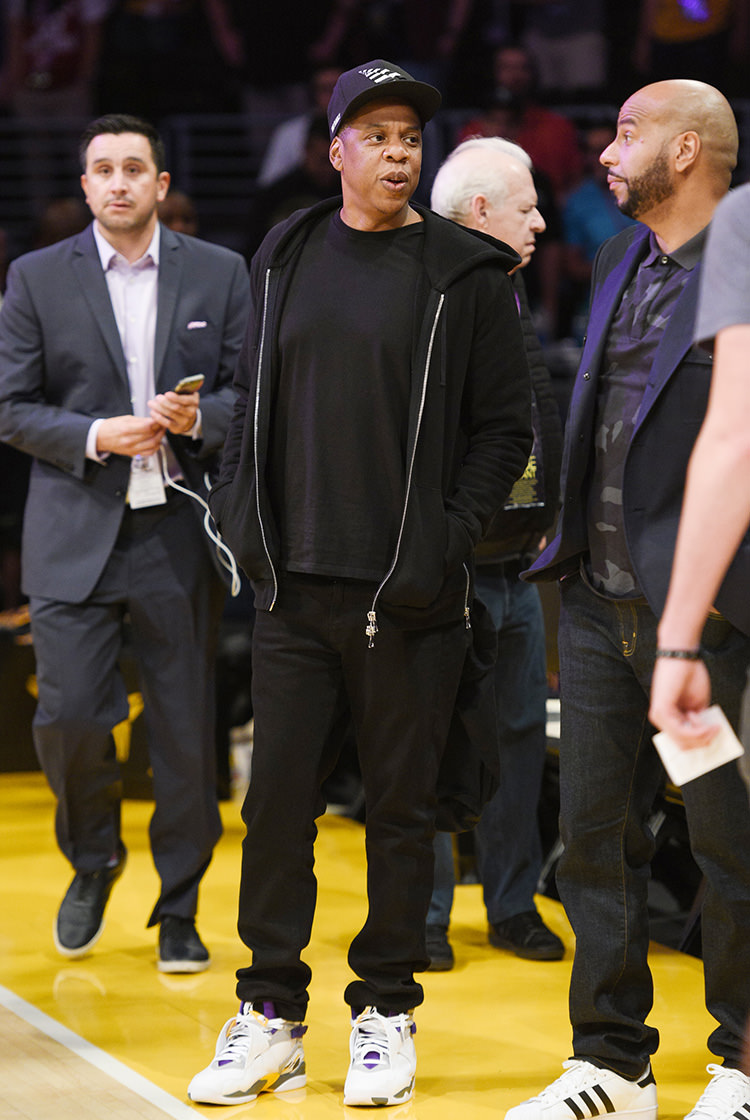 Maybe someday we'll see a retro release at retail?
We can only hope.