Photos by Gabe Oshin for Nice Kicks
It was the perfect Friday. School had been out a full week but it wasn't yet the dead heat of summer. Sub triple digits in mid-June with an accompanying breeze is a welcome scene for Houstonians. Students of all ages were at the very start of their glorious summer vacations. And on that first Friday following the final day of school, the city's biggest rapper was throwing a block party. Everyone was invited.
Travis Scott is every bit as Houston as Scarface, Slim Thug, Z-Ro or Trae. There's a cloth they're all cut from, an ilk of which they all adhere. Growing up in Missouri City, a predominately black suburb that borders the city's inner loop, Scott, 26, born Jacques Webster, is about as Htown as it gets. His authenticity and honest representation of Houston is what makes him a local hero to the city's youth and vastly populated creative class.
So when it was announced last week that Scott would host a block party billed as a carnival — in line with his Astroworld theme that serves as the same name of his upcoming studio album — it was expected that Houston would come out in droves to honor its homegrown talent.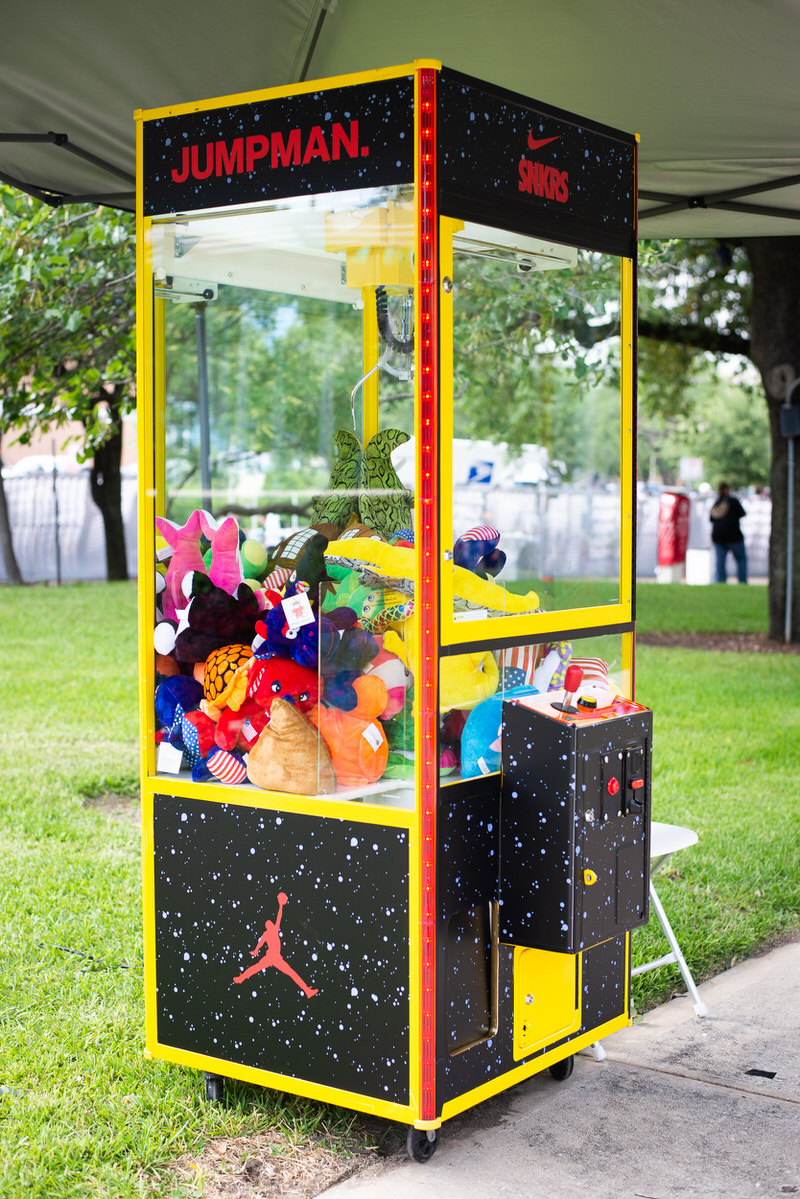 Scott, with the help of Jordan Brand, was celebrating the release of his "Cactus Jack" Air Jordan 4 — an ode to the city's beloved yet dissolved football franchise — the Houston Oilers. But the moment was much more than a preemptive sneaker release. It was the grandest of homecomings, one where kids in the city could see and maybe snap a selfie with Scott. Many did. One kid near me screamed with the utmost enthusiasm, "I touched him! I touched him!!!" His friend, clearly green with envy, smiled in his friend's direction nonetheless, happy that at least one of them had an encounter with their shared hero.
Before Scott's infectious energy lit up the block party, his arrival spawned chaos. Pulling up in a convoy of luxury cars, Scott was in the first vehicle, a matte black Lamborghini of which the model type escapes me. Travis was hanging outside the window slapping the side of the wildly expensive supercar like it was an '84 Corolla. He'd then stand inside the door where the window was rolled down, excitedly showing off his unreleased "Cactus Jack" Air Jordan 4 in purple. Behind him was a matte black Mercedes-Benz G Wagon. In it was Jacquees, one of Travis' many friends who also attended the event.
The carnival was held at Root Memorial Square Park on the northwestern end of downtown Houston. More of a basketball court with a view than an actualized city park, the modest space was centered by a court with a Cactus Jack logo at its midsection, a towering ferris wheel on the closed-off city block next, carnival-themed games, and a hilly sidewalk that circled the tree-filled square park. On the adjoining block is the Toyota Center, where Travis often sits courtside at Houston Rockets games serving as the team's ambassador.
Before Travis' entrance — which took some time — a few things had to be sorted out first. On a small scale, the basketball tournament that stood as the anchor for the event needed to begin. Its players represented a who's who of Houston hoops legends past, present and future. Before they'd begin, OG Chase B and Easy Otabor got shots up in street clothes, both donning official and unofficial "Cactus Jack" 4s. Yet, of a larger concern, the crowd thought to be in the hundreds had quickly ballooned to approximately three thousand. Houstonians lined city blocks for more than a mile in opposite directions.
Travis was the draw in more ways than one. Not only was he expected to attend and greet fans, but local retailer Social Status had hosted a sneaker raffle earlier in the week in order to let fans purchase their Travis Scott x Air Jordan 4 "Cactus Jack" at the carnival, a day ahead of its official release on June 9th. There were fans in attendance to see Travis and fans to purchase his Jordans. To that end, others just came to see someone from the city who had made. Who, if only for a short time, was back home.
Escorted by friends, security guards, and hundreds of screaming fans as far as the eye could see, Travis made his way from the parking lot across the street to the jam-packed park. A cement sitting row separated by grass on a lower level and then more seating, served as his entrance to the court — not the ramp to his left which strategically was the simpler play. Those sitting on that extended cement slab parted the area like the Red Sea once Travis arrived. Most stood up to catch a glimpse at the star but also to stand down from the dialed-in, extremely aggressive security detail.
Scott's eyes were fixed on the steps in front of him then subsequently the court thereafter. His look was piercing. His energy very apparent. That same spirited intensity he exudes on stage was dripping from his every step. It seems as if he never runs out of it. Once Travis stepped foot on the sidelines the game, now in full swing, abruptly stopped. Fans swarmed Scott as he attempted to make his way to the bench to himself watch. Security would soon clear the court and the game resumed. Travis cheered on the game from the sideline, as he often does at the Toyota Center sitting beside the like of two-time NBA champion and Rockets Hall of Famer, Hakeem Olajuwon.
Fans still waiting outside of the park had gotten anxious. So much in fact that a barricade on the far end of the park was broken down shortly after Scott's arrival. Thousands had descended on this tiny park that realistically could hardly house hundreds. It didn't take long for security to escort Scott back to his Lambo and shut the festivities down. But just before that took place, there was an important moment of note.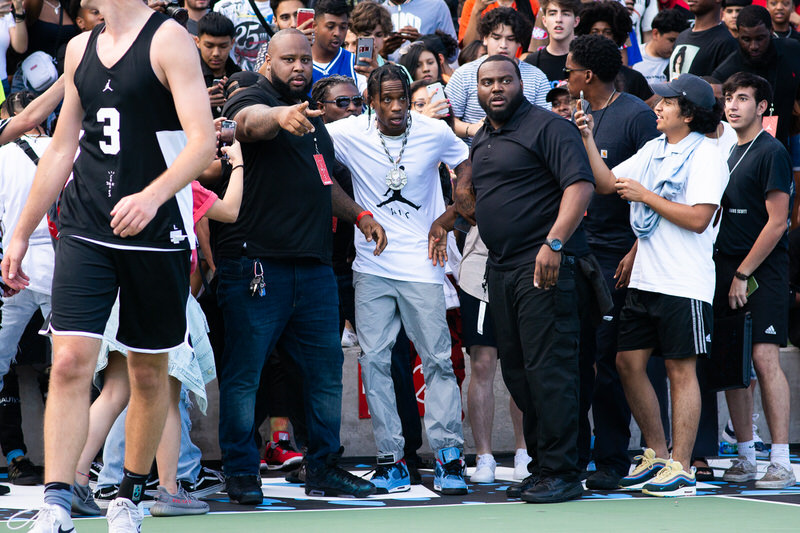 I surveyed the park briefly once Scott was settled and fans loomed tightly over the court and ongoing game. To be closer to Scott, of course, but to also watch that game that had grown in intensity. I never visited Rucker Park during its historic run but I imagine that's what that energy felt like. The difference here was these kids didn't have to poke their eyes through high fences and stand on one another's shoulders for a glance at Earl "The Goat" Manigault, Pee Wee Kirkland, or Herman "Helicopter" Knowlings. These kids were able to see Travis in plain view. He was right there, in proximity, taking pictures, flashing smiles, and igniting everyone with his infectious energy. Sure, he's no hoops legend, but he means just as much to those kid as any of those guys meant to the Rucker or New York City, respectively.
The two and a half hour-long block party was still a grand success minus the early shutdown. Travis took as many pictures, shook as many hands, and dapped as many closed fists as one human could. The heat was secondary to plenty of food and drinks on the ready — the former, Travis' and Beyoncé's favorite, Frenchy's chicken. Everyone who won a raffle eventually got their shoes. Chase B, Houston Texans quarterback, DeShaun Watson, and Houston native now Orlando Magic swingman, Jonathan Simmons, all happily greeted fans.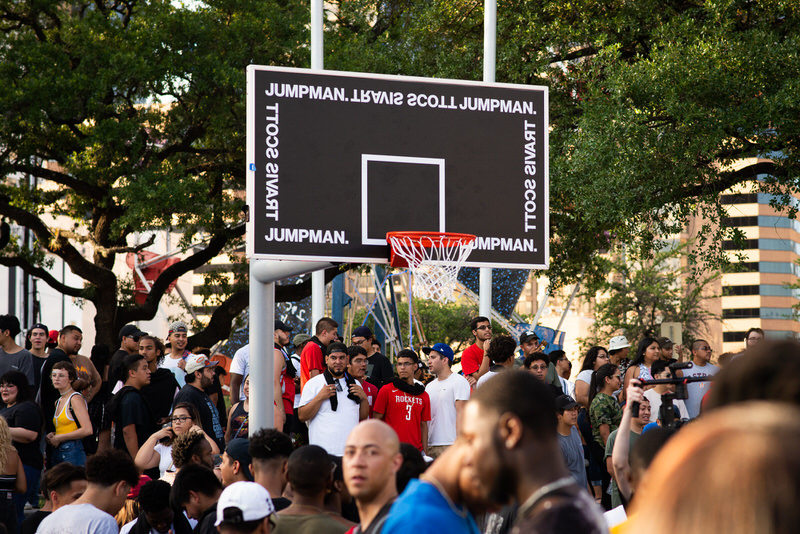 With his biggest sneaker release to date in the books, and possibly the most anticipated album of his career seemingly just around the corner, Travis Scott gives Houston ample reasons to be proud. And for the hundreds of thousands of kids who spent their first full weekend of summer with him, they'll think back on this day years later with fondness.
After all, it was a perfect Friday.