words & interview // Ian Stonebrook:
Tracy McGrady may be the most creative scorer the game has ever seen. Chances are if you needed a bucket you needed T-Mac and odds were he was going to deliver. Whether he was rocking defenders to sleep on the perimeter before dropping a net-splashing three or blowing right by an opposing wing only to bury their big man with a fearless dunk, #1 was bound to give you either 2 or 3 on every possession.
As the recently announced Hall of Fame nominee analyzes the likes of James Harden and Russell Westbrook as a regular on ESPN's The Jump and ESPN's NBA Countdown Show, the man who reached triple-double stats via individual plays (remember the self alley-oop off the backboard?) still registers as a talent with game and imagination before his time. Recently, we caught up with T-Mac to reflect on his days in the NBA, his signature line with adidas and who he's excited to see play Sunday on ESPN and ABC's lineup of Christmas games.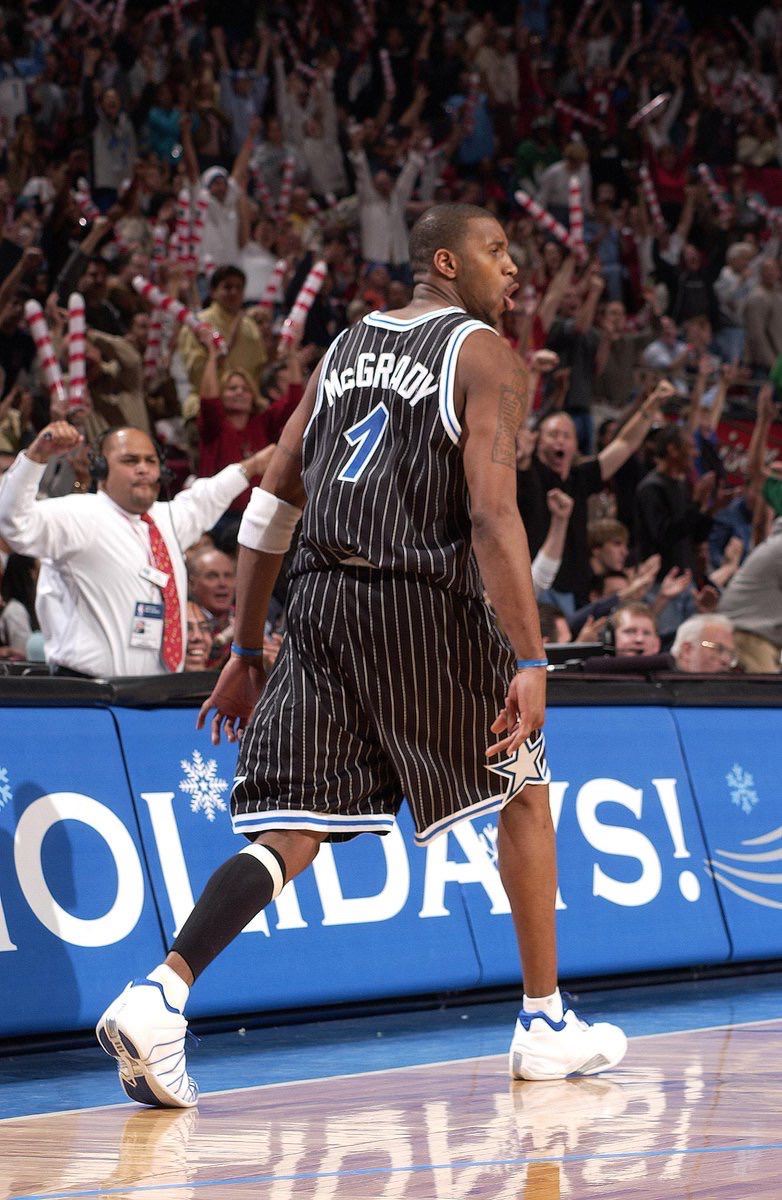 Nice Kicks: Which Christmas game are you most looking forward to covering this year?
Tracy McGrady: Cleveland and Golden State. That's the obvious pick because it's a Finals rematch, but with KD being the addition to Golden State and LeBron and them playing exceptionally well these are the top two teams in the NBA. I want to see how Golden State fares out with KD on their team going up against LeBron and his crew.
I want to see how KD goes at LeBron if he does. I want to see what type of impact he will have being on this team. He's going to get less shots than he would if he was playing on OKC, so he's got to be a little more efficient. We'll see, it's going to be interesting to see how he fits in with these guys going against a dominant team like Cleveland.
Nice Kicks: 13 years ago, you played LeBron James on Christmas Day. What do you remember about that game and what were your emotions going into that showdown?
Tracy McGrady: It was probably my third Christmas Day game. Playing against LeBron with all the hype around him his rookie season, I couldn't allow him to come into Orlando and outshine me. Actually, a couple of my boys had some bets that he was going to outscore me, which was blasphemy to think I'm gonna let this rookie come in and outshine me on Christmas Day! There's no way! [Laughs]
But it was a hell of a duel. I can remember some of the shots he was hitting — they were tough shots. I was like, 'This dude is for real!' Once I saw that he was going to have a pretty good game because of the shots he was hitting, I knew I had to get focused and turn it up a little bit. It was a hell of a duel though.
Nice Kicks: It's funny because just one year prior he was wearing your shoes in high school. Do you recall watching that or did adidas tell you about it?
Tracy McGrady: I didn't know he would, but I remember watching it on TV. At that time, I had a lot of these young up and coming guys in high school wearing my shoes. It felt good then because I was still relatively young myself — I was only in my early 20s — so seeing these young guys in my shoes was definitely what I wanted to do as a young boy coming up.
Nice Kicks: On the high school note, much of your success and rise is credited to your performance at adidas ABCD Camp. What was your mindset going into that camp and how much did your play there influence you signing with adidas?
Tracy McGrady: My mindset was this is that opportunity that you've been waiting for. Growing up in Florida, yeah I had a name around my area and in my county, but outside of that nobody really knew who I was. Definitely not outside of the state. So, this was an opportunity to go up against the most talented guys in the country because we're all here at this camp.
When I first got there, some of my Florida guys were telling me about this kid Lamar Odom. That's all I was hearing. "Man, he got game, Lamar Odom's a 6'10 point guard." And I'm like, "What? Where I'm from if you're 6'9 you're the tallest cat on the team. If you're 6'5, you're the center!" And they're like, "Man he's a 6'10 point guard out of New York City!" And I'm like, "I ain't never seen that before!"
But my mindset was this is that door that you wanted to open and you've got to take advantage of it. He was the first person I played and I put it down. You never know, you might believe in your ability because you're used to playing against certain guys, but when you step outside of that rim and then you're talking about the best players in the country, you want to see how good you really are, right? So I'm like, shit let's do it. Let me see. When I realized that I had just as much game as anybody there, it was on from that point.
[As far as adidas] I had a great rapport with Sonny Vaccaro when I left that camp. I was with them after my junior year when I moved my senior year to (adidas-sponsored) Mt. Zion Christian Academy, so the relationship was there. It was great with them. But when I was making my decision as to what shoe company I was going to sign with, I still visited the Nike campus because there was an opportunity for me to sign with them as well. But, when you're 18 years old you gotta go with who comes with the bigger bag. I understood that at the time.
Nice Kicks: Once you were a few years in at adidas, you became the face of the Mad Handle and eventually got your own signature line — the longest of an adidas hooper until Derrick Rose this season. Was getting your own shoe always a goal?
Tracy McGrady: Having a shoe just comes with that dream of playing in the NBA. Just growing up on streetball and idolizing the guys that were NBA players at that time, you know? My guy Penny had his own shoe, of course Jordan had his own shoe, Pippen had his own shoe, and when you idolize those guys obviously one of these days you want to have your own. It was a goal: if I made it to the league, I wanted to have my own shoe one day and be that guy who kids idolized and wanted that same dream. It became that.
Nice Kicks: That definitely happened, everybody at basketball camp my freshman year had the TMAC 1. From your signature campaign, which pair or commercial stands out as your favorite and why?
Tracy McGrady: My favorite shoe of my line was the 3.5. I played with them around 2004. They were more of my style. They were mids, pretty light and they didn't have a lot going on — they were pretty smooth. For commercial, it would be the one for the TMAC 3 that had the Birdman "What Happened to That Boy" beat in the background.
Nice Kicks: For a young player trying to make their name in the league today, what advice would you give them in regards to getting their own shoe line?
Tracy McGrady: It's a little bit different these days. When we were coming out of high school, coming out of college, guys were signing nice deals. It's not that way these days unless you're LeBron James. It's just whoever you feel comfortable with. Obviously Nike is a great company and they have the best talent under their umbrella – LeBron James, they had Kobe, they have Kyrie now, KD — they are the goliath of the shoe companies. Adidas is up and coming though. They still need some work on the basketball side but as far as adidas lifestyle, they are killing it right now.
 Nice Kicks: As far as hooping, have you got a chance to play in the Crazy Explosive that Andrew Wiggins wears or the new Crazylights? They're great.
Tracy McGrady: Nope, I'm gonna have to try those out. I saw a photo of the new Lillards, I kinda like those. I haven't seen them in person, but I like the photo.
Nice Kicks: Keeping with the league today, Bleacher Report did a great piece on you two years back and you say there's no KD or LeBron after they leave. Do you still feel that way or through broadcasting have you noticed new players that excite you?
Tracy McGrady: Russell Westbrook is my guy. On any given day, I don't give a damn who Westbrook is playing, I want to watch him play. He's that guy that I love to watch because of his tenacity and just how hard he plays. He plays like it's his last game for real. Giannis Antetokounmpo I think is going to be that next guy. He's fun to watch, very athletic, he's long and he's an exciting up and coming player that I love to watch. He's a game changer on both ends of the court.
Nice Kicks: He's kind of like you and Lamar in terms of having a game that extends his frame. I have to ask, how did the self alley-oop off the backboard come about? Were you inspired by what was going on in streetball? Did you ever think you'd do it in an NBA game?
Tracy McGrady: It was planned 'cause I did it in high school. I did it in high school a couple of times, so the goal was to do it at the highest level of basketball. I did it I think three times in the NBA — I did it preseason against the Boston Celtics, I did it in the All-Star Game and I did it against the Toronto Raptors at home.
Nice Kicks: Speaking of dunks, you and Vince's performance in the 2000 Dunk Contest still stands amongst the best ever. What type of collaboration or competition went into your dunks beforehand?
Tracy McGrady: It was me being pissed off that he really wanted me to be in it 'cause I knew he was going to fucking win it! [Laughs] It was me the whole time rolling my eyes at him like, "Really, why do you want me in this?" I knew he was going to win because I'd seen a lot of those dunks in practice. We never practiced the dunk between the legs off the bounce. We never practiced that. That was just off the fly at the Dunk Contest.
Nice Kicks: I almost feel like Wiggins learned from that watching Zach Lavine before the Dunk Contest in practice.
Tracy McGrady: Yeah man, that dude is nasty. Last year's Dunk Contest is one of the best I've seen. Absolutely, they brought it back.
Nice Kicks: Kenny Smith said during the 2000 Dunk Contest that Muggsy Bouges should've been throwing you guys the passes. [Laughs] You and Muggsy were both recently nominated to the Basketball Hall of Fame. Tell us what that means to you.
Tracy McGrady: I can't even lie, but never growing up was that a dream or a goal because I didn't know what the hell the Hall of Fame was at that time. I didn't know about it until I got to the NBA. It's just a testament of what I brought to the game. You know, putting up big numbers, being exciting. I know everybody can't win a championship, anybody can, but everybody can't get in the Hall of Fame and to be nominated on this year's ballot is definitely humbling.
Nice Kicks: Going back to the Christmas games, Sunday the NBA's current crop of talent will be playing in special edition Christmas shoes while you broadcast the game. If you could redo one of your signature shoes in a Christmas theme, what would the concept be and which shoe would you pick?
Tracy McGrady: It would probably be my patent leather TMAC 3s. As far as theme, that's a good one. I'd probably have the Grinch on there 'cause I'm about to ruin somebody's Christmas. [Laughs] I'd probably do one red and one green.
Nice Kicks: You might have to call Packer and adidas to make that happen. Grinch aside, with the holiday season being all about love and joy, does any time, moment or memory stand out as when you really realized you loved the game or had the most joy playing it?
Tracy McGrady: There's a moment that really resonates with me that it's more than just a basketball game and the impact that we have on people that watch the games. That's when the little kid from DC who was one of the victims of the DC sniper said he wanted to meet me and we made it happen. We actually brought him down for a Christmas game when we played the Detroit Pistons on Christmas Day and I dropped 46 for him. That right there is probably one of the greatest times of my life. This kid was the victim of a cowardly act, in a hospital all shot up and his freakin' wish was to meet me. It doesn't get any better than that.
NBA coverage on ESPN and ABC begins at 12 PM EST on Christmas Day. Merry Christmas and happy hoops and holidays to you and yours from the Nice Kicks team.
Lead image by Andy Lyons/Getty Images via Old School 105.3