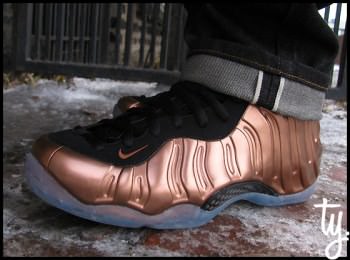 After a plethora of photos and release date confusion, the "Copper" Nike Air Foamposite finally released today.
Los Angeles Clippers point guard Bobby Brown and New York Knicks forward Jared Jeffries wore some fresh Jordan sneakers that we never thought we'd see on court. With that said, check out our Kicks On Court to see these rare Jordan sneakers.
A lot of you have been skeptical about the invisible-like window that appears on the side panel of the Air Jordan 2010. However, this is not the only sneaker that has featured a transparent attribute on the base. Check out our See My Socks? History of Invisible Shoes.
Do you own deastock sneakers or are you the type to wear every sneaker you purchase? Check out REE's second edition of SN'EADS titled "Deadstock Grails".
Last Sunday, the New Orleans Saints won their first Super Bowl in franchise history. In honor of their win, we compiled a list of 23 Black & Gold Sneakers for the ?Who Dat?? Nation.
Earlier this week, we spotted a Nike Trainer 1 on the NBA courts to our surprise. Is the Trainer 1 ideal for the hardwood?