The Nike Air Max 1 changed the game for Nike Air when after 8 years of delivering comfort and performance across a variety of sports, the proprietory technology was put on full display for all to see. The Nike Air Max 1 has taken many shapes, sizes, and colors since its debut 35 years ago including projects with some of the best artists and shops in the game through a handful of powerful collaborations.
Nike is selective in the partners they'll work with on footwear collaborations, but that list is even tighter when it comes to who gets to work on one of the icons of the brand – the Air Max 1.
This weekend, the latest collaboration project between Boston-based retailer Concepts and Nike will go on sale via the Nike SNKRS app that welcomes Concepts into an elite company with their first Air Max 1 collaboration.
To celebrate Air Max Month and the release of the Concepts x Nike Air Max 1, we have assembled a list of the 1- best Nike Air Max 1 collaborations of all time.
atmos x Nike Air Max 1 "Safari"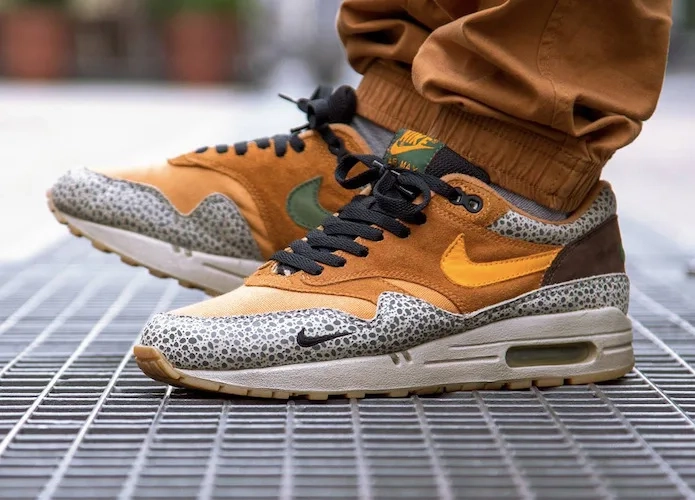 Released: 2002
Back in 2002, Nike tapped atmos to rework the Air Max 1. Taking inspiration from another Tinker legendary design, the atmos "Safari" Nike Air Max 1 has become a legend in sneaker collabs. The shoe sported a combination of material textures with oranges in suede, leather, and canvas, brown suede, and the trademark grey safari print pebbled leather on the mudguard. A detail that stood out on this design made its way to the toe with a mini-swoosh on the toe cap.
In 2016, Nike reissued the atmos "Safari" Air Max 1 to the fanfare of many sneakerheads around the globe. Since the beginning of the collaborative partnership between Nike and atmos, the Air Max 1 projects have long been celebrated and there's nothing quite as special as the one that started it all.
atmos x Nike Air Max 1 B "Viotech"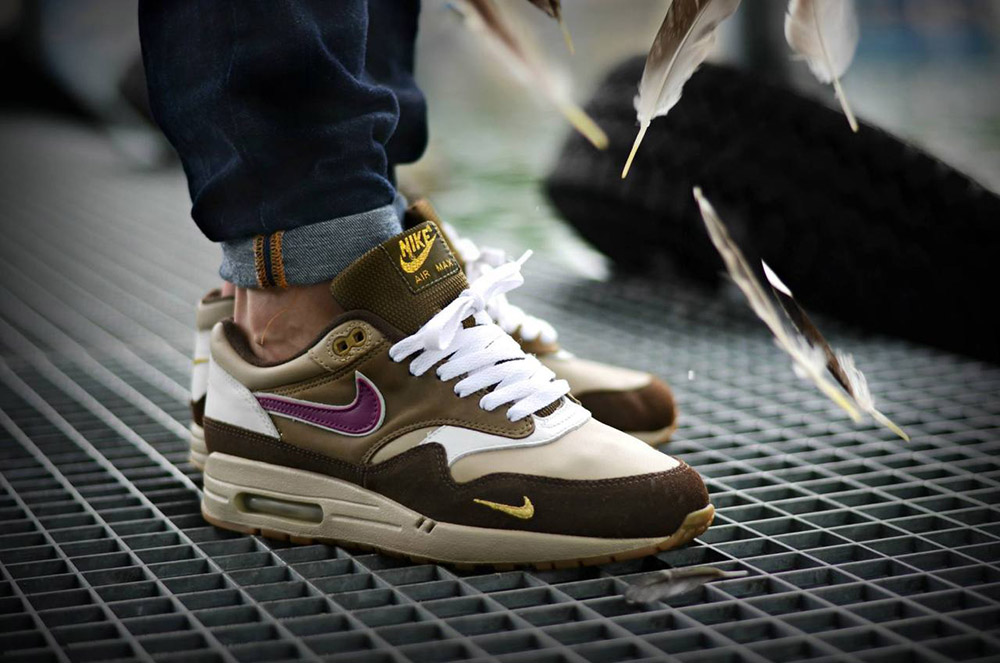 Released: 2003
The sophomore release between atmos and Nike is what many consider to be the model that really put the partnership on the map. The 2003 arrival of the Viotech Air Max 1 caught the attention of many more than the debut with a more wearable color pallet, but the design was anything but boring.
Olives, browns, and eggplant gave a warm and earthy-like feel complete with a gum sole. The mini-swoosh made its return to this design and with it started a signature look for atmos projects.
The atmos x Nike Air Max 1 was not alone in its design and also saw a complimenting Air Max 95 release.
HUF x Nike Air Max 1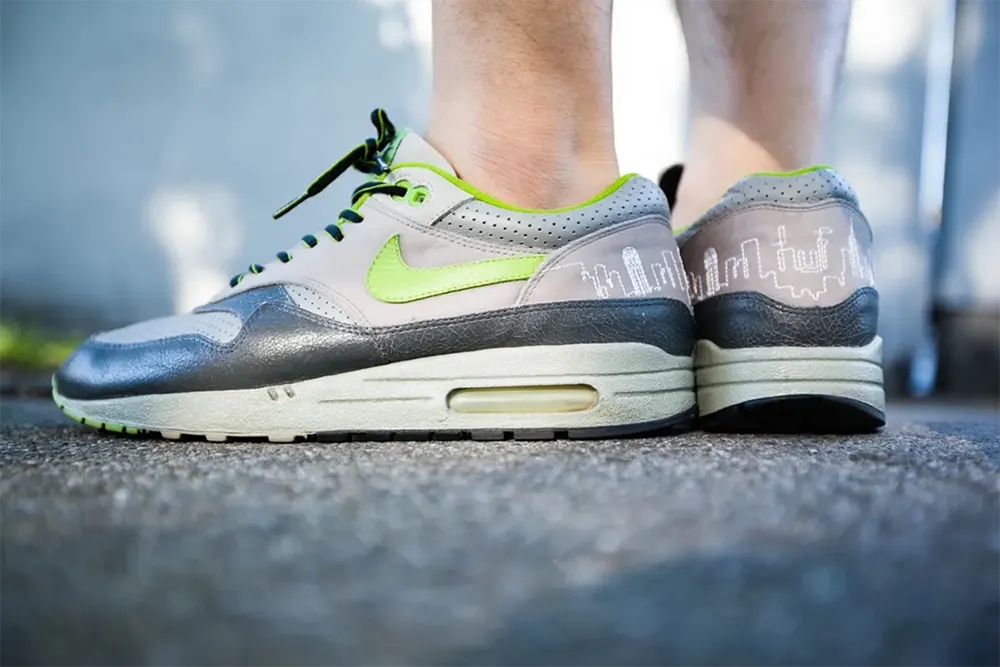 Released: 2004
NY native pro-skater Keith Hufnagel (RIP) launched his own brand and store trading off of his namesake HUF across the country in a new home of San Francisco. HUF was no stranger to footwear having a signature line with DVS while on the skate circuit. Nike SB and HUF worked on a number of projects together, but Nike Sportswear also linked up with the brand on several shoes including a Nike Air Max 1 in 2004.
The back graphic of the HUF x Nike Air Max 1 featured the SF skyline sketched by famed designer Benny Gold along with the HUFT logo. This colorway played off of the original Chlorophyll version of the Nike Air Trainer 1. A fun fact about this shoe is that there is a non-HUF branded version that also released at about the same time, but the HUF branding is replaced with the traditional Nike Air logo on the back.
Parra x Nike Air Max 1 "Amsterdam"
Released: 2005
The Parra x Nike Air Max 1 was one of the first Nike projects with an artist on the Air Max line when it was released in 2005. The collaboration with Dutch artist Piet Parra paid tribute to the city of Amsterdam and its famed Red Light District. While no exact number is known, the rumor is that only 250 pairs of this shoe were released at select shops in Amsterdam.
This shoe would mark the first collaboration between Parra and Nike, but was far from the last with a number of projects to come with Nike and Amersterdam-based Patta. The shoe featured a signature color pallet that Parra uses in much of his art with touches that nod to Amsterdam with the Dutch Royal Crown on the tongue and Amsterdam on the heel.
Parra x Nike Air Max 1 "Albert Heijn"
Released: 2005*
It is said that only 24 pairs of this collaboration are in existence making it the rarest of all Nike Air Max 1 collabs. This colorway was the initial plan for Parra and Nike, but it was ultimately decided to move forward with the Amsterdam colorway instead of this one inspired by Dutch grocer Albert Heijn. The asterisks on the year released is because the shoe was never technically released, but rather a number of samples are floating around.
kidrobot x Nike Air Max 1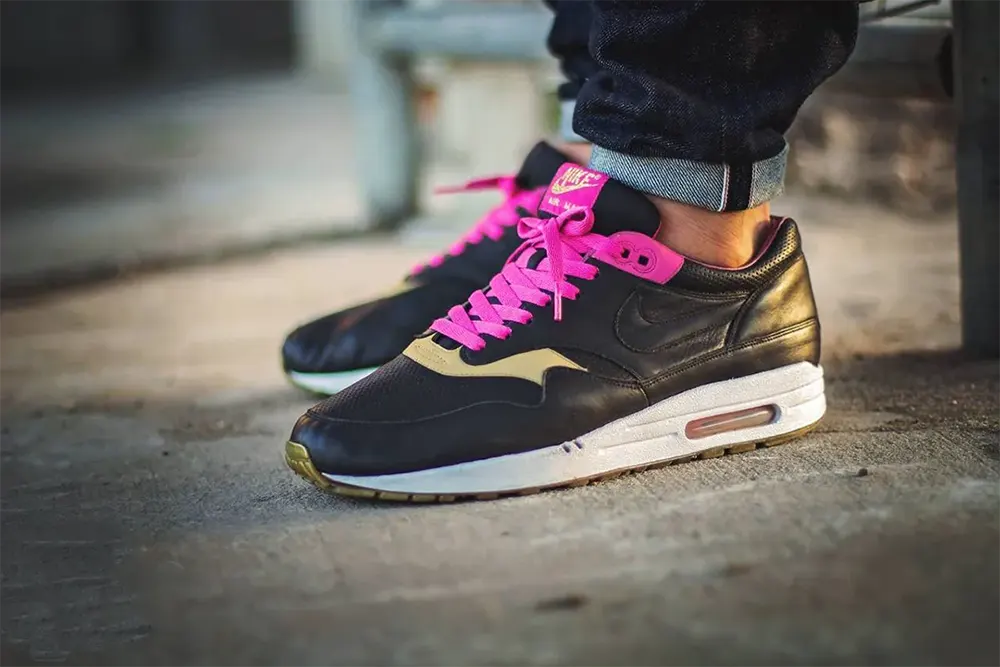 Released: 2005
The kidrobot x Nike Air Max 1 was designed by kidrobot founder Paul Budnitz and Chad Philips. The collab was released exclusively at Barneys New York and was made to resemble the exterior of the 1986 Maserati Quattroporte III Royalle.
Each pair was delivered in a special box made just for the release, with a mini Kidrobot keychain.
CLOT x Nike Air Max 1 "Kiss of Death"
Released: 2006, 2021
Edison Chen's label CLOT left no stone unturned for its first Air Max collaboration with Nike in 2006. This project features a plethora of exotic materials from beige suede, to red snakeskin, to ostrich. Inspired by traditional Chinese medicine, the insole features a pressure point map of the foot, giving a nod to traditional Chinese medicine and acupuncture.
But of course, the most notorious part of this shoe is the clear toebox. Similar to the first time that the Air Max 1 gave exposure to the technology, this feature gave exposure to the foot which was a very divisive design choice. The original release in 2006 did not feature any holes for ventilation which meant that the window would fog up after not much wear. A 2021 follow-up did include the ventilation holes, however, this didn't change the fact that moisture would still cause fogging.
atmos x Nike Air Max 1 "Safari Animal"
Released: 2006
Four animal prints hit the upper of the atmos x Nike Air Max 1 "Safari Animal." The shoes saw a re-release in 2018 with black pony hair that replaced the ivory color.
atmos x Nike Air Max 1 "Elephant"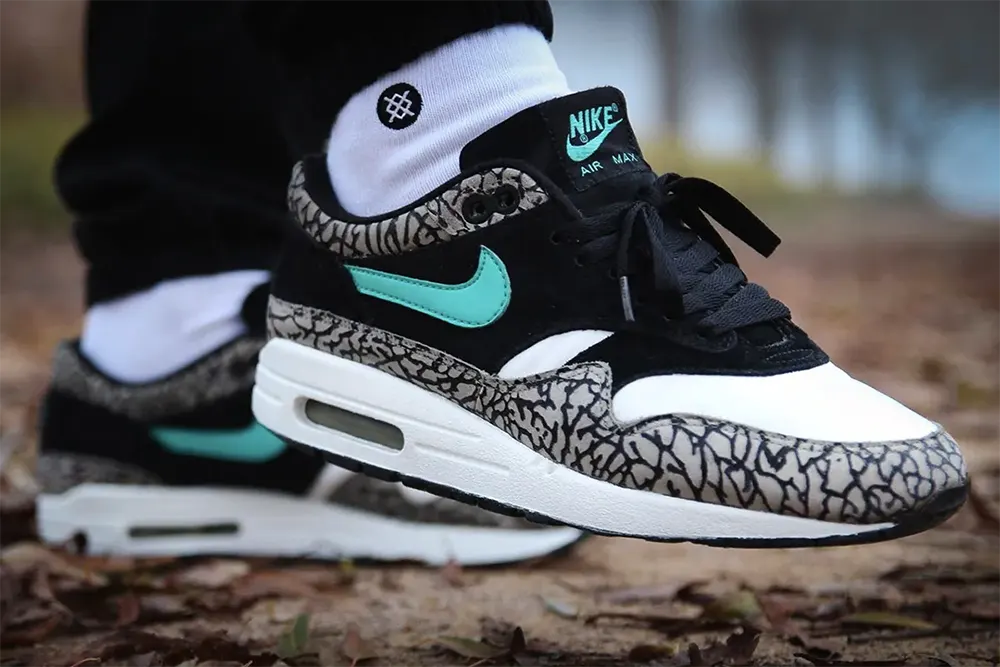 Released: 2007
Atmos celebrated 5 years of collabs with Nike with easily the most eye-catching and trend right Air Max 1s for 2007. Elephant print from another iconic Tinker Hatfield design, the Air Jordan 3, made its way to the mudguard and ankle collar complimented with a teal and black scheme that many felt a Diamond Dunk vibe.
The cross-over appeal of the shoe to reach outside of the Air Max crowd to Jordan fans was like no other Air Max to date which made these an immediate fan favorite. The atmos x Nike Air Max 1 was selected in 2017 by a contest vote-back to be brought back as a retro the following year marking the first time an atmos x Nike Air Max 1 saw a retro release.
DJ Clark Kent x Nike Air Max 1 "112"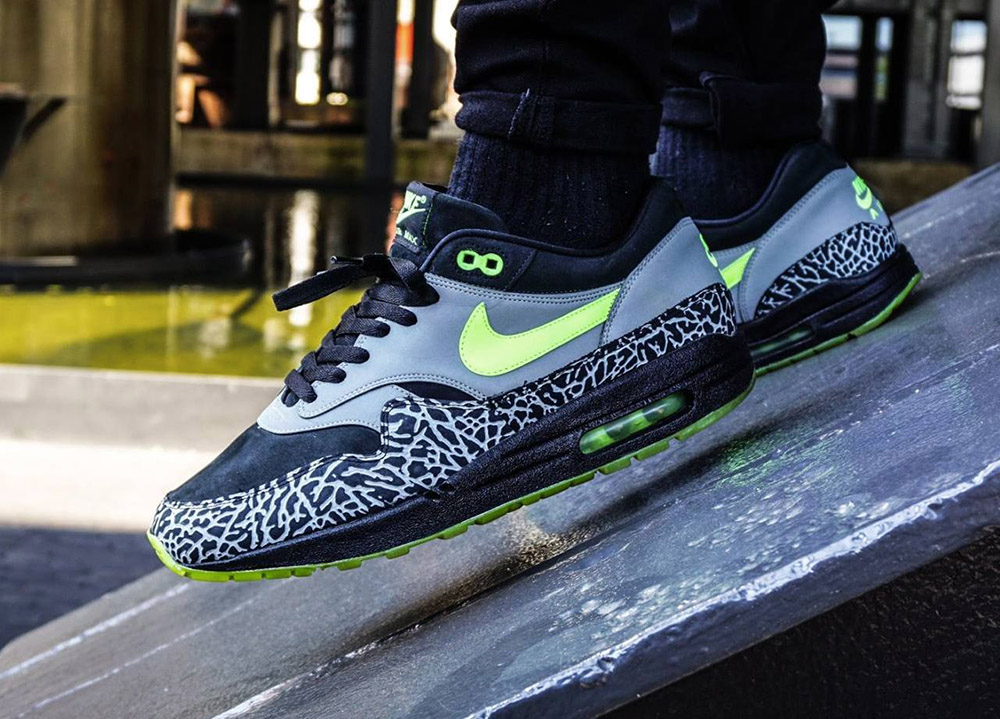 Released: 2008
Brooklyn's Finest, New York Giant, God's Favorite DJ, DJ Clark Kent worked with Nike for many years as a consultant and took charge of a number of NYC based initiatives for Nike, but also worked with Nike to create a three shoe pack for NSW that broke the sneaker-internet before Kim K could redefine it.
The 112 Pack featured an Air Trainer 1, Air Force 1, and an Air Max 1 that blended four design elements that were favs of DJ Clark Kent – elephant print, black nubuck, 3M, and neon. While Clark was most known for his love of the Air Force 1, the 112 Pack brought to light his love and appreciation for two other icons and originators in their respective lines.
Patta x Parra Nike Air Max 1 Pack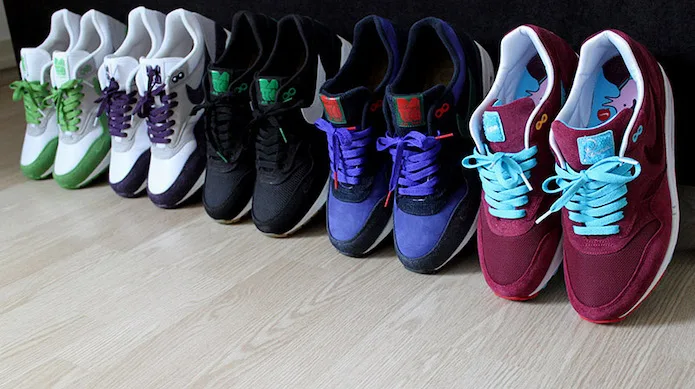 Released: 2009, 2010
Patta and Nike linked up again for a five-pair Air Max 1 project that also included a revisit to the collaboration with Parra. To many, this collection is the holy grail of Air Max 1 collaborations. The materials and colors stood out from the rest and are still one of the most expensive Nike collabs money can buy – if you can find them for sale.