Since the start, Odd Future has defied definition by being the most multitalented collective of young people the world had ever seen with a range of interests wider than any genre or label could contain. But basketball? Probably not the first thought when considering the Cali crew and their strong skateboarding roots.
Well, just when we thought we knew everything the OF dabbled in we were wrong again. Take Taco for example. Best known for his bright personality, DJing duties on Tyler's tour and emerging list of acting gigs, the young creative has loved basketball since birth. A hooper growing up and still playing today, his love of roundball and kinship with Kyrie Irving resulted in this year's surprise debut of the critically acclaimed Taco x Nike Kyrie 5.
A man of the people and a man on the move, we caught up with Taco at his park tour in Los Angeles last week where he handed out buckets and sneakers. Hear how the Kyrie collab came about, how growing up around basketball in LA shaped him and his hopes of designing a shoe for Kobe all in our conversation below.
Nice Kicks: How did the Kyrie collab first come about?
Taco: Honestly, Nike found out that I played basketball a lot and how much I talk about being good. Funny enough, I grew up playing basketball right here at Pan-Pacific. When I played here, I made All-Star and our team didn't win a game! I just liked to shoot threes whether I was wide open or not. [Laughs]
Literally, Nike hit me and I thought it wasn't real! [Laughs] I thought they were playing with me! Then, samples started getting made, they came, showed me the shoe and it was crazy. I've known Kyrie for a second so it wasn't too far-fetched for it to be me and him.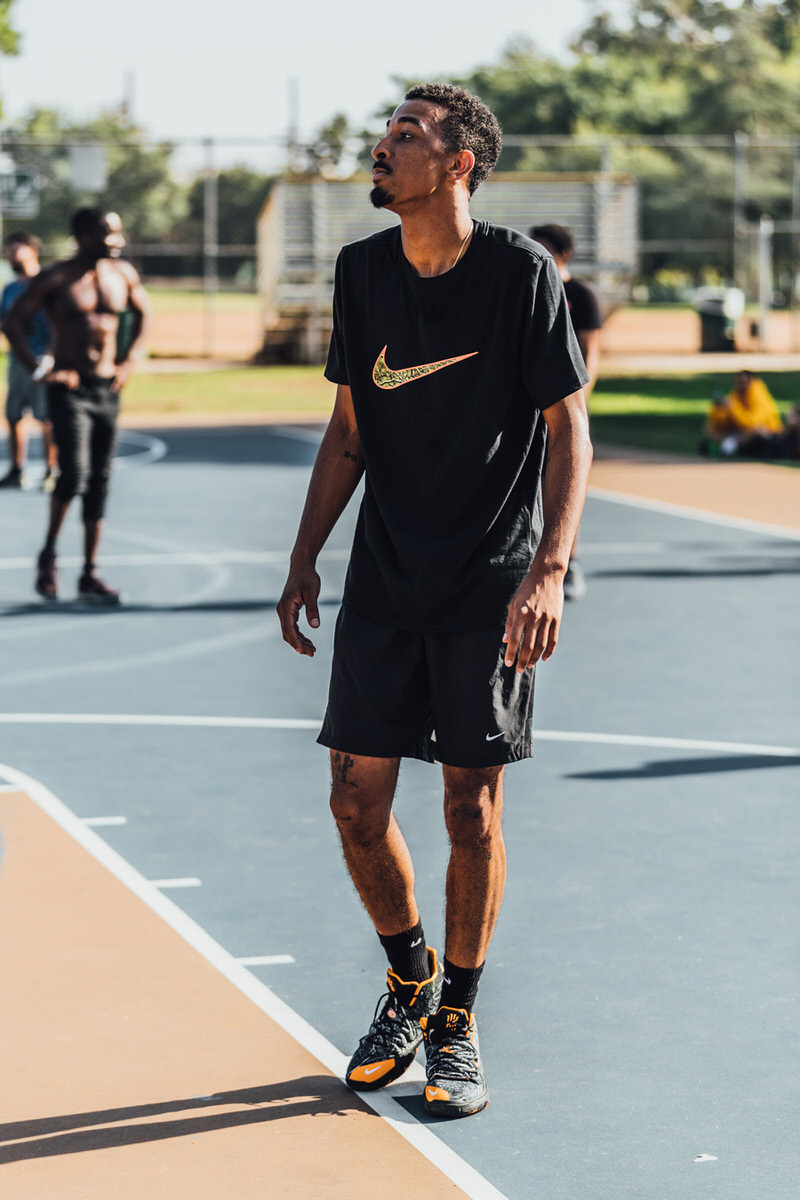 Nice Kicks: Explain the design and concept of the shoe.
Taco: It's literally my favorite pattern. People are trying to dive to deep into — I just like the way it looks. I'd never seen it on a shoe I liked and I'd never seen it on a basketball shoe. Most basketball shoes are usually pretty bland or just bright colors that pop. I just wanted a shoe that you'd see on a basketball court and say, 'What the hell is going on here?' A shoe that'd catch your eye and it's not the color of any jersey.
I just want to see if anybody else besides Kyrie wears them in a game. I think they're sick.
Nice Kicks: They remind me a lot of the Brian Anderson and Reese Forbes SBs with the camo.
Taco: My favorite Nike shoe is the Todd Jordan Blazer — the plaid one. That was my first thought to do on this: I'm gonna do a plaid shoe! I got to it and it just wasn't it. I saw it and knew that nothing clashed.
The day that I started the collab I had on these RealTree camo pants and it all just made sense. I had designed like 7 or 8 concepts first that I started and didn't like as much as these.
Nice Kicks: What made Kyrie a player you wanted to design for and what made Nike a brand you wanted to work with?
Taco: He and I have been cool for a second and we always talk about basketball stuff randomly. I still don't believe it. There's a Nike truck behind you that has a Nike logo and a logo I made on it. It's still unreal to me. I still feel like I'm gonna wake up, it's a dream.
Nice Kicks: What Nike hooper is next on the list for your dream to work with?
Taco: Kobe. 100 thousand percent. I have his number tattooed on my arm. I'm the biggest die-hard Lakers fan so that made it kind of hard for me to do a shoe for Kyrie. [Laughs] At the end of the day he does play on a team that I'm not too fond of.
The first Nike shoe I ever played basketball in had a big Swoosh just like these. You grow up in LA and all you want to do is play basketball for the Lakers and get a shoe with Nike. I still remember the day I heard that LeBron got his first shoe, I was in third grade. You grow up wanting to have a shoe and being the one that every kid wants to be. To be able to have a shoe and not play in the NBA — how did that happen for me? I'm just beyond thankful.
Nice Kicks: For a kid looking to be a multidisciplinary creative like yourself, what advice would you give them?
Taco: Don't box yourself in. I'm sure there's someone out there that's mad I got this shoe, or that's mad that I'm a DJ, or mad that I acted or mad that I did anything. You've just gotta keep pushing and do everything you wanna do. Why be one thing? No one said you had to be one thing.
Just be yourself. and people like you for that, what else do you need? The universe isn't going to send some random stuff your way. Just be you. I wasn't supposed to get here and do this — but I am!
Nice Kicks: Being from LA, what does it mean to be gifting kids your own shoe in your own city?
Taco: This is sick because I always went to stuff like this as a kid and never got the shoes! I wish I could give everybody shoes. I'm looking at kids like, 'You need these shoes. You're really playing basketball and you need the shoes more than the kid that's just wearing them to wear them.'
I want kids to play basketball in these shoes. Even if you don't play basketball, pick up a basketball, wear these shoes and go to the park with your friends to just shoot around. Why not?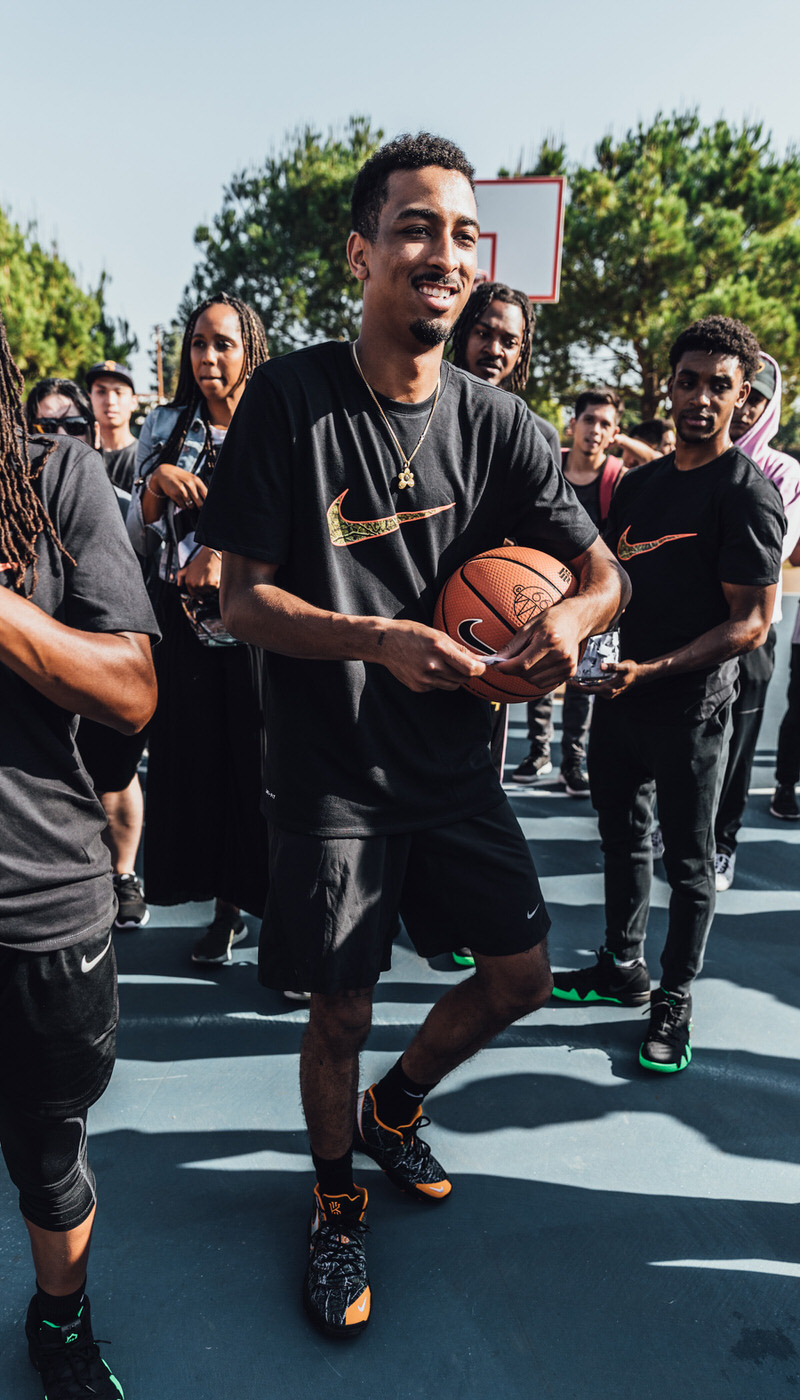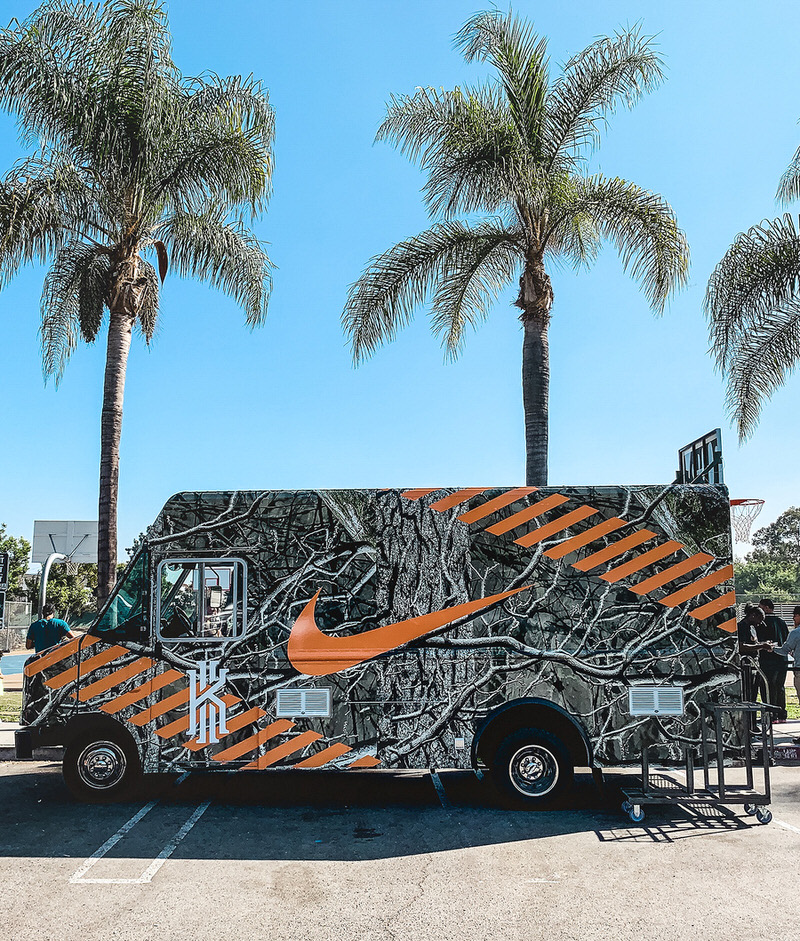 The Taco x Nike Kyrie 5 releases on November 16th on SNKRS.