words, interview & animation by Ian Stonebrook
Animation direction by Devon Stonebrook
Once upon a time, there lived a rapper. A rapper more dapper than all. Now this wasn't just any ordinary rapper, but a rapper so gifted with the pen that everything he wore was seemingly in! Did he hop and hop from trend to trend? Did he go online and spend, spend, spend? No, no, no, he didn't break or bend, or front or fake or play pretend. He pulled and pulled from eras past, and had some fun and had some class. So whom of style could be so quick? My, my, my his name's Slick Rick!
Cut and sew and mix and match, and best known for his fresh eye patch, the MC shined and story told, appealing to both young and old. And even as some time went by, those grey and green declared him fly. So how'd he dress and how'd he grow? Sit right there 'cause here we go….
Nice Kicks: Growing up in New York, who were your biggest style inspirations?
Slick Rick: For fashion, that's a good one. Brooklyn had a lot of style. Early Brooklyn, NY had a lot of style to it. It had a gentlemen style going on there with the Jamaicans, they would be the biggest inspiration with the Clarks Wallabees, the slacks, the Kangol hats and all of that type of stuff. They would be my biggest influence like that.
Nice Kicks: Whether as a kid or coming up in the rap game, what were the first pair of shoes you had to have?
Slick Rick: The first pair of shoes I ever had were either Ballys or Clarks Wallabees. The Wallabee has a style of sole that looks good on your foot. The crepe bottom against the suede or the leather gives a nice contrast — it's a nice little look piece. It's almost like a Frankenstien shoe but it's got swag.
Nice Kicks: These days whether it's Kanye or Pharrell, artists really have the juice today in moving sneakers. In the '80s did it feel like the artists, athletes or streets set the trends?
Slick Rick: I think the streets in general set the trends. When Run DMC made "My adidas" it was really speaking what the youth was wearing — not that Run DMC said it, you know what I mean, and then we joined on. It was more like this is what society is wearing: PUMAs, adidas and some Pro-Keds in those days. So when you make the announcements, you're really making the announcement of what everybody is wearing in the streets. So I think the streets made the announcement and then the rappers made it mainstream.
Nice Kicks: From the tassels on the shoes to the eye patch to the Kangol and even the nose ring, what went into creating your image as a young artist?
Slick Rick: It was just whenever you saw somebody that looked cool in something you'd incorporate it with yourself. I think that's how it went with everything from the shoes to the slacks to the coats to the mock necks. I go back to like the mid-70s when everybody was into Lee jeans and used to wear the cuff on them and press them. They're used to be these shirts called mock necks, stuff like that and the silver medallions, Cazals and Yves Saint Laurents. Yves Saint Laurents were really for girls, but they were hot, they had the leopard print to them. Basically it was what you saw that was cool on somebody else and you wanted to incorporate it onto yourself and it catches on pretty much like that.
Nice Kicks: When it comes to hip-hop, who would you consider your most fashionable peers over the years?
Slick Rick: I give it to Busta Rhymes because he was very creative and energetic and Missy Elliott because of her showmanship with the style. Wu Tang Clan of course because they got that whole Brooklyn/Clark Wallabee thing going on. And then Harlem, give Puffy and his clique their props. Early Puffy days when he first came out with the fur coats and jewelry. See, Harlem was really known for the jewelry and the furs. Brooklyn was known for the Clarks Wallabees and the slacks. Bronx was known for the b-boy adidas and PUMAs. Queens the same — dudes in sweatshirts, adidas and Lee jeans so they kept it moving like that. Then Brooklyn and Manhattan took it to another level, so I give Puffy and his team due props, too.
Nice Kicks: What's your favorite piece of jewelry you own or your favorite from another artist?
Slick Rick: My favorite piece of jewelry that I've seen on an artist is probably Ghostface when he had that gigantic Versace plate because it just stood out. It was like the definition of the culture: big, gaudy and fly. His little eagle bracelet wasn't bad, either. As far as me, I would have to say the diamond patch because it's different, unique and it still makes a statement.
Nice Kicks: I didn't know until your manager Mandy told me but I hear you customize, make and design a lot of your kicks and clothes. Tell us about that.
Slick Rick: Yeah, that's all a part of style. It's almost like you take a blueprint and then you decorate it. Once you've got a Clarks Wallabee or an adidas or something that's stood the test of time, now it's your job to give it modern flavor — excel it, enhance it. That's what we do, we enhance the frame. So, Clarks Wallabees and adidas and certain things are almost like a frame without color yet and we decorate it like a portrait. You can cut, you can paint, you can sew, it's whatever works. A lot of time when you get some material and you want to spread it on your whole ambience you put some on the shoes, you put some on the shirt, you put some on the hat, you put some on the accessories, like that. As long as it looks nice, like a pretty ensemble, then it works. But you don't want to make it look silly. You want it to have a rich touch. If you're going to take Louis Vuitton or Gucci you want it to look like it came from out the store. Like it came directly from the manufacturer like they would sell it to the people on 5th Avenue, not that you're just making it up so it looks authentic.
The minority community kind of outgrows fashion. If certain corporations don't keep up we take it and run with it. Not in a disrespectful way, but if certain labels have the frame or the prestige built already — like a Chanel or something — you take it and you play with it. Then people ask, "I didn't see that in the Chanel store?!" Then you say, "You're right, you didn't! You motherf*ckers better keep up." [Laughs]
Nice Kicks: What shoes and clothing items are in your rotation these days?
Slick Rick: Shoes wise, I haven't seen any shoes that I would say top Clarks Wallabees or old school Ballys, to me. I would say that Clarks Wallabees still rule right now as far as shoes that look like you have a little swag on you. You might have to alter them a little bit, but as far as walking into the store and getting a pair of shoes to look cool Clarks Wallabees still have it locked hands down.
Nice Kicks: We see you a lot on stage, but do your outfits change by occasion if you're running errands, going to church or hanging out with your kids?
Slick Rick: Nah, nah. When I'm running errands I don't really go the extreme like that. I just tone it down, you don't see nothing. I just look regular, like a regular person you don't recognize. Other than the patch, you would just think it was a nobody running around. But when it comes time for showmanship that's when you bring out all of that stuff. The stage is like a different world from the regular world. When the cameras are on you for a reason that's when you bring out your swag and all that other stuff.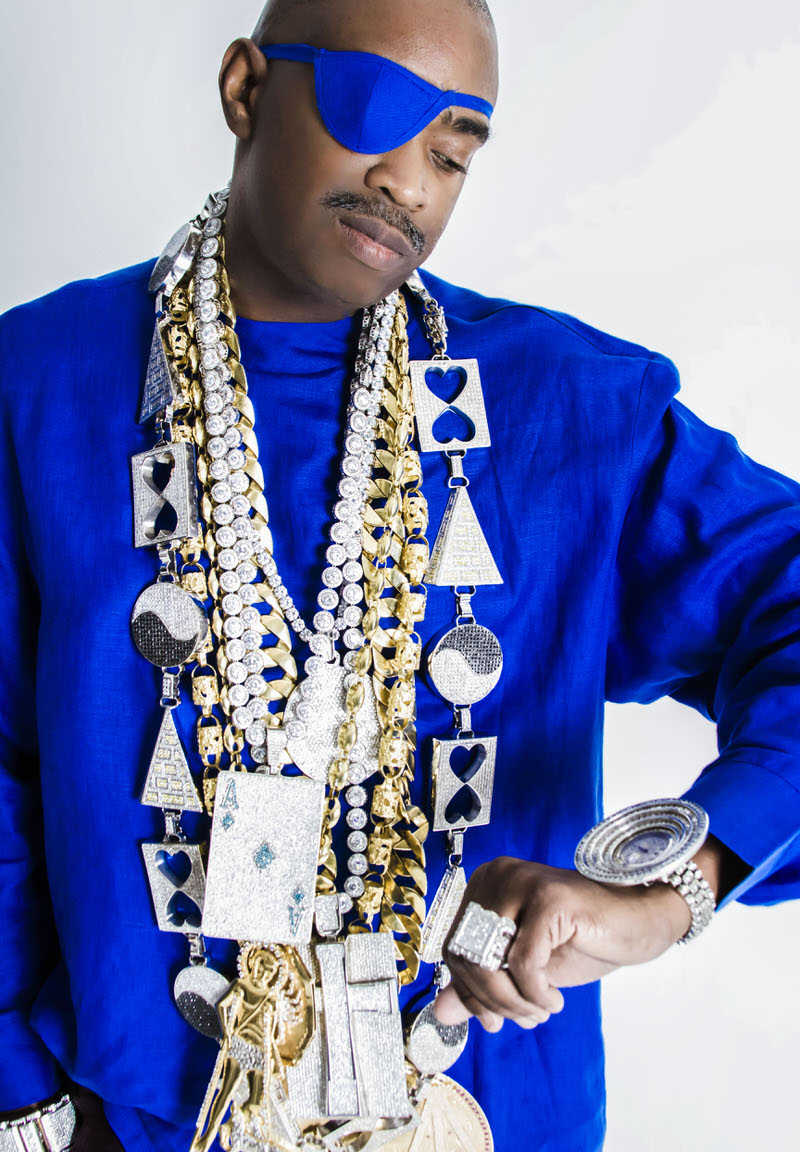 Nice Kicks: In hip-hop there's a lot of trend hopping. You seem totally unaffected by trends, like you've always had your identity and your own shape.
Slick Rick: Yeah, I'd agree with that. I appreciate that. It's like each one teach one. If you see something out in the world that you think will enhance your hobby or craft, you grab it. But if it doesn't enhance it, you don't play with it. Like today's clothes and sneakers ain't really popping in a lot of people like me's sight. We wouldn't run around in skinny jeans or ugly sneakers just because they're trendy. [Laughs] Because they're just not going to do anything for our swag it's just going to make you look like you're trying to look like you're young. It's different from what we were growing up on. Today's style is a lot different, it's not as sophisticated or as swag daddy or whatever it is, it's just different. The sneakers are ugly and the skinny jeans are wack. [Laughs]
Nice Kicks: Rap has changed a lot musically and fashion wise in the last few years. From an art and fashion standpoint what new artists are you feeling?
Slick Rick: I still give it to Missy Elliott. Future has a couple hits that are quite popular right now. Fashion wise, I really don't see too much standing out right in my face right now like, "Yeah, that's pretty swagged out" aside from the two I told you.
Nice Kicks: Music wise, who is your favorite artist you've collaborated with?
Slick Rick: I would have to say Raekwon from the Wu Tang Clan. It was fun to do that song. Everybody was pretty much fun but I guess I would have to give it to Raekwon because he was one of the roughest competitions, know what I mean? [Laughs]
Nice Kicks: Is there anyone you would you still like to work with?
Slick Rick: I'll work with anybody who wants to work with me. I've worked with pretty much everybody so it doesn't really matter, just whoever's willing to come to the table and try to make a hit for the people. The whole purpose is to make the people jump and have fun, to feed your audience.
Nice Kicks: I take it you consider the late '80s as the golden era of hip-hop. Are there any eras you'd put in the same conversation?
Slick Rick: Yes. The era before me, like Melle Mel and those cats and the Cold Crush Brothers. Then I'd give it all the way up to like Method Man, Redman, Busta. I don't know what you would call different eras, but I can point out artists that fed their audience and made them happy. It wasn't for publicity reasons, the core audience was very happy, like a brand new smash from Missy Elliott. [In those cases] you don't have to fake it. Once you have to fake it, it becomes political and it doesn't really represent your audience.
Nice Kicks: You're about to embark on your first world tour. Have you started working on outfits or considered tour merch?
Slick Rick: I don't know about world tour [Laughs] but we just came back from a London tour which was pretty nice. We're taking baby steps right now, one day at a time. We can feel it out once it's time and drop a hit here and there to keep it substantial and authentic, not drag on the old stuff all the time. Doing what we have to do to keep our audience happy and not have to fake it.
Brainstorming? Sometimes you do because you don't want to overpack your suitcase. You're working with colors: beige and green, beige and light blue. You don't want to bring like 50 suitcases so you've got to be smart and bring one basic color then like five or six colors that to go around it. So it's not really too, too difficult to work. If it gets crazy you just bring anything because all your stuff is supposed to be fly anyway.
As far as merch, my wife handles all that type of stuff. I try to help her out when she makes stuff so it doesn't look too corny. That's what happens when you sell t-shirts and stuff like that, people don't like stuff that's too corny that you can't wear it another day. You don't want your face all blasted all over the stuff to the point where a person can't wear it another day or another month later. Let's say you have Slick Rick on there in not too big of a logo like a Polo logo or something on the sleeve so you can wear it not only to let everyone know you went to a concert but you can wear it out and about when you need a hoody or a t-shirt and you still look like you've got swag. Sometimes it's good to make stuff like that that you can wear more than just once or twice like normal tour t-shirts. Something subtle that you can wear everywhere and it's not like you're ODing on advertising and you still can look nice.
Nice Kicks: In addition you're getting out to International Fashion Week. Is there anything you're hoping to see or anyone you'd like to meet?
Slick Rick: Yeah. You go, you mingle with the big cats and stuff like that. The big names that have been out there for decades. I'll meet anybody who wants to meet me, I'm fine like that. I've pretty much already studied the fashion industry and seen how it goes and how it can be improved. When I look at magazines I don't see too much fashion that appeals to a minority male or just a male period. It's all kind of regular suits in earth tone colors. They're not getting creative like they used to back in the days with pastels. So I already know what I'm going to see. I'm not going to see beautiful pastels for dudes so I'm not going to get too amped. Like when I make stuff I have to go to the women's department to go get it and scrap it and remake it into men's clothes. Because when you go down the streets right now to the top stores you're not going to see too much stuff for men, it's just white, black, brown and blue and that's it. There's not going to be a lot of pretty pastels that compliment each other like if you were going to Miami or something that gives a little flavor or dazzles the high. You don't always want to see two-piece suits like, "Whatchu wearing? Whatchu wearing?" Like Joan Rivers used to do on the red carpet. [Laughs] "I'm wearing a boring two-piece suit n*gga, you see it!" [Laughs]
Nice Kicks: In addition to going to Fashion Week, Mandy tells me you may be working on a customer sneaker line. Have brands or shops reached out before?
Slick Rick: Mandy is pushing me in that direction so we'll see how it goes. Like I said, I'm more of a shoe dude. I can work with sneakers, but some sneakers already got it on lock. I just like to take their sneakers and make them hot, but we'll just see how it goes.
Nice Kicks: Fashion aside, tell us about the audio book you're voicing and why it matters to the modern artist.
Slick Rick: That was a book by Wendy Day — she's worked with a lot of artists trying to get them good contracts. She knows the ins and outs of the business and she wanted to make an audio book and I'm the voice of the book. It's going to explain to everybody about the record industry and the ups and downs, the bumps and bruises, and what you've got to watch out for. It's coming out real soon so look out for that.
Nice Kicks: Lastly, what can fans expect next from Slick Rick?
Slick Rick: Slick Rick being better than he was before, you know? Always excelling. Better records, better outfits, better swag, better ice. Always growing like a Rembrandt, like a Van Goh, like a Picasso. Always painting portraits that are better or match their earlier work. A brand. A lot of artists when they were young they weren't as good, but as they excelled they got better. That's the same thing as me with my hobby, craft or whatever I bring to the table. As you get older you excel, you get better at your craft. So that's what I bring to the table: better me.
The Slick Rick narrated How to Get a Record Deal AudioBook is available now here.