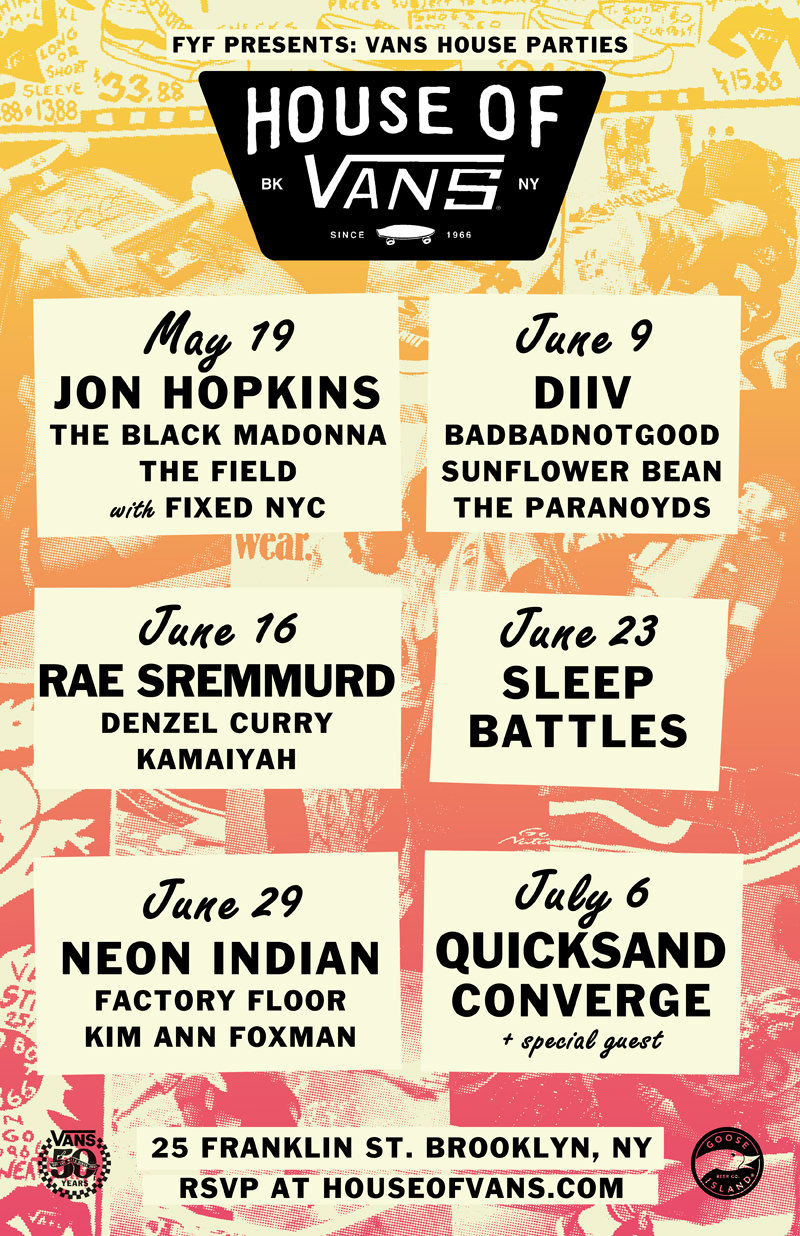 As Vans continues celebrating its 50 years throughout 2016, they have announced the return of their Vans House Party series at the House of Vans in Greenpoint, Brooklyn. Artists such as DIIV, Sleep, Rae Sremmurd, Battles, Quicksand, Converge, Neon Indian, Jon Hopkins, The Field, BadBadNotGood will grace the stage.
To celebrate the evolution of street culture and the aesthetic of New York City, Vans has partnered with several visual artists to transform the House of Vans into an art experience that will showcase the cultural intersection of punk, hardcore, rap and skateboarding through various mediums.
The immersive experience begins as guests approach House of Vans where they will be treated to a special light installation customized by Ken Farmer that is inspired by a once flickering light existing several years ago on the building's burnt out marquee. Upon entering, the space will continue to evolve with several installations including graffiti by iconic NYC artists WANE ONE and Stash, a massive collage using vintage NYC punk flyers by Scott Ewalt, and a fully functioning boombox wall commemorating '80s hip hop and street culture from Bayeté Ross Smith.
Check out the schedule of shows below.
House of Vans Brooklyn 2016 House Parties Lineup
(25 Franklin Street in Brooklyn)
May 19: Jon Hopkins, The Black Madonna, The Field – RSVP Open 5/10
June 9: DIIV, BadBadNotGood, Sunflower Beam, The Paranoyds – RSVP Open 5/25
June 16: Rae Sremmurd, Denzel Curry, Kamaiyah – RSVP Open 5/25
June 23: Sleep, Battles – RSVP Open 6/13
June 29: Neon Indian, Factory Floor, Kim Ann Foxman – RSVP Open 6/13
July 6: Quicksand, Converge – RSVP Open 6/28