words & interview // Nick DePaula:
Eric Avar's entire career has been centered on one foundational approach — marrying the art and science of performance design perhaps better than anyone else in the industry.
Whether it was his groundbreaking Foamposite design in 1997 — the shoe Tinker Hatfield is on record saying he wishes he'd done — or his forward-thinking series of Nike Basketball concept cars under the "Alpha Project" silo at the turn of the millennium, Avar has often been ahead of the curve, penning performance-first pairs with principles of natural motion, simplicity and modernized cues that have always pushed the industry ahead.
Of course, his 2008 Hyperdunk and the low-top shifting Kobe 4 the following season helped to entirely reset Nike Basketball into a new generation. Over the past decade, as the brand's Creative Director of Innovation, he's been constantly working towards the future of sport performance.
His latest work — the HyperAdapt BB —  veers more to the science end of the spectrum than ever before, with its internal auto-lacing motor powering the shoe's on-demand fit. Headlined by Celtics rising star Jayson Tatum and expected to be debuted on court tomorrow evening in Boston, the new silhouette is Nike's newest stamp on what's in store for the future of hoop shoes.
During a lengthy sit-down in Nike's Innovation Kitchen, Avar discussed everything from identifying the design hero on the HyperAdapt, to Kobe Bryant's ongoing involvement with the brand, and where the future of design may be headed.
Nick DePaula: You always discuss the idea of footwear design being the blend of art and science. With this sneaker having so much science, how much did you want to try to find that blend, or still just drive home the science angle of it?
Eric Avar: It's always a balance between art and science. Maybe there was a little more science that went into this product, compared to your normal basketball product. [laughs] That just made the challenge that much more exciting, quite honestly. Before, we had talked about art and science – but, also story.
That's something that's been important in Kobe's products and something that Kobe has always challenged us with. There's a lot of thought, story and subtlety that goes into the overall design and the final expression of the product.
NDP: It sounds like the auto-lacing element was clearly the starting point for the project, but what were some of the early exercises and thoughts around the overall silhouette that this could take?
EA: Early on, we felt like we wanted to keep it a low. Maybe that's a lot of the influence of working with Kob. I'm not sure what the percentage of low tops in the NBA are, but it's well over 50%. We were keying into that. Silhouette wise, we definitely keyed in on a low. It was really a matter of how could we create a unique fit system.
How could we create this engine and tap into the capability of that and re-think how we actually create a fit system. It's not traditional lacing – it's a cable that's running through a new lace architecture that's interacting with this new, high performance quad-axial, quad-fit material.
NDP: You often talk about designing first with a big picture broad gesture. Being that you wanted the technology to really be the key here, what were some of the early gestures you had in mind that could really take it to a new place?
EA: There's so much engineering and so much technology that went into this product. It's so complex, in many different ways, and there's figuratively and literally so many moving parts and components. Good design is always taking and making the complex as simple as possible. Both, through the design and the expression.
The fact that this is one of the most advanced and technological products that we've worked on, we really wanted to make it as simple, wearable and friendly as possible at the same time. There was this notion of having classic elements, with just a few twists of a modern expression. You can see that in the design of the Swoosh, and there's a little bit of a yin-yang aspect to it. It's a hint to the fusion and the seamless integration of the technology and something that's inherently human. Blurring the lines between technology and soft goods. The tail of the Swoosh has a little bit of a fade, almost an adaptive transition, which slightly manifests itself and metaphorically speaks to the adaptive performance.
NDP: Just from looking through the sketches, it seems like the logo execution was really something that came down to the stretch.
EA: We went back and forth. We went through so many iterations on this project. You had to design a new lace engine. Then, we were designing a new fit structure, system and architecture. You'd make one change to one, and that would require making changes to the other.
It was this back and forth process, and it was very intensive. We knew from an overall, broad stroke perspective that we wanted something simple, but classic and modern with a little bit of a twist. There were some more traditional expressions, and then some that we added.

NDP: How did you land on the materials, doing more of a knit expression of the upper, as compared to the samples that had nubucks and suedes?
EA: This more lightweight, minimal knit – this atom knit – seemed to be a natural expression of the product. We just wanted to put this thin veil over the product. If you look really close, you can kind of see what's going on, but for the initial read, it's slightly masked and cloaked. There's this notion of creating a little magic or mystery around, 'How is this actually working?' That was part of the design. We just engineered in some different properties to the knit to give it the support.
NDP: You started at Nike in the early 90s, which was right after Tinker had done the Mag for Back to the Future. As you got going in your career at Nike, where did you see the future of what sneakers might be capable of doing as you began to look out ahead?
EA: The Air Mag was there. The notion of power laces in the future was always there. This notion of product being a more seamless and natural extension of your body, I think, is something that always has driven me as a designer and innovator. Through projects like Free, it works more holistically. Projects with Kobe, he always wanted to go lighter, more responsive and more minimal, but never sacrificing cushioning, protection and all of those things.
Early on, this notion that product could change state and that it could go from a comfort state to more of a containment and secure state, even thinking back almost thirty years, it's always been there. It's been a journey, and this is just one more small step on that journey of where we could go.
NDP: We saw that concept in the Jordan 33 more recently, and now two HyperAdapt models. In terms of the brand's statement and standpoint, how much are we going to see adaptive lacing hit all categories, or will we still see it as more of a pinnacle product?
EA: We definitely believe that as we continue to refine and evolve adaptive performance, that it will have broader applications to sports and categories.
NDP: When you look at the hallmarks of the digital team at Nike, you have in 2012 the launch of Nike+ in basketball, with the Hyperdunk, LeBron 10 and Kobe 8, where they could measure how high you could jump and your speed. As you were developing the performance fit system, did you ever push all the way to thinking about adding in even more elements of technology and metrics?
EA: Yeah, absolutely. First and foremost, there's so much technology out there. We're awash of data and information, which is awesome on one hand, but it can also be a little overwhelming on the other. Distilling down what is really relevant and what is meaningful from a data or information perspective — what metrics might be really valuable to different sports, different kids and different levels?
This notion of integrating and blurring the lines of technology in soft goods, feeling something is really important. Being able to feel technology is an interesting notion and something that can be unique to Nike. That's the tangible aspect. You can feel fit right away, but we also built in a lot of capability into the mechanism that will give us a lot of information and data to build different experiences.
NDP: That's funny you mention that. The takeaway for me on the 2012 Hyperdunk was never that it could track how high I can jump – cause I can't jump all that high. It was more about how as you laced up and pulled on every eyelet, you could really see that Magwire engage. You could somewhat see it come to life. As you guys were testing the HyperAdapt out with players, what was some of the feedback, hesitations, bright spots, things they loved and criticisms that you heard along the way?
EA: It was definitely a trial and error, and iterative process. You would solve for one problem and then created one or two others. We were just trying to simplify and simplify and simplify. The engine can generate a fair amount of push or pull. It's not a traditional lace, and it's a cable that we're pulling on. Everyone's foot is a little different.
Honestly, we probably tried upwards of 100 different lace configurations and different lace systems. We ended up just trying to rely on this quad-axial material as much as possible and minimize the lace as much as possible. We just iteratively worked through all of that and got to a point where there was a very holistic and good fit.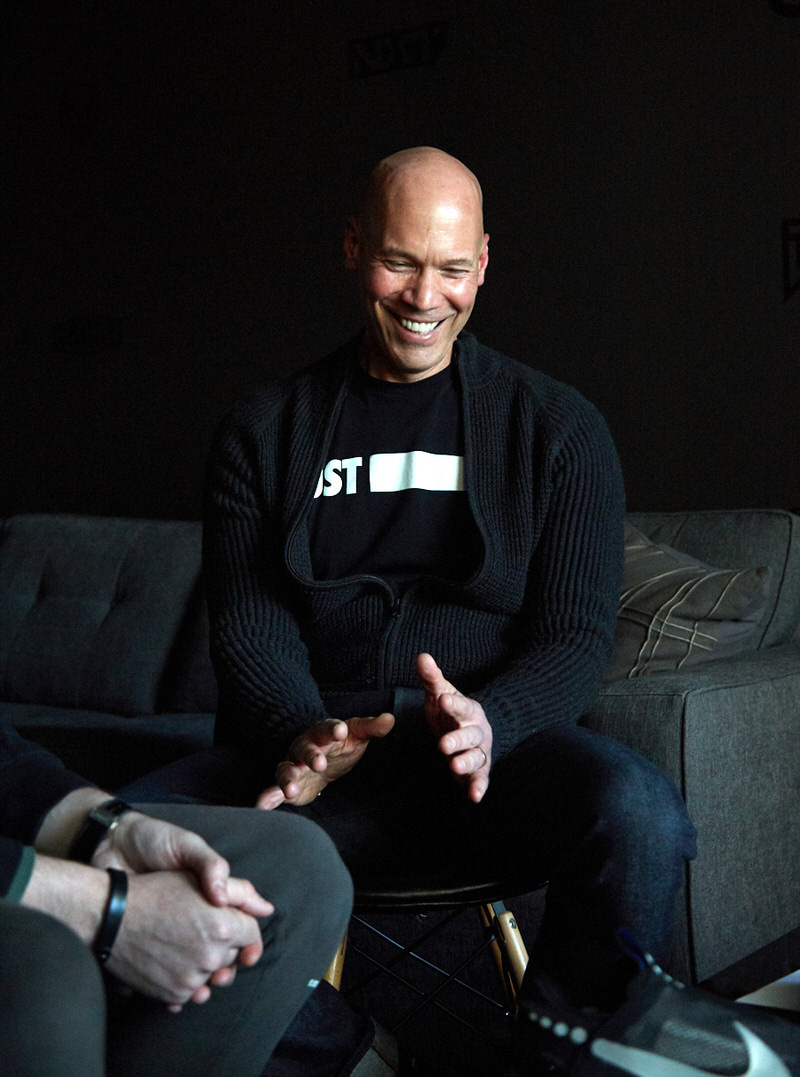 NDP: What was the first time showing Kobe like? Was he mad that he was at the tail end of his career and didn't get to play in it? [laughs]
EA: Yeah! [laughs] This project has influenced and sparked so many different ways of thinking about fit. There are so many different projects, including the 33 and Kobe's next shoe – the 14th – is heavily influenced by that. Safe to say, there's never a short of big and bold ideas with Kob, so we're going to continue down that road.
NDP: Given the resources and size of the team involved, and the amount of samples you had to work through to get things right, what does the progression look like? Will it be a two to three year evolution, or an annual cadence? Or, will this HyperAdapt become the standard of EARL in basketball and live on?
EA: That's a really good question, and we're already logically working on new variations and always trying to improve all aspects of performance and design. I think there are a lot of good things and a lot of problems that we solved with this, so it will certainly serve as a foundation and inspire other products like that. I think we'll continue to build on this. We're already improving technology and that'll give us more flexibility to move the design even further.
NDP: We've seen the Nike Elite series in the past launch different elevated price points as high as $250, but they were still somewhat within reason. This is a whole different tier. Have you guys looked at, if this is the north star, near-$400 version of fit – have you looked at what a cushioning concept car could be with no price limitations, or a grip version?
EA: Adaptive performance is not only through the lens of fit. We believe this notion of adaptive performance and being able to change from one state to another state — the vast majority of all of our products we work on and design are a single state for performance. This notion of adaptive or fluid performance is something that is definitely going to be a benefit into the future.
Between fit, cushioning and traction, we can really start to look at all of the performance attributes that make a great shoe. Some are going to be harder to solve and take a little more time than others, but there's definitely this more broader vision of adaptive and fluid performance.
NDP: You can point to the Shox BB4, Huarache 2K4 and Hyperdunk throughout the 2000s as pinnacle shoes that were hinged against the Olympics. How much did you discuss the timeline of this shoe, versus simply launching it once was ready?
EA: Honestly, we had no timeline whatsoever. It was a matter of doing it right. When we set out to do this, the original HyperAdapt was an amazing product, and it was the first bold step into this adaptive world. The vision, the goal and the dream of being able to bring this on court at the highest level was going to take some time. We wanted to make sure that we had it right. If we had it right then great, and if it took longer, so be it. It's about doing the right thing and making sure that we're helping to make athletes better.