PJ Tucker is the sneaker king. There's no way around it. It's not even up for debate. Since his return to the NBA, PJ Tucker has been sporting an absurd amount of heat throughout the season.
Whether during his stints with the Suns, Raptors or Rockets, PJ Tucker has brought almost every shoe you can think of to the court. Player exclusives. Unreleased samples. Family and friend pairs. The hottest releases. Even some slept on OGs. Hate him or love him for it, PJ Tucker isn't afraid to bring your grails to the hardwood.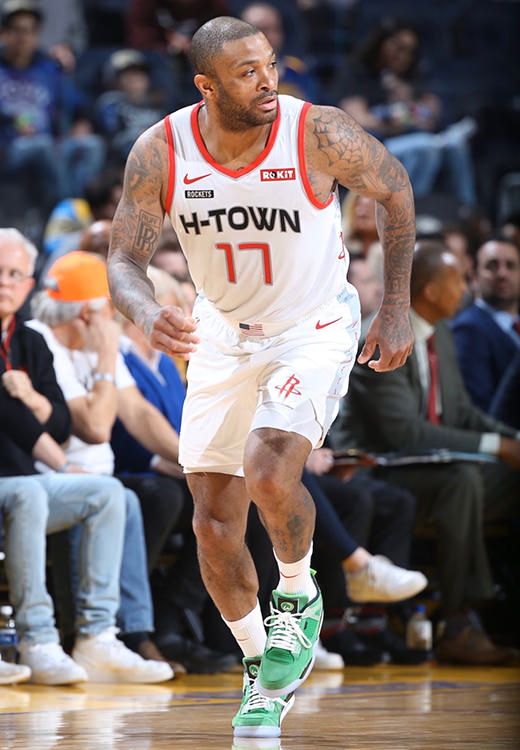 We caught up with PJ Tucker during the tenth installment of Kicks For Kids in Scottsdale, Ariz. as he made an appearance to the charitable event he proudly helps out with. Read what the Kicks On Court legend had to say below, and be sure to follow @KicksOnCourt on Instagram for daily recaps, exclusive content and more.
PJ Tucker on his Old School/New School Rotation
PJ Tucker in the Nike Air Bakin (Bill Baptist/NBAE via Getty Images)
Nice Kicks: You're always mixing old school stuff like PEs from the '90s, OG Huaraches and Hyperdunks along with recent releases. What do you enjoy most about updating your rotation?
PJ Tucker: I'm a total old school guy. I like the way some of the new stuff looks man. I'll wear the fresh stuff, the hype stuff that everybody likes. Only if I really like it though. I don't wear it just to wear it. I have to love it. If not, then I'm not wearing it.
What More to Expect from the #KicksOnCourt King this Season
Nice Kicks: Rumor has it you're going to bring  the Nike Air Yeezy 1 "Grammy" sample along with the Nike Air Yeezy 2 "My Beautiful Dark Twisted Fantasy" sample to the court soon. What else can we expect from you this season?
PJ Tucker: I don't know man. Honestly. Stuff is coming to me daily. Crazy stuff. Especially now with all of the talk and the hype behind it. Honestly, I just try to stay true to myself and true to the shoe game. Just trying to have fun because that's what it's all about. The essence of it is fun.
PJ Tucker on his Post-Wear Process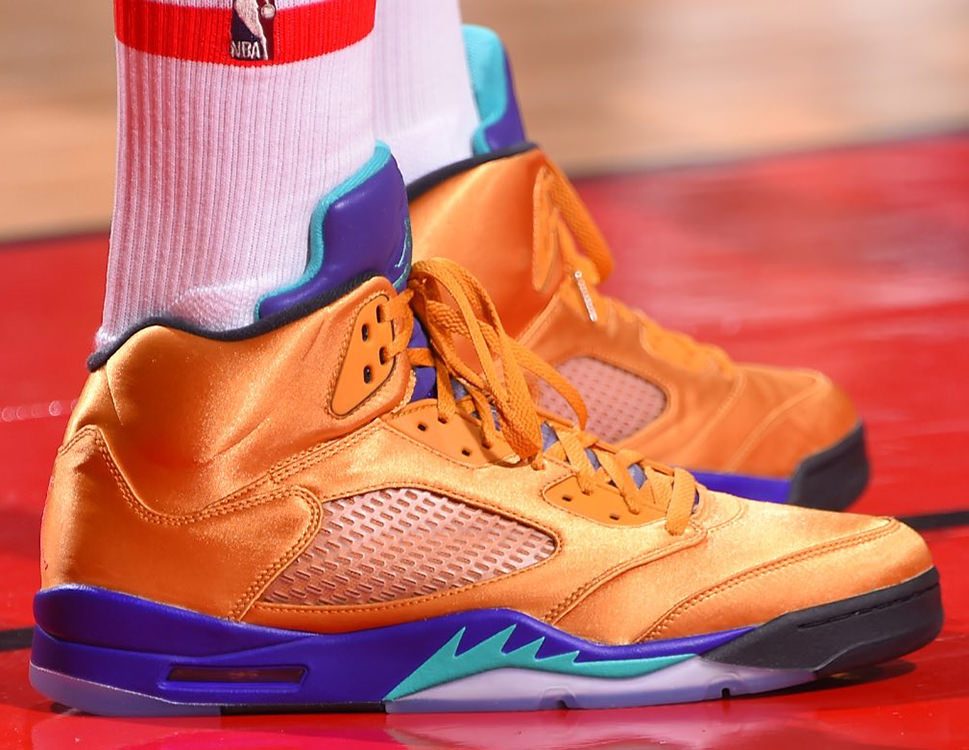 Nice Kicks: You normally don't wear a pair more than once. What happens after they hit the court? Do they go back in storage or do you get rid of them?
PJ Tucker: It depends on the shoe. If it's near and dear to my heart, then I'm definitely getting it cleaned and putting it up. If it's something I like to wear a lot, I'll keep it. If there's something  I don't love as much, I give it away. More than not, I give some of my pairs away unless they're OG classics.
The Sneaker King Hooping in his Friend's PEs and Signature Models
Nice Kicks: We always see you putting on for your friends. Whether it's unreleased Nike KD 4s, stuff from James Harden's Nike days, Russell Westbrook's early Jordan Brand days or even some of Devin Booker's stuff, you're always showing love. What's it like to not only wear their stuff but have a relationship with these guys?
PJ Tucker: It's all about my friends man. My friends, my family, the dudes I love. That's what it's all about for me. I love seeing the really great players in this world achieve and come out with super cool shoes. That makes me happier than anything. To see my friends achieve that.
PJ Tucker on the Shoe he's still Searching For
Nice Kicks: What shoe are you still in search of? There has to be something you absolutely need right now. 
PJ Tucker: There's a lot of stuff I still can't find. There's also a lot of stuff that nobody can find, you know? It's not like somebody is out there saying "I got that." It's stuff that will probably crumble once you wear it. If there's one shoe that I just have to have right now, it'd be the Air Jordan 3 Usher PE. That one. Man. So many people don't know about that shoe. That one and the Drake vs. Li'l Wayne Air Jordan 3s.
PJ Tucker on his Relationship with Kobe Bryant
Nice Kicks: Throughout this season and your entire career, you've been wearing Kobes. Since the news of his tragic death, you've strictly been wearing some gems from his signature line and even some PEs. What's it like for you to honor your friend's legacy now more than ever? 
PJ Tucker: I've been honoring him since the beginning. Since he was living. Since we were playing against each other. To me and my generation, he's the greatest. He's been my favorite player. The hardest player I've ever guarded. He means more to me than I could ever put into words. For me, between him and his shoes, he means a lot to me. I have to wear all his shoes now. Even the pairs that I said I wouldn't wear. I have to.
Stay up to date with every shoe PJ Tucker wears this season here at Nice Kicks as he's set to reclaim the #KicksOnCourt throne.