Creative Director. Rockstar.
In 2018, the two titles – earned or self-appointed – carry more clout than three-letter acronyms like CEO or NBA with six-figure followings mean more to most than six-figure salaries.
50 years ago when KISS frontman Paul Stanley decided he wanted to be both, it was less about fame and fortune and more about imagining his own world.
"I started doing this because I wanted to live without rules," reflects Stanley, the man behind not only the mic but also KISS's image, costumes, stage design, album art and merch for nearly half a century. "My only rule was there no rules and to not be shackled by others' limitations."
Undefined by the expectations of others nor titles other lust to tote, the New York native is doing pretty, pretty good. The same hand that penned "I Want To Rock and Roll All Night And Party Everyday" and sketched the famous KISS logo decades ago now spends time painting in his family's Beverly Hills home when he's not rocking crowds of 80,000 in countries that register as #TravelGoals.
So, Paul's designed massive stages, the look for the most famous band in the world and the art for numerous platinum projects — why not sneakers? Well, that's exactly what he's doing now and exactly why we spoke with him. Teaming up with PUMA for the Suede 50 celebration, we chatted with the man who set out 50 years ago to do what every kid dreams of doing now and is still doing it to this day.
Rock on.
Nice Kicks: Growing up in New York, what would you say was your relationship with sneakers?
Paul Stanley: In New York, everybody had sneakers and certainly they were of a different generation than what it's evolved to. We had Keds, PF Flyers, and Converse. Over time it was interesting to see how sneakers evolved into a multi-purpose shoe and wearing it outside of sports. It's amazing how sneakers have turned into a fashion accessory and how they have elevated above just function.
Nice Kicks: When PUMA approached you about this collab, how did it first come about?
Paul Stanley: It's really funny, it comes down to the chicken or the egg. In this case, I contacted PUMA. I said, 'Hey, I've spent fifty years almost now, designing stages, album covers, clothes and shoes so I think I've got a pretty good idea of what we could do.'
I wanted to create a shoe that really had an identity that would help to define somebody's style. I'm not big on fashion, I'm big on style. You either become a follower of fashion or you seek out your own style. People with style ultimately become fashion icons. I wanted a shoe that you could wear with jeans and a suit. I wanted it to be multi-purpose that could fit all different functions. I think the PUMA Suede is timeless and I just wanted to give my take on it. For the few weeks I've been wearing them around and the response has been positive in regards to both males and females saying they're awesome. That's awesome because I didn't want a gender-specific shoe, I wanted something that conveyed an attitude.
"The thing that attracted me to PUMA is that you could have style and fashion without having to mortgage your house." – Paul Stanley
What they've done with Rihanna, Selena, and The Weeknd is a different mindset than some of the other brands. Reaching out beyond athletes is a very smart thing to do. When I got in touch with PUMA they said, 'What are your ideas?' So, I literally sent them what became my PUMA Suedes and they said, 'Yes indeed, let's go!'
Nice Kicks: Handling creative direction beyond music but also with stage production, album art and merch is prominent in hip-hop right now by the leaders in the genre.
Looking back at the KISS legacy, what led you to do more than just make the music but also craft the aesthetic of the band? 
Paul Stanley: I've always tried to go by a philosophy that if you please yourself you'll please someone else. I know that I can't please everyone but if I liked something odds are a good amount of people would also like it. I designed stages that I would love to see bands playing on. Not surprisingly, there's KISS DNA in lots of sets now. It's all based on the concept of dazzling people and giving them bang for their buck.
Nice Kicks: How does that mindset translate to your collab with PUMA and vice-versa?
Paul Stanley: You know, I see a lot of designers doing high-end sports footwear and if you gotta spend $900 to get a pair of shoes I'd rather see you save your money for something else. That's another thing that attracted me to PUMA is that you could have style and fashion without having to mortgage your house.
With things like stagewear, at some point, I realized I had a better handle on it than some people who designed clothes for us. Some people who brought sketches in for us looked like they belonged on the backs of Vegas Showgirls. Album covers have been the same way. Just, in general, I think I understand the aesthetics of style because I'm a painter, an artist. I always picked up on the rock n' roll acts that had great swagger. I've always aspired to look like an individual without looking like an idiot. [Laughs]
Nice Kicks: When it comes to three-dimensional designing — whether it's stages or clothes — what's your creative process and how does it all come together?
Paul Stanley: When you give yourself limitless freedom and don't shut yourself down — because there are already enough people trying to shut you down so don't do it to yourself — you'd be surprised to find out what you can accomplish. I tend to just spit it out, sit down and sketch something out. It's really not brain surgery – I don't mind demystifying the idea that design is impossible. Yeah, it takes some talent and an understanding of balance, but everybody can do it to some degree. If you find something you're good at the only thing standing between you and success is hard work.
Nice Kicks: How does that hard work translate to staying power?
Paul Stanley: I always believed what is good will last, but what is iconic is good. Things come and go, you can have a hit song by having a teapot on your head and lighting your shoes on fire, but if you wanna be in it for the long haul? You've got to have the goods. Things that are iconic like Rolls Royce, Coca-Cola, the Kiss logo, it instantly connects with people.
Nice Kicks: How does it feel to see your band KISS transform and evolve in modern day pop culture?
Paul Stanley: It's a victory a lap to be able to stand your ground and do what you believe in and be successful. There will always be detractors, but when the overwhelming public embraces you, champions you, idolizes and emulates you, it's incredible. I am incredibly humbled and appreciative of the way that people have been inspired by us. It's tremendously gratifying to be thought of by some as icons. I don't take that lightly. When I see the decades of our influence over music in general, not just rock, it takes my breath away. For me, it's still just a matter of onward.
"Things that become iconic in the end last because tradition is what becomes timeless not the item." – Paul Stanley
I started doing this because I wanted to live without rules and my only rule was no rules and to not be shackled by others' limitations. If I could be a role model in that way? You could do worse. Go for it, do it! You're much better living by saying, 'Why not?' than 'why?'. I'm here to cheer people on, inspire them and let them know there's something inside you that you don't even know.
Nice Kicks: In regards to inspiring, you're active now on social media. What particularly drew you to social media, did you wish you had it around the time you were in the band?
Paul Stanley: I am thrilled we didn't have social media. [Laughs] It made you work harder because you had to connect to people one on one. You see people nowadays sitting at a table and everyone is chatting with someone who isn't sitting at the table. The drawback to me is that people aren't living in the present. On the other hand, it's also a quick way to share and connect parts of my life with people that care about. I do like that. It's a way for me to connect and show my fans that they're important to me.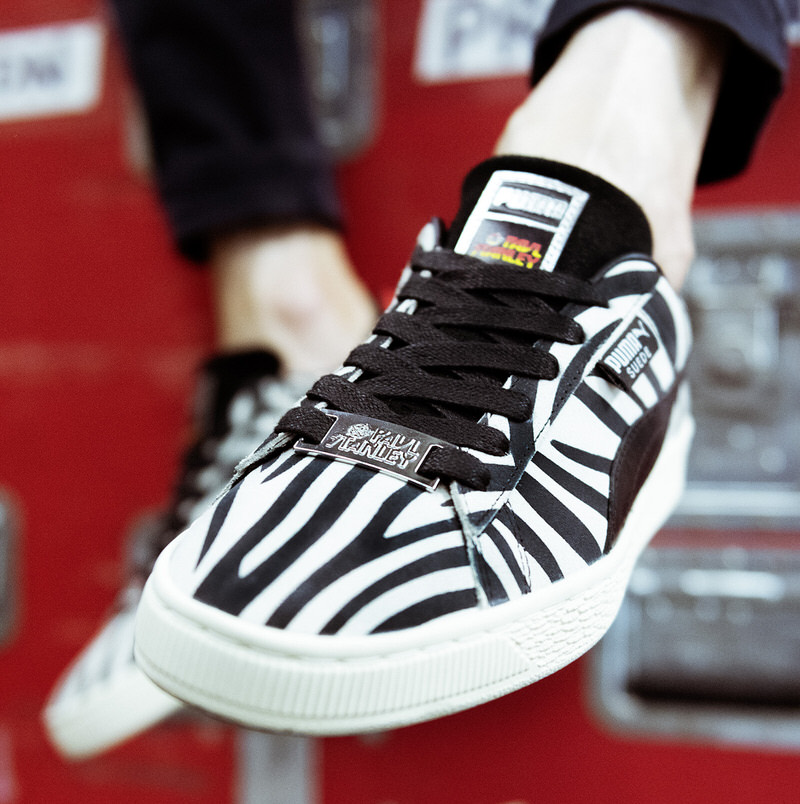 Nice Kicks: Keeping with the present, are there any particular artists currently who you admire or respect their music or style?
Paul Stanley: Another tough and great question. There are so many. I just saw Ed Sheeran live and he blew me away! It's crazy, just him and a guitar. I think Post Malone is cool because it's not easily pigeon-holed – it has different elements going on and I think it's interesting. The Weeknd! Whether it's with Daft Punk or some of his other collaborators, it's very cool. Obviously, there are some throwback influences in there, but that's a good thing! We're all at our best when we're adding an element to the music of our heroes and coming up with something that's ours. Most of the music I like most reminds me of other music I like or the music I grew up listening to. You want to be inspired by something but you don't want to copy it. Hell, when you heard Bruno Mars' "Uptown Funk," there's so much in there! There's Gap Band, there's Cameo, there's so much in there! It couldn't be bad! It's borrowing from the best. Everything old is new again. At some point, it comes back in one way or another. Like with PUMA, those Suedes are timeless.
Nice Kicks: I noticed on Twitter that you have Jerry Lewis' vintage Louis Vuitton luggage. What is your relationship with the collectible culture and having a piece of that with your new shoe coming?
Paul Stanley: I know first hand because my drummer Eric probably has enough shoes that if he ever released his collection he'd probably put Foot Locker out of business! [Laughs] From the beginning, collectibles have been a way for people to have a connection to something that was or something that is in limited supply. KISS memorabilia is incredibly collectible. I had a friend tell me he loved the Suedes but didn't wanna wear them! I'm like, 'Dude, you gotta wear them!' You gotta get out there an wear them.
The Louis Vuitton luggage, it's iconic. It's been around for over 100 years. Things that become iconic in the end last because tradition is what becomes timeless not the item. Elements of timeless can be mixed with modern to create your own new statement. That's what I tried to do my best with PUMA: to take something timeless and put my own spin on it, to create something fresh.
Nice Kicks: To close it out, who are you most excited to see out and about, from celebrities to musicians to athletes, wearing your new shoe?
Paul Stanley: I'm looking for surprises, people who I wouldn't expect wearing them. I want everybody who wears them to send a photo into my Twitter! I want to see everybody wearing these shoes to be proud.
The Paul Stanley x PUMA Suede 50 launches worldwide on September 27th.