Making the most of the moment in Paris or perhaps trying to shut down "Best Sneakers of the Year So Far" lists as we approached 2019's midpoint, Virgil Abloh hit the shoe world with a big "SURPRISE" over the summer.
Seen for the first time at Fashion Week back in June was the Off-White x Futura x Nike Dunk Low in both "UNC" and what one could call "Chicago Bears" colorways. Our friends at Highsnobiety were even able to snap on-foot photos.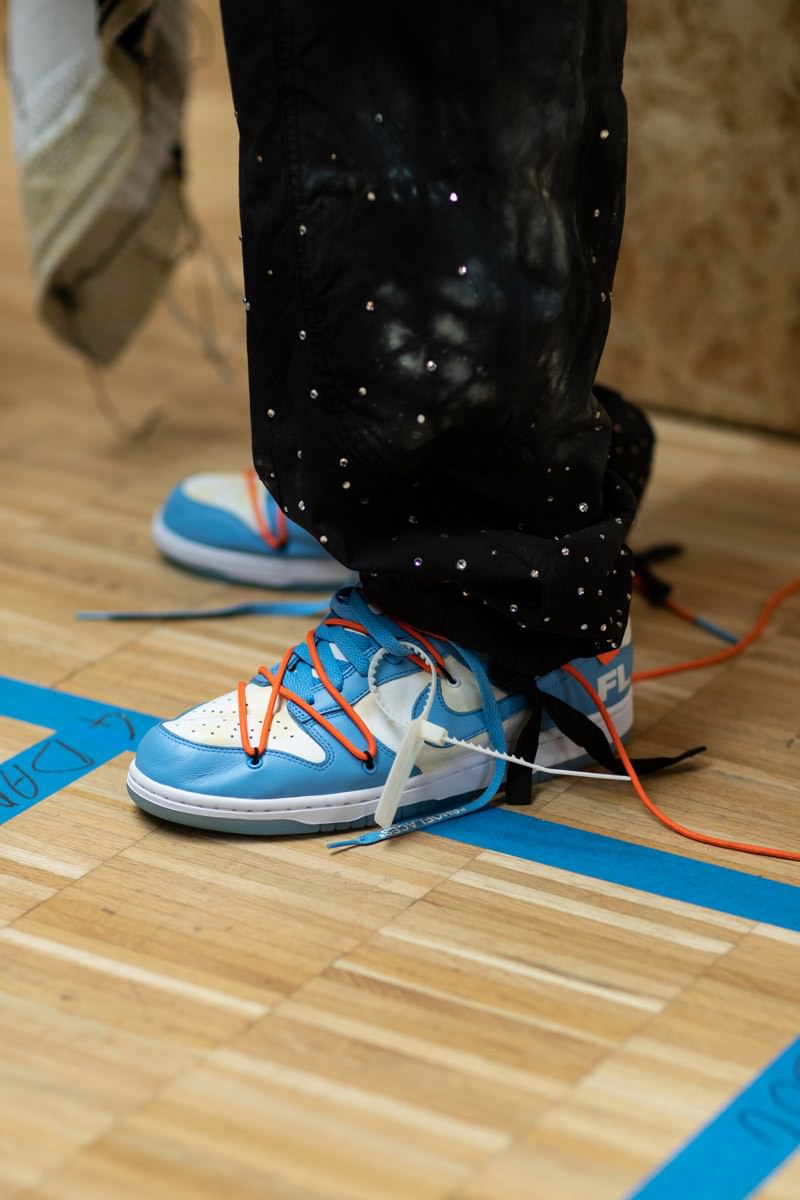 Additional shots from Hypebeast confirmed the same, showcasing the shoes with a more conventional drop of pants.
Check them out below.
Previewed in Paris, the likes of Virgil, Futura and Don C have all showcased said shoe on their socials.
True to both parties, details, heritage and street art shine through.
So, why has the internet been going nuts over these? Well, obviously anything Off-White x Nike causes a stir and the backing of famous friends sure helps, but let's all applaud Abloh as there's a lot of both reference and reform going on here.
First, collaborating with Futura is about as high-brow/street level as the man with Pyrex Vision could get. Futura is an OG in respects to both graffiti and tagging up Swoosh sneakers, seen on many grail-status Nike collabs, most notably his "FLOM" Dunks.
While "FLOM" represented "For the Love of Money" as seen by the currency print on the above pairs, Virgil's tongue-and-cheek irony on his Dunk collab combines Futura Laboratories and Off-White for "FLOW" tagging on the shoe to represent the union of FL and OW, respectively.
This state of FLOW carries over in some sense to the lacing as wide-set bungie roping sits over the standard tying mechanism for a touch of odd and a color/closure play true to Off-White's work with Nike.
Lastly, Futura's famous signature stamps the sole – true to past Nike collabs – also influencing Abloh's highlighted Hancock as well as signature inside-out stamping on the medial sides.
What's slightly uncertain is whether or not these fall into the SB category. One would assume no because of lack of SB tagging, while one could also claim that the shoe does not sport a fat tongue but rather a deconstructed one likened to "The 10" series.
At the moment, release details are unknown. Rumors have suggested a Fall 2019 launch for Off-White x Nike Dunks, though reports slate color codes far different from what's surfaced at Paris.
For those active on IG late last night in July, it was stated that Abloh's account was indeed hacked and that these shoes will not be releasing via a high follow account for the said hackers nor will they be sold for big money bitcoin.
Clearly, that did not happen.
What's curious now is if or how this will effect the eventual rollout of said shoe.
Knowing Abloh's knack for irony and sense of humor, perhaps he'll play this hacking into the drop or turn it into a rug?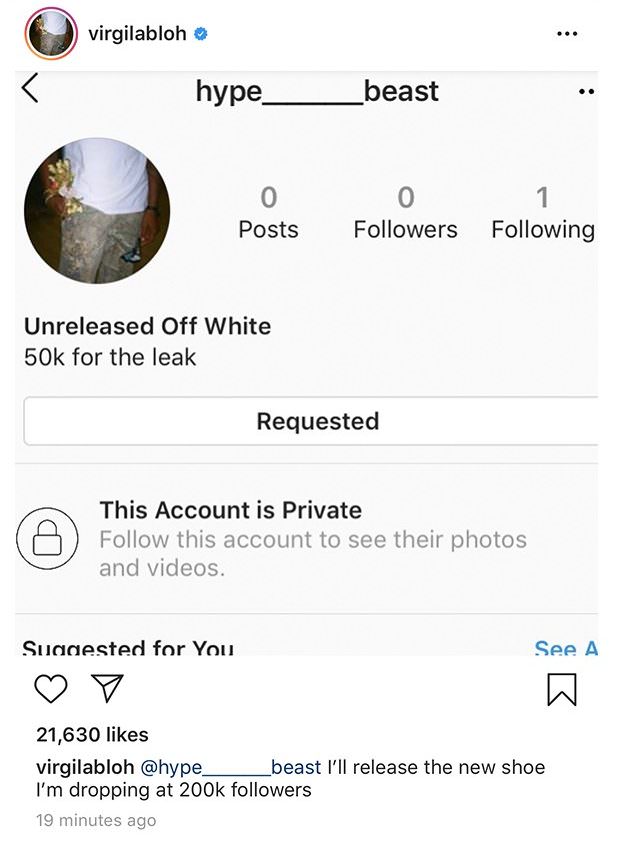 Recently, Virgil's carpenter pant collab with Futura just released online at OFF-WHITE. Could the shoes from the same collection be coming soon, too?
Keep it locked to Nice Kicks for updates on this shoe.
For related news, peep Virgil's Louis Vuitton tribute to the SB Dunk and every Off-White x Nike shoe.