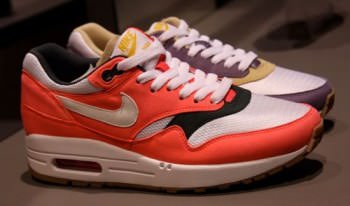 The Bread&Butter Tradeshow revealed a lot of good stuff for 2010. We saw the premium Converse Chuck Taylor Cup lineup and some more goodies. The one brand we didn't check out though, is Nike. We're changing that today with this preview of some goodies from the biggest name in footwear.
All the old school goodies were present, from the Air Max 1 to the Pegasus 89 and Air Max 90 Moire. A number of the colorways we see here are exclusive to a store in Athens. The Air Mariah can also be seen in a White/Green color-up alongside some special material Air Max models.
Click here for more pics.