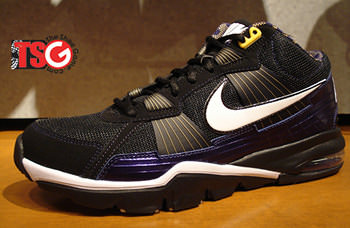 Nike has orchestrated an impressive campaign for introducing the Trainer SC 2010. The Swoosh began last year with the retro release of the Air Trainer SC in order to garner attention for this decade's mutation. Since then, they have peppered the public with rousing colorways such as the Baseball Gloves, the Pro Bowls, and the Bo Knows Pack.
Now taking their place amongst these colorways are the make-ups of the Player Edition Series. Nike has constructed unique color-ups of this new-age trainer for three of their athletes. Two of these athletes, LaDainian Tomlinson and Adrian Peterson, put in work as running backs on the gridiron whereas the third, Brian Clay, demonstrates raw stamina and an arsenal of talents as a decathlete.
You can find multiple photos of each athlete's player edition on the flipside. If any or all of these shoes fit your fancy, you may purchase them for $110 at select Nike retailers.