From Big Sean to Eminem, Detroit has never been dismissed as absent from the growing US rap scene. But, as hip-hop's newest generation of rap-stars begin amassing their own tenure in the game (seemingly by the month), Tee Grizzley is who you can expect to stand up for D-Town when it's time for roll call. As he should. Though young, he's been rapping for a minute now.
"I was like 12 when I first got into music," recalls Tee. "My uncle had me do this hook for a track he was making — this was before I even wanted to be a rapper. He was like, Man I need you to rap this hook for me, I need a kid voice on there. It was when I heard my voice on that song recording that I fell in love with it. It was a wrap."
Fresh off of his two BET Award nominations (for Best New Hip-Hop Artist & Best Mixtape) and the release of his latest single "Win," we caught up with Tee here in Austin, Texas to talk about what kicks he's feeling lately. Be sure to see Tee on his Ain't It a Blessing US tour, and check out his current sneaker rotation below in our latest My 5.
Air Jordan 5 "Oreo"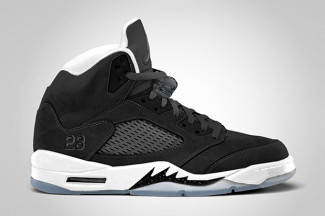 Tee Grizzley: [In Detroit], You always had to have the new Js when they come out. You always gotta have a crispy pair of white Air Force 1s, or a crispy pair of Timberlands. Hell yeah. Out there — the day before they come out — dudes would be outside the stores. I was out there a couple times. Actually, the shoe that started it all for me was when the Fusions came out. The Jordan x Air Force 1 Fusions. The first pair, the black and red ones, were the first shoe I ever camped out for.
Supreme x Nike Air More Uptempo "Red"
Tee Grizzley: Sports had a big influence on me lately — it was actually what inspired the new single "Win." They just go hand and hand with the sneakers, you know? You gotta have a good pair of sneakers on when you're playing sports and that's what we doing.
Air Jordan 5 Flight Pack "Red Suede"
Tee Grizzley: I like the 5s! I got so many of those in rotation right now [laughs]. The Raging Bull's though — I ain't have the package when they came out with the 3M pair, but I do fuck with them. That red suede is hard.
Air Jordan 5 Flight Pack "Blue Suede"
Tee Grizzley:  I had to get the red and the blue pairs of those.
Gucci "Blind For Love" High-Top Sneakers
Tee Grizzley: I been into the designer sneakers lately. I wear a lot of Jordans and Nikes regardless but the Guccis have just been hard. I always gotta keep at least one pair around.
Keep up with Tee via Instagram and make sure to keep an eye out for his debut album coming soon.
Special Thanks to 300 Entertainment & C3Concerts