This summer, Mike Scott made his reporting debut by having the tough job to deliver tough news.
The NBA had banned the 'Ninja' headband.
A favorite for Scott, the Turtle Power head tie symbolized both the fun and samurai mentality the Philly forward brings to the Sixers. While it was the league that banned the flashy moisture protector, perhaps their partners at Nike can do Scott a solid by providing him more drip on court by bringing back one of his favorite sneakers?
Recently at Media Day, our main man Bryant Coffey was on hand to talk kicks with the Sixers on behalf of Nice Kicks. The tough forward with a mean shoe game spoke to us about the Nikes he's set to lace this season, the ones he wants backs and his favorite Jordans. Peep it all below.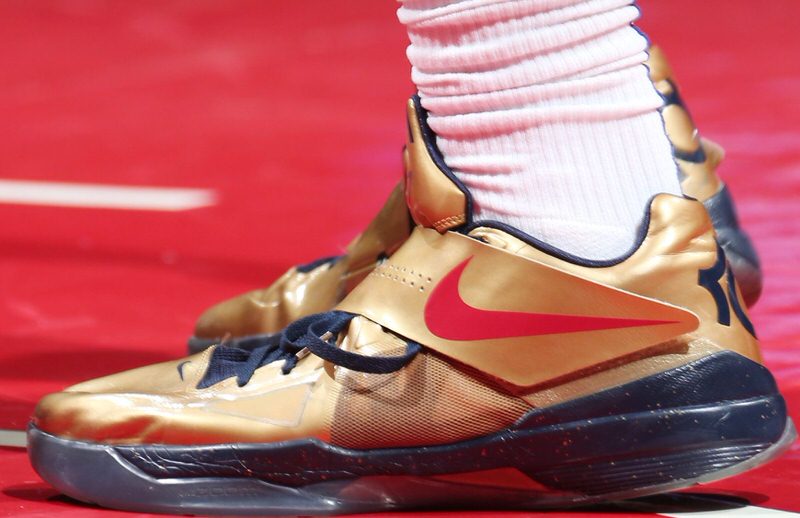 Nice Kicks: Your pro career is really hitting its stride in Philly. Looking back, is there anything you played in back in college or high school you wish they'd bring back and retro?
Mike Scott: The KD IVs man. It's tough to get them, I can't find them anywhere but they were hard. I like the Foamposites with the bubbles, too. [Editor's Note: the Foamposite Max is said to comeback in 2020!]
Nice Kicks: KD IVs and the Duncan Foams go hard! Looking ahead to this season, what can we expect as your go-to Kicks on Court?
Mike Scott: You know for the most part Nike Kobes. Any low top shoe, but probably Kobes. I just feel like they're quicker and with how I like to play I like to get up and down the court. Definitely Kobes.
Nice Kicks: We see you off court in lots of Jordans. If you had to hoop in and wear the same shoe casually for the rest of your life what would you pick?
Mike Scott: I'll say the Jordan 3 — I could play in the Jordan 3. I like the Fire Red ones a lot. Then I would say Jordan 1s but to hoop in them is tough. I don't know how anyone can hoop in those. It's one of my favorite shoes to rock but to hoop in that's tough.
Keep up with Mike all season on Twitter and on Kicks on Court.