Originally published in 2017
"For me with shoes, it was precision, everything was planned," recalls Kansas great Keith Langford. "If you caught my shoes, they were going to be talked about."
Well, we talked about it for the latest installment of March Madness Memories and the shooting guard's shoe game does not disappoint. Known to rotate retros at half in college and even dating back to his high school days, the Fort Worth product rocked everything from Air Jordan PEs to Foamposites to early signatures from VC and LeBron. Yessir. Check out the collegiate collection (WARING: these are only the highlights, dude also rocked Air Raids, Huaraches and Flightposites…) from perhaps the most decorated star in College Kicks on Court history.
Air Jordan 13
Keith Langford: "I always admired North Carolina and any school that had a Jordan and Nike deal. Like, Cincinnati? Man those Cincy guys during the late '90s and early '00s period had unbelievable Jordans. All those guys like Kenny Satterfield and Steve Logan. I went on a visit to Cincinnati and Kenny Satterfield was my host. He just showed me all the shoes and all the access they had. It was unbelievable. [Laughs] They were loaded down."
"Because Roy Williams had the relationship with Michael Jordan as an assistant coach at North Carolina to Dean Smith, we were able to get exclusive gear. I still have those PEs on ice. They might resurface one day for an alumni game at Kansas. Those are special. I'm not a big fan of the 13s to play in, but for the exclusiveness those are great. I played in the Flints and I love those, but for some reason the shoe strings on the 13s were always difficult to keep tied tight. Still, the Flints are undeniable and probably my favorite 13s. When I was a young guy, I remember the varsity team at Dunbar High School in Fort Worth came out and all had them on and everybody in the crowd went crazy. I envisioned myself wearing them one day on a big stage and luckily I was able to get some. In college, we were able to meet different Nike contacts and Jordan people from our time at school and then I would get invited to work Nike Camps as a counselor during the summer. You'd work with the kids during the day then in the evenings you'd have private workouts in front of NBA people. When you met these people and got invited to the camp and you'd get gear. Like I worked the Michael Jordan Camp in Santa Barbara and you get gear that way during the summer and make the contacts. They'd send shoes and ask for feedback and it worked out well."
Nike Air Foamposite One & Pro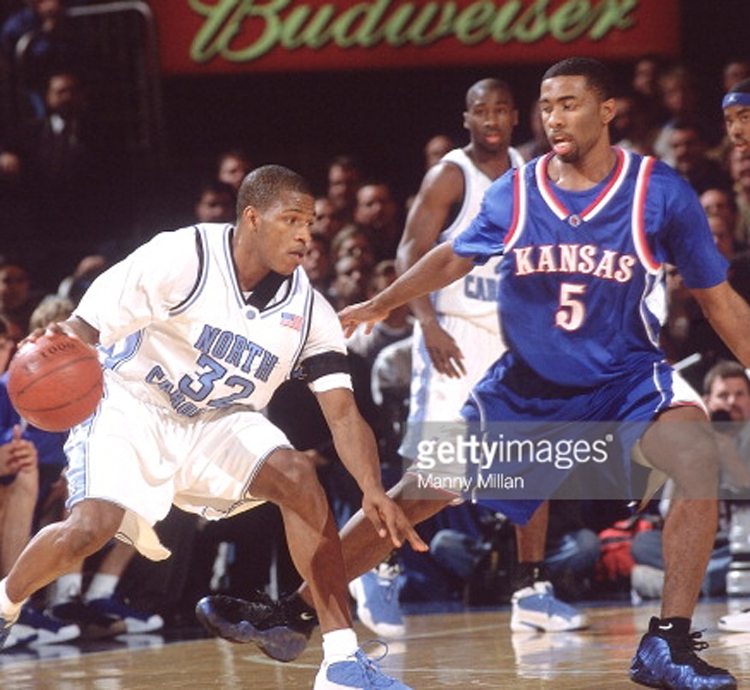 Keith Langford: "Those are the first pair that come to mind from my time at Kansas. I started wearing those my sophomore year. Anybody who's from my era of high school remembers watching Arizona and Mike Bibby wearing them. I remembering being mesmerized like, 'What are those?' I didn't know they were a Nike or a Penny shoe, I just knew Mike Bibby had them on and they were sweet. I knew once I got to college I would wear those."
"The first time I had the opportunity to get them I was in Canada playing for Team USA after my freshmen year. I copped them immediately and kept them on ice until the season started. I had to spend the per diem when I was out there and took a big chunk out for those. Eventually, I got another pair and wore them for senior night."
Air Jordan 3 "True Blue"
Keith Langford: "Initially, I wanted to go to Arizona to play college basketball. They recruited me out of high school but they decided to take Salim Stoudamire so I went to Kansas. Arizona was always my first choice and they were the first college basketball team I fell in love with because of that whole run with Bibby."
"I played in the True Blue 3s my freshman year for our first big game on the road at Arizona. It was a CBS National TV game and I came off the bench and had like 19 points and we won. All my people from home called to talk about the game and the kicks and it was a big moment. I definitely switched the laces up, too. Being from where I'm from in Fort Worth, we used to always do that. Those are my top 3 shoes I played in at Kansas, definitely. I definitely have my collection of those — I wouldn't dare to try to play in them now — but they're in my closet for sure."
Air Jordan 17
Keith Langford: "Aaron Miles had a Jordan connect from before he even got to Kansas because he was a McDonald's All-American and all that, so Aaron had a lot of shoes. He had those before everyone else did and I didn't like them at first, but when the White/Red ones came out I had the opportunity to wear them and they were exclusive at that point. I wasn't a big fan, I wore them about once or twice."
Air Jordan 18 Black/Royal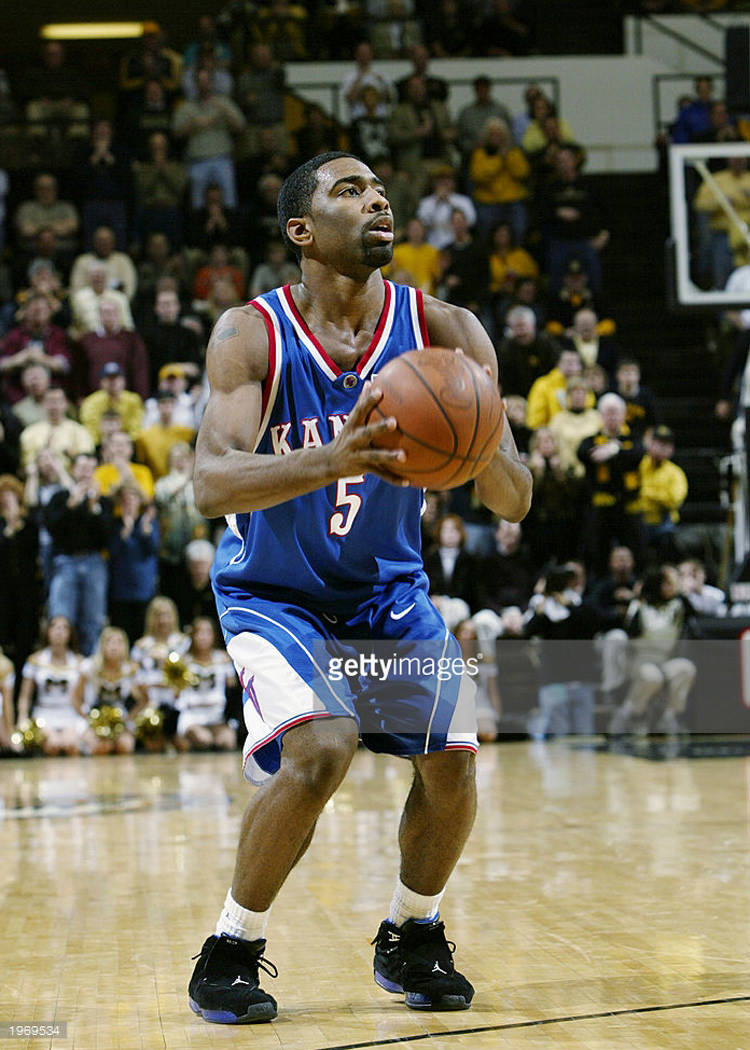 Keith Langford: "I still remember when I first saw those, I was in the mall. I didn't know they were coming out — I just knew Aaron Miles had the white and blue ones — but when I saw those I couldn't even wait. I didn't have the money and they were too expensive though. Funny story though, there was this girl that I knew from Kansas City and I got her to buy them for me. I met her halfway from Lawrence to Kansas City off the highway the night before we were going to the Final 4. She gave me the shoes and I busted them out. I still have people sometimes say, 'Man I still remember when I first saw you wear those, that was crazy!' That's still one of my favorite shoe moments. I probably should have kept those because I wore them in the Final 4 but they're long gone at this point."
"I wore the Jordan 18s in the Final 4 against Marquette and Syracuse. At that time, I don't think anybody really knew about Dwyane Wade until college. The first time I heard about him was from Coach Williams. The guys were kind of joking around before film and Coach goes, 'You guys better get your *sses ready because this guy just had a triple-double against Kentucky.' We were sitting around watching the film like, 'Oh, my God who's this?' Then with Melo, I think everybody saw the high school game with him and LeBron."
Nike Air Zoom Generation Low
Keith Langford: "A lot of people were like, 'You can't wear those LeBrons, y'all like the same age!' It was funny because everybody in college would have the LeBron debate when he was in high school as to where he was good enough to play at, but after that point I didn't care because the shoes were just sweet. I didn't play in them long, they weren't a go-to for a big game, but I'd wear them for some of our easier games."
"I'm still a LeBron guy today. It's funny, I just had a debate with a friend over whether it's LeBron or Kyrie. I'm like, Yo, it's LeBron! I'm so LeBron I'm anti-Skip Bayless. [Laughs] I don't know if it comes from back in '04 from those shoes, but I just admire somebody that faces adversity and expectations and just admire that push and imperfection in the process while trying to be perfect. I like that and he kind of represents that and it's cool to see."
Nike Shox VC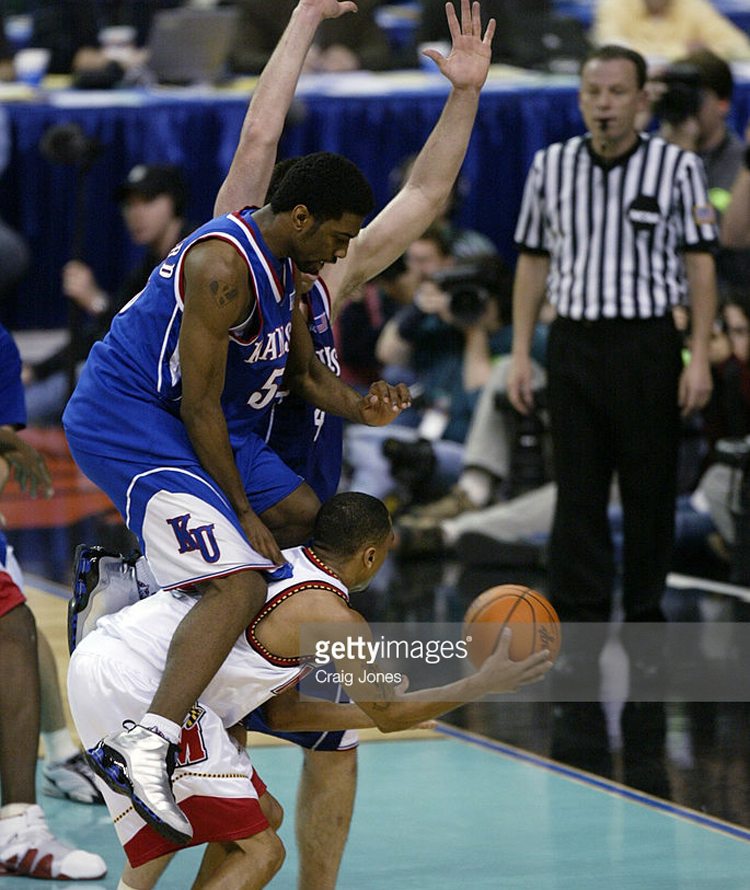 Keith Langford: "Man, those were some of the worst shoes I played in. [Laughs] I didn't really like them but I remember when they came out with them. Nike wanted certain guys on the team to try them out — like me, Drew Gooden and a couple other guys on the team. I didn't like them but I was a freshman at the time so I didn't have much say, like who was I to tell a guy from Nike no when they asked me to wear them? So I was cool with it but I wasn't particularly fond of those to be honest. We lost to Maryland in the semifinals that year. It wasn't the shoes, obviously, but for me shoe game means everything when you're on the court."
Air Jordan 2 Black/Metallic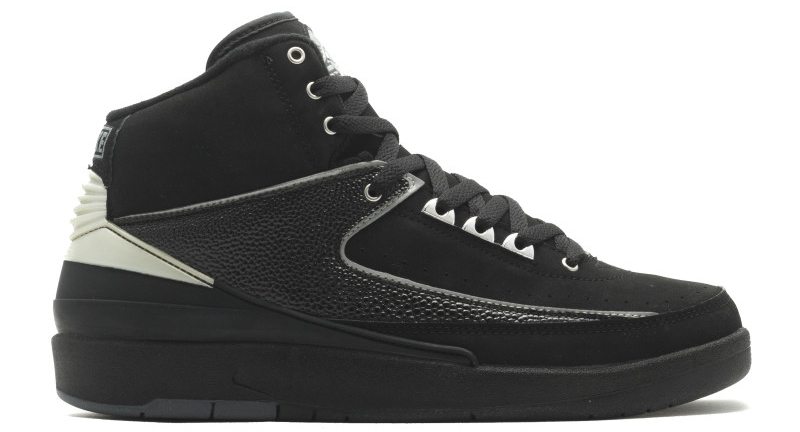 Keith Langford: "I had hurt my ankle a couple times and I didn't like to get taped so coach made me wear a black ankle brace. They didn't look to good with white and blue shoes, so I had the 2s from the Nike package from the summer time. I threw them on with the braces and was like, 'Aw man, I might have something right here!' It was a nice combo so I rolled with it. Now I probably wouldn't be able walk around in them for more than 20 minutes, but at 20 years old you can play in anything. Now I can only hoop in one or two pairs of Js, but at that time? It didn't matter, as long as it was Jordans I was rocking it."
Air Jordan 12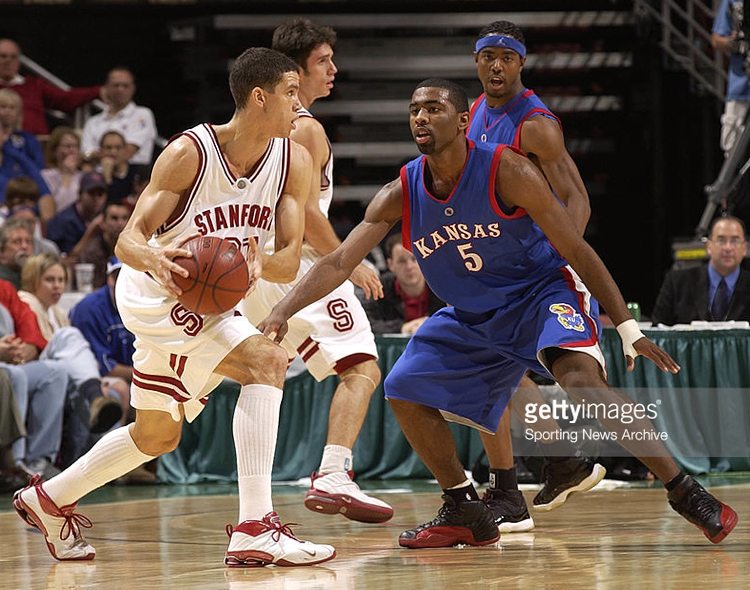 Keith Langford: "With Coach Williams, if you played your *ss off it was fine and you could wear what you wanted to. The 12s were sweet. I was able to rock the French Blues and the Flu Games. Those were just one of my favorite shoes. My junior year, we got red uniforms for the first time and I knew I was going to wear those Flu Games as soon as I saw them. That was a no brainer and a great look for me at the time."
Tune in each day of NCAA Tournament action for more March Madness Memories. Keep up with Keith on Twitter.
Lead image by Rich Clarkson via Kansas City Star