words // Nick DePaula:
A new NBA season is just around the corner, meaning it is the best time of the entire year.
As all thirty teams in the Association held their annual media day festivities this past Friday and Monday, as always, we were offered up our first look at players in their new sneakers for the upcoming season. Signature athletes LeBron James, Stephen Curry and Kevin Durant each rocked low-top editions of their lines in new and old silhouettes. We also saw the new Crazylight Boost and Crazy Explosive models from adidas on several players, while Nike's new HyperShift and Hyperdunk models seemed to dominate the foot of their endorsers.
Check out some of the best Kicks On Court worn around the league at this year's Media Day, and let us know your favorites in the comments section below.

Dwight Howard — Peak DH2
_____

Kent Bazemore — Under Armour ClutchFit Drive 3 Low
_____
Jeremy Lin — adidas Crazylight Boost 2016 Low
_____

Al Horford — Nike Hyperdunk 2016
_____

Isaiah Thomas — Nike HyperShift
_____

Marcus Smart — adidas DLillard 2
_____

Jimmy Butler — Air Jordan Retro 7 "Miro"
_____

Chris Andersen — Nike Zoom Soldier X
_____

LeBron James — Nike Zoom LeBron III Low PE
_____

Mike Dunleavy Jr — Nike HyperShift
_____

Kevin Love — Nike Hyperdunk 2016
_____

Kyrie Irving — Nike Kyrie 1
_____

Coach Spo — Air Jordan Retro 6 Low
_____

Harrison Barnes — adidas Crazy Bounce
Andrew Bogut — Nike Air Max Audacity 2016
Dirk Nowitzki — Nike Air Max Body U
Deron Williams — Nike HyperRev 2016
Wesley Matthews — Nike Zoom Huarache 2K4
_____

Andre Drummond — Air Jordan Retro 12 "Galaxy Custom"
_____

Draymond Green — Nike Zoom Clear Out
Klay Thompson — Anta KT2
_____

Kevin Durant — Nike KD 9
_____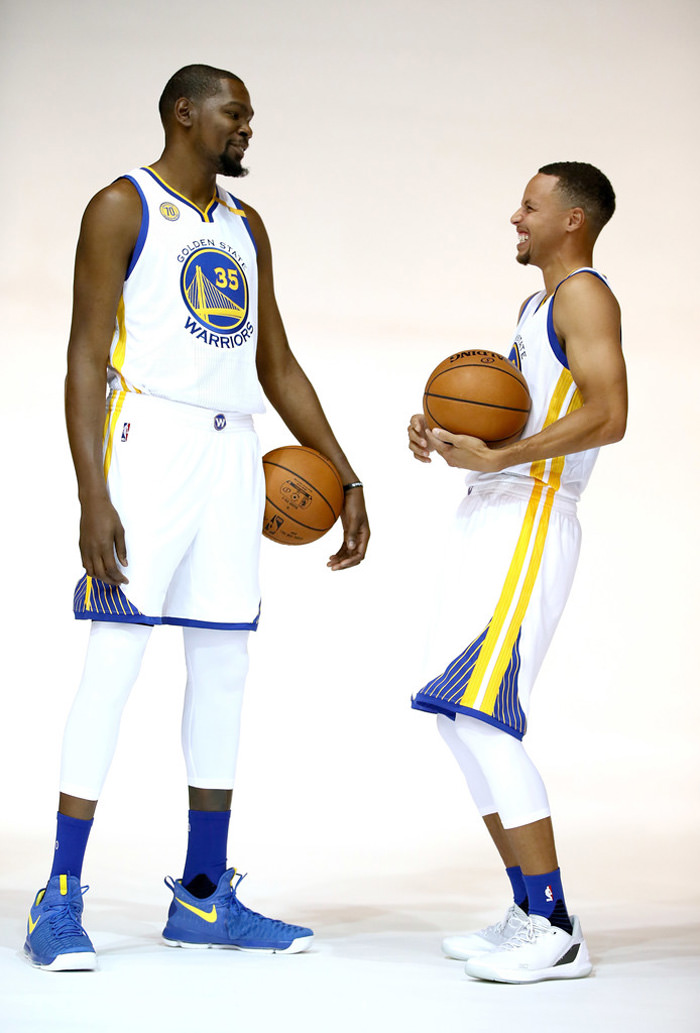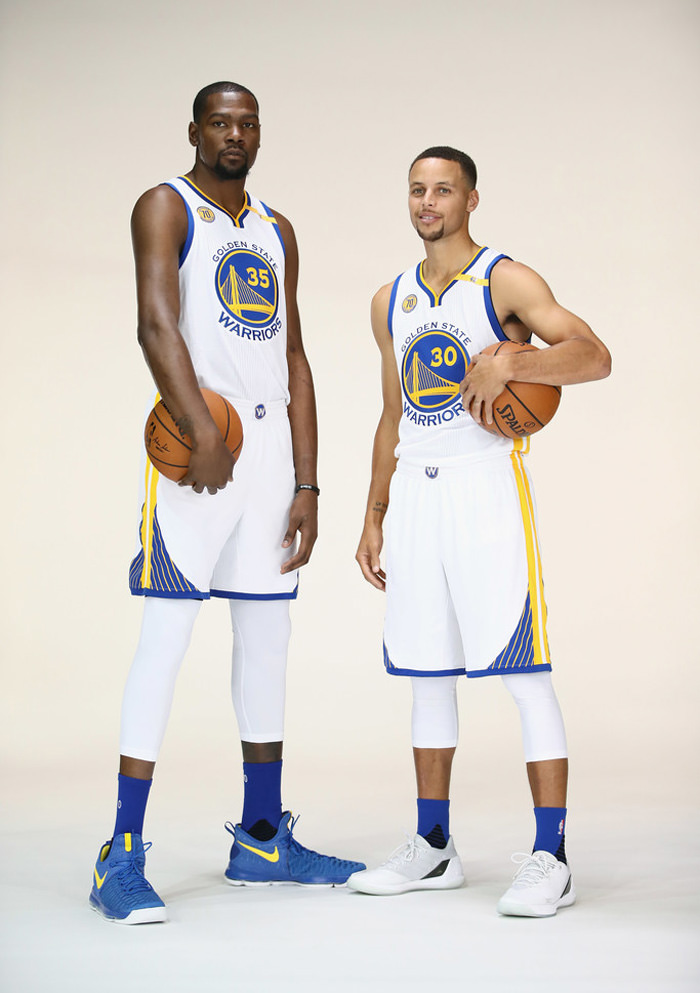 Stephen Curry — Under Armour Curry 3 Low
_____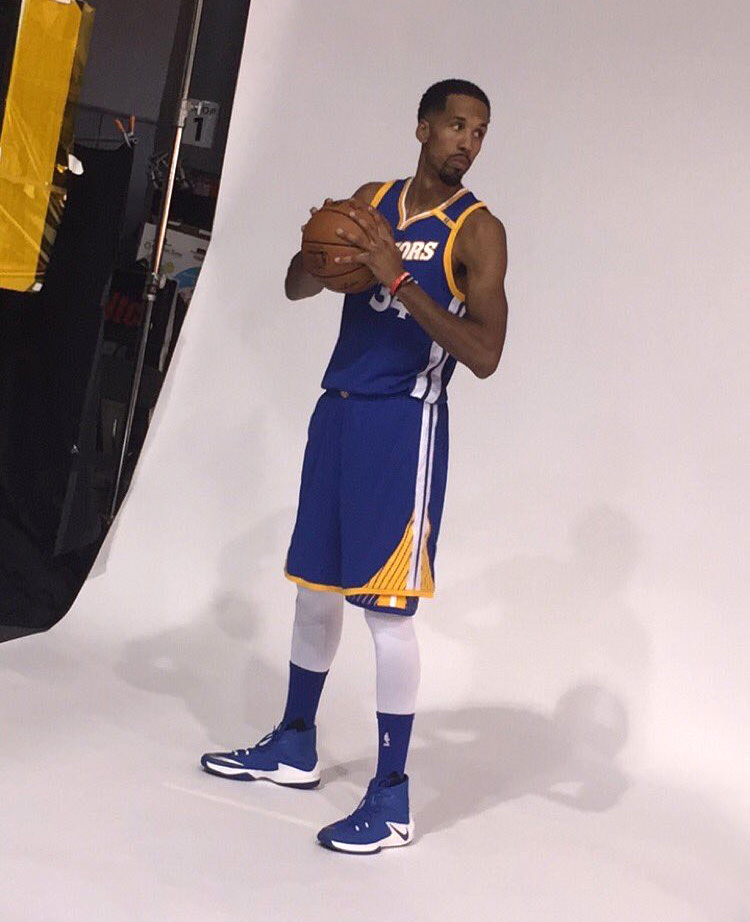 Shaun Livingston — Nike Zoom Clear Out
_____
Kemba Walker — Air Jordan Retro 17+
_____

Kemba Walker — Air Jordan XIX
_____

Nike Zoom Kobe IV "Draft Day"
_____
Roy Hibbert — Nike Zoom Soldier X
_____
Nic Batum — adidas DLillard 2
_____

James Harden — adidas Crazylight Boost 2016
_____

Austin Rivers — adidas Crazylight Boost 2016
_____

JJ Redick — adidas Crazylight Boost 2016
_____


Jordan Clarkson — Nike Kobe 11
_____

D'Angelo Russell — Nike Kobe 11
_____
Julius Randle — Nike Kobe 11
_____

Luol Deng — Nike Kyrie 1
_____

Nick "Swaggy P" Young — adidas Crazy 8
_____

Thomas Robinson — Nike KD 9
_____

Marc Gasol — Nike Hyperdunk 2016
_____
Tony Allen — adidas DRose 7
_____

Derrick Williams — Nike Kobe 11
_____

Hassan Whiteside — Nike Air Max Audacity 2016
_____

Mike Conley Jr — Air Jordan XXX1
_____

Andrew Wiggins — adidas Crazy Explosive
Zach LaVine — Nike Air Garnett III
______

Courtney Lee — Nike Hyperdunk 2016
Derrick Rose — adidas DRose 7
_____

Brandon Jennings (sneaker free agent) — Nike Zoom HyperRev 2016
_____


Monta Ellis — Jordan Super.Fly 4
_____

Kristaps Porzingis — Nike Kobe X Elite
_____

Kosta Koufos — Nike Zoom Soldier 10
_____

Willie Cauley-Stein — Air Jordan Retro 11
_____

Giannis Antetokuompo — Nike Kobe X Low
Coach Jason Kidd — Air Jordan Retro 4 "Green Glow"
Jabari Parker — Air Jordan Retro 11 PE
Michael Carter-Williams – Nike Kobe 11
_____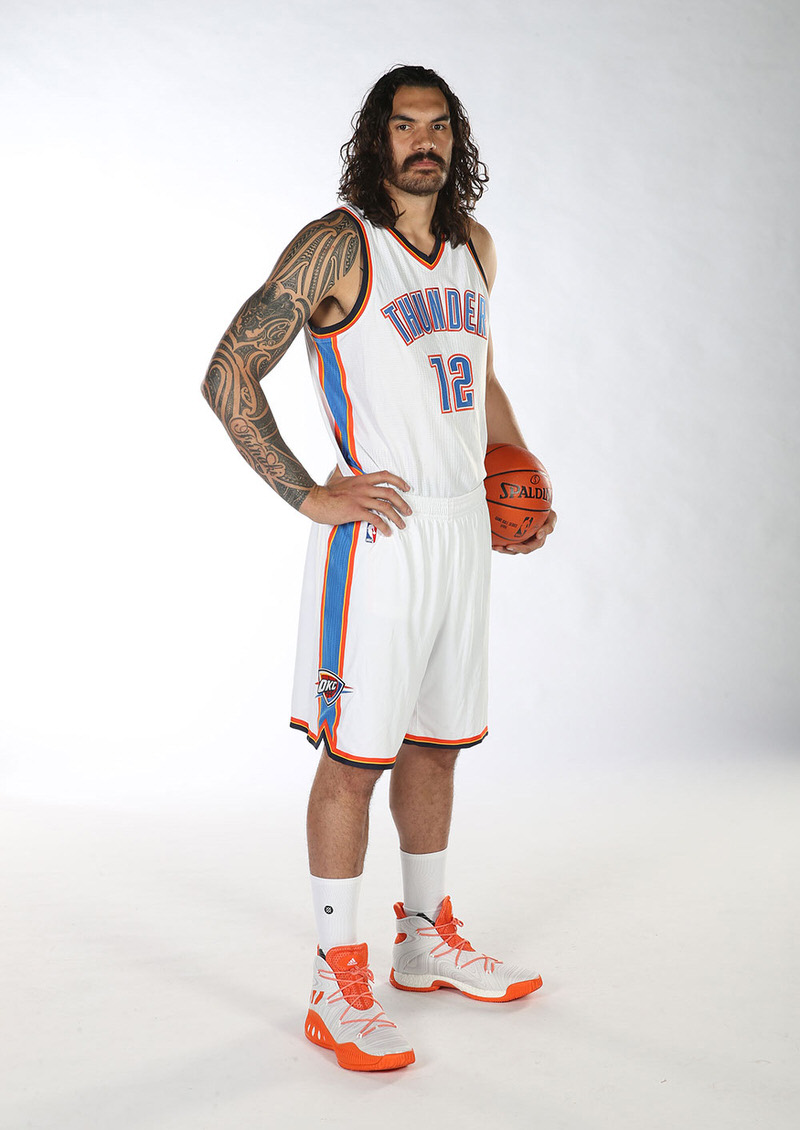 Steven Adams — adidas Crazy Explosive
_____

Cameron Payne — Nike Air Foamposite One
_____

Ben Simmons — Nike Air Max Audacity 2016
_____

Dario Saric — Nike Kyrie 1
_____

Joel Embiid — adidas Crazy Bounce
_____

Nerlens Noel — Nike LeBron 13 Elite
_____

Timothe Luwawu — Nike Hyperdunk 2016
_____

Eric Bledsoe — Nike Zoom Soldier 9
_____

PJ Tucker — Air Jordan Retro 3
_____

CJ McCollum — Nike Hyperdunk 2016
_____

Damian Lillard — adidas DLillard 2
_____

Moe Harkless — Nike Kobe 11
_____

Noah Vonleh — Air Jordan Retro 14
_____
DeMarcus Cousins — Nike HyperShift
_____

Rodney Hood — Nike Kyrie 2
_____

Brad Beal — Nike Hyperdunk 2016
_____

Casper Ware — Air Jordan Retro 11 Low
_____

John Wall — Nike Hyperdunk 2016
_____

Johnny O'Bryant — Nike Air More Uptempo
_____
Sheldon McCellan — Air Jordan Retro 11 Low
_____

Jabari Parker — Air Jordan Retro 11 PE
_____
Russell Westbrook — Air Jordan XXX1 PE
_____