On May 6, 2014, Kevin Durant won his first and at this point only regular season NBA MVP trophy award.
Thanking each member of his Oklahoma Thunder roster individually, the pull quote came when he thanked his mother Wanda Pratt in a moment that would become timeless.
Calling his mother the "Real MVP," the act of unselfishness and gratitude would prove heartfelt with both recipients teary-eyed and a national TV audience just the same.
It would also make for a great meme and joke amongst friends, giving credit to anyone for a small or large act of awesomeness.
Dominating from Day 1, KD would open the 2013-14 season with a 42 point explosion against the Jazz. He wouldn't slow down, scoring a season-high 54 points over eventual teammates the Golden State Warriors.
Over the course of his 81 starts, he'd average a Jordan-esque 32 points, 7 rebounds and 5 assists a game. The Spurs would ultimately beat the Thunder in the 2014 Western Conference Finals, but it was still clear KD would be a force to be reckoned with for years to come.
During his 2013-14 MVP campaign, KD would lace up the Nike KD VI.
Perhaps the most off-genre release from the Durant signature line, the shoe would feature a very low cut – a stark departure from the high KD V – and a unique tongue construction. Aesthetically, it could be likened to a skate shoe though its use of Flywire, Air Max, Zoom Air and Hyperfuse was hoops-driven.
The KD VI would be subject to many storytelling colorways, holiday and All-Star themes, iD iterations and a full-length visible Zoom update for the Elite version.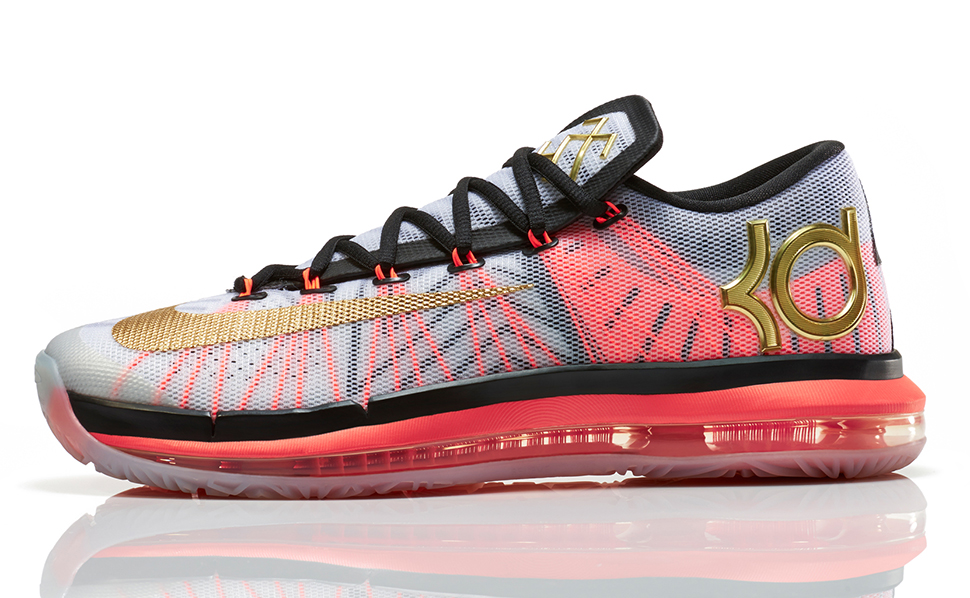 KD clearly loved the VI as he went back to it for much of his following season.
Still, it was the 2013-14 season where he became the first of three Thunder alum to win MVP that is remembered well. Remembered even better is his "Real MVP" speech.
No longer with the Thunder, KD still manages to remind everyone this time of year that he's the best player in the league, dominating in the postseason and collecting a different type of hardware. He still remains close to his mother Wanda, who's supported her son since his days in the DMV to his ascent to NBA MVP and for many more years to come.
They don't have no award for that, but maybe they should.
An early Happy Mother's Day from Nice Kicks to all the real MVPs out there.
select photos via Zimbio