In 2016, when Jordan Brand opened its very-first standalone store in Paris, that seemingly revelatory move was actually more than 30 years in the making. Michael Jordan first set foot on Parisian soil back in 1985, solidifying a bond with the city that continued throughout the decades. Today it's most notably felt through the annual Quai 54 world streetball tournament.
Connectivity through the tournament was cemented in varying regions thanks to exclusive Quai 54 footwear and apparel. Although difficult to procure it created an unmistakable allure — so did Nike's work with Stéphane Ashpool's Pigalle. Jordan, in 2017, would partner with the French Basketball Federation, another purposeful partnership to align with global sporting culture outside the US. Now, in their largest venture to date, Jordan Brand joins alongside wildly adored soccer club, Paris Saint-Germain.
Given Jordan Brand's organic roots in Paris, this partnership feels refreshingly authentic. Jordan's first time in Paris in the mid-'80s lends credence to that truth. "Jordan Brand and Paris Saint-Germain share a distinct position in sport and style, so to partner with the club is a natural fit," says Michael Jordan.
Paris Saint-Germain president, Nasser Al-Khelaifi, shares a similar sentiment.
"The partnership between Paris Saint-Germain and Jordan Brand reflects the ambition of both brands to combine style, performance and innovation. We share many values with Jordan Brand, which is known worldwide for its sporting heritage and exciting contemporary designs. We believe it is a partnership which will excite our fans, help us to reach new audiences and enhance our global reach."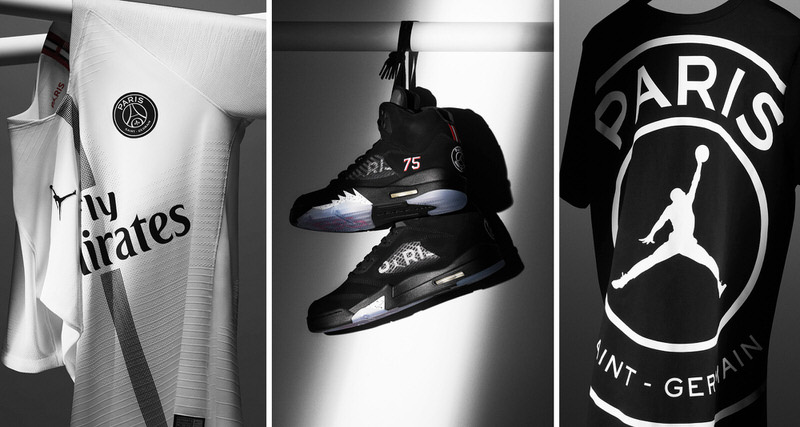 The Jordan Brand x Paris Saint-Germain collection is as detailed as it is expansive. A wide assortment of lifestyle-driven pieces aligns with soccer-inspired garments. Basketball, of course, stands at the center of the collection in matrimony with PSG heritage. A Jumpman actually appears in the middle of the PSG crest.
Footwear is initially what sparked intrigue for the looming collaboration. The long previewed Air Jordan 5 "PSG" is joined by an Air Jordan 1 and Phantom VSN Cleat. All come colored primarily in black for a bold and nuanced aesthetic. Secondary hues coordinate closer to the PSG Champions League kit, in red and white.
The Jordan Brand x Paris Saint-Germain Collection releases globally on September 14. The club will debut its budding kit on September 18 during European competition.