Interview conducted & written by David Daniels (@SneakerPhetish).
It's no surprise that James Whitner, owner of The Whitaker Group (the umbrella that houses A Ma Maniére, Social Status APB, Prosper & experiential concepts, such as Maniére Eats & Living), continues to dominate 2022 through his heartfelt, poignant collaborative projects with Nike and Jordan Brand.
In 2021, we were introduced to the young character James, an ambitious young man who finds joy, laughter, and possibly love in the midst of his surroundings and despite his circumstances.
The young protagonist's story began with visuals for the Social Status x Nike Dunk "FREE LUNCH!" rollout, a campaign that earned the Webby Award for People's Choice in Best Video Campaign.
His story continues with the Turner Brothers-directed visuals "Recess, Pt.1" capturing a day in the life at school, complete with an encounter with his crush, Deanna, and a run-in with a bully-ish basketball player, Desmond. "Recess" is the campaign visual for James Whitner's latest collaboration with Nike: the Social Status x Nike Air Max Penny 1.
Ahead of the launch, we spoke to the Owner and Founder of the Whitaker Group, James Whitner, about questions surrounding the collection in addition to his views on his process, passion, and relentless pursuit of storytelling.
---
Nice Kicks: How are you these days? There's a lot going on out here — how's your head & your heart?
James Whitner: Overall, I am well. But also concerned, as many of us are. It's a constant fight; as someone said to me the other day "activism is the rent I pay for living on this planet".
We can't truly rest when so much is at stake every day. It's the battles and fights we take on every day that weigh on us, but we must keep going. We can't stop. We aren't afforded that luxury.
NK: There's no dispute that you & your teams have been producing some of the most thought-provoking & poignant products lately. How have you been able to continue producing at such a high level, while digesting the socioeconomic climate around us?
JW: This is the work — you see the product, but it is only the vehicle to bring people closer to our issues and the world as we know it and experience it. Product leads the conversation, but it's the stories and who we serve that are always at the heart of all we do.
Where we find ourselves with the Penny story is about continuing to build on a nostalgic yet important part of the Black and Brown existence; the coming of age of all who went through what we've experienced coming from where so many of us are from, and how that connects to our common purpose.
We are only collectively as good as the world pushes us to keep making us feel seen and telling our stories to the world.
NK: What does winning an award like the People's Voice Webby Award for the Social Status x Nike Dunk "FREE LUNCH!" short film mean to you?
JW: It means that our stories matter and we are all being seen, at a level.
"Free Lunch!" is a window into the lives and existence of millions of people and what their childhood or current circumstances are. Our goal is simply to create awareness and spark action with our work.
The award is humbling, but it's simply motivation for us to keep going. It takes a village, that the people voted for us to win this means so much to us. Thank you again for all the support.
NK: Speaking of Short Films, let's jump into your latest film "Recess" for the Social Status x Nike Air Max Penny 1. Can you speak to the conceptualizing of "Recess" & the continuation of the story of James & his brothers?
JW: The story continues, and as we continue to build this journey at every stop, we take stock of the experiences we've all had and how important it is to deliver the nuances that make our collective lives so unique.
When you look at "Recess, Pt.1" — and make sure to say Part 1 because Part 2 is coming — it's about those who play a role in our children's development, both in life and at school.
You have Unc teaching lessons to the boys in his own special way, and then you get to the school environment where the teacher is doing his best to captivate the students. It's all the nuances of our world, what we lived through but also understanding how we navigated it, with humor and emotion.
It's what the kid is living through right now, and it's important to connect with them where they're at. You must always connect.
NK: The song choice for the opening sequence in "Recess" is "MCs Act Like They Don't Know" by KRS-One, which has a lyric "Check the time as I rhyme, it's 1995", the same year as the debut of the original "Orlando" colorway of the Penny 1. Are there any other Easter Eggs in the film that we may have missed?
JW: Glad you caught that. We work so hard to make sure the layers get caught and it all translates. The Turner Brothers work hard with us to nail all the details.
1995 is a special year, in culture and for this project. Penny is a transcendent athlete; what he did that year and beyond is stamped in basketball history. The Air Max Penny 1 was a symbol of that.
For us, it's just about paying homage. Always. Penny, KRS, Monview Heights, West Mifflin High School, which I attended. It all comes full circle.
NK: You recently launched the official Whitaker Group Discord, allowing supporters of the brands to congregate and dialogue 24/7. What has been the reception of the Discord from the community?
JW: Incredible. It's always important to understand where our community is and how they communicate with one another.
In understanding how we can serve, we just jumped to engage, offer what we best can with our community programming and events, and see how we can learn to be of more service.
The response has been great, and we will be doing tons more there going forward.
NK: With four ways to enter (Local In-Store Raffle, Online Raffle, Discord Raffle & Public Online Launch), you seem determined to give the people the best chance possible at securing the Penny 1. Why is it so important to make sure your drops are as accessible as possible?
JW: We can't speak of equity and fairness in all aspects of society and life and not ensure consumers have an opportunity to connect and obtain our product.
If you make the commitment in one way, you have to go all the way. We take action in that way, the accessibility of our launches is a priority I always emphasize to our team.
NK: When you look at the Penny 1, what comes to mind? What do you like about the silhouette, and what was the process of creating the Social Status version to make it authentic to the brand's voice while keeping the soul of a classic silhouette intact?
JW: It's the meaning of the OG, the meaning of Penny to the game of basketball and the sneaker game. He's an icon and as we released the images you started to see all the reactions of everyone's story and history with the silhouette.
Beyond anything we can create, seeing that reaction is exceptional — it means we are pulling on the right chords and playing the right tune to connect with a feeling that helps our stories and purpose be relayed and received how it should.
Then you start looking at the execution and we think through what the Air Max Penny 1 meant to us growing up and how it connects to the current kid in the playground. This being the very first collaboration on the Air Max Penny 1, we had to give it all the context that makes it proud and true to Penny but also those who wore it then while making sure the kid understands how and why this is important.
The interchangeable Swooshes take you to recess, and the mesh bag that contained all the various balls to play with that were brought out. The Air Max Penny 1 was an all-around shoe growing up, boys and girls wore it for everything and every sport.
Recess was where it all came together and still does to this day. For the kids to get to change the Swooshes and give it their own take, look, and energy is so important.
NK: Shifting gears briefly… it seems that we didn't even have time to properly pay our respects and solemnly observe the 2-year mark of the death of George Floyd in May, without also processing the tragedies in Buffalo, New York; Uvalde, Texas; and countless other tragedies — not to mention the recent overturn of Roe vs. Wade by The Supreme Court. At the same time, we also are celebrating Ketanji Brown Jackson becoming the first Black woman on The Supreme Court, Juneteenth being recognized as a federal holiday, and other Black achievements. How important it is to celebrate Black & Brown accomplishments while also keeping awareness for reform at the forefront?
JW: This is a tough one for me because I understand the importance of celebrating or pausing for moments, but you called out a lot of what's happened over the last two years.
There has been some progress made and some steps forward, but the issues largely outweigh the focus on changing them. It's impossible for us to make a real difference if more people aren't looking outside of their privilege and challenging themselves to be a difference maker.
Ask yourself an honest question: are the same amount of white people as focused on the issues now as they were two years ago? We both know the answer. Now, what do we do to re-engage them?
These are issues of humanity, not just Black and Brown problems. Until the systems that fuel disparities are neutralized and white people look in the mirror and get comfortable rationalizing their privilege to themselves, classism, racism, sexism, and other forms of discrimination, in general, will continue to reign free.
White people have to get comfortable making sure those around them are as comfortable as they are. It was fine two years ago, not so much recently.
NK: Do you find yourself channeling these various emotions as a result of those accomplishments & tragedies into your brand and products? Can you speak to the passion behind what you create? Where does the fire come from?
JW: I absolutely channel the emotions from my joy and pain into everything we do. I live every day as a Black man. Every day is an uphill climb. The journey has valleys and peaks because some people want to do everything they can to help. But for every one person who wants to help, there are more that want to work their hardest to stop the work or create narratives to undermine our progress.
Many of the stories are fueled from pain, which at this point is a privilege and a part of the process. I think marginalized people struggle daily; we are just numb to it. Every day someone reminds me through their actions that what we are doing doesn't matter to most people. It's great to talk about in February and use buzzwords like "diversity" and "equality" but rarely are people following up with meaningful actions. So I've learned to stay focused on the work and results. Our responsibility is accountability.
NK: You're batting a thousand with Nike & Jordan Brand & the year is only half over. Is there more to come with The Whitaker Group & Nike/Jordan Brand?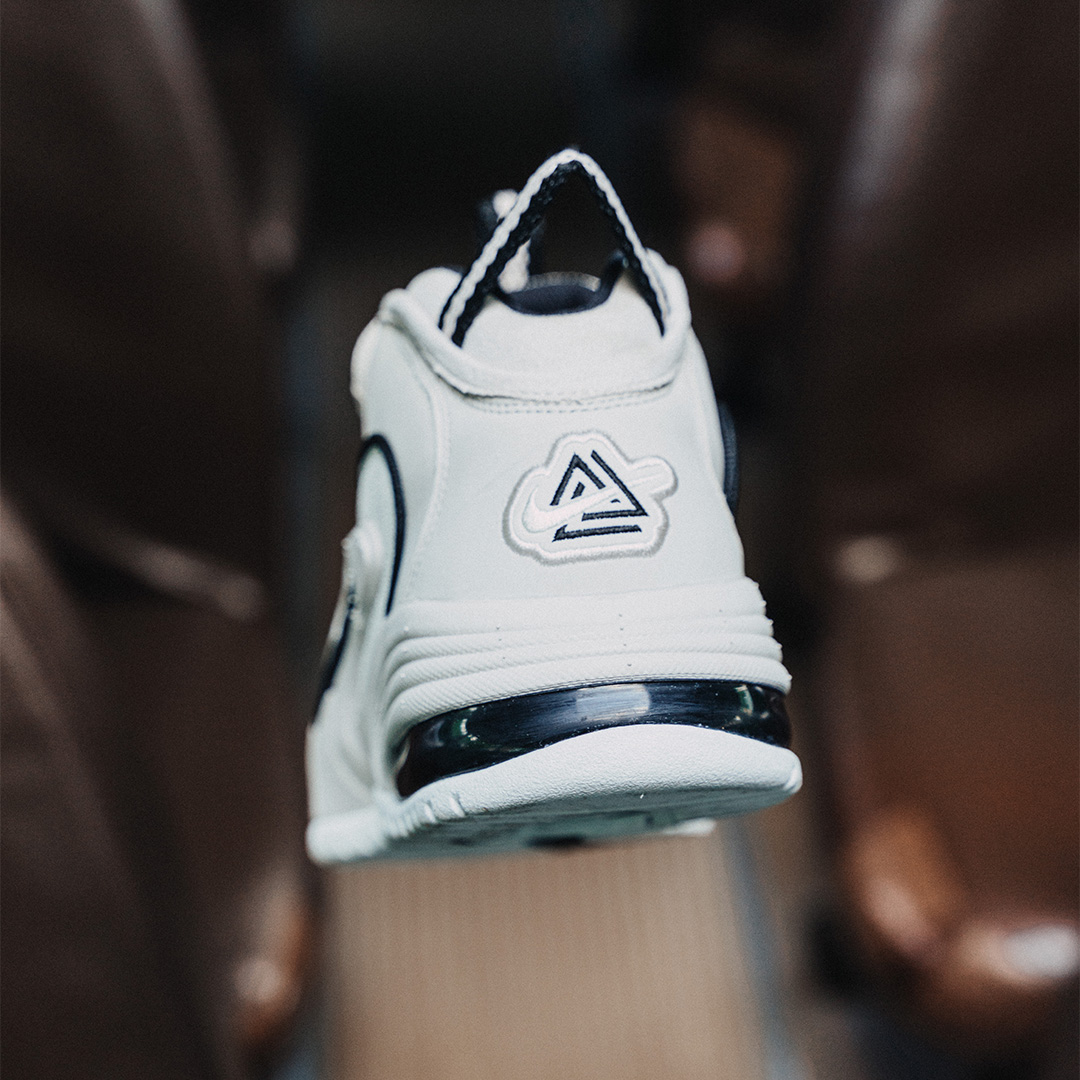 JW: We are grateful for the relationship we have with Nike and Jordan Brand. When you say we are doing good work, we are appreciative of that, and it takes an incredible amount of work from a team of people on both sides to make it happen. Most importantly, Nike, Inc., as a whole, as a partner has given us the space to push for accountability and drive our narratives forward in an effort to change the world as we know it.
The people at the heart of the organization are committed to this, even as it navigates its own changes. The work will continue, Nike and Jordan Brand leadership has been unapologetically bold in their vision and commitment to our long-term partnership. We appreciate it, and you can expect to see more.
The Social Status x Nike Air Max Penny 1 "Recess" collection releases on July 15, 2022, at SocialStatusPGH.com. Keep it locked on Nice Kicks and our Sneaker Release Dates page for more information on upcoming drops.