Landing in Lob City after an impressive run in H-Town, Montrezl Harrell may be the next Kicks On Court superstar. Fresh on and off the court, the Clipper big man is known to rock multiple retros in a single game and keeps Jumpman Bostic's number in his cell phone.
A sneakerhead since his AAU days and a KOC fan since Gilbert Arenas was champ, we caught up with Trez after the Clippers vs. Spurs game in San Antonio to hear about the PEs he has planned to break out this season and the NBA greats that inspired his hardwood shoe game.
Nice Kicks: Tonight against the Spurs you started the first half in custom Air Jordan 4s and swapped to the Doernbecher Air Jordan 8s in the second half. Is that common and how long have you been into kicks?
Montrezl Harrell: As far as shoes go, I love shoes and my collection is type crazy at the house. I actually started collecting my freshman year. As far as the 4s and the Doernbechers, I'm a big superstitious guy so I change shoes at halftime every game no matter what.
The first half I had my custom 4s that my guy in LA @kickstradomis did and I'm actually connecting him to a lot more guys in the NBA. As for the DB 8s, I came across them at RIF. My guys at RIF take great care of me, dating back to the previous years when I'd come to town. Now with me being in LA they're a great connection for me.
Nice Kicks: When you were in Houston with the Rockets we know you went to Kadoma's Sneaker Summit shop a lot. What's it like shoe shopping wise since you moved to LA?
Montrezl Harrell: It's been great! My guys at RIF always come across throwback stuff and I've got a lot of special kicks coming ahead. I've got a couple Josh Howard PEs, some Quentin Richardson PEs… I do it everywhere. When I was in Portland I went to Index to see my guys and came back with probably 12 pairs of shoes. Everywhere I go I know where the sneaker boutiques are at. You know the guy Jumpman Bostic? I've got a great connection with him. I met with him last year in Phoenix and we've had a great connection ever since. He'll tell me about a lot of spots when I'm on the road.
Nice Kicks: Growing up, did you always hoop in retros?
Montrezl Harrell: A little bit here and there. It was tough with my family situation and having younger brothers and stuff, but I did here and there. When I was in AAU, I'd switch shoes so many times people wouldn't know how I'd hoop in stuff fresh out of the box but I told them I'd been doing it for a while. [Laughs] In AAU I had a few different Hyperfuses and Hyperdunks, one or two pairs of Foamposites and then the "Space Jams" — those were my only Js at the time so I'd break them out on special occasions.
Nice Kicks: What were the first pair of kicks you copped when you got an NBA check?
Montrezl Harrell: The first pair I got with my NBA contract was the "Cool Grey" Air Jordan 3s. They were in great condition and weren't even cracking too bad.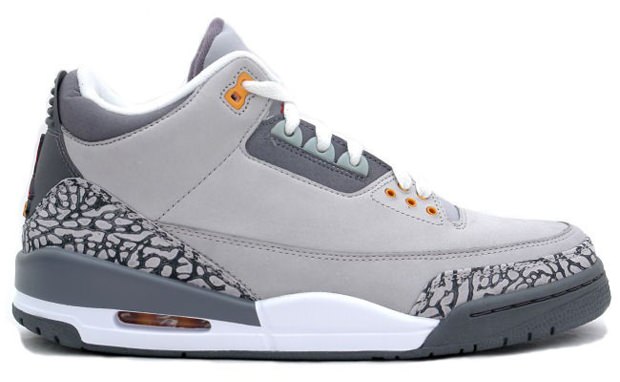 Nice Kicks: With that said, which kicks are still on your radar?
Montrezl Harrell: A lot! For real, for real! My teammate Wes Johnson had on the "Grey Suede" Air Jordan 11s and I asked if he'd sell them to me! I've been fortunate enough to come across some good stuff recently but there's two pairs I'm really looking for. The shoes I'm really looking to get are the "Fruit Pebbles" LeBron 4s and the Air Mags.
Nice Kicks: Which hoopers did you admire from a Kicks On Court standpoint growing up?
Montrezl Harrell: When I was in high school the people I watched the most were Nick Young and Gilbert Arenas. Nick was crazy! He'd have on the Nike Air Yeezys then next thing you know he'd have on the adidas Gil Zeros! Nate Robinson was my man in Jordans, him and Kemba Walker at UCONN.
Nice Kicks: You went to an adidas school in Louisville, what did you keep in rotation during college?
Montrezl Harrell: I actually did all retros. I'd hoop in the Crazy 8s, the Mutombos, a couple of the T-Macs and I even got the cork Kobe EQTs for summer league. I've been on it for a little while, just trying to get noticed for it! I love shoes.
Nice Kicks: Off court, what's getting the most burn from you these days?
Montrezl Harrell: Any and everything! Vans is hosting a little customs thing and I went online and customized them. They've got pink for breast cancer awareness and they have the Peanuts on them. I'm with Nike so I try to stay along those lines even with my customs.
Nice Kicks: What's the best gift you've got from Nike since signing?
Montrezl Harrell: Nike sent me the SF-AF1s when they first came out and they sent me the Air Zoom Generations. I really wanna get another pair before I put them on court!
Nice Kicks: Lastly, what can fans of Kicks On Court expect next from Montrezl Harrell?
Montrezl Harrell: I've got so many Foams that I haven't even broke out. Nobody knows but I've got the "Pantone" 2s for our powder blue throwbacks and the all-white Air Jordan XX1s.