words, interview & images // Nick DePaula:
Diving back into the 1990s has been a commonly seen shift of late in the apparel world, and for adidas, it was a time of great change, marked by a new era of design language and new takes on branding. For starters, the company moved away from its iconic trefoil logo, launching the awards podium-inspired "mountain" reinterpretation of Three Stripes, in a sharp hue of green no less.
The peaking stripes aimed to represent an athlete's journey to the top — "sporting excellence" — adding aspiration to the otherwise static trio of parallel bars. In turn, the brand was also launching a new outlook on performance footwear and apparel altogether: adidas Equipment. Or, EQT for short.
In recent years, adidas has looked to not only deepen its product storytelling, but also offer up a more cohesive range of silhouettes all highlighting one common trait or theme. That brings us to today's newest collection, a reimagined and modernized take on the brand's earliest EQT styles.
While still embodying the brand's initial EQT mantra of "Everything that is essential. Nothing that is not," the 2017 take on the era-defining EQT Support silhouette keeps those principles intact, ushering in new materials, updated cushioning and a sleekened stance for today's style.
The full collection of Men's and Women's footwear, which can be seen below, ditches the original green in favor of polar opposite accents of Turbo Red, all atop more muted black and white backdrop base colors. Each model  features varying overlays and panels called out in color, allowing the collection to share a theme in different and individualized executions.
Just last month, adidas invited a group of select media to view their newest assortment of sneakers from a private venue space coinciding with Miami's weeklong celebration of culture that is Art Basel. The setting was fitting for a footwear series that's shifted from pure performance in the 1990s to on-foot art over two decades later. Longtime EQT collaborator Pusha T was also on hand to help to share his love for the model.
To hear all about the new "Turbo Red" lineup of models, as well as discuss the brand's approach to marketing and its recent run of influencer success, Nice Kicks caught up with both Torben Schumacher, VP Product and Alegra O'Hare, VP of Global Brand Communications.
Nick DePaula: To start off, how would you describe the original design language of the EQT series, and how did you guys look to reimagine that for today's era with this expanded collection?
Torben Shumacher: EQT is one of the most interesting and iconic stories of our archives from the 90s. Going back to looking at the adidas brand and how we restarted the brand in many ways, Rob Strasser had come in and had a new view on how shoes should look and what the brand is all about. They stripped everything down to the minimum, and did it in a very pure, daring and simple way.
We were really dancing around with the idea of bringing it back, and it's right for now. It really tells a story from the classics, all the way to the modern and contemporary way that shoes look today. We really like both ends of it. The classic footwear is still something we stand for, and then you can see the journey of bringing in Boost, Primeknit and more modern materials.
They still very much speak to the idea of EQT from back in the day. That same minimalistic approach, and you don't need a brand mark to spot an EQT. That's what I love about the entire collection — EQT is a perfect representation of those two worlds and how they come together.
NDP: From a planning standpoint, when you're looking to bring something back like EQT, do you always look to also re-envision it with new technology and constructions?
Torben: We want to go back to what the core idea was, and then find creative ways to reinterpret it. They totally can just be a 1-to-1 Retro, and there's obviously a huge community that can appreciate that and loves to see those. In many ways though, we find it interesting to look at things in a new way, and we think that adds to the overall story.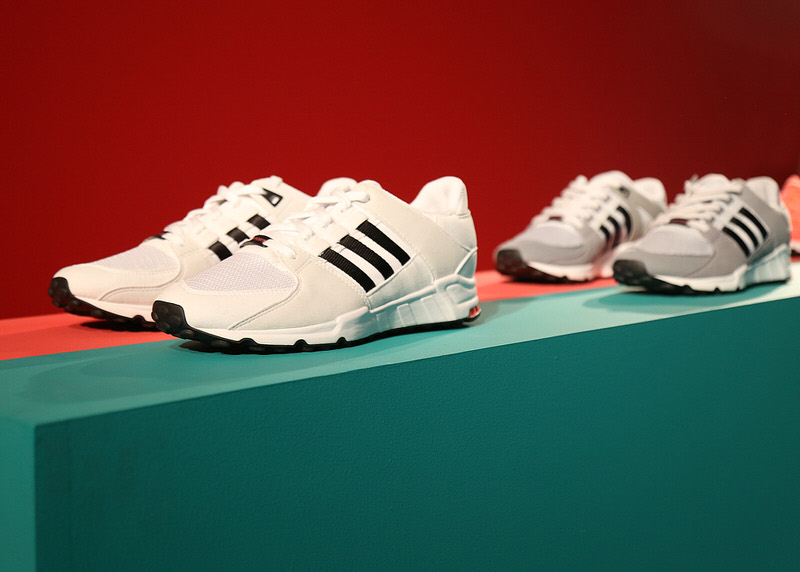 NDP: We're here in Miami at Art Basel, which is known for pastels like teal, pink and yellow. How did you guys decide to choose one color that would live through the whole lineup? 
Torben: It was a really bold move back in the day, for them to pick one key color and put it across the entire line. The green became so iconic for EQT originally. That led us to pick a new color in Turbo Red, that was vibrant and strong, and stands for 2017. Rather than looking at how the shoes used to look, we wanted to look at how the shoes could look today.
NDP: From a brand standpoint, what's the thinking been in building some of these launches and events around a cultural moment or weeklong event in style – like Art Basel and Fashion Week?
Alegra O'Hare: What we try to do is take inspiration from the product, and with the EQT, it's about the history and how it cut through the clutter back then. We wanted to go to Miami, where there's a huge art community, and how can we bring the essence of that product to life at Art Basel, which is arguably one of the most intense cultural moments in the US especially.
From a strategic point of view, we want to understand which cultural moments we really want to tap into the community and create that kind of cultural clash, where we're bringing together all types of people and can really express something new about the brand.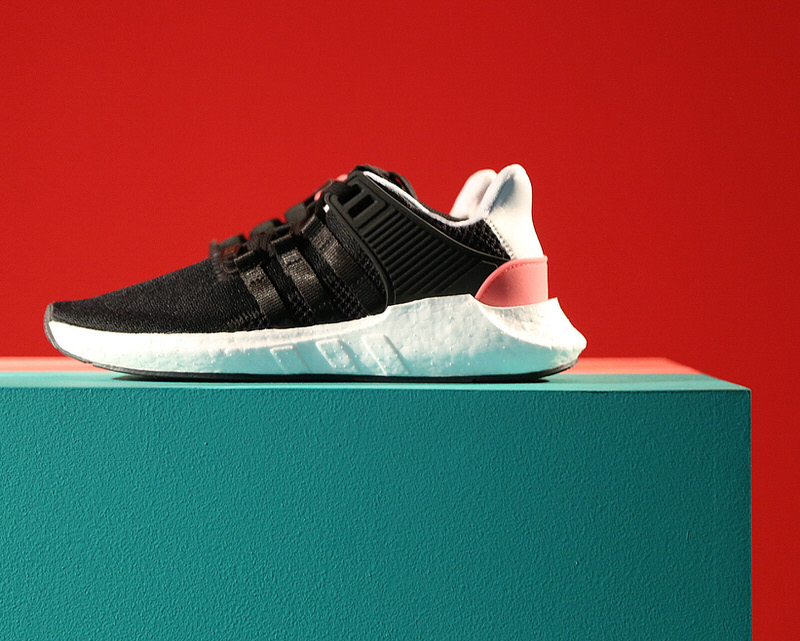 NDP: The first thing I noticed, that I was really excited about, was the Boost midsole sculpting on the 93/17 pair. What inspired looking at executing the Boost in a new way?
Torben: So far, Boost has been used in a very simplistic way, and it's been great. We've been celebrating that. When we looked at EQT, we really wanted to bring in and not compromise on today's technologies with fit and comfort. Boost and Primeknit were two natural materials to utilize.
EQT is known for its iconic midsole design and the structure of the stripes with the molding, so we were really thinking about how we can take that iconic design language and marry it with Boost. It's really the first time that you're seeing such a treatment to the material, and we're really excited about it.
NDP: In our world, we've seen such a shift in the last year and a half or so with people really gravitating towards adidas models in particular. What do you guys look for in someone that might be deemed an influencer, and what about the brand do you think has drawn people in?
Torben: I think it's really just the mindset. We look at ourselves as creators, and we want to find creators that share the same mindset. People that can help us to create a strong point of view. Dare to find your own path and write your own story, and not follow any rulebook.
Alegra: I think it also goes to the ethos of our brand — challenging. Challenging the status quo, and once we really embraced that is when we started to see a massive shift. That's when everything started to begin, and I think NMD is a great example of that. Nobody really expected that from us, both the product and the way we launched it. The whole mix was a great thing that came together and was unexpected.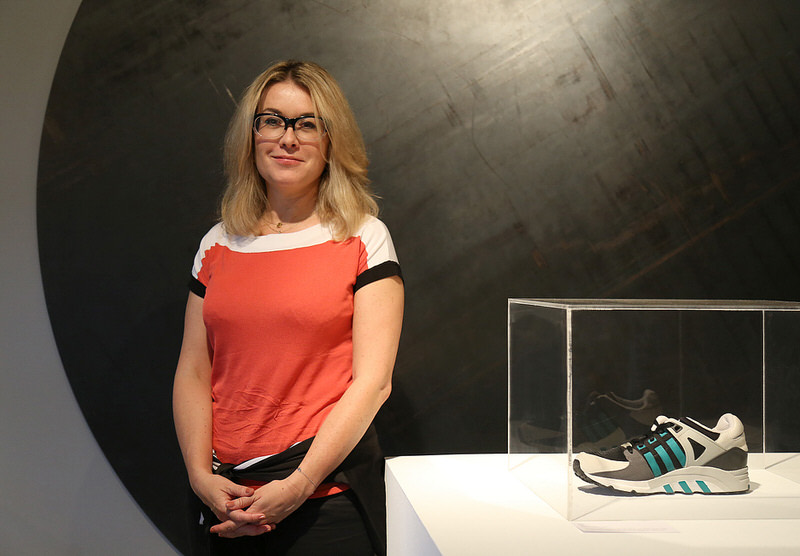 NDP: We had the first collab of the NMD, and at the time we were all loving the model, but I still don't think we even saw it blowing up the way it did. On a similar note, what are some of the factors that can take someone from being a collaborator, to having their own capsule, like we've seen with Rick Owens, Raf, Alexander Wang, Stella and so many others that you've partnered with?
Torben: There's no rules. We have this idea of "open source," and so we want to invite likeminded creators in and really have a conversation. Rather than come in with a predetermined set of rules that we want to apply to a partner. Those conversations then lead to a creative process and ideation. That might lead to one singular product, or it could lead to something bigger. Most of the projects have grown over time, and we've all been happy about how that has come together and been true to both our brands and our partners.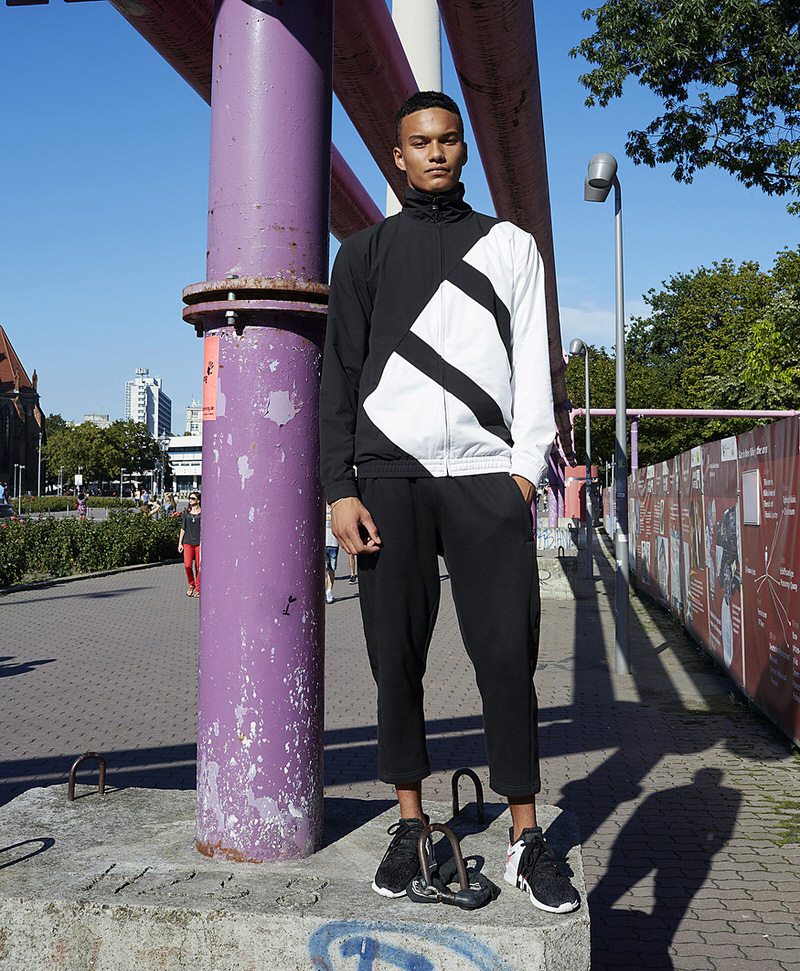 NDP: How would you compare styles between US and European consumers? Since we're now in such a digital age, it feels like those styles are really blending together more and more.
Torben: I think the key is that it's become a digital conversation, and information availability has really allowed us to see a drastic alignment of global trends between North America and Western Europe. There's hardly any differentiation at any time between trends in London versus New York. That's been great for us. It's really helped us to get one global message across.
NDP: In terms of influencers and seeing your products being worn by trendsetters, I think it's fair to say adidas has been in the lead of that segment in our world as of late. Does being in the lead for some of those coveted products change the way you guys approach things going forward? 
Alegra: When you lead, there are people following you. You have to keep on pushing yourself to move ahead. I think the important thing is to not repeat, and to change. To keep on changing, while always being true to yourself as a brand. It's easy to get into a comfort zone and think that everything we're doing is perfect, but I think that's part of the culture of us as a brand. We need to keep on challenging ourselves. We're always trying to express ourselves in a new way. When you look at leadership, we approach it as there's no one in front, and we have to be even more clear about where we're going.
Torben: We don't want to follow along with what we've done. There's no rulebook or one recipe that is the magic one. I think keeping that same curiosity in the process and that same creativity and mindset of trying to change conventions, and finding different ways of approaching things, through collaborations and partners, is the reason why we're here. We really want to keep that honest and clear perspective on what we're doing.
Alegra: If you look at our Alexander Wang launch, just the fact that we turned the logo upside down, we're continually looking at how we can challenge things. Whether that's how we view our brand, or how we keep on engaging with people.