words & portraits // Nick DePaula:
For the third consecutive winter, longtime adidas Originals partner Pusha T has his very own sneaker with The Three Stripes set to launch. No matter the heights his career has taken him through the years, even days after the tenth anniversary of Clipse's landmark 2006 "Hell Hath No Fury" album, the importance and scope of that opportunity isn't lost on him.
The newest take for the "King Push" collaborative series is a departure in the sense that it's an update to the EQT franchise and not a true-to-form Retro silhouette, as the late 2014 and 2015 releases were. There's both a Primeknit upper and the Boost midsole platform from the Ultra Boost now headlining Pusha's new EQT Grayscale — meaning they've been modernized to be both lighter and insanely comfortable, as the technical term goes.
Once again, a dominant hue takes precedent for the base of the upper, with the third EQT of the series following up off white and black looks of the past with a gray knit upper and Push's now-signature carpe scale overlays. "That's REAL fish skin," notes Josh Herr, adidas Originals' Director of Color & Materials and the lead on the project.
Read ahead for Pusha T's full roundtable conversation with members of the sneaker media world from earlier today in Miami at Art Basel, touching on everything from his newest collaboration with adidas Originals, his recent "bad idea" that got shot down by designers, style influences and which model he wants to work on next.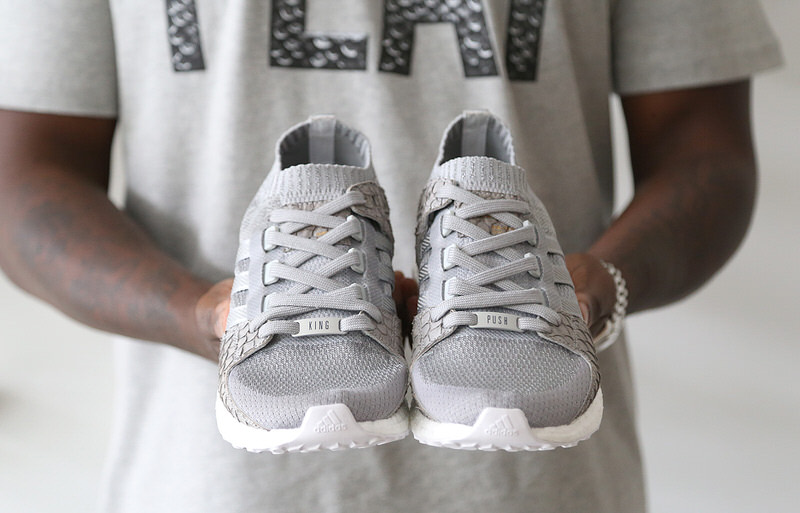 Nick DePaula: With this being your third shoe now with the brand, what was the process of designing this one like compared to the last two, and how did that whole timeline go?
Pusha T: This one is special, and just being honest, the first two were my nuances on an OG silhouette. This one, we stepped out of the box, I've got the Boost technology and the Primeknit, and it was more of a risk, in all honesty. I felt like people were going to relate to the nostalgia of the first two, but I didn't necessarily know how they would feel about this one. To me, it wasn't a layup. Both of the first ones, they could've been perceived as a layup. That's why I was ecstatic about it. When they finally revealed them, I went, "Oh shit!" I was just sitting at home watching all the reactions. I'm watching everything! [laughs] And the reveal got a lot of great feedback.
Marco Negrete: You have your Play Cloths brand of course. The sneakers have been so well received, and has there ever been a conversation about bringing the apparel side of your background in and doing more of an expanded line with adidas?
Push: It just has to be right. When I say right, it just has to be well thought out. I feel like I'm on a pretty good roll, and it can't be me trying to force what might be perceived to be next. I can't force the direction that it's going to go without actually taking the time to make sure it's a great, great quality product. Whether that's for apparel, or whatever the case may be.
This is different, and I don't want people to see what I've been doing at Play Cloths for nine years and built from a streetwear independence standpoint through Japanese streetwear – I don't want that to be shifted into something else. I don't think anything I've done with adidas has been shifted. It's been part of the Pusha T brand, has for sure been organic and natural. There's a story behind it, and a video for every one of these shoes. I want everything to be like that.
John Kim: This is your third chapter with adidas, and they came at an interesting time. The first one was during this whole resurgence in the US, the second one came in the middle of the uprising, and now we're at Art Basel and there's so much momentum. How do you think that shift in energy has been, and has that changed how you work with people at the brand?
Push: The energy in working with my team at adidas is really good for me. Being this is the third installment, I feel like everybody is comfortable with everybody. Man, I just got shot down so good the other day for a colorway that I wanted to do. They totally machine gunned me. [laughs] I don't know if they would've machine gunned me initially, but now we have a rapport.
We can kick it. I respect that, and I respect the fact that we can have those conversations and have that honesty. It gives me the comfort in knowing that everyone is trying to put out the best product. Nobody wants to really fuck up the legacy of what Pusha T collabs with adidas have done.
Kim: The first launch event was in New York, and today you're going to perform in an abandoned arena in Miami. What sort of energy are you expecting?
Push: Adidas has invested so much into this collab and into me. It'd be easy for any brand, with some of the spearheads that they have in their roster, just to say, "We got this guy and that guy over there, the Pusha T thing can just be – eh." But they haven't spared any expense, they've let their creativity run wild, and it really makes me feel that I'm a part of a family. It makes me feel like they enjoy watching the growth of Pusha T.
Woody: How bad was your colorway that you presented? [laughs]
Push: Listen man. Chopper – they choppered me down! [laughs] Mind you, it came on the eve of working on this drop, so they probably were like, "Why are you even talking to us about another shoe right now? We're still getting this together." I don't want to say, because I have it super pictured in my mind. These all come from stories. I have a story and the story involves a color, and I want to see it through. If it could happen, then it can, but at the same time, I do take their expertise to heart – and they were very adamant that it was bad. [laughs]
Woody: A lot of people try to do their own colorways on miadidas, and even with collaborations like this, it's really hard to design something that is unique and also very distinctive that can stand out.
Push: The funny thing is, in getting samples, the shade can ruin it. You can say something as simple as, "I want 'em in all gray." But you can get back a super dark hue of gray and it'll ruin everything. It's been learning things like that and getting through the process that let me know that this isn't as easy as everybody thinks. I've got a lot of respect for the creatives who really do it.
NDP: The three models you've done to date have all been EQT based. Have you considered branching out to a different silhouette or style, and if so, which ones would you like to work on next?
Push: No, not right now, because I feel like with this being the third one, and with everything that they've put into this presentation, I'm becoming more and more the face of the EQT. I want to own that space and expound on that space. This is the first time that this hybrid has even been done, so lets see where it can go from here. Can you keep taking it to the next step? Matter of fact, the pressure is on. Doing something else and just adding whatever Pusha T nuances on it, now you're doing something cheaper. You started one place and took it to its heights, and now you're regressing. I don't think I should be exploring that right now.
Marco: We're at a time now where the top ten rappers have a shoe deal, as if they're NBA players. Rappers have always been the official co-signer and have decided which sneaker was hot. How would you describe the progression of your style?
Push: For me, being a rap fan and the nostalgia of me being a kid, rappers and guys on the street told me everything to wear. That was it. I didn't necessarily read too many fashion books. Then it got competitive in junior high school. It was moreso about, "You don't got these." Everybody could be fresh, but you don't got these. For me, I was born in the Bronx, and I moved to Virginia Beach, Virginia at a very young age. I had the luxury of going back to New York, visiting my grandmother who would spoil me endlessly, and I could buy whatever was the hot kicks in the summertime of 1990. Being able to shop and then going back to Virginia Beach, where they weren't as fast in regards to fashion, I had that luxury. That competition grew through high school and you step outside more and it grew through college. Then you had regional style speak volumes through college. As you get older, and begin to travel and see more, that was the progression of style for me.
Woody: Are you a collector in general? Do you collect art, vinyl records or anything in particular?
Push: I don't think I'm a collector. I think every kid from where I'm from had a terrible passion for having to have fresh kicks. If you had two pair of jeans, four shirts, you were cool if you had a couple pair of kicks that were fresh. That was it. That's how it started. The passion for sneakers has been there since day one, but I never held onto them. I never shrunkwrap them. It's always been about getting it, buying it, wearing it, showing it and moving on to the next one.
The adidas "King Push" EQT Grayscale releases this Saturday, December 3rd on adidas.com and at select retailers.