When life no longer satisfies you, it's time to carve a new path — and that's exactly how Happy Life Wood came about.
After working in marketing for the last 25 years, Steve Thomson felt that his day-to-day was starting to feel stagnant. At work, he was spending less time being creative and more time on operations and management. With a background in design, Steve questioned when was the last time he felt passionate about art.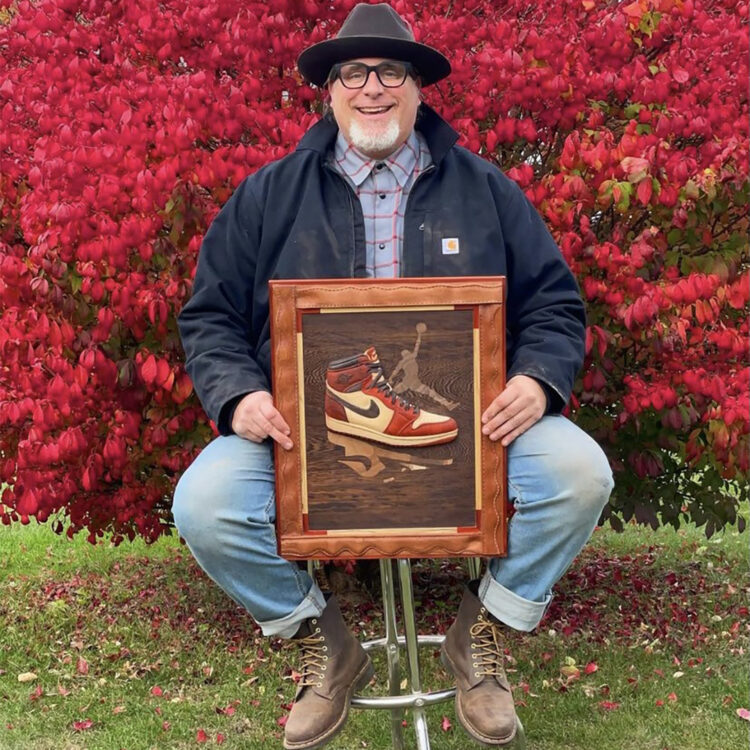 "I wasn't getting fulfilled creatively enough," Steve said. "So that's when I found a little woodworking DIY and I fell in love with the process — working with my hands, working toward completing something that I could be proud of."
Despite not knowing anything about woodworking, Steve decided to keep at it and continued to work on small projects after his 9-5. Although Steve still had very little experience, he was eager to take his woodworking to the next level but was unsure how to do it. It wasn't until his son's birthday that Steve realized what he could do.
"It was Stevie's birthday and I'm like, 'What can I make him? I want to make him something,'" Steve mentioned. "Then I got thinking and I'm like, 'Oh, I should try and make a sneaker out of wood.'"
Stevie Thomson, Steve's son, has been a longtime sneaker fan and spent his childhood bonding over sneakers and sports with his dad. Steve knew that the sneaker piece he had in mind for Stevie would not only be the ultimate birthday gift, but it would challenge him to make something that he hadn't before.
"Initially, my thought was to just make it a piece of artwork, like an image that was flat pieces of wood in different shades," Steve said. "So I made a template and started cutting out the different pieces on a scroll saw. I was looking at the different shades of the wood and how they would represent the different areas of the shoe. I put them all together and shaped them as I went. Then, there was one moment — I remember it so vividly — I was sitting at my workbench and I set the piece. It was all put together and I set it up against the wall. I remember looking at it and thinking, 'Wow, that looks real. It literally looks real.' So I continued shaping it that way, building depth into it, and doing more carving, rather than just gluing pieces together flat. I finished it and gave it to Stevie, and he was just blown away."
Without Steve, there would be no Stevie, but without Stevie, there would be no Happy Life. While Steve is in the woodshop, Stevie is in the office focused on his own art — business.
"My focus since we started is just to take as much as possible off my dad's plate so he can continue to focus on his art and his craft," Stevie, Happy Life co-founder and Steve Thomson's son, said.
"I definitely take a lot of things from my dad being really close to him my entire life, but we're also very different in a lot of ways. I'm able to bring that entrepreneurial business perspective to things to continue to bring him new opportunities and elevate the brand."
Stevie helped to bring his dad's work to social media, with the Happy Life Wood accounts coming to fruition in 2020 during the middle of the COVID-19 pandemic, just months after Steve began woodworking as a hobby.
"Stevie had said to me at that time, 'You got to continue down this road and do some other things,'" Steve added. "So my mind just kept going to, 'What else can I do?' I'm always one that likes to challenge myself. If I'm going to do it — I want it to be something that's going to be worthwhile and have a wow factor. So I thought to try a portrait next. That was right around the time of Kobe's passing, so I decided to do a portrait of Kobe. I was going to use this piece to develop my process and basically teach myself. It was a lot of trial and error, and it took me a long time."
After six months of work, Steve finally revealed to Stevie what he had been secretly working on, and unveiled his handcrafted Kobe portrait.
"I finished it and Stevie was just blown away. He was speechless," Steve recalled. "I showed one of my buddies that I worked with and he was like, 'Wow, that's amazing,' and then asked if he could post it on Instagram. I said sure, and then not too long after that, he texted me and goes, 'You're not going to believe this, but Pau Gasol shared the portrait on his Instagram.'"
At this time, Happy Life Wood only had a couple of hundred followers on Instagram, most of which were close family and friends of the Steve(s). This was the first time that Happy Life received substantial recognition and amassed a large number of followers.
"It was incredible," Steve added. "Then another hour goes by and my friend tells me, 'You're not going to believe this, but Pau Gasol just DM'd me and wants to know how he can purchase the piece.' Next thing I know, Stevie, my buddy, and I are on a Zoom call with Pau and his business manager, and we're negotiating a price on the piece."
From there, it wasn't long until Steve's art was all over social media. Instagram and TikTok have been pivotal in Happy Life's success, with millions of viewers getting a glimpse of Steve's wood shop through their phones.
"It's amazing to have such a big audience on Instagram," Stevie said. "There are so many people that we're connecting with on a daily basis. We've also received so much support on TikTok and have nearly 200,000 followers — in less than a year. It's hard to even explain, but all the credit goes to my dad's art. That's always going to be what Happy Life is. It's what makes people want to stick with us and see what we're doing."
Social media was also how Nice Kicks Founder & CEO, Matt Halfhill, came across Happy Life. After Nice Kicks shared one of Steve's pieces on Instagram, Stevie reached out to Matt, which led to the viral Nice Kicks x Happy Life piece.
"The Nice Kicks piece is really part of our story," Steve recalled. "It really put us on the map in the sneaker community. Matt was the first person that ever truly gave us a serious shot — like an actual person in the sneaker world that we really respected."
The handcrafted Nice Kicks x Happy Life piece is one like no other, taking 315 hours to make and featuring a total of 511 individually cut pieces of all-natural wood from nine different species, complete with Happy Life's signature no-paints-or-stains promise.
"My dad just put his absolute all into that piece," Stevie said. "We were so excited when we got connected with Matt. We consider him one of the OGs in the sneaker community. I had been a huge fan of Nice Kicks since I was a little kid. I would read the blog on a daily basis, back when it was only dot-com. It was a crazy full-circle moment. It's led to a lot of great things."
Since then, Steve has created pieces for Steve Butcher, Duncan Robinson, PJ Tucker, and most recently, Nike and the OHSU Doernbecher Children's Hospital. The exclusive 1-of-1 piece was auctioned to benefit the children's hospital and was inspired by the 2023 Nike x OHSU Doernbecher Freestyle Collection. The Happy Life piece sold for $25,000 and 100% of the proceeds were donated to the Doernbecher Children's Hospital.
"The Doernbecher project was absolutely unbelievable," Steve said. "To raise $25,000 for the foundation was really special. We want to continue to do these things and work with people that we feel like we're aligned with."
Heart is at the center of everything that Happy Life does. The father-son duo has found a sense of purpose with Happy Life by creating their own space in the sneaker world and connecting to the community in a unique way. More than just Steve's art, Happy Life has helped to bring new life to traditional woodworking, an art form that has been overlooked in our predominantly digital world.
With so many online followers leaving questions and asking about Steve's woodworking process, Stevie decided that it was time to bring his dad's work to an offline experience. For their biggest undertaking yet, Steve and Stevie recreated the Happy Life woodshop at their very own ComplexCon installation.
"This is the most challenging thing we've done as a business so far," Stevie said. "There's just so many moving parts and we've never done anything like this. It's scary because so many cool brands and the most successful people in the whole space go to ComplexCon, but my dad's art speaks for itself, and it's going to be unique in whatever setting it's in — whether it's on social when you're scrolling or in-person. Our goal is to allow people to step into my dad's creative and artistic world, so people can understand what Happy Life is all about."
Throughout the two-day convention, ComplexCon attendees crowded around the Happy Life Wood installation as Steve carved a pair of Air Jordan 1s live. For the first time ever, fans of Happy Life were able to see Steve's process and how the Happy Life art comes to life.
"We wanted to communicate that while my art is what is regularly seen, we're more than just that," Steve said. "We are a brand that represents artists and the fact that you can achieve happiness at any point if you do what you love. We're trying to bring my artwork to as many people as we can, through multiple different mediums."
The turnout at ComplexCon was incredible, with longtime followers and new fans getting the chance to see Steve work live at the Happy Life booth. The experience culminated everything that Happy Life has done, and how far the Steve(s) have come as a father-son team.
"It's overwhelming sometimes because it's just the two of us, and Stevie works a full-time job," Steve mentioned. "The growth has been big, but I don't know if we could have handled too much more growth. With just the two of us, it's been manageable, but crazy. I'm lucky to have somebody to help me. It's awesome having the father-son thing because it's such a bonding thing for us. Every aspect of Happy Life is a positive."
As for what's next for Happy Life, Steve and Stevie are focused on keeping their momentum and continuing to deliver good art with good people. Happy Life hopes that one day they can translate their art into a sneaker of their own.
"We're waiting for a sneaker brand to partner with us," Stevie said. "That's a dream. But ultimately I think we both want to be doing this full-time together and keeping Happy Life in a good place, doing the right things, and collaborating with good people — that's the ultimate goal."
Keep up with Happy Life Wood by following the brand on Instagram and TikTok.
---
For more sneaker news and release dates, follow @NiceKicks on Twitter.