Coronavirus, also known as COVID-19, has in some shape or form impacted your life in the last couple of days, weeks, or even months.
Recent exposure of the novel case in the continental United States has brought the country to a halt that has been unprecedented. The global pandemic has stirred up conversations about social distancing, forced schools and other public institutions to shut down, and has even caused an uptick of panic buying of water, toilet paper, and other various household items.
As COVID-19 continues to make a global impact, we are dedicating this long-form article for every aspect the virus is impacting the world of sneakers and sports. As we continue to learn about the developing pandemic and the measures being taken against it, we will be constantly updating this article as we go.
Context
According to the Center for Disease Control and Prevention (CDC), the Coronavirus is best defined below:
Coronaviruses are a large family of viruses that are common in people and many different species of animals, including camels, cattle, cats, and bats. Rarely, animal coronaviruses can infect people and then spread between people such as with MERS-CoV, SARS-CoV, and now with this new virus (named SARS-CoV-2). Early on, many of the patients at the epicenter of the outbreak in Wuhan, Hubei Province, China had some link to a large seafood and live animal market, suggesting animal-to-person spread. Later, a growing number of patients reportedly did not have exposure to animal markets, indicating person-to-person spread. Person-to-person spread was subsequently reported outside Hubei and in countries outside China, including in the United States. Some international destinations now have ongoing community spread with the virus that causes COVID-19, as do some parts of the United States. Community spread means some people have been infected and it is not known how or where they became exposed. Learn what is known about the spread of this newly emerged coronaviruses.
After initial cases in China, COVID-19 spread to Italy, France, Iran, Spain, and now the United States among a handful of other countries. The symptoms range from a runny nose and a fever to pneumonia-like severity especially for people with an immunocompromised system or the elderly. Nonetheless, younger individuals can carry the virus without knowing as symptoms can show up anywhere from two to fourteen days after coming in contact with the virus.
On January 30, 2020, the International Health Regulations Emergency Committee of the World Health Organization (WHO) declared the outbreak a "public health emergency of international concern." On January 31, Health and Human Services Secretary Alex M. Azar II declared a public health emergency (PHE) for the United States to aid the nation's healthcare community in responding to COVID-19. On March 11, WHO publicly characterized COVID-19 as a pandemic. On March 13, the President of the United States declared the COVID-19 outbreak a national emergency.
While the full affects of the virus are unknown, the pandemic is already creating major problems around the world.
Sports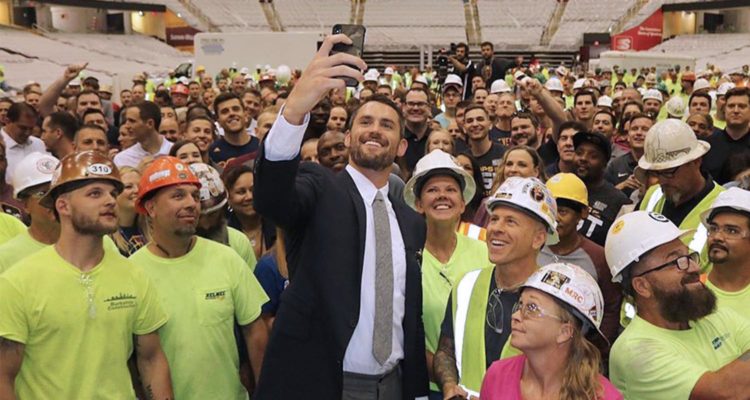 Cancellation of Sporting Events
The world of sports featured a dramatic change of landscape in a handful of hours. Internationally, football matches and competitions were already taking certain measures. Italy's Serie A and France's Ligue 1 were playing behind closed doors with no fans in attendance. Shortly after a few players tested positive, including Juventus' Daniele Rugani, tested positive. Following this, every European football league postponed their upcoming matches for the time being.
Stateside, everything changed in a matter of hours. On Wednesday March 11, the Utah Jazz were visiting the Oklahoma City Thunder. Seconds before tip-off, the game was called off. Utah Jazz players Rudy Gobert and Emmanuel Mudiay were rushed to the hospital and tested for the novel virus. Shortly after, Woj and Shams Tweeted that the remainder of the NBA season was suspended creating a domino affect for every other sport/league in the country.
It appears as though NBA owners and executives are eying a late June return to NBA play and doing so without fans according to Woj.
Both men and women's NCAA tournament were called off including the conference tournaments. Major League Baseball, in the middle of its spring training season, is suspending their season as well. Major League Soccer also postponed its season just days after it kicked off. National Hockey League also postponed its season. The 2020 Masters postponed their event to a later date. The London and Boston Marathons have also postponed their race dates.
The Tokyo Olympics, Women's National Basketball League, and National Football League have yet to issue a statement regarding the upcoming games/season.
Confirmed Cases OG Coronavirus in Sports
NBA
After Rudy Gobert tested positive a couple of other players have tested positive including Donovan Mitchell (Utah Jazz) and Christian Wood (Detroit Pistons). Kevin Durant is one of four Brooklyn Nets players who tested positive for Coronavirus on March 17. Boston Celtics guard Marcus Smart, two undisclosed members of the Los Angeles Lakers squad and there members of the Philadelphia 76ers organization have tested positive.
MLB
A minor league player from the New York Yankees organization tested positive for the virus. So far, he's the only case in baseball at this point in time.
Football (or soccer)
Players from all over the world have tested positive.
In Italy, Daniel Rugani, Blaise Matuidi and Manolo Gabbiadini tested positive. In Spain, five members of Valencia have tested positive. In England, Chelsea's Callum Hudson-Odoi tested positive. Arsenal's manger Mikel Arteta tested positive. Members of Leicester were self-isolating after feeling symptoms.
Awareness & Support
Players across the NBA are donating their own money to help part-time and hourly employees from the arenas who will take the biggest hit from a postponed or worst case suspended NBA season. Zion, Giannis, the Warriors organization, Jeremy Lin, Kevin Love and many others are ensuring that their communities are taken care of. You can read the entire list and their charitable efforts here.
Business
Revenue
On the business side of things, COVID-19 has had a huge impact. Nike reportedly lost $17 billion in market valuation as China is the most profitable and fastest growing area for Nike according to Forbes. In that same Forbes article, China reportedly racks up more than 15% of total revenues and nearly 40% of the company's profits.
The Swoosh isn't the only brand taking a hit from the virus however.
Both adidas and Puma are reporting drastic losses as well as both brands make nearly a third of their sales in Asia. China is a main producer for both brands according to Business Insider.
Adidas states that while their China sales and market is recovering, places such as South Korea and Japan markets are now feeling the toll of the virus. Puma mirrors that sentiment as markets in Singapore, Malaysia, Japan and South Korea are taking significant hits in sales and overall foot traffic.
Both companies state that their factories are still operating and are not experiencing any delays in product.
Store Closures
On March 15, a handful of retailers announced via Instagram and other platforms that they were closing their doors for at least two weeks. Stores such as Nike, Kith, UBIQ, SneakersNStuff, Converse, Stadium Goods and many others are either closing their U.S. stores or completely shutting down all of their doors in an effort to minimize human exposure and interaction in the midst of the advised quarantine period.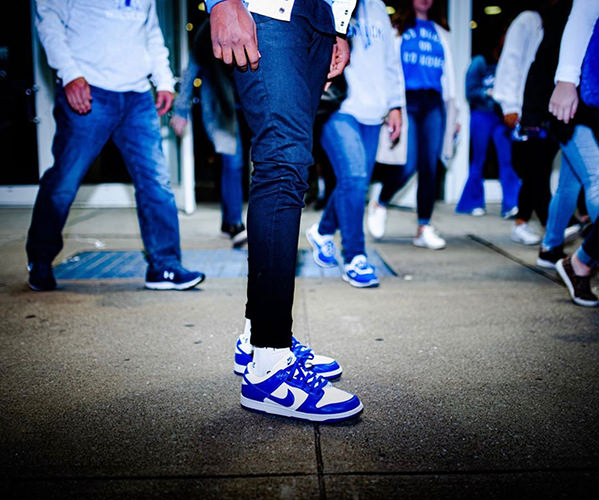 Kentucky-based retailer Oneness had an installation set-up ahead of the release of the Nike Dunk Low "Kentucky" over the weekend. However, the retailer had a quick change of plans and created a geofence around the city of Lexington, Kentucky and allowed people to cop the shoe via the Frenzy app and having their paired shipped to them rather than using the usual first come first serve procedure.
As the virus continues to spread, retailers are doing their best to adjust to the new normal we are currently in.
A handful of the companies will continue to pay and support their employees despite the closures of the stores including Nike, Patagonia, and others. You can read an extensive list of the closures here via CNN Business.
Footlocker is closing its stores worldwide until March 31. Its employees will sill be paid.
adidas originally was set to stay open as CEO Kasper Rorsted stated in an email that, "closing down is easy, staying open in a healthy environment requires courage, perspective and focus." After public backlash on Twitter, Jess Golden of CNBC Sports Business reports that adidas will close its stores throughout Europe, U.S., and Canada until March 29. Employees will continue to receive pay.
Other News
On March 3, Nike's HQ in Europe closed after one employee tested positive for the virus as the number of cases in the Netherlands grew according to Reuters.
adidas' US headquarter, based in Portland, OR., closed briefly after two employees came in contact with a patient who tested positive for the virus according to The Oregonian.
On March 18, Nike committed $15 million to COIVD-19 respond efforts.
Under Armour announced $2 million in donations will be spread out to provide community support including a 30-day Healthy at Home fitness chalked on UA's MyFitnessPal and MapMyRun platforms.
New Balance pledged $2 million to the Coronavirus relief fund.
Nike is utilizing its manufacturing facilities in Oregon to create masks for doctors and nurses. In addition to that, Nike Training Club is free for all NikePlus members as the brand wants people to stay active while indoors.
Sneaker Releases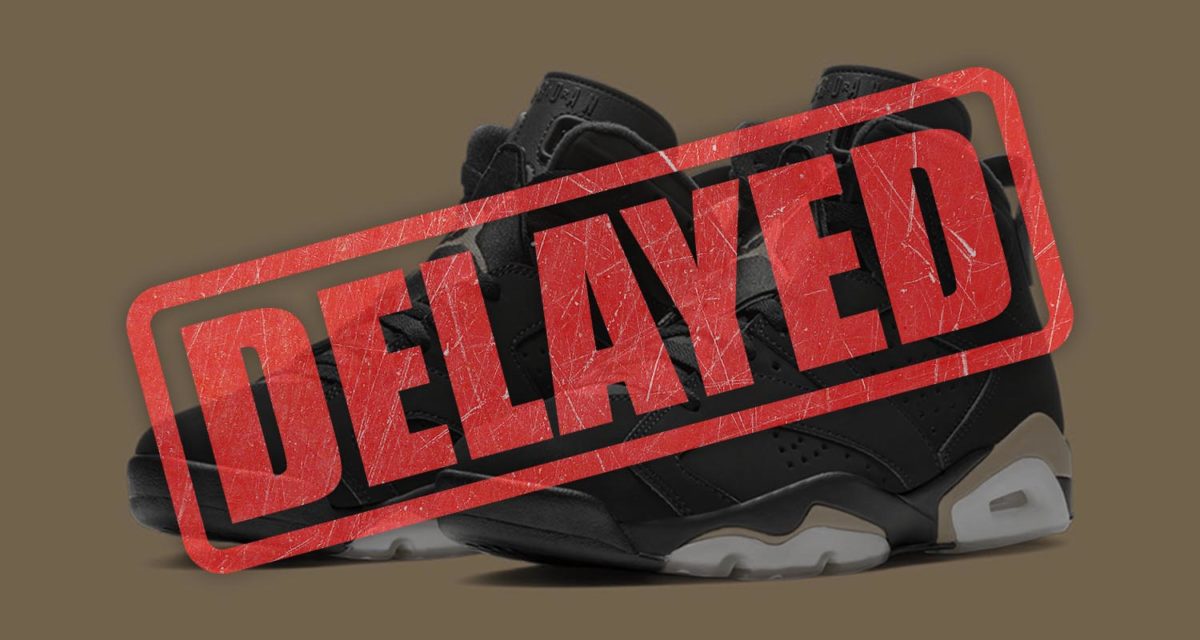 The impact of the pandemic has also pushed back certain release dates as a handful of coveted Jordans that were set to drop within the next couple of weeks will be making their way to Nike.com, SNKRS and other places at a later date.
Some of the more notable delays are the upcoming Air Jordan 6 "DMP" and the Air Jordan 13 "Flint" among others. You can take a detailed look at every Jordan delay here.
Nike and other brands have not shown any indication of product being delayed or canceled as a result of the virus. We will be sure to update that as the story develops.
Update 3/17:
The upcoming Dior x Air Jordan collection is being postponed for a later date. The collection was set to drop as an international draw in April.
What's Next
The next couple of days are imperative. As quarantine measures and social distancing are extremely recommended, certain cities are taking unprecedented measures following the CDC's recent statement that events/gatherings of over 50 people should be eliminated for at least eight weeks. Public schools, high schools and even public and private universities are either temporality cancelling school or going online for a certain time frame.
In addition to that, restaurants, bars and other places are temporally shutting down or strictly doing take-out and delivery.
In Ohio, Governor Mike DeWine that the state will close bars and restaurants as of March 15. However, these establishments can stay open for carry out and delivery.
Los Angeles Mayor Eric Garcetti stated that bars in LA will be closed.
Illinois Governor J. B. ritzier stated that all bars and restaurants in the state will be closed to dine-in customers from March 16 to March 30.
Washington state Governor Jay Inslee stated that restaurants, bars, entertainment and recreational facilities will temporarily be shut down.
New York City Mayor Bill de Blasio also adds to the list of cities and states shutting down as bars, restaurants and cafes will exclusively operate on a take-out and delivery basis in NYC.
While the measures may look extensive and dramatic, the reality is that the closures are necessary beyond words.
In Italy, where closures were imposed late, the death toll and exponential growth of the novel virus is consistently growing.
On Sunday March 15, over 300 new deaths were reported. Hospitals, ICUs, ventilators and the general healthcare scene in Italy is overwhelmed to the point where doctors are having to choose who does and does not get treatment — usually indicating that younger individuals or those more likely to survive are being prioritized and taken care for with more care.
Read that again. Lives are in jeopardy because of the massive amount of cases growing by the day as a result of a lack of preventative measures whether by the individual or by institutions at large. You can read for yourself from the perspective of an Italian via The Boston Globe.
It is reported that 40 to 60% of Americans will be infected with COVID-19. And quite frankly, the American healthcare system is not ready for what's to come. If you can stay home, do so. If you can work from home, do so. This is more than just washing your hands. This is more than your social life and the Instagram videos and Snapchat stories.
Even if you are young and healthy, you could unknowingly put someone else's life at risk. That's the real threat.
This isn't meant to induce anxiety, fear or feed into the "hysteria" that the media is accused of perpetuating. Simply put, we want to educate and inform as many eyes and ears as we can here at Nice Kicks.