Depending on who's telling the story, the 1990s are considered the Golden Era of Hip Hop. There were various artists birthed during this period, each authentic in their own delivery and all hungry to prove themselves through their lyrics.
Making his way onto the scene in 1993 with his debut single "Flow Joe," Fat Joe remembers the '90s vividly. While he can tell a story from those times like no one else, in never fully holding onto the past, he's allowed himself the ability to be able to reinvent himself time and time again to continue to deliver hit records still to this day. Along with his dedication to his first love of music, Joe has always been committed to staying fresh and is one of the most prolific sneakerheads in the world. His November 2004 appearance on MTV Cribs, in which he licked the soles of a deadstock pair of "Olympic" Air Jordan 7s, spawned a generation of copycats.
He essentially took sneaker culture viral before that was a thing.
With his ties to both hip-hop and sneaker culture, it was a perfect pairing when Foot Locker decided to team up with Joe to continue with their "Discover Your Air" campaign. In the spots, the Don challenges select taxi cab riders, which includes the likes of rappers LGP Qua, Sheck Wes, and comedian Haha Davis to join a '90s hip-hop inspired karaoke session. The digital spot is launching in celebration of the Foot Locker Nike Air "Frequency" Pack, which salutes '90s iconic hip-hop.
We caught up with Joe to speak about some of his most memorable moments and sneakers from the '90s, his thoughts on the current state of the sneaker culture, his upcoming role in Night School and what five sneakers he would wear for the rest of his life.
Nice Kicks: How much fun did you have with this project with Foot Locker? Being in the cab and getting these unknowing people to karaoke…
Fat Joe: Some of them are modern-day superstars, like HaHa Davis and Sheck Wes. It's a different flow in the '90s, you know what I mean? If they didn't know the record, it's hard as hell to recite it. I can't even do Naughty By Nature in 2018. That boy Treach was flowing so crazy. It wasn't an easy task at all.
Nice Kicks: I was disappointed that there wasn't any "Watch the Sound" or "Bet Your Man Can't Triz."
Fat Joe: [Laughs] Nah, but we have "Flow Joe" in there. That's my first track ever. We also had "Mass Appeal" by Gang Starr. It was a great time. It's authentic. It's New York City. We're in the yellow cab, listening to '90s hip-hop and it's all a celebration of the three Air Max that came out with the collaboration with Nike and Foot Locker and that's why there's that yellow and black. It was really dope and really authentic.
Nice Kicks: Your career started in the '90s. What are some of the most memorable moments for you from that time?
Fat Joe: Man, I have seen so much. They use to have these seminars, these DJ battle seminars. Rap Radar, Clark Kent and I saw everyone come up. I saw Nas when he first came out with his album. I seen Jay when he first came out, Cam'ron when he first came out and obviously Pun. So all those iconic figures — including Biggie. This is when me and him first started as kids.
Nice Kicks: As far as sneakers go, I know this is a tough one but what were some of your favorite sneakers from the '90s?
Fat Joe: Speaking of this collab, the Air Max 95 is one of my favorite sneakers to go to. I love the Air Force 1. Barkleys, Bo Jacksons and that's the top four I can think of right now.
Nice Kicks: You were one of the figures that I think helped with the commercialization of the culture because I remember watching you lick the bottoms of all these clean Air Force 1s on Bobbito's show. When you look at what the culture has become, what are your thoughts on how it's grown?
Fat Joe: I think it's better but I just never thought it would get so big and expand and be such a phenomenon. I just did it because I love sneakers. I never knew there would be trade shows, Sneaker Cons, Complex shows and all the things going on in the sneaker game. I didn't know it would get that big.
Nice Kicks: How many pairs of shoes would you guess you have in your current collection?
Fat Joe: Man, I have a whole bunch. I don't know how many but I can tell you it's in the thousands.
Nice Kicks: At this point, they have to have to be going to your sons now.
Fat Joe: [Laughs] Yeah, or I'll donate them to a museum or something like that. You know, what's crazy is, we had a premier for Night School and I peeped Kevin Hart peeping for my sneakers, even though he was earring a suit. I was like, "Yo?" and he was like, "I know you always kill 'em with the sneakers." I was like, "Damn." Even Kevin Hart is on point about the sneaker game.
Nice Kicks: I see on your IG, from time to time, you'll still flex but are you still heavy into collecting?
Fat Joe: Yeah, I am. I'm just more spoiled and subtle about it. Right now, I have on the Jordan 3 "Georgetown" joints on like it's regular and it really ain't. I'm just spoiled right now. I'm really spoiled.
Nice Kicks: Night School releases this week. What role do you play and how did you get involved with the project?
Fat Joe: The role I play is a guy named Bobby. He's an inmate, who is locked up and he's taking night school classes via Skype to get out of jail earlier. It's a whole lotta jail stuff going on in the background on the computer screen while everyone else is in the class. Everyone is looking for a second, third or fourth chance at life. It's a bunch of challenged individuals who are trying to get their GED and it's hilarious Tiffany Haddish is the teacher and she's like the girl you grew up with and she became the teacher. That releases September 28 and I'm excited about that one.
Nice Kicks: How was it working with Kevin Hart and Tiffany Haddish?
Fat Joe: Ah man, two people who are at the top of their game and in their prime. Kevin Hart is probably one of the top three international superstars in the world. Tiffany is the most lit female actress in the game right now. I'm blessed, bro. I'm blessed.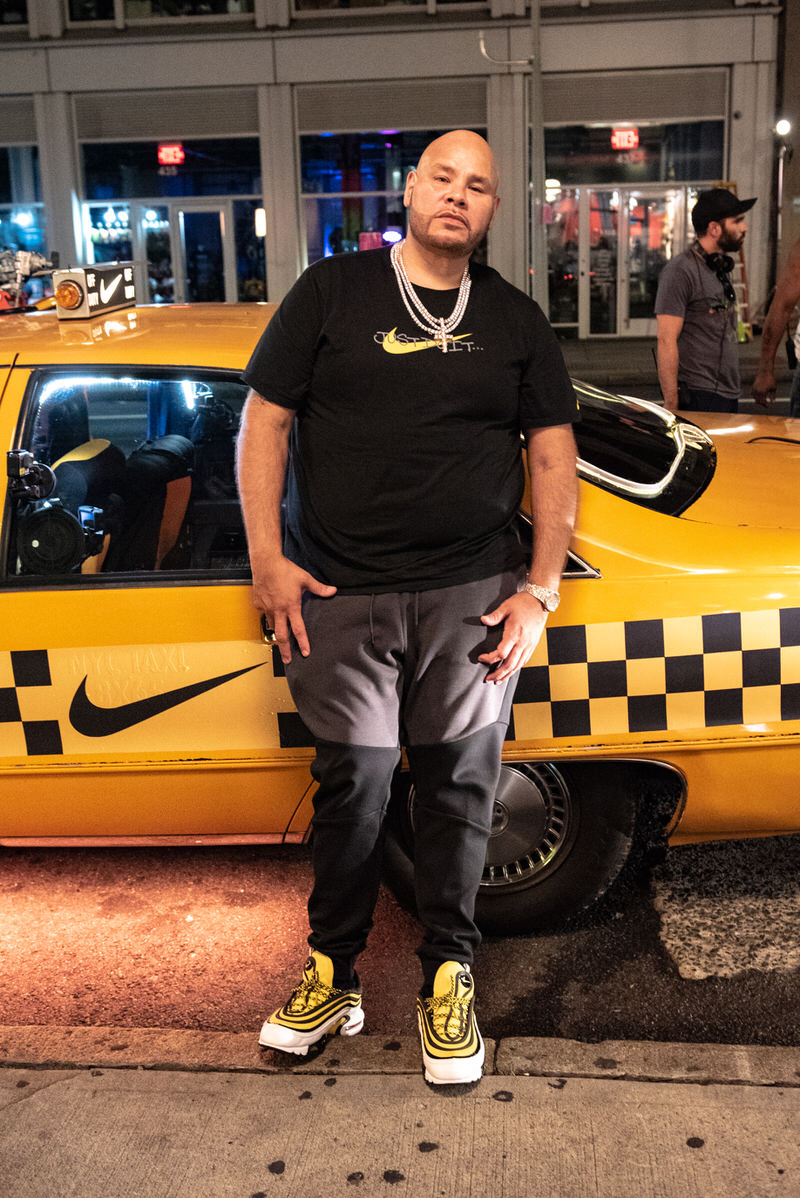 Nice Kicks: We talk about the '90s and that time and you're one of the guys that have managed to thrive as the times and hip-hop have changed while other peers of yours haven't made as seamless of a transition to the times. How have you managed to adapt and still progress?
Fat Joe: Music is my life and it's my first love. I signed a contract with the music gods and I promised myself to never fall asleep on the job, always stay on my toes and always know who the next people coming up are, always know what the new sound is, always stay relevant and current. I come from the '90s era and I feel like I'm one of those guys waving the flag of the '90s era, like, "Hey, we're not gone." Don't count us all out. We still know how to make hit records and incredible music.
Nice Kicks: I'm going to put you on the spot for the last question — If you had five pairs of sneakers to wear for the rest of your life, which would those be and why?
Fat Joe: Man… It would be the Air Force 1 "Linen," the Jordan 3s, Jordan 4s, the Air Max 95… Ugh, I'm trying to think of something ill.
Nice Kicks: You gotta add the Terror Squad "Eminem" Jordan 4s.
Fat Joe: [Laughs] Yeah, yeah. You gotta have the holy grail in there. That would be the fifth one and I'm all good.