Draymond Green: World Champion, NBA All-Star, household name, Drake quotable. Yup, in only a few years the Michigan State product from Saginaw has become one of the most accomplished and most talked about players in the league. Doing anything and everything for his team, the point-forward has redefined the term 'tweener' and changed the way the NBA looks at position thanks to his gutty play, high hoops IQ and remarkable versatility.
While Day-Day is a man of many tools on the hardwood, he's also a man of many kicks on and off of it. Since his days in East Lansing, the fiery forward has rocked heat from the Air Jordan signature series and LeBron lineage, recently becoming a formidable face for many Nike Basketball marketing efforts. In the latest Player Profile, we highlight the best of his footwear repertoire.
Nike Kobe 11 Elite "Fade to Black"
April 13th, 2016 will go down as one of the best nights in pro basketball and ESPN history. Draymond Green was a part of it all, breaking the Chicago Bulls historic 72-10 record while doing so in the also made for the moment "Fade to Black" Nike Kobe 11.
Nike Zoom Soldier LeBron 9 iD
Will Draymond and LeBron face off in the Finals once again? It sure looks like they could. While the forward's Soldier sneakers would probably be shelved for something not associated with the competition, this iD makeup among others have worn well throughout the Warriors' historic season.
Air Jordan 11 "Cool Grey"
Long before going to The Bay, Draymond was already accustomed to playing on a big stage and being a part of major Nike efforts. Taking on the North Carolina Tar Heels on an aircraft carrier, Green laced up the Air Jordan 11 "Cool Grey" in conjunction with the troop supporting camo unis. The best part? Obama was in attendance.
Nike Hyperdunk 2014 "Finals" PE
It's safe to say that fans in Oakland and East Lansing were well aware of Draymond Green before last summer, but after winning a ring the Warriors standout really became a household name. Impressive play on the game's biggest stage came in home and away "Finals" PEs of the Nike Hyperdunk 2014.
Nike Air Foamposite One "Sharpie"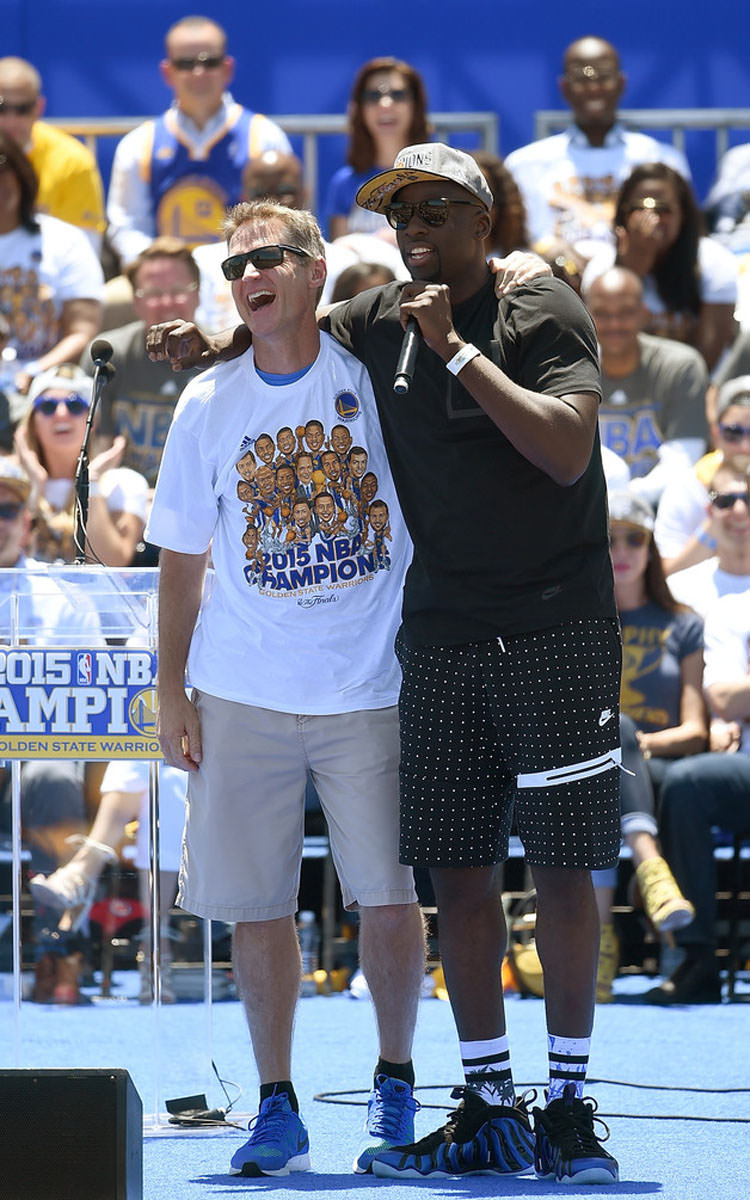 The Warriors championship celebration saw Draymond Green stealing the spotlight once again. The parade had him shining as well, rocking the Nike Air Foamposite One "Sharpie" before its drop date. Teammate Andre Iguodala also broke these out for said festivities.