Childish Gambino aka Donald Glover and adidas connected to unveil their new collab at Coachella 2019.
How they released the worn-out looking shoe was even cooler. Unexpecting fans at Coachella got a notification on their phone that said Donald Glover would like to share a photo.
When that happens, you should probably click Accept.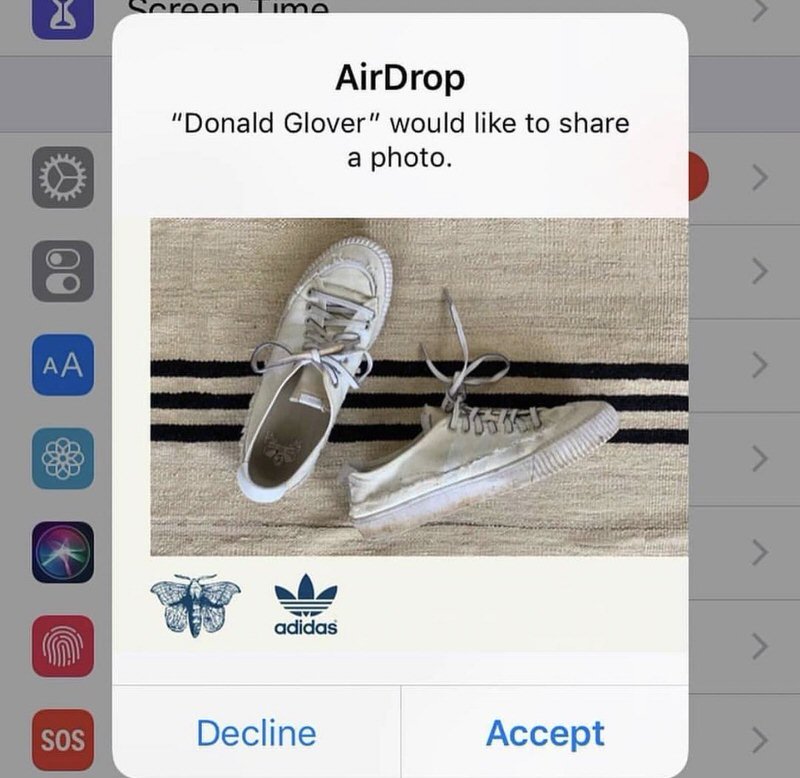 This past Friday, Childish Gambino – a headliner at this year's Coachella music & arts festival– chose the fest as the perfect opportunity to unveil his long-awaited collaborative sneaker with adidas. Adidas put a spin on the grand unveiling by offering a seemingly-infinite amount of pre-release (and pre-announcement) sneakers to Coachella guests who were in the right place at the right time.
Lucky iPhone users near the festival's General Store received unwarranted Apple AirDrop requests from Donald Glover at random times throughout the day. Impressively enough, fans reported receiving these notifications from as early as 10 A.M. through Gambino's evening-ending performance. According to Reddit users, those who accepted the image could take the saved photo and show it to the Vintage Market and claim their free pair of pre-announcement Childish Gambino adidas sneakers, so long as they did so within that hour. The part of the photo that contained pick up information was only visible after accepting the photo and viewing it.
It is unclear how many pairs were offered versus how many were received, or how many AirDrop requests were accepted versus declined. After all, it does seem like a pretty funny joke for Donald Glover to AirDrop you a photo at Coachella on the day he is set to perform. Nonetheless, expect more ad-hoc drops like this as the year goes on. Companies are getting innovative with their sneaker drops and that's exactly what we love to see.
Stay posted to Nice Kicks to get the updates on if or when these shoes will be made available to the public for purchase.
Our guess would be to expect an official announcement sometime this week. If you're going to Coachella Weekend Two, be sure to keep a look out for AirDrop requests if you want to score a pair!