interview by Nick De Paula & Ian Stonebrook
As much as the game has evolved, point guards going out to compete in the NBA Dunk Contest still isn't something you see every day. Especially as a rookie. Well, Dennis Smith Jr. isn't your average point guard nor was he your average rookie.
After impressing in his debut season in Dallas, the first round pick out of NC State has cemented his position as a fixture of the Mavericks' future and that of Under Armour as well. While on hand for the Las Vegas launch of the HOVR Havoc – a model Dennis donned before anyone else at Summer League – we talked to Dennis about his preparation for next season, being the first player to lace up the HOVR Havoc and dreams of having his own signature shoe.
Nice Kicks: What was that first year like as you were starting to get familiar with Under Armour?
Dennis Smith Jr.: The first year was pretty good. I was just getting to know everyone and building relationships is important. The people I've dealt with at Under Armour have been honest and I feel really comfortable with the whole UA family.
Nice Kicks: What were some of the biggest points of feedback for you to inform the design on the HOVR Havoc?
Dennis Smith Jr.: I liked the shoe a lot and comfort is obviously very important to me. On the shoes I wore last year, the Drive 4, they're similar to the HOVR Havoc but the ankle was a bit too sharp and they eliminated that on the HOVR Havoc. I like the HOVR Havoc a lot.
Nice Kicks: What are some of the details you try to incorporate into the shoes you wear?
Dennis Smith Jr.: A lot of the shoes I wear have to do with my hometown and that's something that's major for me and my family. Most of my shoes will have 901 on them or the 'D' from Dreamville. My PE always has to have something about back home.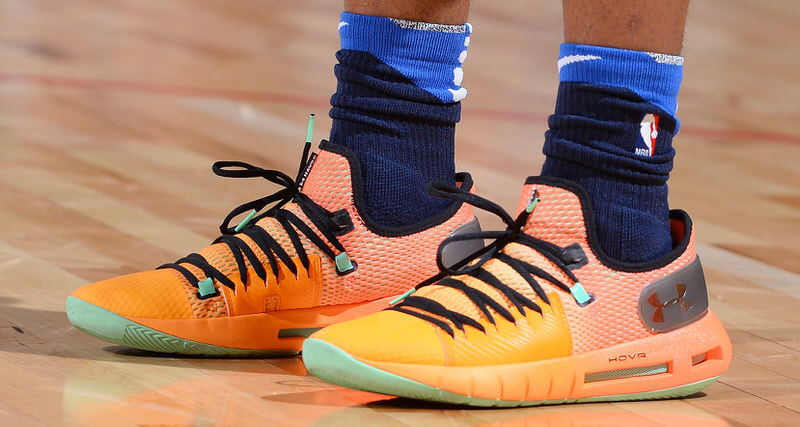 Nice Kicks: You debuted the HOVR Havoc in bright orange at NBA Summer League. What is it about that platform that made you wear the flashy shoes?
Dennis Smith Jr.: They liked them! My equipment guys told me they were gonna stand out. At summer league last year I didn't have a shoe deal, so I was wearing all kinds of shoes. Under Armour had came to me and they said, 'We know you're a big Martin fan, so we got these for you.' When they showed them to me they caught me off guard, just because that showed they really care about the player and they did the research on me.
Nice Kicks: What went into the decision last summer to bet on yourself and play it out as opposed to most players getting a shoe deal right out of the draft?
Dennis Smith Jr.: That was just bright thinking by my pops and my agent – you know they kinda brainstormed it and knew there was really no point in rushing. Because I got picked 9th I could just go out and show I can perform.
Nice Kicks: This summer league you seemed focused on shooting the 3 ball. Is there anything you're focusing on individually or from a team perspective this summer heading into next season?
Dennis Smith Jr.: Like you said, shooting the 3 ball a little bit more. Towards the second half of the year, my numbers went up in terms of shooting the 3 so that's something we really focused on and you know getting good looks and taking advantage of those opportunities. Aside from that, getting better defensively and more so for me more than anything else is just the pride of the game. Just being able to come out and do what you're supposed to do.
Nice Kicks: This summer you guys picked up DeAndre Jordan and Luka Doncic. How does that change things for you knowing that you're at the helm at point now that expectations have been elevated?
Dennis Smith Jr.: The expectations are definitely up. For me, I've gotta work as hard as possible to become the best Dennis Smith Jr. that I can be. Everything else will take care of itself. You know we're expected to make the playoffs this year. Like you said, I'm at the helm of that so I've got to do what I'm supposed to.
Nice Kicks: Have you talked to Luka much?
Dennis Smith Jr.: Yeah, I FaceTimed with him yesterday.
Nice Kicks: What do you expect from that pairing?
Dennis Smith Jr.: I expect him to come in and be really good. He's got things in his game that I can learn from and vice versa. I believe we'll both be receptive to that, acceptive of whatever role we're given and  we're both guys who wanna win games so that will find a way to balance out everything.
Nice Kicks: Moving back to shoes, you and Terrence Ferguson and Josh Jackson came up at the same time on the AAU circuit. Being friends with them, are you guys competitive with each other when it comes to who debuts shoes or who has the best PEs?
Dennis Smith Jr.: I'm not sure if they do it, but for me my shoes are always something about me or my family. I don't know how they do, I just know I'm gonna be fly and to me that's all that matters.
Nice Kicks: There's been a lot of noise on the sneaker scene with new brands getting in the market and the big brands staying active. What is the group mentality in terms of Under Armour being a smaller family of guys to make a mark for the brand?
Dennis Smith Jr.: It's just about being… I don't wanna use the word 'dope' but whatever synonym you can find for that. [Laughs] That's what our personalities have to be because the more we're liked as players the better the brand is. We have so many talented players that I think it's possible for us to blow up.
Nice Kicks: What are your hopes and aspirations to someday get your own signature shoe?
Dennis Smith Jr.: It's definitely something that I want to do. You look at all the guys you grew up watching: TMac, Kobe, AI, Penny, they all had signature shoes. Any guy that you liked, they had signature shoes. That's something I wanna do when I'm older for sure.
Nice Kicks: Have you given much thought to what it might look like?
Dennis Smith Jr.: It's down the road so I haven't really started brainstorming but it's something that I want to happen and something that I believe will happen. But it's something I'm gonna think about more now that you said that. [Laughs]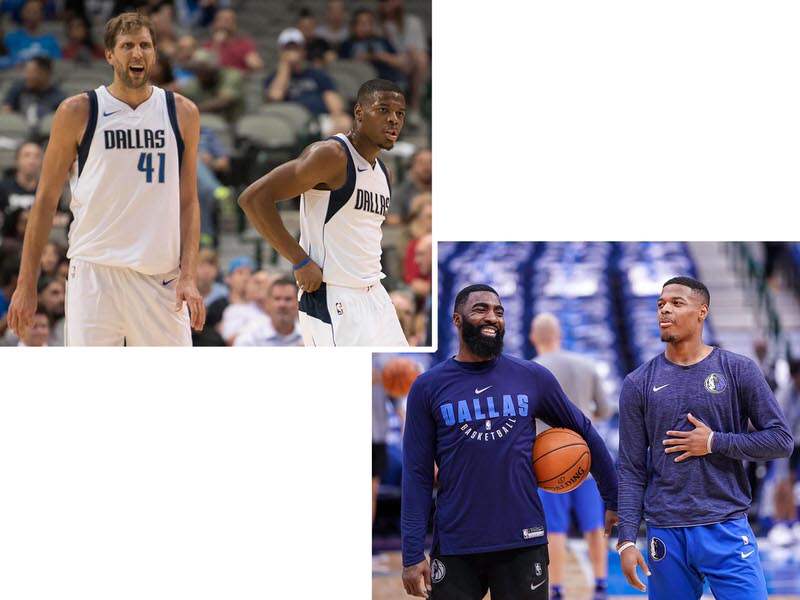 Nice Kicks: Switching to hoops, with the Mavericks you've got Dirk Nowitzki and God Shammgod at your disposal — two of the most unique players the game has ever seen. Have you picked up anything in particular from them?
Dennis Smith Jr.: It's kind of tough to pick up something from Dirk [laughs] you know it's tough — but the biggest thing I've picked up from Dirk is work ethic. Me and Sham, we do our workout every pregame and at nighttime. He shows me different things with handles and different finishes. I'm a sponge whenever I can be and they always give me knowledge.
Nice Kicks: During the group interview you mentioned always focusing on the next play and leaving the last play behind. That sounds a lot like the qualities of mindfulness and meditation that your guy J Cole speaks on. When did that mindset set in? How did you bring those meditative qualities to the basketball court?
Dennis Smith Jr.: I probably started to pick that up during summer league. My coach Jamal Mosley is really big on all that stuff that Cole speaks on, too. That was major for him and me in summer league, to remind me to move onto the next play. Whether it's positive or bad there's a lot more stuff going on in the game. Like you said with Cole, he was telling me in summer league to do breathing meditation exercises and they helped out a little bit, too.