words & interview // Nick DePaula
video production // Gabe Oshin
podcast production // Jade Hoye

[ LISTEN HERE: Subscribe to the Nice Kicks Podcast and check out Ep. 21 with DeMarcus Cousins now on iTunes. ]
When the 6'11" DeMarcus Cousins emerged from a black sprinter van at the downtown Oakland studio that Puma had prepped for its first photoshoot with the Golden State Warriors All-Star, Boogie's bigger than-life-personality and energy surrounding his new 4-year shoe deal were unmistakable.
The on-court talents are what they are — he's one of the most skilled centers in the game's modern era — but it's the vibrancy and presence in person that makes him a perfect fit for Puma's grand re-launch in the game of basketball, and made him a key target as the company looked to re-enter the NBA for the first time in nearly two decades.
For a brand that's looking for just as much off-court brashness [Exhibit A] as they are on-court success, adding the 4-time All-Star not only bolsters a mixed bag of promising rookies and known vets. It also gives Cousins a chance to have more product and marketing input than ever before, and more support for initiatives and causes that he's launched in the communities of every stop of his NBA career thus far.
"His disruptive style both on and off the court aligns perfectly with the spirit of Puma Hoops and our objective of pushing for positive change in the game and culture of Basketball," said Adam Petrick, Global Director of Brand & Marketing. "His attitude, sense of humor, and incredible skills truly match the values of our brand and his return to the court will be a celebrated moment for everyone at Puma."
That return, which Cousins has chronicled through his "0 Doubt" video series, will see him add his considerable talents to a considerably dominant Warriors franchise that'll look to contend for yet another NBA Finals run this spring. As he says, he'll be "playing for something" once back.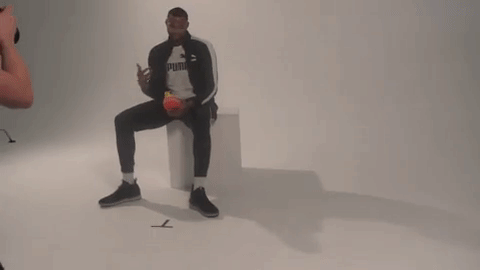 In the meantime, Boogie is proud to rep for his other newest team —
his Puma Fam
— as he continues to work his way back, donning the loud-as-hell red and yellow Clyde Courts along the sideline, dropping jokes and Puma shout outs during in-game interviews and looking to make his mark with the brand's openness to being outspoken and different.
After a great run with Nike since turning pro, the partnership with Puma emerged over the summer as the brand was looking for more established star power and potential visibility on an iconic team. With Cousins's current shoe deal set to expire on October 1st, he was looking for an increased profile and resources to support his many community activations. The deal, negotiated by Puma execs and Cousins' longtime marketing agent Matt Davis, Senior VP of Basketball Marketing at Independent Sports & Entertainment, came together fairly quickly down the stretch of September.
"Puma is the perfect partner for DeMarcus because of everything they represent on court and off," said Davis. "His ability as a leading face of the brand to make an impact in culture and with the community makes this a really personal partnership for him. Getting to collaborate with Puma and put his touch on future apparel and shoes, as well as their strong commitment to supporting his ongoing community efforts, were both key to making this the right relationship for him right now."
While on set in Oakland, we caught up with Cuz in between takes to get his thoughts on the brand's "different" approach to marketing and how he fits in with the Puma movement. To hear all about his decision to sign with Puma this season, you can read ahead for the full interview or view our video sitdown at the top.
[ LISTEN HERE: Subscribe to the Nice Kicks Podcast and check out Ep. 21 with DeMarcus Cousins now on iTunes. ]
Nick DePaula: You were one of the biggest shoe free agents of the summer, what was it like going into the summer knowing you were going to be a shoe free agent, and what were your expectations?
DeMarcus Cousins: Of course, it was kind of an up and down summer for me, in general. I knew an opportunity would present itself in some way or fashion. Puma presented itself early on, and I was super intrigued by it. I kind of know how the business works with the shoe companies in general and the market and the values. It presented itself early on, I was intrigued by it and I was excited for the opportunity.
Things kind of went quiet for us for a minute. Free agency happened, and it was a circus. Once everything calmed back down, we were able to re-connect, come back together and simply got it done. It was obvious it was interest on both sides, and it was a smooth transaction from that point.
NDP: When you met with the Puma folks, what were some of the things they told you about the brand and their plans ahead that excited you to want to sign with them?
DMC: The biggest thing for me was just the creativity behind it. It was a more genuine and authentic feel for me, and I like to pride myself on that same thing. Just that alone took it to the next level for me. The creativity is just through the roof. They do things differently. It's not your regular shoe company. They like to do things wild and different. I'm kind of similar in those same aspects. We had a lot of things in common, and I just felt like we could come together, collab on a lot of different things and help grow the hoop business with Puma.
NDP: How much of a factor was it that you'd be going from being one of many, to now coming to Puma as a 4-time All-Star and the most accomplished player, giving product input and really making an impact?
DMC: That also played a part in it. Being one of many at one company, and [now] being in a small elite group is a special feeling. That also played a big part in this decision. Basketball separates it from everything else. It's not 200, 300 players with the brand – it's a select few. I feel like it's an elite group, and it's going to continue to grow from here.
NDP: The one thing that's crazy this year – and you've worn purple, navy, red and now of course blue and yellow – but with your shoes, you can wear whatever you want. What's your approach going to be once you get out there? Are you going to wear crazy stuff?
DMC: We've already got some things in the works. My biggest thing is just being as loud and as different as I can be on the floor. That's something they've embraced and pride themselves on. I'm excited. I don't want to give out too much right now, and I'd rather shock you when it happens, but I plan to have some pretty wild and crazy ideas when it comes to shoes.
NDP: There's another dynamic now that you're on the Warriors, it's one of the most versatile teams in terms of brands. There's a lot of different guys with different brands. What's it like to be the face of Puma on the Warriors, a team with big expectations once you get to the playoffs.
DMC: It's an incredible feeling. It puts the brand at a whole 'nother level as well. I'm glad and I'm happy that I can be the guy to help put the brand at that level. We're gonna grow this thing and make it as big as possible.
NDP: I was talking to some folks from the brand, and they were saying how a big thing they're going to be doing is supporting guys with different social causes and initiatives. We saw that with Rudy and the Breast Cancer donation last week. What are some of the things that you've been talking about and looking to do to help to give back?
DMC: I look forward to telling some stories out of my childhood. That's something that we brought up in our meetings. Different stories, different struggles that I went through. I'm big in the community, inspiring kids and helping them believe bigger than themselves. It'll be a couple of projects in the works.
NDP: As you've gotten familiar with the brand, what've been some of the biggest things that you've been excited to wear off the floor?
DMC: The Clydes are a classic of course. I feel like you can wear it with a suit, track suit or jeans and a t-shirt. That's gonna always be the go-to. As of right now, that's my favorite.
NDP: Some games you'll wear a suit with the Clydes, and some games you'll wear the warmups and Clyde Courts. What's the thought process going into each game?
DMC: Earlier on, it was preseason, so I could kinda get away with the dress code. [laughs] Now, I have to be in a suit and blazer, so I still try to throw some flavor in at the same time.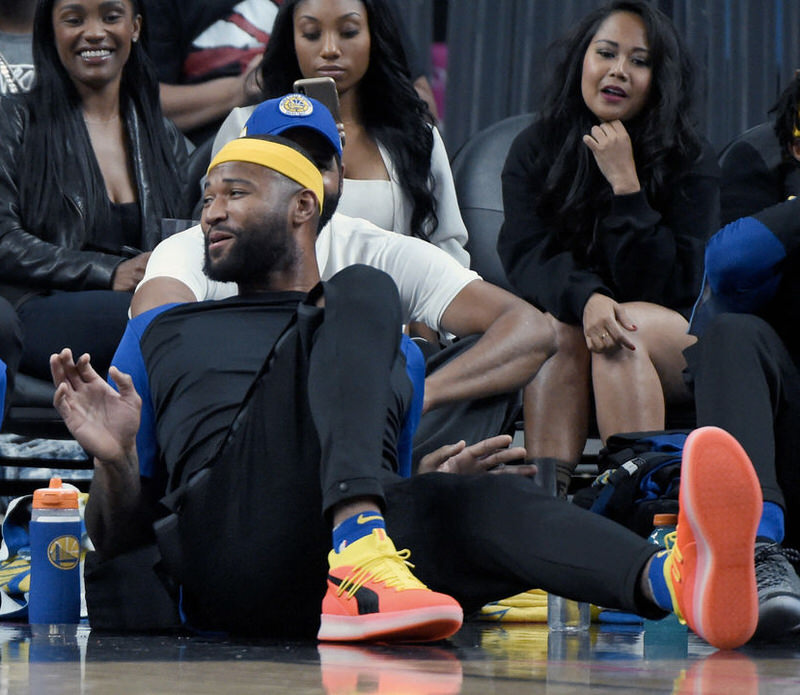 NDP: Have you given much thought to things you're looking to wear off court, in terms of materials and colors?
DMC: Just wild and crazy. I like to stand out with the things that I wear. Not nothing too crazy, but things that stand out, things that are different and things that you won't see anyone else with.
NDP: A big thing early on with the brand is the @PumaHoops accounts on Twitter and Instagram and the fun they've been having with it. Before you signed with the brand, what'd you think of what they were doing at the Draft and what'd you think of how their approach was different?
DMC: That's exactly what it was – it was different. It was something you'd never seen before. I thought that was so cool. Typically with the shoe companies you sort of see the same things, the same type of layouts. It was totally different, it was some 90s themes, a graffiti aspect to it, and everything was different. It was just more raw for me, and I liked it.
NDP: As you're getting close to coming back, what are your expectations and excitement level to be back on the floor and with a new team?
DMC: I mean, first off, I'll just be glad to be able to play the game again. It's been a long time. [laughs] That within itself is a big thing for me. Just to be able to go out there and compete, have my blood boilin' and playing between the lines – playing for something, not just being in the gym, doing drill work. I'm just excited to be back on the floor and get back to the player that I was, being a dominant player.
NDP: You weren't playing of course, but you were doing a sideline interview with the team, and KD's shoe fell off. What was going through your head, and how natural was that for you to say, "Wouldn't have happened in the Pumas."
DMC: It just came off the dome. [laughs] I was just being honest. The day I put my foot in the Pumas, I knew it was different. It's the most comfortable shoe I've ever put on, by far, when it comes to hoops. I haven't had a problem yet, and I don't expect to.