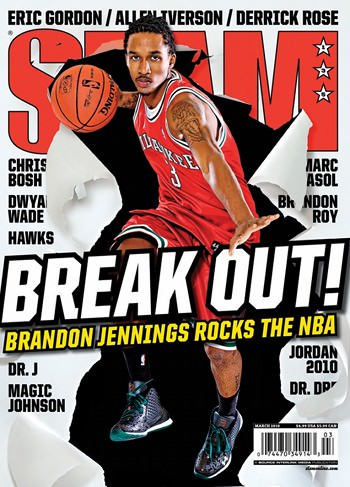 Under Armour and their extension into basketball footwear garners attention with each dish and dribble from the frenetic Brandon Jennings. Under Armour took a chance in selecting Jennings as the face of their Basketball product and the brand hit the jackpot. Whether it was a decision made with some trepidation or a call of cocksure saavy mirroring Jennings' play, hindsight proves Under Armour chose the right hooper.
The latest publicity Jennings' has earned for UA is a cover spread on SLAM Magazine. Of course, the article is focused upon Jennings and not his kicks. But, the Micro G Flys he's wearing will not go unnoticed to those who care-those to whom UA is marketing. Some facets of the shoe include: a molded anodized ankle collar, a tribal patterned patent leather toe cap, and UA's Micro G cushioning foam.
Head over to SLAM Magazine to read their article on Brandon Jennings and hit the flip for a larger photo of the cover and a better look at the kicks.