The Nike Kyrie 5 is the latest chapter for the All-Star's signature line as it elevates the series to new heights due in part to some major adjustments that cater to Irving's mesmerizing game filled with crossovers and insane ball handling ability.
The shoe features a Zoom Air bag unlike anything before with a 240% increase from the Nike Kyrie 1. Although the signature line is relatively young, the strides that Kyrie's game and his signature have made are monumental to say the least.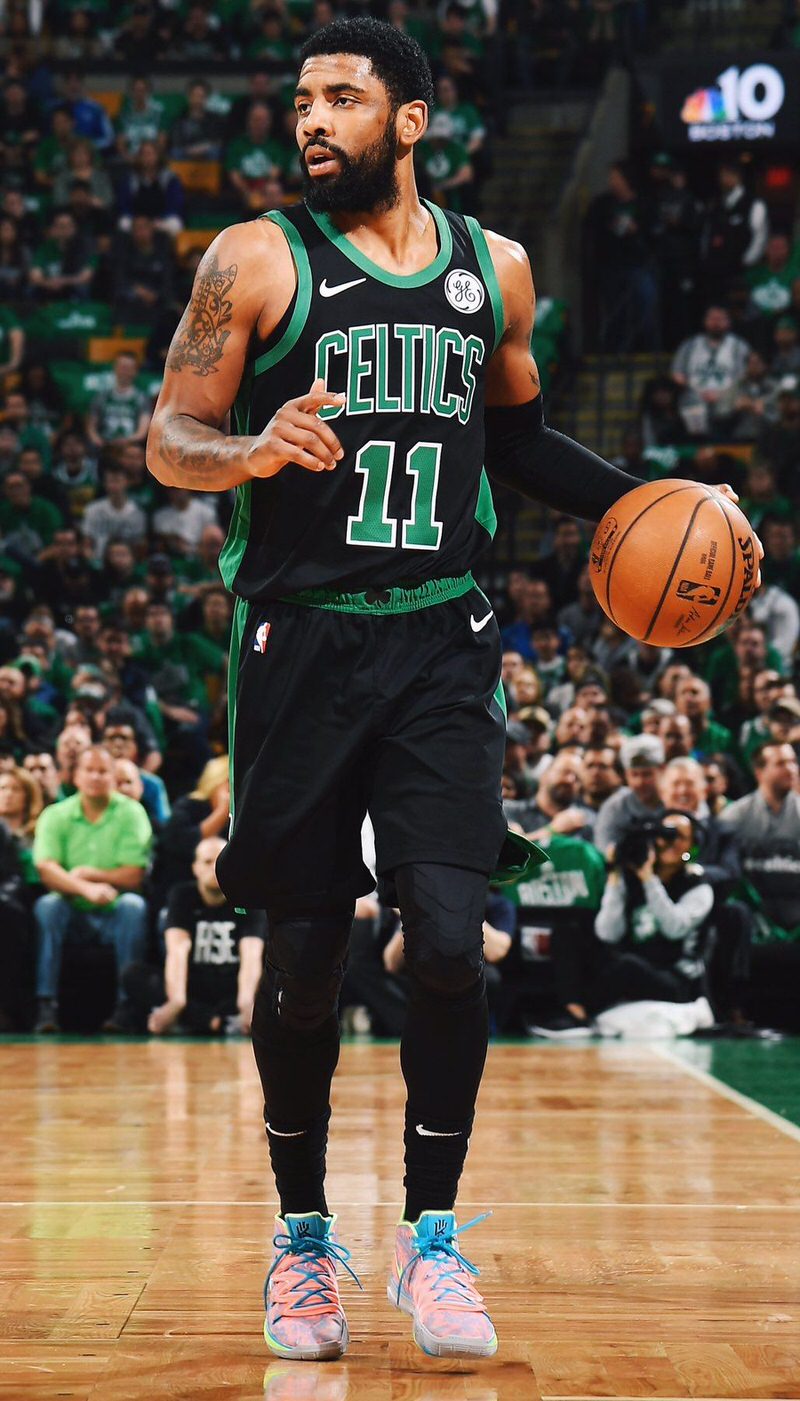 Aside from the performance features, the Kyrie 5 took more creative liberty with a multitude of collaborations in addition to Nike providing an endless supply of flavors for the Celtic PG as the NBA changed its footwear policy giving players to rock almost anything they desire.
Take a look at the best Kyrie 5s worn by #11 this season below. In case you didn't see all of his on and off-court heat, be sure to check that out here. We look forward to the improvements the Kyrie 6 is to make this upcoming fall.
20. Nike Kyrie 5 "Friends"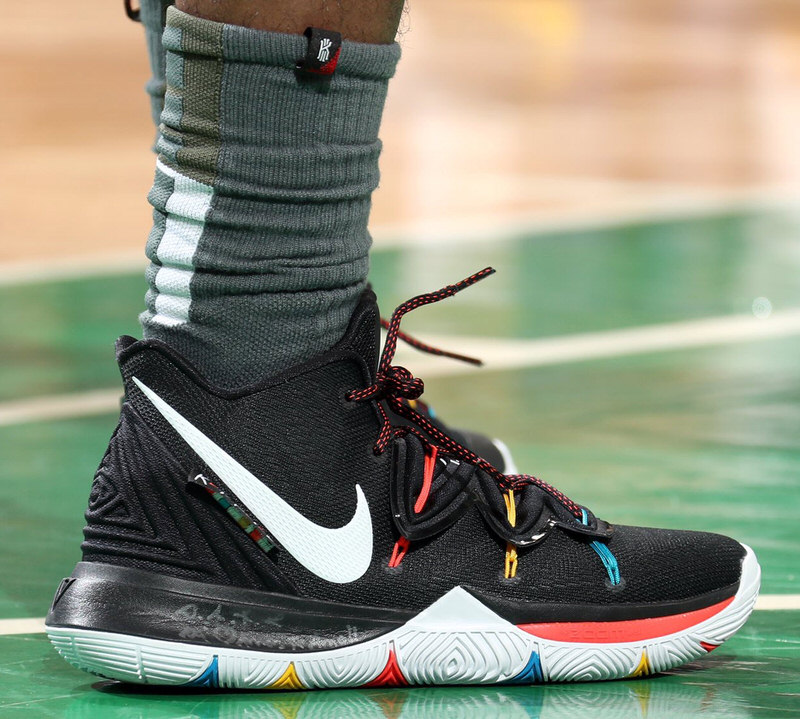 + The colorway is inspired by the '90s sitcom Friends
+ Kyrie is actually a huge fan of the show. It's great to see Irving's personality find itself onto his shoes
19. Nike Kyrie 5 PE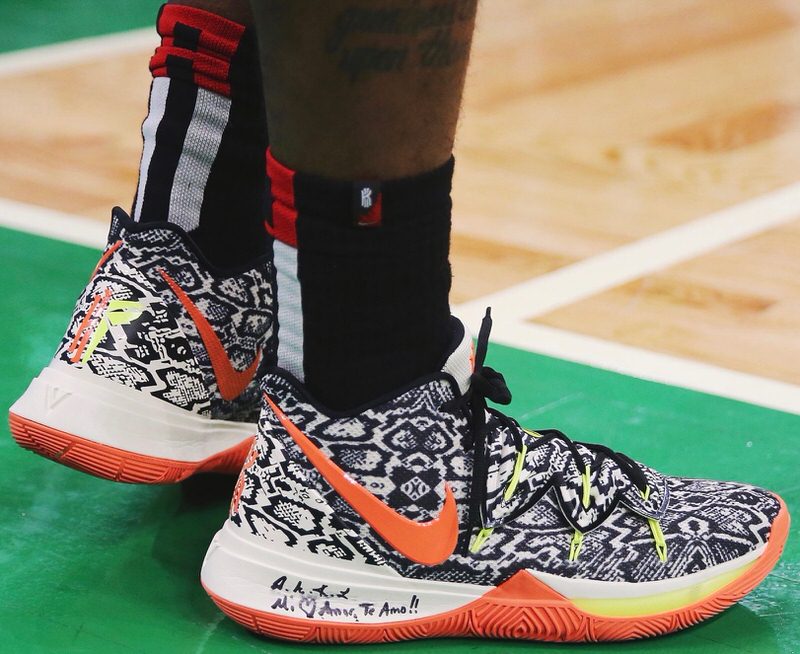 + The printed upper is an eye-catcher to say the least with its variety of black and white circles
+ If you look closely, the pair has both Kobe's and Kyrie's logos combined on the heel of the pair. Game recognize game
18. Nike Kyrie 5 PE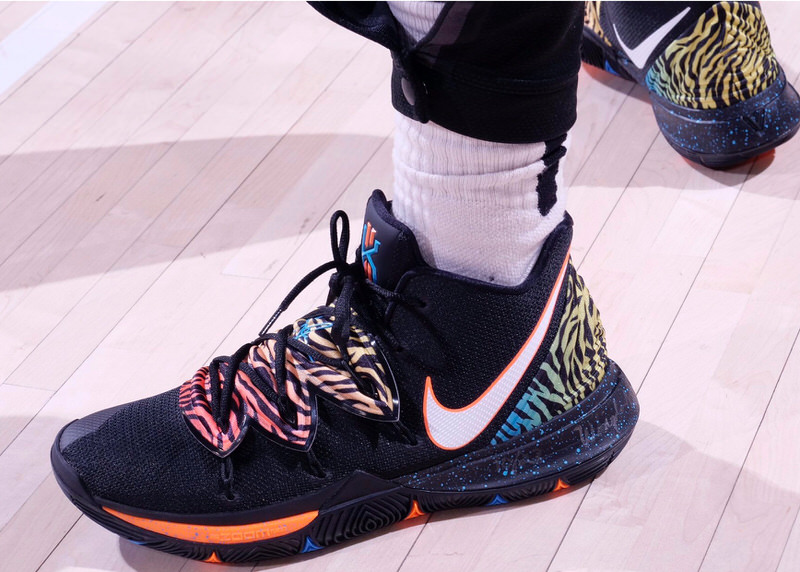 + The gradient Zebra print is actually fire on this pair as it has the perfect combination of colors while the outsole creates the perfect balance
+ Does the Kyrie 5 have some of the best PE colorways out of all his signature shoes? We sure think so
17. Nike Kyrie 5 "Bred"
+ Bred will never die given that the black and red pairing is a match made in heaven as well as just an iconic color combo (thanks, Mike)
+ The grey midsole is a surprising twist as the shoe and colorway still standout despite the parallels in other shoes
16. Nike Kyrie 5 "Oreo"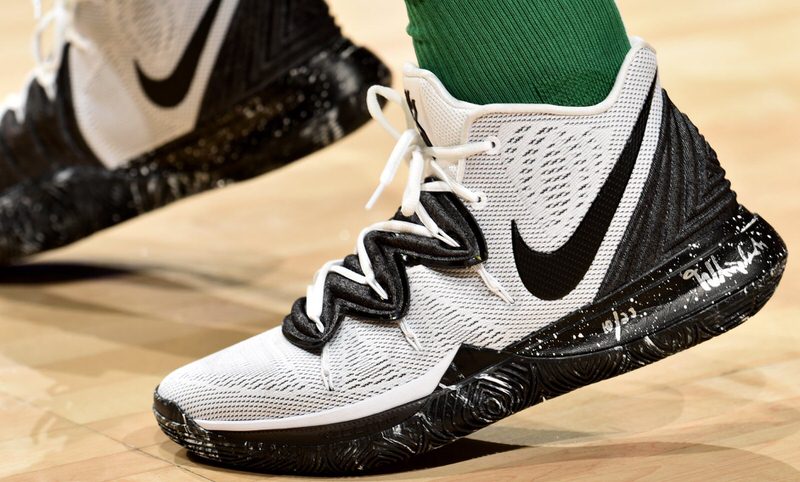 + The "Oreo" iteration of the Nike Kyrie 5 debuted on February 22, 2019
+ The marble-esque midsole does a great job of making the colorway come to life
15. Nike Kyrie 5 Oregon PE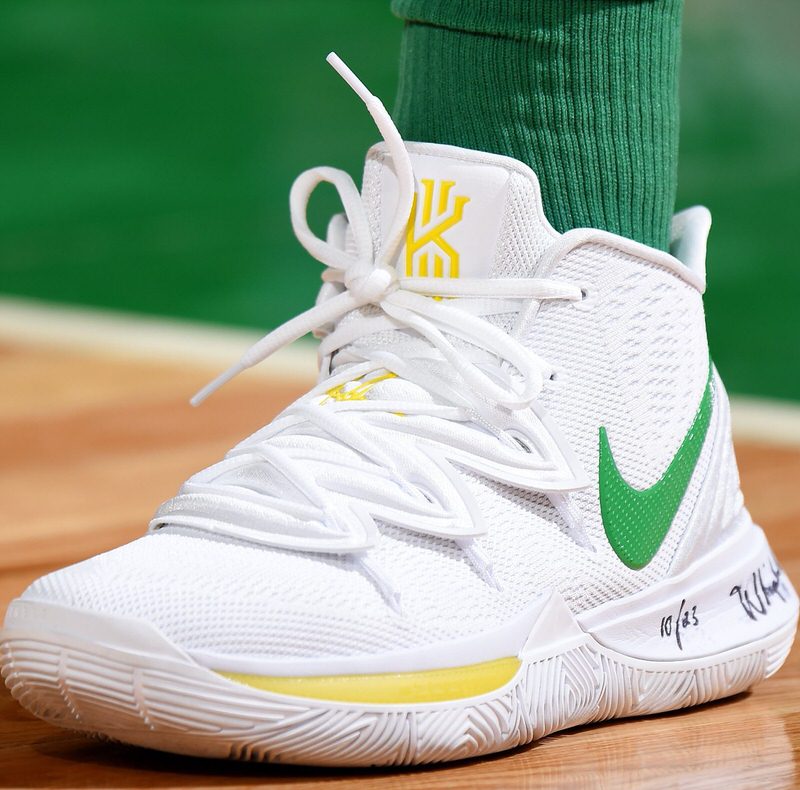 + This all-white pair with minimal green and yellow detailing makes this such a clean colorway for Kyrie and the Oregon Ducks who were lucky enough to rock these
+ While Kyrie clearly has no ties to the Oregon Ducks, the colorway actually goes perfectly with the Celtics uniforms
14. Nike Kyrie 5 "Taco"
+ The colorway features an over-sized Swoosh that has 3M detailing
+ The crazy colorway was the first one released by Nike as Odd Future's Taco designed the pair. You can read more about it here
13. Nike Kyrie 5 PE
+ The details on the tongue overlay stand out as the Hamsa design is prominently featured
+ The Swoosh contains a speckled treatment while the midsole near the forefoot area has a gradient treatment that makes the pair ice cold
12. Nike Kyrie 5 Oregon PE
+ This Oregon PE might be the toughest one that we've seen Kyrie rock on the hardwood
+ The midsole features duck wings as the colorway makes sure to highlight Oregon's mascot
11. Nike Kyrie 5 PE
+ There's nothing wrong with a black and white classic shoe as this Kyrie 5 features a reflective Swoosh
+ The Kyrie 5 features a tongue overlay to keep your foot locked in for any sharp cuts and quick crossovers much like Irving's game
10. Nike Kyrie 5 UCONN PE
+ Although Irving's heart is a Blue Devil through and through, there's no denying that this UCONN PE is tough
+ The minimalism found in this colorway paired with a hint of red specie midsole treatment as well as the Husky on the heel is a fitting pair for the UCONN hoopers
9. Nike Kyrie 5 "Little Mountain"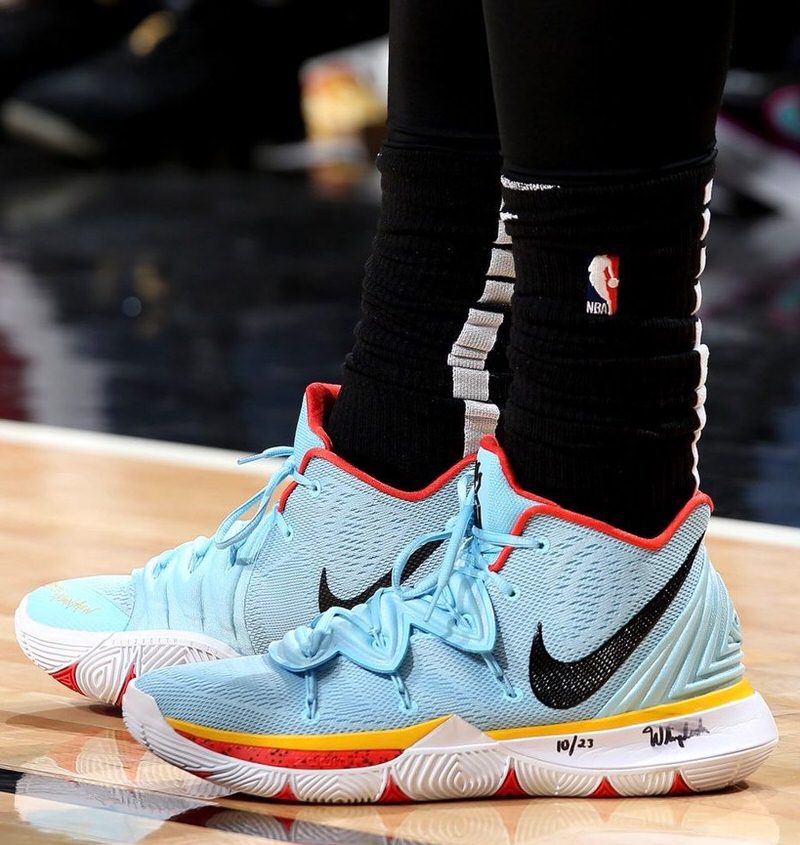 + The colorway was debuted early in th 2018-2019 season as the pair pays respect to Irving and his roots found in his Standing Rock Sioux Tribal heritage
+  "Little Mountain" stands for his Lakota name officially bestowed to Irving in August by his tribe
8. Nike Kyrie 5 "BHM"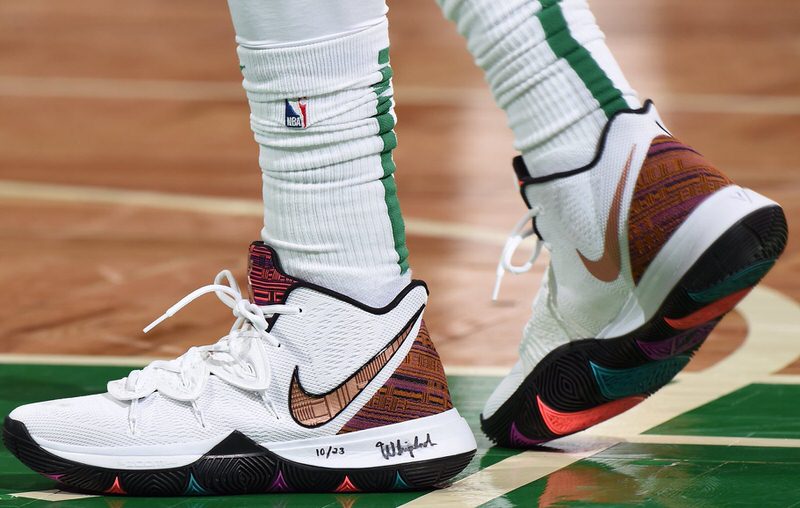 + This year's Nike "BHM" collection featured the Kyrie 5, the PG 3, the KD 11 and the Air Jordan 2
+ The Kyrie line has become one of the main storytellers in Nike's EQUALITY BHM campaigns ever since his signature line launched
7. Nike Kyrie 5 "Mamba Mentality"
+ The colorway resembles that of the Nike Zoom Kobe 5 "Chaos" which drew inspiration from The Joker character in The Dark Knight Trilogy
+ The pair released on April 13, 2019 in celebration of Mamba Day
6. Nike Kyrie 5 "Duke"
+ Hardly home but always repping, Irving played in his alma matter inspired kicks
+ The colorway is modeled after the Inferno that the Duke Blue Devils are known for. The epitome of flame emojis
5. Nike Kyrie 5 PE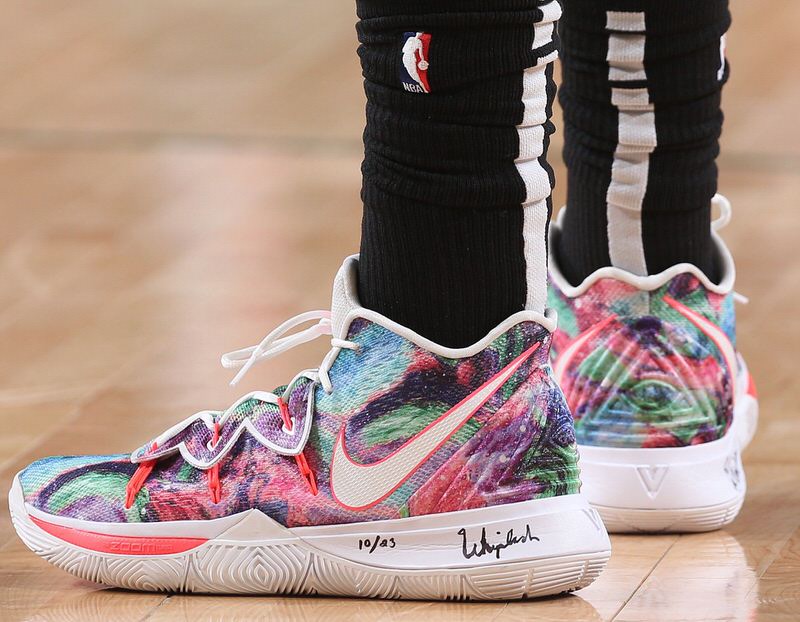 + The Kyrie 5 donned a lot of colorful iterations this year thanks in part to the new change in the NBA conduct where players can wear shoes outside of their team colors
+ The All Seeing Eye is very symbolic in Irving's life as the image can be found all over the Kyrie 5 including the packaging
4. Nike Kyrie 5 PE
+ The tropic inspired Kyrie 5 has floral hues found all over the Flywire and Swoosh details
+ No matter how you spin the Kyrie 5, a new detail arises as the shoe is the perfect canvas for any colorway
3. Nike Kyrie 5 PE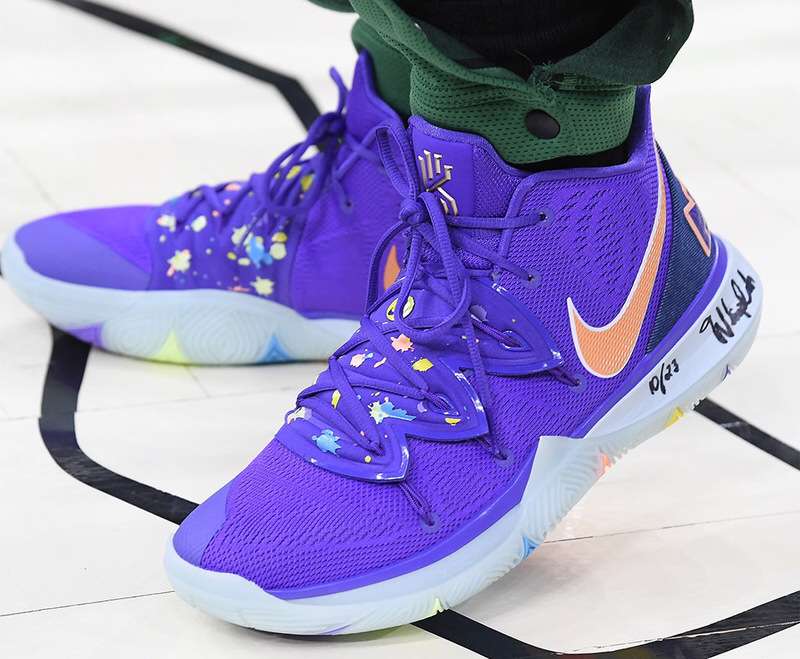 + This pair is one of the Nike Kyrie 5 "Have A Nike Day" iterations
+ The all-purple upper with its hints of color and a icey clear midsole is a clean look
2. Nike Kyrie 5 PE
+ This fuego Kyrie 5 has a similar design to that of the Duke PE
+ The green flames and gradient orange Swoosh are complemented by the glow in the dark midsole treatment
1. Concepts x Nike Kyrie 5 Family and Friends "Ikhet"
+ The "Ikhet" colorway came about due to Irving's fascination with Egypt along with Boston's very own Concepts doing the storytelling
+ The F&F iteration of the collab goes hard with its green midsole, red tongue and silver and gold detailing found all over the shoe