When Andre Ward announced his retirement last fall at 33 years of age many questioned whether it was too soon. Only a couple of months had passed from him defeating Sergey Kovalev for the second time by TKO to retain his light heavyweight titles and cement his status as the world's best pound-for-pound fighter.
Here he was at 32-0, 16 wins by way of knockout, appearing to be at the peak of his powers and he was done.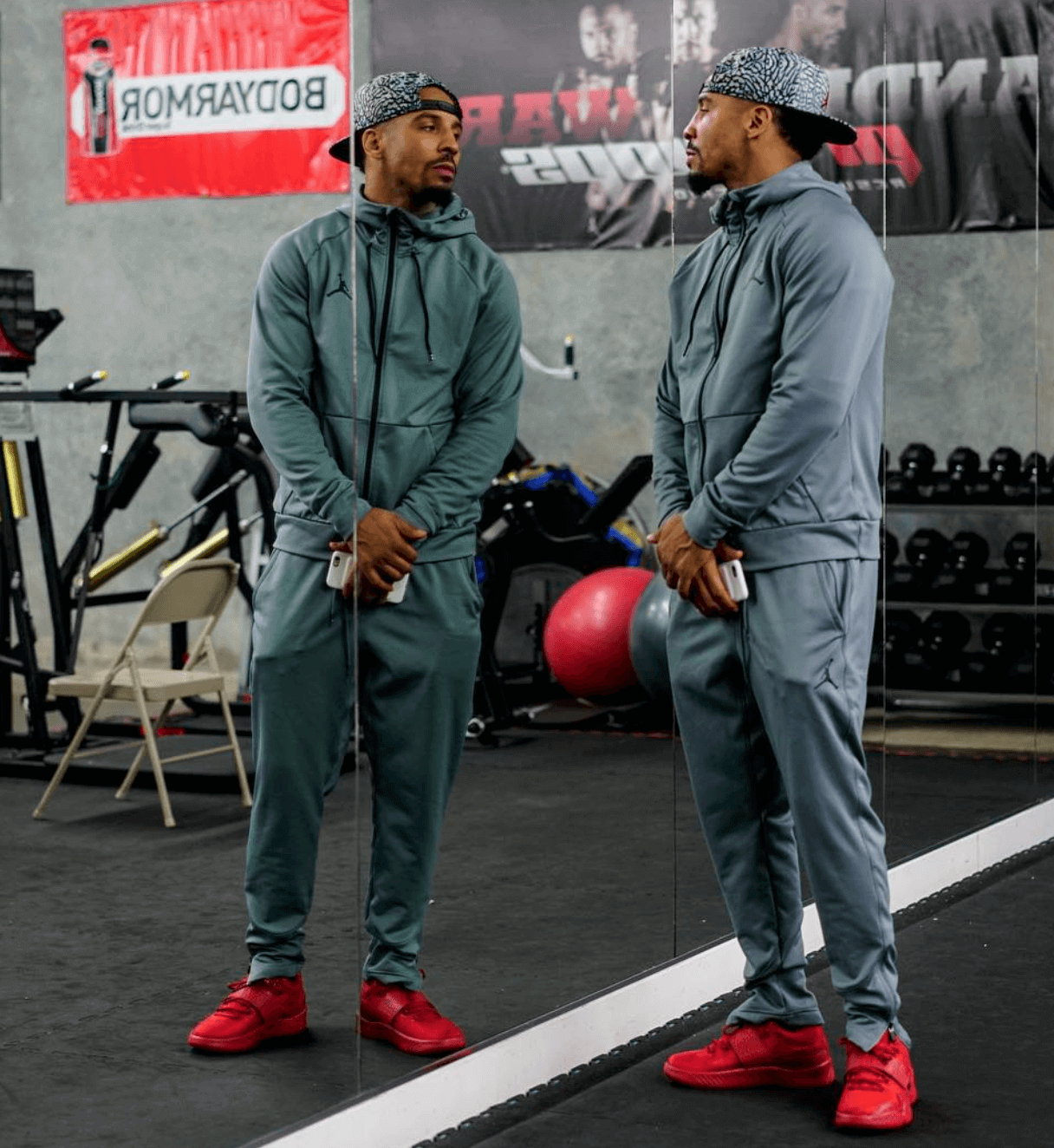 His decision is still fresh to the point where there are days when Ward himself will question whether the timing to hang his gloves up was premature. That doubt has silenced some by realizing he's gotten everything out of boxing that he set out for by putting everything he had into it. It was always all or nothing with Ward and now his sights are on a brand new set of challenges.
With not having the responsibilities of training camps, making weight and scheduling fights, Ward has filled his boxing void with various endeavors, including his upcoming role as host of The Contender, which premieres on Friday, August 24 at 9 p.m. ET/PT on EPIX. The documentary series will feature 16 fighters vying to be declared the new 160-pound middleweight champion of The Contender and take home a six-figure purse. The series highlights each fighter's journey and how they push themselves to help make a better life for their family and loved ones
We caught up with Ward to speak about the opportunity to host a show he is a fan of, life after retirement and the perks of being one of Jordan Brand's longest-tenured athletes.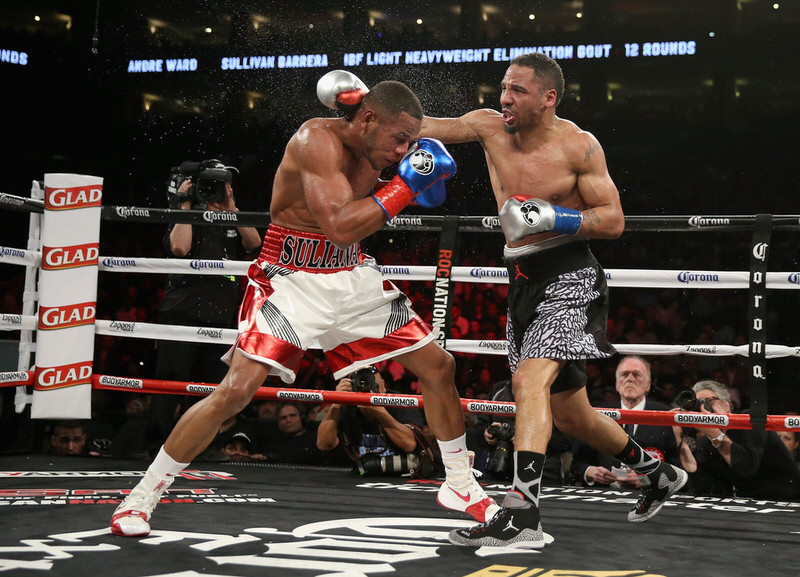 Nice Kicks: How has retired life been treating you?
Andre Ward: The retired life is good, different and it's definitely an adjustment. I miss boxing a lot. You have some days where you don't think about it – you're busy with life – and then you have other days where the decision you made is sitting on you real heavy. Some people call it an itch but for me, it's kind of a longing. You miss the process, being in the gym with the guys, having a fight date and just going through the process. But I still feel like I made the right decision and you're going to have to face the music whether you do it when you're young and on top or when you're older and washed up. You're going to have to face these emotions at some point and time. I'd rather face them while I'm young.
Nice Kicks: How have you filled the void of those emotions that the sport brought to you?
Andre Ward: I've had retirement in view after a couple of years in the game. I came to the conclusion that one day, this is going to end — it's not going to last forever. With my faith and understanding that He has a bigger purpose for my life beyond the sport is probably the foundation of the answer to what you're asking me – also, my family. I'm involved in business ventures, I care about my finances, my kids are growing up and getting older and I guess the total package of that is what fills the void. All of that is fulfilling enough for me and it's satisfying enough. I don't need too much more than that. I'm a simple person. I was never about the lights and cameras. I appreciated it and there was a taste for it but it wasn't really what I yearned for. I miss, believe it or not, the grind, the struggle, the highs and lows of training camp. You're never going to fully replace that and you're always going to miss it, but you just have to go through that process.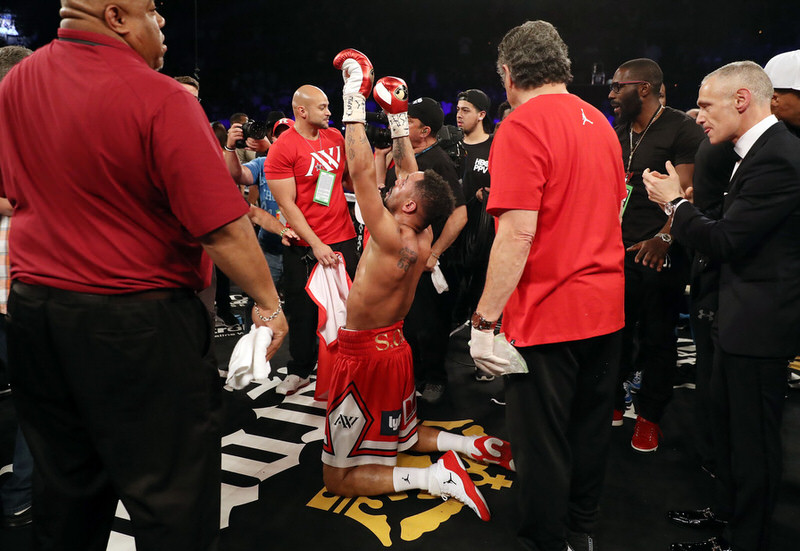 Nice Kicks: When the opportunity came to host The Contender, what made that something you wanted to be a part of?
Andre Ward: I saw that they were doing Season Five and that got my attention. I reached out to my representation, my lawyer Josh Dubin, and said, "Let's look into this." Apparently, my name was already on a short list of hosts that The Contender and EPIX were looking at, so we were kind of heading in the same direction. After the powers that be went through their process and vetted the hosts that they were considering, I ended up being the last man standing and it all worked out just right. I was a fan of the show, couldn't wait for each episode week by week when I was a young up and coming fighter. To be able to host this thing is a little surreal. We've already shot but it's still surreal that the opportunity came and I was able to do it. Just like I was excited, I'm excited to sort of extend the lifestyle to not only hardcore boxing fans but also the person who doesn't really know what fighters go through and may not necessarily feel the need to humanize us. I'm happy that they get an opportunity and a fresh look to do this because that's what Season Five is all about. There is going to be highs, lows, a lot of fighting. You're going to get the full fight, no editing. You're also going to see the heartache of a devastating loss. You're going to see the physical toll that boxing takes on you. One of the guys had to be rolled out on a gurney. That's the reality of our sport. Everything that we live, everyone is going to get a chance to dive into that this season.
Nice Kicks: How was this role different compared to your commentating and other television duties of the past?
Andre Ward: It's night and day. Hosting is just that: you're the host. You're in control of it all, everything is kind of on you and you obviously have a lot of help on set but you have to set the tone. You have to make the show your own — digest your script, notes and everything you're given. You want it to be something that's compelling and that people want to see. There was definitely a learning curve but I'm a fast and eager learner and I'm thankful to have a lot of individuals in the industry that I can call on for help. They gave me the liberty to be myself and that's what sparked the thought of just to go with it and I hope everyone enjoys it because I put my best foot forward.
Nice Kicks: You spoke about the longing still being there and in watching the first two episodes, that's evident in you getting in the ring to spare a couple of times. Was it hard being around those hungry fighters and forgetting that you're hosting and not participating?
Andre Ward: It was very hard. I had my fair share. I sparred a few times and it reminded me of what I miss about the sport but it also reminded me of why I walked away; my body was broke up. [Laughs] I didn't spare very many rounds — a round here, two rounds there — and the way I felt after, you would have thought I fought a 12-round war. I'm limping, icing, using anti-inflammatory. I'm legitimately the older guy in the gym now. I just gotta accept that.
Nice Kicks: You're reprising your role as Danny "Stuntman" Wheeler in Creed II this fall. With the premise of the movie being revenge, are we going to see Adonis get some payback for you knocking him out and taking his car in the first one?
Andre Ward: I will say this: I can't confirm or deny that but I would encourage everyone to go see it Thanksgiving weekend. I will also add that the fans will see me in a different light, one that they haven't seen me in as a professional. It's going to be exciting.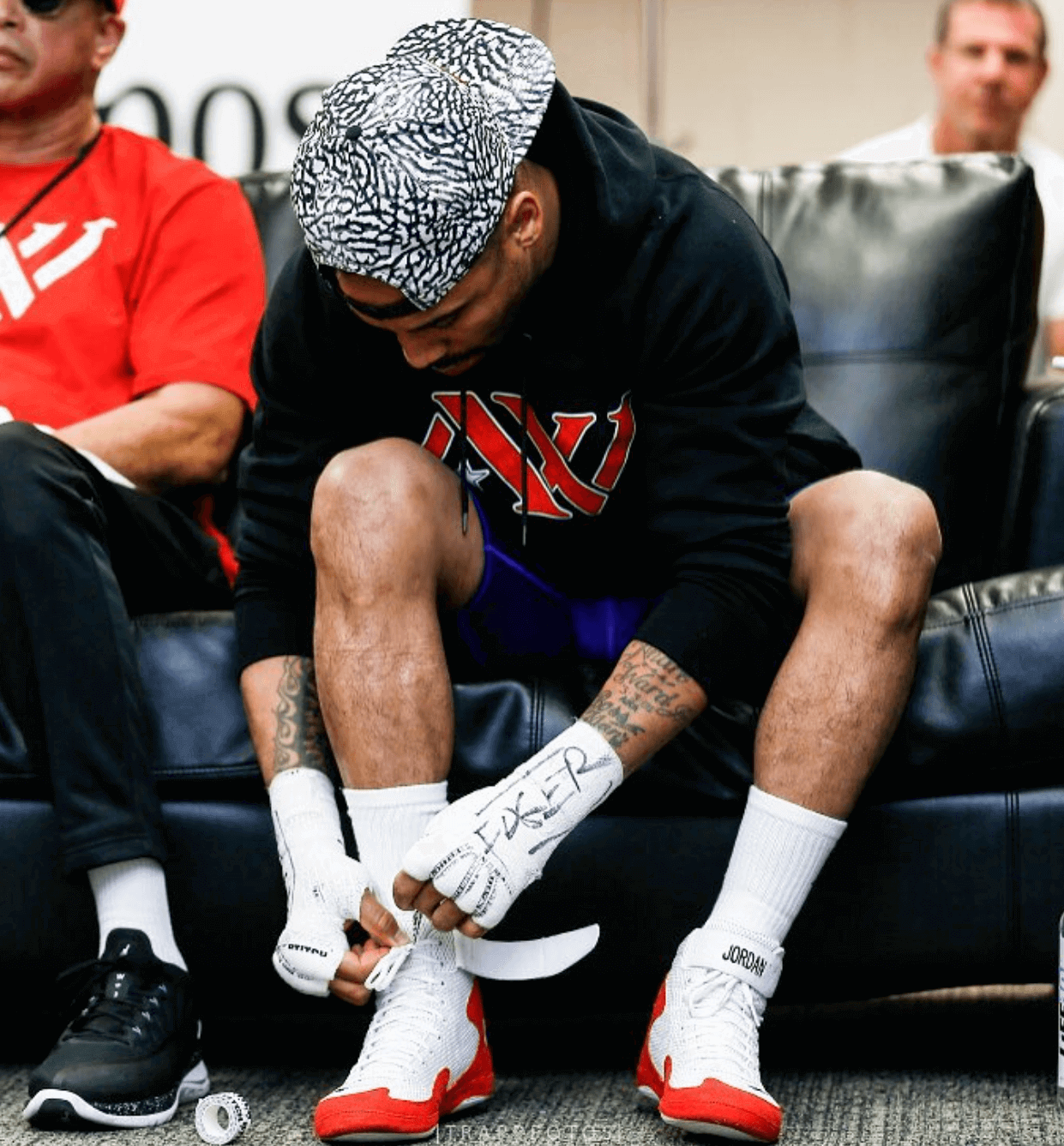 Nice Kicks: You've been with the Jordan Brand since 2004. How would you describe your relationship with the brand?
Andre Ward: It's a beautiful thing. I like to call the relationship family. It's not just a big corporation that you get a check from. It's truly a family. It's Jordan, Larry Miller, and Howard H. White. Those guys have been around for so many years. It's always been a lot of love. I'm cutting my documentary right now and Jordan is in it. Jordan doesn't do interviews and things like that just show you the kind of love and respect that he has for me and I consider him the greatest of all time. The fact that he's a regular person and I can pick up the phone and call him anytime I need him, it's unbelievable.
Nice Kicks: As well as your legacy in boxing is cemented you've established one with the brand. Not too many athletes there get their logo on a product.
Andre Ward: You gotta earn it and I think with the brand, it's about quality over quantity. They can sign a lot of different guys but they don't sign just anybody. Anyone that signs to the brand, they have to be the truth. They have to be someone that Jordan specifically says, "I want this person" for this or that reason. To be in the family for as long as I have and to follow in the footsteps of my mentor and one of my all-time favorites, Roy Jones Jr., it's a surreal thing and to be able to have a real business relationship with them is a real honor and a privilege.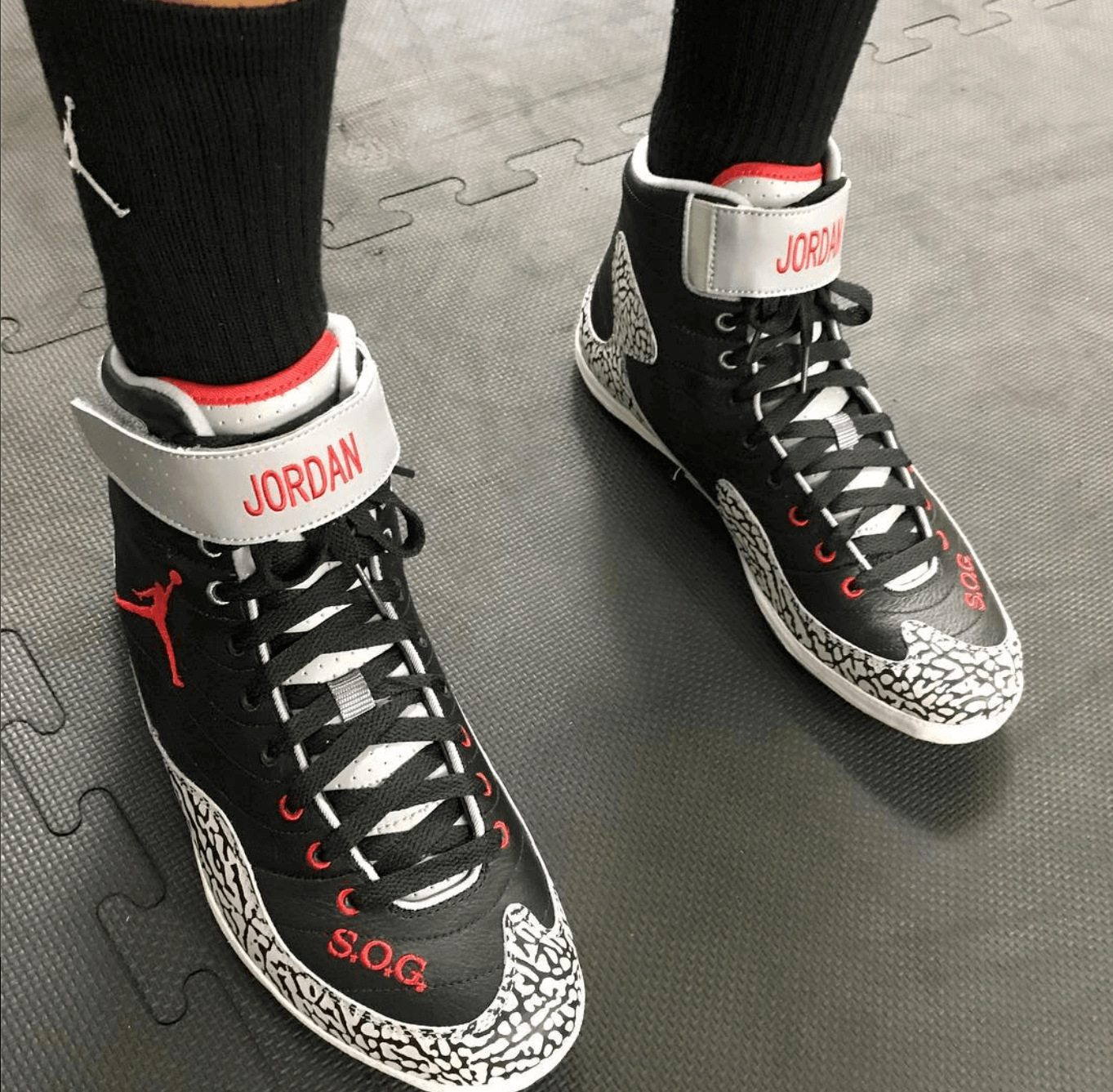 Nice Kicks: What are some of your favorite Jordans?
Andre Ward: I'm a big 4 and 11 guy and I'm also a fan of the 3. Those are my top three retros. It doesn't matter the style or color because I'm a big fan of those and everything. I remember when Jordan started moving into the lifestyle line. They had the jerseys and oversized basketball shorts and this was back in '05 and '06. Then they started focusing on the lifestyle line and I think Jordan is the dopest line out. To be able to get boxes of this stuff and be able to stay fitted on a day-to-day basis, it's crazy and I can't believe it. I'm a guy that has loved shoes for as long as I can remember. When I was a kid, the first thing I would do when I met someone is I would look at their shoes and then their face. I still do that to this day. I love shoes. My dad used to tell everyone, "If my son ever makes some money, he's going to have a whole bunch of shoes in his closet" and I have a whole bunch of shoes in my closet.
Nice Kicks: They take care of their athletes in retirement also. Richard Hamilton had this challenge where his friends and family could take almost whatever they wanted from his allotment but if they dropped one single item, everything had to stay. How do handle any distribution among your household and friends?
Andre Ward: I'm a very generous person and my wife is a generous person. She looks at things a little bit more objectively than me. If I get a call from someone I consider a friend or brother asking for something, typically I'm going to say yes, but my wife will give me a look like uh-uh, we got a certain amount that we got to spend throughout the year and we have to make sure we stay within that. She helps me stay within that boundary and I have plenty of stuff. My personal allotment doesn't have anything to do with what I get from Jordan Brand on an annual basis. I just try to manage it for the most part. I try and give my two older boys, who are 15 and 17, we try to give them not too much but enough to where they can appreciate it because these are Jordans! These are expensive! I think my sons do a great job of not being spoiled rotten and they take care of what they're given and they enjoy it, as well as family and friends. It's an ongoing thing, but you just try to manage it because when people know you got that account, oh boy, watch out! Your phone is going to be ringing.
Keep up with Andre on IG. The Contender premieres on Friday, August 24 at 9 p.m. ET/PT on EPIX.
Select photos via Zimbio.