In 2018, streetwear is perhaps the most powerful force in fashion. From the city to the suburbs, the genre of clothing has become the uniform of the youth and encroached on adults just the same. As cliche as all that may sound, it's important to remember it wasn't always that way.
19 years ago, New York City's ALIFE was amongst the pioneers of the now piloting wave, creating clothes and curating a space with their artist and photographer friends in mind who ranged from ESPO to KAWS. The shop on Orchard Street served as a meeting place for creatives with the brand expanding locations and launching their own footwear and clothing lines, all while also serving as an agency that would go on to list Budweiser and various art museums as clients.
Fast forward to today, and the space that in many ways could claim 'first' to a tangent of trends and range of releases that dominate the digital era are still very much in the game but also far from interested in catering to the norm. We caught up with ALIFE General Manager Treis Hill to talk about his near two decades in the game, his collab with Crocs, ALIFE's return to in-house footwear and how to stay different in a crowded space.
Nice Kicks: It's wild to grasp, but ALIFE will be celebrating its 20 year anniversary next year. What was the inspiration for ALIFE back in 1999?
Treis Hill: Alife was founded in 1999 and the first store was on Orchard Street. I wasn't around then but Alife was founded on art and still is today. There was no streetwear, it didn't exist.
Alife Rivington Club was formed in 2001 and one of the first sneaker boutiques of its kind worldwide.
Nice Kicks: What's been the biggest change or shift in the industry since the start in '99?
Treis Hill: As it relates to sneakers, The Internet happened! Compared to back then, the hunt for sneakers was always important. There was no segmentation, there was no difference in product assortment. Different regions received different product. When I came on board in 2005 I would buy the best stuff that Nike, adidas and ASICS had to offer and then search globally for sneakers that were not available in New York or the U.S. Around 2006 Nike started the Tier 0 account and segmentation began and being able to buy product was more challenging.
"The ALIFE x Reebok Ball Out was arguably one of the pioneers of streetwear…I feel it set the bar for collaborations." – Treis Hill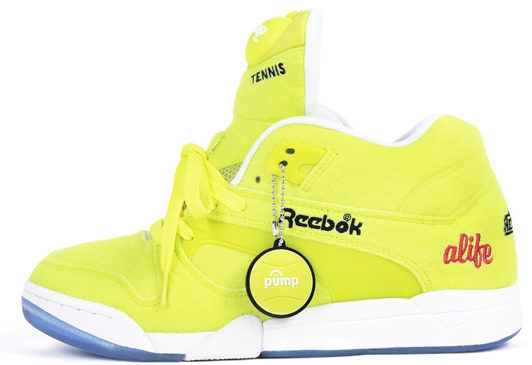 Nice Kicks: Looking back at the last two decades, what stands out as the highs and lows of the ALIFE business and the industry as a whole?
Treis Hill: The highs for us are the ability to be creative and working with brands we respect. Reebok being one of them, the ALIFE x Reebok "Ball Out" was arguably one of the pioneer collaborations in streetwear. I feel it set the bar for collaborations.
At the end of the day, there were lows but it's business. There are always challenges, but today we are focused on doing the little things right.
Nice Kicks: Moving forward, what's in store for ALIFE in 2018?
Treis Hill: We are launching a project with Crocs. I'm super excited about and it. Everything about the project ties back to who Alife is. It's completely unique and left-field.
Nice Kicks: The collaboration is pretty out of left-field, working with Crocs. How did the inspiration come about?
Treis Hill: We wanted to do something disruptive, "What can we do that's different and left?" The Crocs idea happened because the industry is stale. A lot of following and people afraid to take a chance on being different. We never were afraid to take a chance, we do what we like and do it to the extreme. Most everyone in our space would not be seen dead in Crocs. It was a statement that Alife will do things that may not be cool to the masses and maybe controversial but we will have fun doing it and be proud of the final product.
"What can we do that's different and left?" – Treis Hill

Nice Kicks: Following the Crocs collab, what should Nice Kicks readers look for next from ALIFE?
Treis Hill: A lot. We're excited, we're focused and we've got a lot of projects brewing. We're reopening our ALIFE Tokyo space in the fall, In terms of sneakers projects, we are working on projects with adidas and separately Reebok. There are some really exciting projects in 2019 that I can't speak on yet, but we are revamping ALIFE footwear and it will be available at our store and maybe one other retailer to start this Fall.
Look for the ALIFE x Crocs collection to launch online at www.alifenewyork.com and in-store at Alife's NYC Flagship (158 Rivington St., New York, NY 10002) location on June 14th.