Boarding all rows, Flight 23.
Welcome to a special anniversary-edition of Nice Kicks' Throwback Thursday. Today marks the debut of the Air Jordan XXX3, what should be the most progressive, innovative, forward-thinking, boundary-pushing Air Jordan silhouette in Brand Jordan history. While the brand and sneaker world look forward into the future, we take a look back at a pioneering and trendsetting model that originally debuted a decade ago, a model whose number is most synonymous with the man for whom the sneaker was inspired: the Air Jordan XX3.
Like so many models before, the Air Jordan XX3 remains a truly pioneering and avant-garde silhouette, one which pushed the design and aesthetic envelope forward and above its competition by leaps and bounds.
Designed by Tinker Hatfield and Mark Smith, the XX3 featured a wide array of materials, technology, and colorways that paid homage to and referenced the concept of tuxedo or black-tie basketball, a formal aesthetic previously seen with the Air Jordan XI and Air Jordan XX, models which featured shiny, formal-attire inspired materials and colorways.
The XX3 is a highly unique laced creation whose sneaker anatomy is to be appreciated for its flawless construction and aesthetic. The Air Jordan XX3 originally released on, January 25, 2008, and resembled and embodied the flawless precision, construction, and engineering reminiscent to that of a Rolls Royce Corniche: an articulated chassis with smooth, flawless, and effortless lines and contours, crafted with an unprecedented amount of attention to detail.
Notable for being the first Air Jordan to use Nike's "Considered" approach minimizing its footprint on the environment and featuring a multitude of technology including a hand-stitched exterior, full-length bootie, Zoom Air cushioning, carbon fiber shank plate, and interchangeable IPS pillars, the silhouette and its designers spared no attention to detail. The toe cap proudly displays Michael Jordan's signature embossed, while the lateral aspect of the shoe features a stitched pattern that provides additional structural reinforcement in addition to offering a cosmetic effect.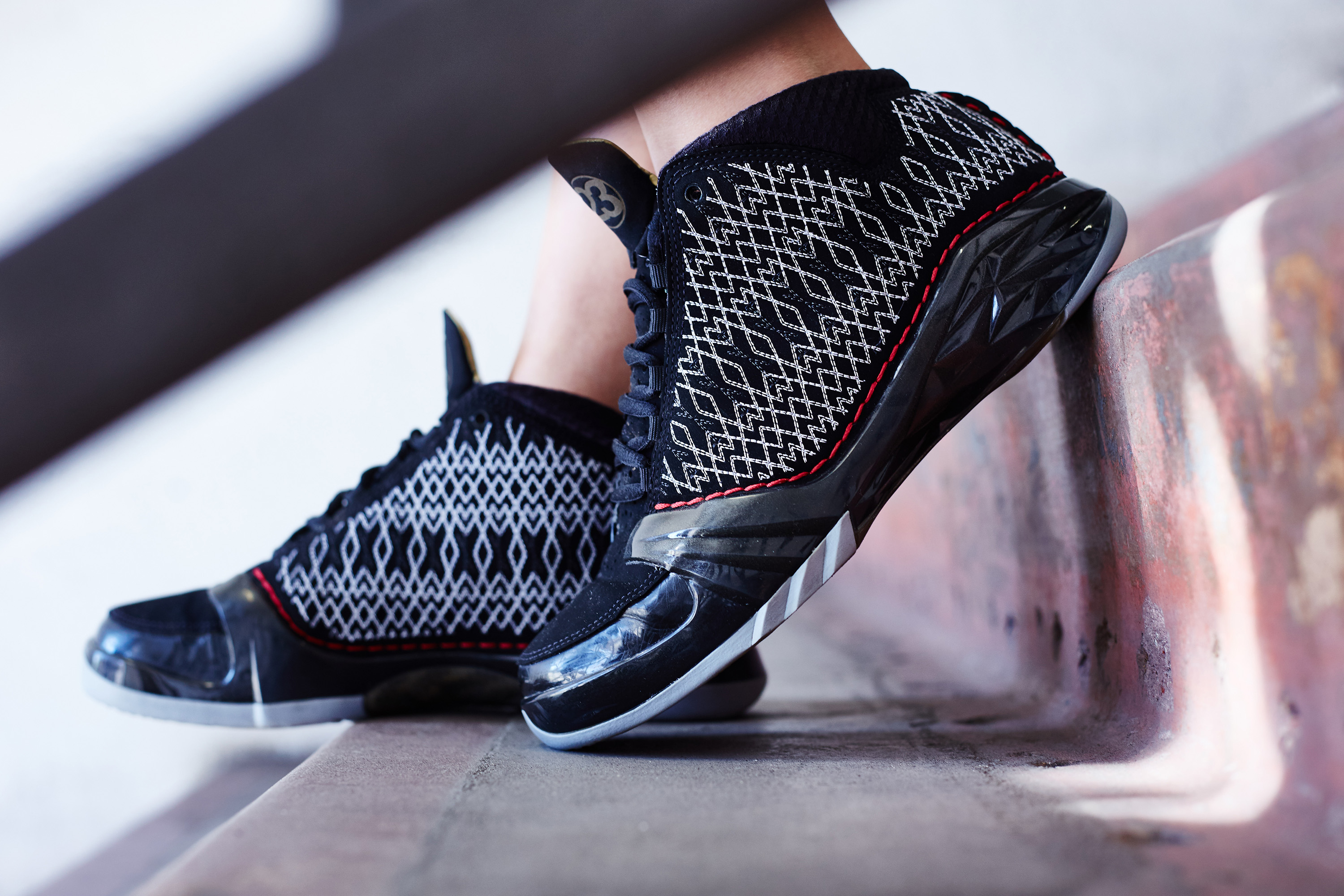 Also noteworthy is the tongue of the XX3. For the first time in Jordan history, the left and right tongues of each shoe featured different graphics, with a Jumpman logo embossed on the right shoe and a "23" on the left shoe. Finally, a glittery, high gloss panel extends the length of the sneaker, providing a nice added touch.
A popular silhouette both in terms of its visual aesthetic as well as from a performance standpoint, the XX3 was worn on court by several NBA players during the 2007-2008 NBA season in a variety of custom PE colorways including Carmelo Anthony, Chris Paul, Joe Johnson, and Ray Allen, the latter who wore the XX3 at the 2008 NBA All-Star Game in New Orleans.
Limited-edition "Ray Allen XX3 Celtics PE" models also were made in black/green and white/green colorways, made only in his size 14, which feature intricate stitching and detail, and command a premium today. From a general release perspective, an assortment of colorways debuted in both mid and low versions at a price point of $185, offering a large repertoire and diverse selection to Jordan enthusiasts and consumers.
2016 marked an epic year for the Jordan XX3, a year filled with multiple limited-edition releases and colorways which took the sneaker world by storm and once again returned the Air Jordan XX3 to center court. First, in May, the Air Jordan XX3 "Trophy Room" launched in honor of the grand opening of the Marcus Jordan's store located in Downtown Disney in Orlando. Only 523 pairs in the regal white/gold design were produced – the number matching the store's 5/23 opening day – retailed for $275, and sold out immediately, the first of several high-profile limited-edition releases that year. A black Trophy Room version released as well and had similar success.
In October 2016, the XX3 received the custom collaboration treatment with the Miami-based sneaker boutique, SoleFly, who hit an Edgar Renteria-like grand slam and introduced a limited-edition Marlins-inspired teal colorway, complete with its "SF" store logo lasered on the tongue of the left shoe, at a retail price of $175. One of the more anticipated Jordan releases of the year, the SoleFly 23 was released solely in South Florida, sold out immediately both online and in-store, and remains a coveted, grail pair among Jordan collectors today.
Then, in December 2016, another limited-edition release known as the Chicago Air Jordan 23 restocked online after seeing much success during its initial limited launch at Chicago's 32 South State, a pair which featured an all-red colorway and paid tribute to the Windy City complete with the downtown skyline embroidered on the heel and a star print along the collar along with gold stitching and a gum rubber outsole, and retailed for $225.
The Air Jordan XX3 remains a sneaker whose values of homage and heritage have remained intact, a sneaker who undoubtedly and undeniably helped reinvent and reignite the Jordan Brand.
What's in a number? With regards to the XX3, quite a lot.
Mission control, ready to launch.
On-foot photos by Randy Nakajima