Learning to Fly.
On Saturday, February 16, the Air Jordan 6 makes its long-awaited and highly anticipated retro return in the classic black/infrared colorway complete with original Nike Air branding, a model and colorway that surely will evoke deep feelings of nostalgia across multiple age cohorts and throughout the global sneaker community.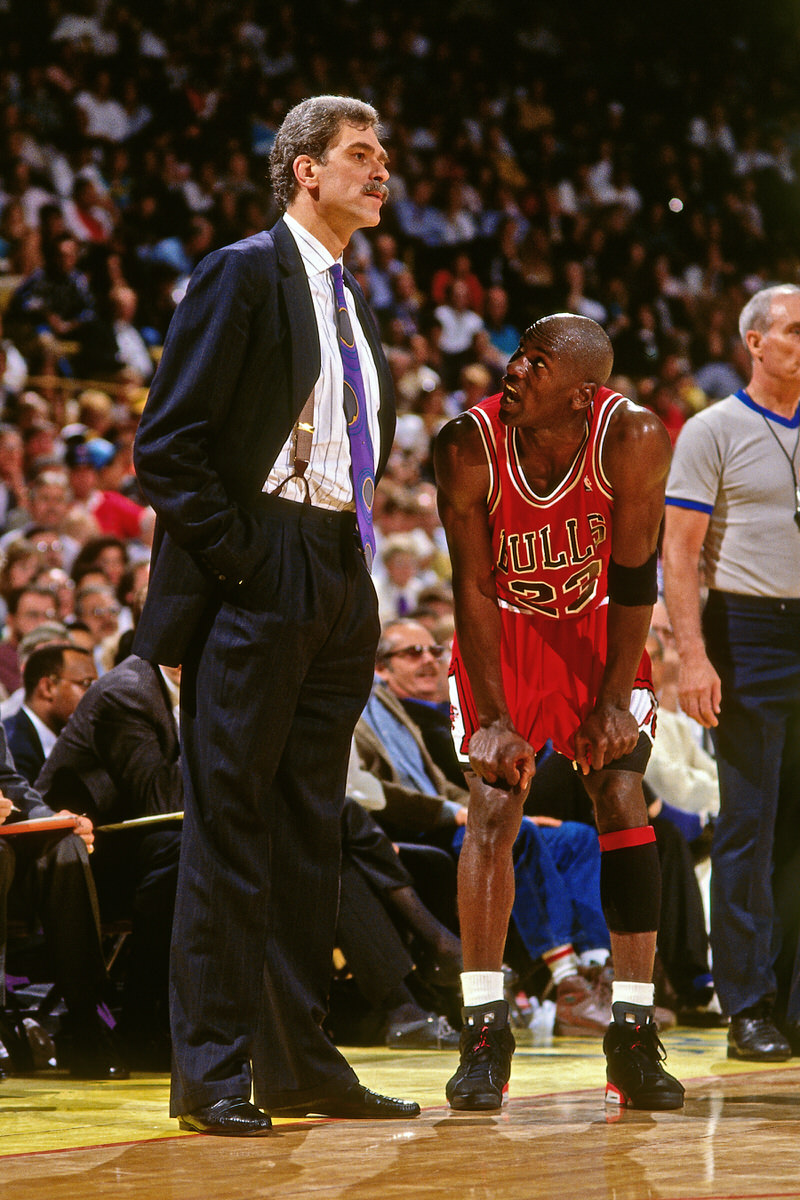 In honor of what surely will be a monumental and historic release which coincides with the NBA All-Star Game in Charlotte – the Air Jordan 6's birthplace – today's Nice Kicks Throwback Thursday takes us back to the magical year of 1991 where we pay homage to the greatest player of all-time – Michael Jordan – and his Air Jordan 6 – one of the most trendsetting, avant-garde basketball silhouettes ever created.
The 1990/1991 NBA season served as the passing of the torch from the old guard – namely, Magic Johnson and Larry Bird – to the new guard and generation of NBA ambassadors, led by none other than Michael Jordan, who had ascended atop the NBA and global sports marketing mountain, in the process becoming the most recognized, transformative athlete in the world.
Unlike any other athlete before his time, Jordan moved the sport and fashion worlds' needle by leaps and bounds by virtue of his amazing on-court ability and charming, larger-than-life persona.
In the process, Jordan transformed and reshaped basketball, sneakers, sports marketing, and consumerism to an entirely different level. Rather, Jordan gave his sneakers life and personality – an accessory of and extension of his personality, serving as more than merely inanimate objects or pieces of leather and rubber worn on court. Rather, the sneakers Jordan worn on court mirrored and echoed his bright, vibrant, and dynamic personality and playing style, prompting mass hysteria among consumers. Jordan Mania was in full effect.
In February 1991, the 41st NBA All-Star Weekend Game took place at Charlotte Coliseum, a respite from the tough, physical, competitive on-court rivalries that built up during the season and in the past as well. While the game served as a North Carolina homecoming for Jordan, the weekend saw several other bright, shining stars emerge as well.
On Saturday night, fans were treated to an impressive Slam Dunk Contest which saw Dee Brown literally pump it up and perform a no-look dunk to claim the title over the Reignman, Shawn Kemp of the Sonics. In the 3-point shootout, Craig Hodges, also of the Bulls, won his second consecutive shooting title over Terry Porter of the Blazers by virtue of his patented bunny hop technique.
The main event, however, would turn out to be a classic, memorable game, and featured a star-studded cast of future Hall of Fame players which read like a who's who: Jordan, Pippen, Barkley, Stockton, Malone, Ewing, Robinson, to name a few, and served as an unforgettable All-Star performance for MJ.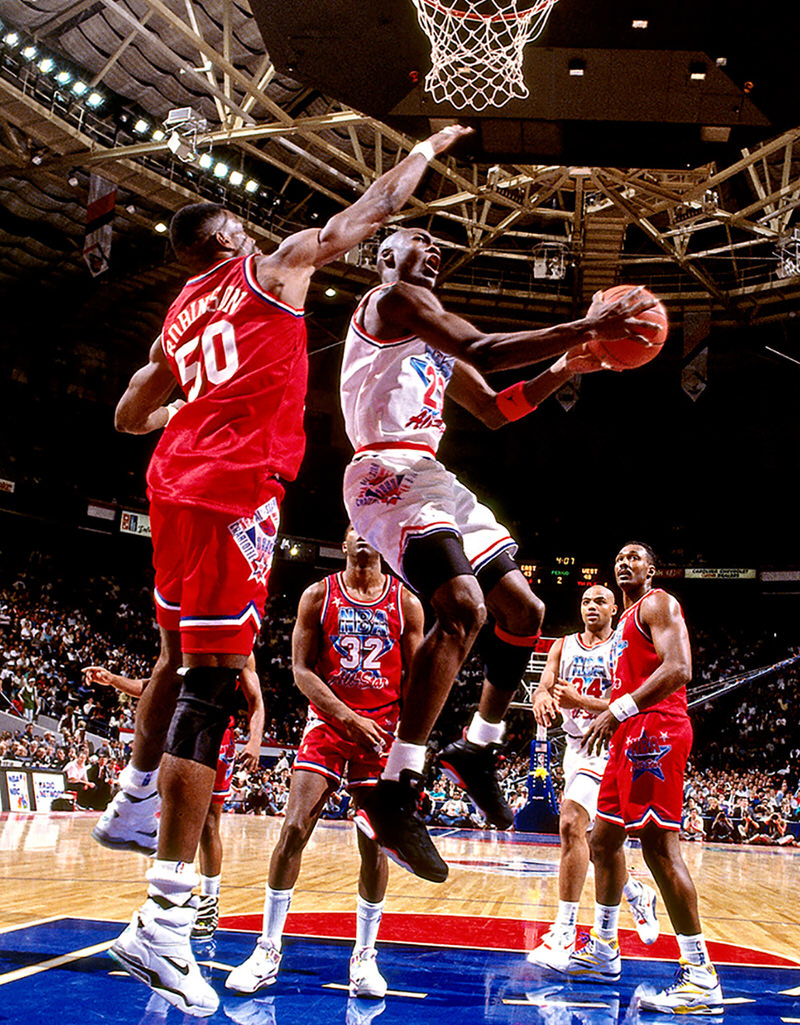 Named to the All-Star Team for the seventh time in as many years, Jordan was the leading fan vote-getter for the fifth straight year, receiving over 1.2 million votes out of 2.1 million ballots cast in an era which long preceded the age of social media. Entering the game with the second-highest All-Star Game scoring average at 20.6 points per game, Jordan would once again continue his fine offensive performance in the annual mid-February classic, scoring a game-high 26 points. However, it would be his fellow Eastern Conference All-Star teammate and Looney Tune friend, Sir Charles Barkley, who would take home MVP honors with an impressive 17 point/22 rebound performance as the Eastern Conference won 116-114.
What is perhaps most notable and memorable about the 1991 NBA All-Star Game goes beyond advanced stats and analytics. Rather, Jordan and his kicks took center stage as he debuted his brand-new Air Jordan sneaker in a classic black/infrared colorway, a pair which would later become synonymous with MJ's first Championship.
Another piece of accessible art and design by Tinker Hatfield, the Air Jordan 6 truly was a game-changer, much like the man who wore it on court.
Futuristic-looking, avant-garde, lightweight, responsive, and aerodynamic, the Air Jordan 6 served as the signature statement piece of basketball footwear at the start of the 90s decade.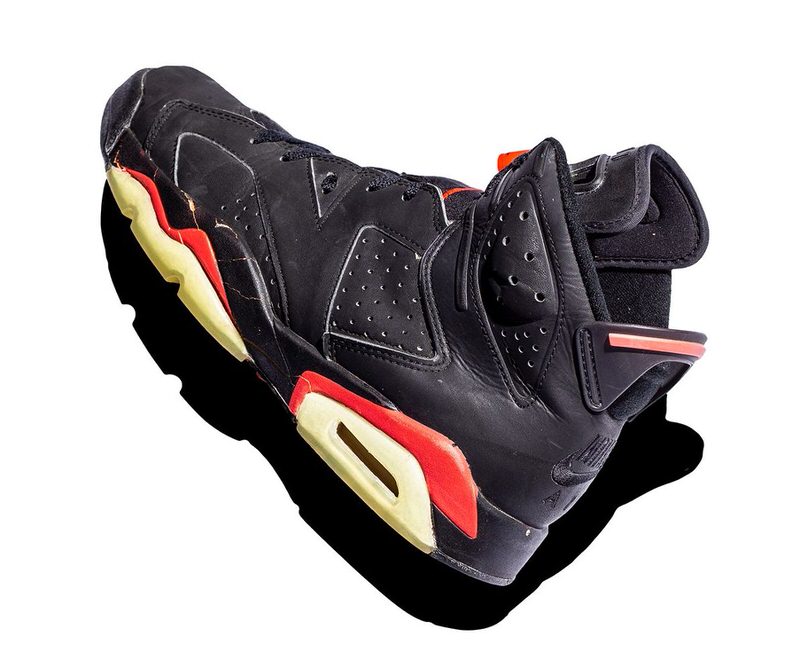 An absolute banger by all intents and purposes, the sneaker was fully loaded with best and most advanced Nike sneaker technology available at the time including an exo-skeletal upper with perforated Durabuck, Dynamic-Fit sleeve, visible heel with encapsulated forefoot air sole units, as well as a highly iconic outsole that featured an innovative and highly stylish cylindrical dot pattern which offered superior traction and maneuverability, a design cue which began with the Air Jordan 6 and was incorporated into subsequent Air Jordan models.
A rear pull tab with infrared accent as well as a highly distinctive rubber tongue with the words, "Air Jordan" and featured two symmetrical holes added the finishing touches to this iconic, timeless, legendary, and highly respected masterpiece.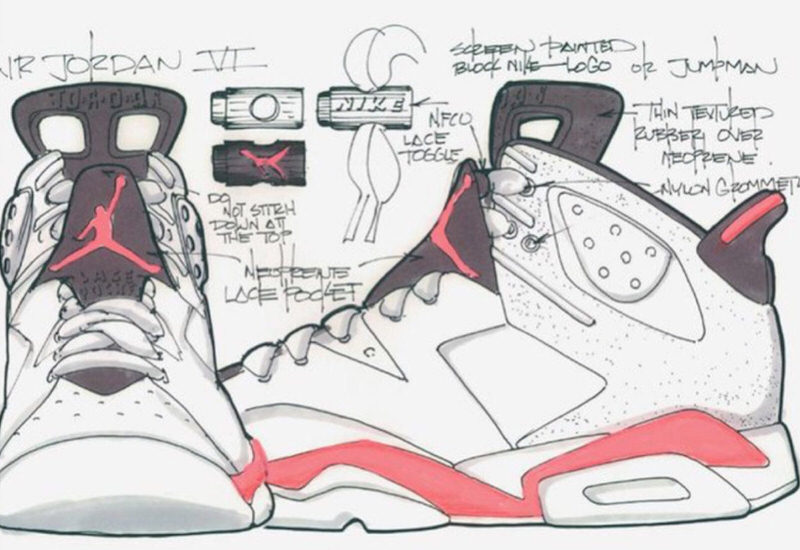 Jordan rocked the black/infrared 6s throughout the remainder of the 1991 season and playoffs, a pair which received a great deal of attention during the playoffs as well. First, in Game 3 of the first round against the Knicks, Jordan made a gorgeous, turnaround baseline maneuver to elude Starks and Oakley, followed by an emphatic slam dunk over Ewing, much to the delight of NBA on NBC commentator, Marv Albert. After blowing past Barkley and the 76ers in Round 2, the stage was once again set for another Eastern Conference Finals rematch against the Detroit Pistons, an anticlimactic series which resulted in a quick 4-game sweep of their nemesis.
In the deciding Game 4 in Detroit, and with time remaining, the Pistons proceeded to walk off the court early without shaking hands, signifying the end of the Bad Boy's reign and the passing of the Eastern Conference Champion from Motor City to the Windy City, in turn setting the stage for what would become the most publicized and heavily anticipated Finals matchup in the modern era: MJ vs. MJ: Air Jordan vs. The Magic Man.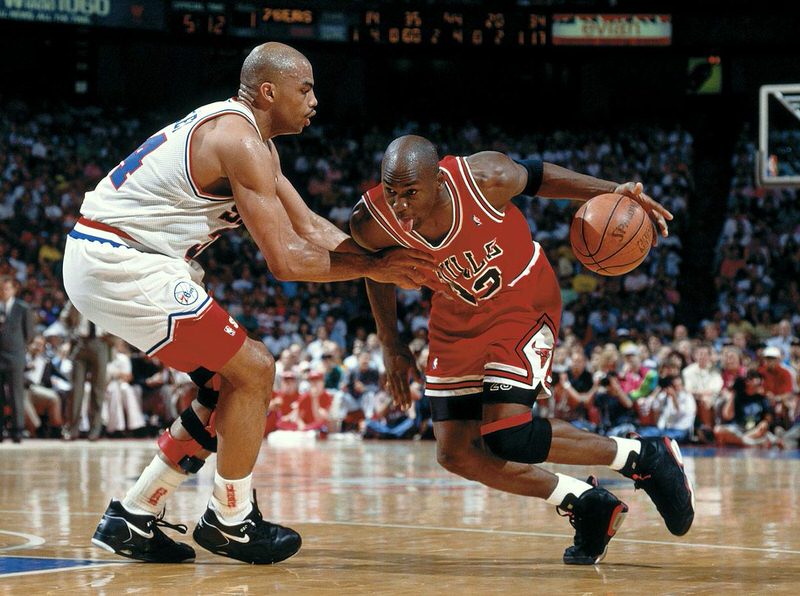 After losing Game 1 by two points on a narrowly missed game-winning attempt by Jordan, the Bulls bounced back beautifully in Game 2 in front of their hometown fans at Chicago Stadium. In this defining game which marked the Bulls' first Finals win in franchise history, Jordan scored 33 points – at one point making 13 consecutive shots – while the Bulls as a team shot a Finals record 62% from the field including a staggering 17/20 in the third quarter alone.
With 7:44 remaining in the 4th quarter, a defining moment would occur that would forever cement the Air Jordan 6 into the pantheon of sneaker history and greatness.
Cliff Levingston made the pass of his career, finding Jordan who drove to the basket, then changed hands in mid-air to elude long-armed Sam Perkins, kissing the ball off the glass and into the basket – the move of the 1991 NBA Finals, one the most defining, legendary, and memorable moments in Jordan's career.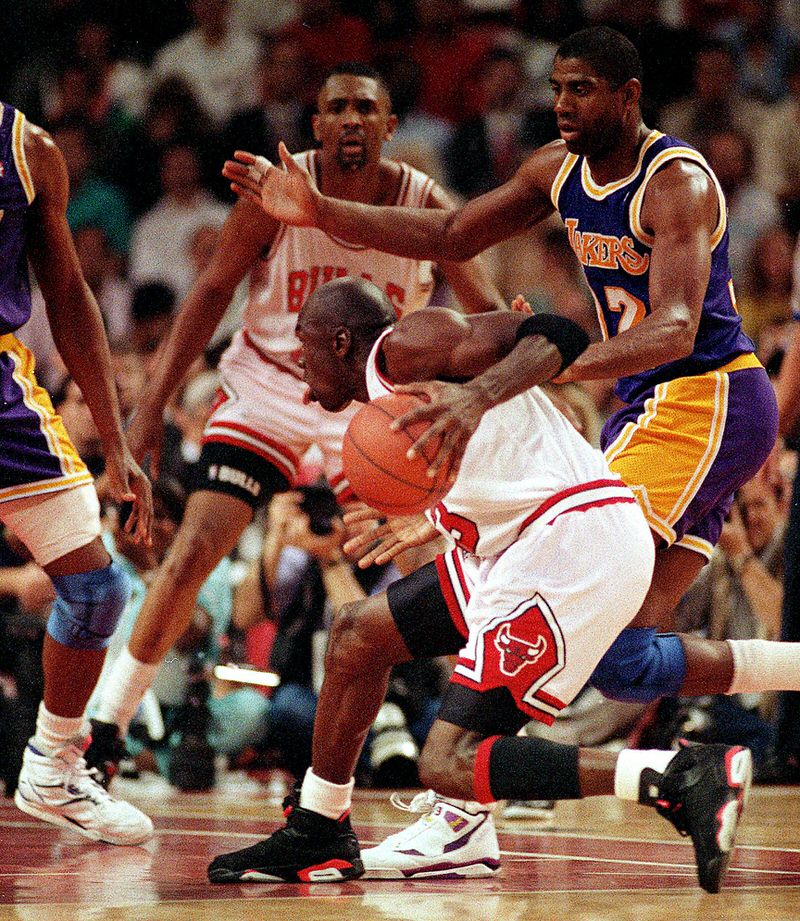 The Bulls wrapped up their first championship in convincing fashion in 5 games including winning three straight games in LA at the Great Western Forum. In Game 3 which required overtime, Jordan nearly posted a triple-double with 29 points/9 rebounds/9 assists, leading the Bulls to victory.
In the clinching Game 5, Jordan disproved once and for all the theory which asserted he was a selfish player who couldn't pass or trust his teammates, scoring 30 points and dishing out 10 assists as the Bulls won the game 108-101 led by Pippen's game-high 32 points.
Nearly a decade later, in August 2000, Jordan Brand released a near-OG perfect Air Jordan 6 Retro in the black/infrared colorway complete with Nike Air branding, black/silver Jordan face box and retro card, at an original retail price of $120, a release that was met with great reception, hype, and fanfare, during the height and prime of the Jordan Retro era.
Interestingly, and from a historical and quality assurance standpoint, the official colorway that appeared on box labels of the 2000 Retro release was called "black/deep infared," an actual misspelling of the original shade of red from a decade prior.
The Air Jordan 6 black/infrared received the retro treatment again in 2010 and 2014 sans Nike Air branding and used a different shade of red that did not replicate the original 1991 version or the first retro launch, much to the dismay and chagrin of longtime Jordan collectors, purists, and enthusiasts.
The sneaker community once again anxiously anticipates the return of this pioneering and trendsetting classic, a model which nearly 30 years following its original debut remains a staple, absolute necessity and centerpiece within any respectable Jordan collection, a relevant and highly significant piece in the modern era from aesthetic, design, performance, and technological standpoints.
In the Bulls' 1991 NBA Championship video, "Learning to Fly," Jordan once said the following:
"People ask me, 'can I fly or do I like to fly?' Well, as a team, we've shown people that we can fly."
Jordan most certainly learned how to both trust and fly, and did so wearing one of the most memorable and iconic sneakers in the entire Air Jordan collection, a pair that will once again evoke strong feelings of nostalgia to help bring back that loving feeling for the older generation while imparting sneaker history for the younger generation of collectors and enthusiasts, reminding us why sneakers remain an important piece of society and culture.
Lace up your pair of iconic Air Jordan 6s in the black/infrared colorway with Nike Air branding, and maybe you can fly and touch the sky, too.
Check out images of the 2019 Air Jordan 6 Black/Infrared by Rob Mata from our friends at Kicking It ATX below.