When it came to collecting kicks in 2005 (yes, collecting not flipping) the 'cult' was definitely still in 'culture' as lining up to get Jordans at the mall on Saturday mornings was far from mainstream even if Nelly was rappin' about Forces and big brands were investing in a rapper from Queens or a kid from Akron.
While 2005 certainly wasn't all Timbs, G-Units or White-on-Whites, it still mostly was as the average middle schooler couldn't pronounce Huarache and dropping more on a pair of kicks than an entire outfit was deemed silly. Yup, real life was still the runway for a neck-breaking shoe and only impressed two or three people in the know. Still, the internet and online communities were beginning to grow as sneaker obsessors had e-homies to dap in the dial-up days. So, where were these closet kick collectors congregating on the days and nights that weren't a Jordan Saturday?
Niketalk.
The online forum that is irreplaceable for sneakerheads approaching or above 30 and impossible to navigate for everyone else served as THE place to find out about Jordan release dates before blogs boomed or brands had a hard calendar/colorway campaign for anything with sales appeal. Yes, when it came to being up on kicks Niketalk was the end all be all.
So, 12 years ago today if you were hitting F5 on your desktop at odd hours of the morning it was because your fam on NT let you know about a Rare Air online exclusive from Jordan Brand: the Air Jordan 4 Laser "Fire Red" Pack.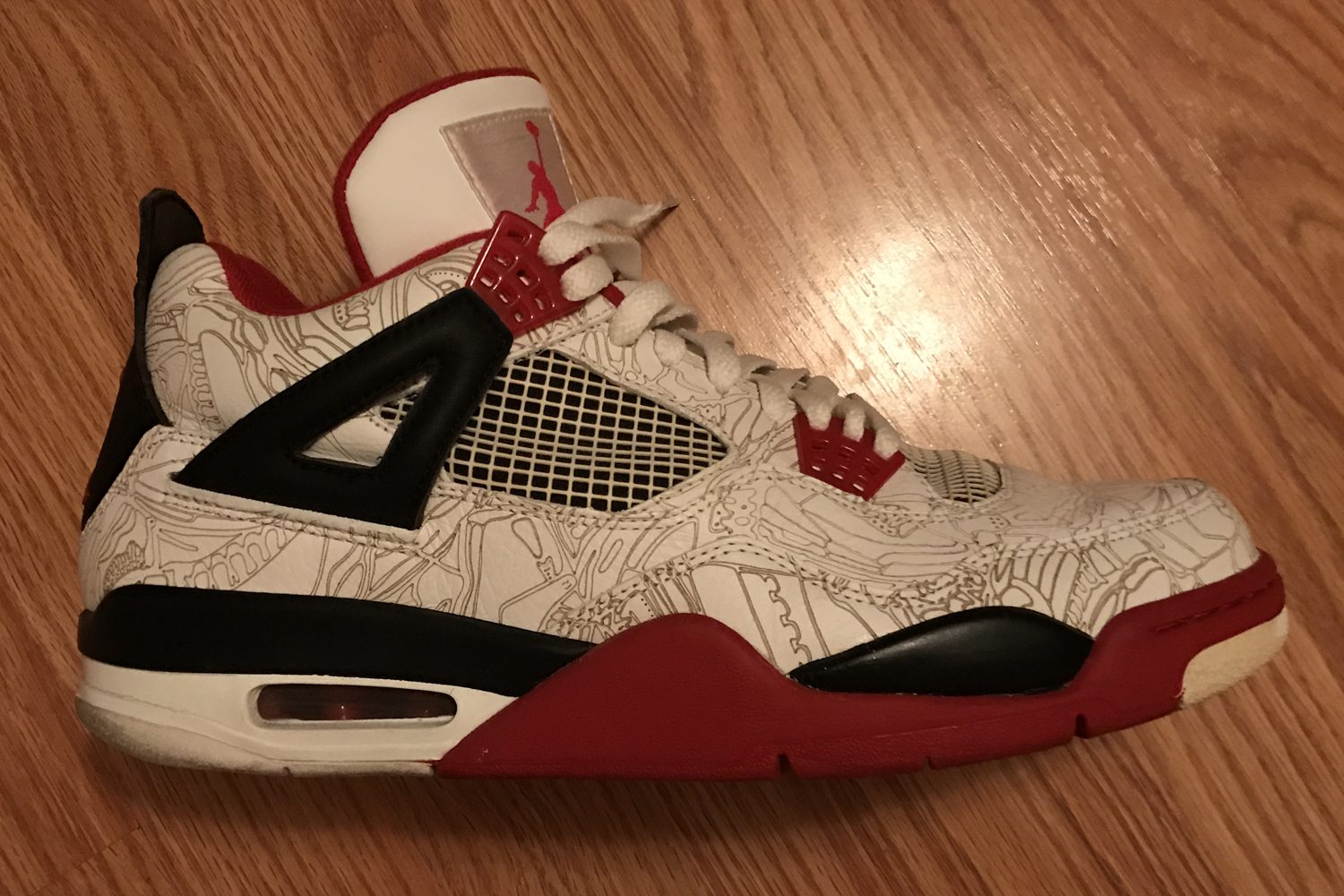 Retailing for a then super-steep $200, there was a lot to be excited about in regards to this pack but there was also a lot to complain about. On the good side, this was the closest thing to a "Fire Red" retro anyone had seen since the colorway hit the court on Mike back in '89. The added Laser component probably could've been done without for any of the core consumers at the time, but in hindsight it told the story of the brand's 20th anniversary and distinguished the drop from future variations.
While NT'ers complained about the leather wings, lack of Nike Air branding and weak inclusion of a flexfit hat and matching t-shirt, best believe everyone in the know was going to shoot their shot on these. Those lucky enough to secure a pair (this author included) still consider themselves fortunate to get them in what was one of the first online exclusive launches from JB and also a bit of an introduction to the polarizing pack/package program.
Still, the Air Jordan 4 Laser "Fire Red" lives in an odd space. Many OGs felt like they fell for the okey doke as the AJ4 would later launch in closer to OG iterations like the "Mars Blackmon" variation and the eventual real deal (though still lackluster in regards to branding and leather) launch in 2012. Just the same, the "Fire Red" Laser motif would find its way onto Fusions, effectively watering down unique appeal to some level.
So, while pack pairs like the Air Jordan 12 "Nubuck" eventually dropped in solo steeze and the Laser 4's black brethren lives on in fresh fashion thanks to Kid Cudi co-sign and Travis Scott steeze, where does this "Fire Red" pair land in the history books? Is it a sleeper? A classic? A dud? Well, as we remember the shoe that had the internet going nuts 12 years ago today, we ask you your take in the voting poll and comments section.
Regardless, thanks for the memories, JB and NT.
[polldaddy poll=9747916]
[polldaddy poll=9747918]