We hope you're ready for the complete history of Air Jordan 1 collabs because we're about to hit you with a tornado of information here.
Buckle up your seat-belts ladies and gents because almost thirty years of information is about to go flying by.
Much like our "A Complete History of Air Jordan 6 Collaborations" piece, this list will highlight the partnerships shared between the AJ1 and various contributors.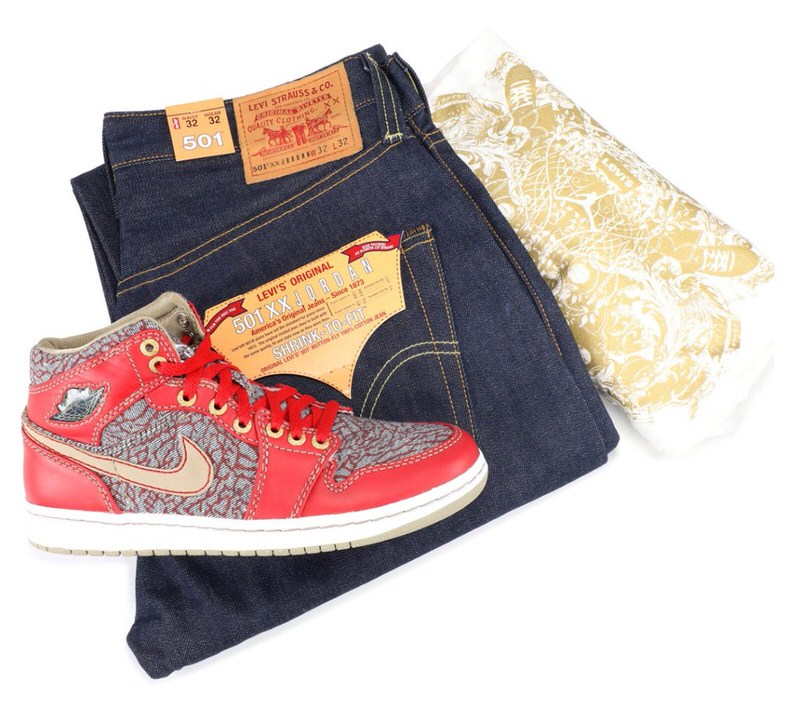 Levi's x Air Jordan 1 Retro
Release Date: 03/01/2008
Partnering with Levi's ushered in the era of Air Jordan 1 collaborations. Jordan Branding's offering with the denim giant was hard to touch when it came to execution and hype back in 2008. Not only did they utilize insane denim, but they made it elephant print!
Remember, Air Jordan 3 style elephant print was not widely used outside of the AJ3 at this point. It's wild to see how much style has changed since '08 — the mid-cut, jeweled Swoosh, gold eyelets (that looked like jean rivets) combo was so drippy back then.
We'll touch on a lot of old heat in this guide, but none of them came with a whole outfit!
Tony Taylor x Air Jordan 1 High Retro "Doernbecher"
Release Date: 11/14/2008
Much like Trick Daddy, Mike Jordan "luv tha kids."
Many are familiar with the backstory, but Jordan Brand partnered with Doernbecher Children's Hospital to release a limited-edition Air Jordan 1 crafted entirely by a patient. Designer, 16-year old Tony Taylor, drew inspiration from his alter-ego that gave him strength during treatment – Mr. Boober.
Since the Air Jordan 1 DB's release in 2008 they've become one of the most coveted pairs in the Jordan catalog, they're a shoe that collectors truly salivate over. Jordan's second AJ1 collaboration was not only a smash hit but also contributed to a $600,000 donation by Nike to Doernbecher Children's Hospital that year.
A Tribe Called Quest x Air Jordan 1 High Strap
Release Date: 02/02/2009
One year after the 'DB' AJ1 release we were blessed with a collaboration for the hip-hop fans of the world. Armed with an ankle strap, the Air Jordan 1 'A Tribe Called Question' offered a unique look that's yet to be replicated.
The green and red stripes on the toe and side panel were inspired by A Tribe Called Quest's classic album The Low End Theory. You'd be hard-pressed to find a pair of these on the street.
Dave White x Air Jordan 1 High 'Wings For The Future(s)'
Release Date: Gold: 02/17/2011; Black: 02/11/2012
English artist Dave White collaborated with JB on one of the most slept on Air Jordan 1s of all time. Maybe it was the sign of Jordan 1 taste switching, but not that many people messed with the [black] Dave Whites upon release outside of resellers.
Perhaps it's the fact they looked like true art more than functional kicks. Maybe they fell victim of the budding resell industry so people stashed the shoe in hopes of flipping later. At the end of the day, the shoes were a beautiful statement piece.
Two versions of Dave White's Wings For The Future Air Jordan 1 released – the black pair via retail and the gold pair via eBay. 23 pairs were available by auction on eBay for the eye-catching gold splatter/ USA themed Dave Whites about a year before the black joints hit shelves. Believe it or not, some gold pairs ended up going for as little as $1,000 – to some that doesn't sound like a steal, but for a hyper-limited collab, that's a bargain.
Public Schools x Air Jordan 1
Release Date: 2014
Our very own Ian Stonebrook sums up the Public School joints perfectly:
"Limited to 50 pairs and distributed on a friends and fam first basis, the Public School x Air Jordan 1 PS23 laid the footprints for what is now an ongoing relationship. Shortly after, an inline version of their AJ1 collab, the NY23, launched in a limited fashion at Jordan Brand's Flight 23 Footaction store in NYC."
These are still very, very good.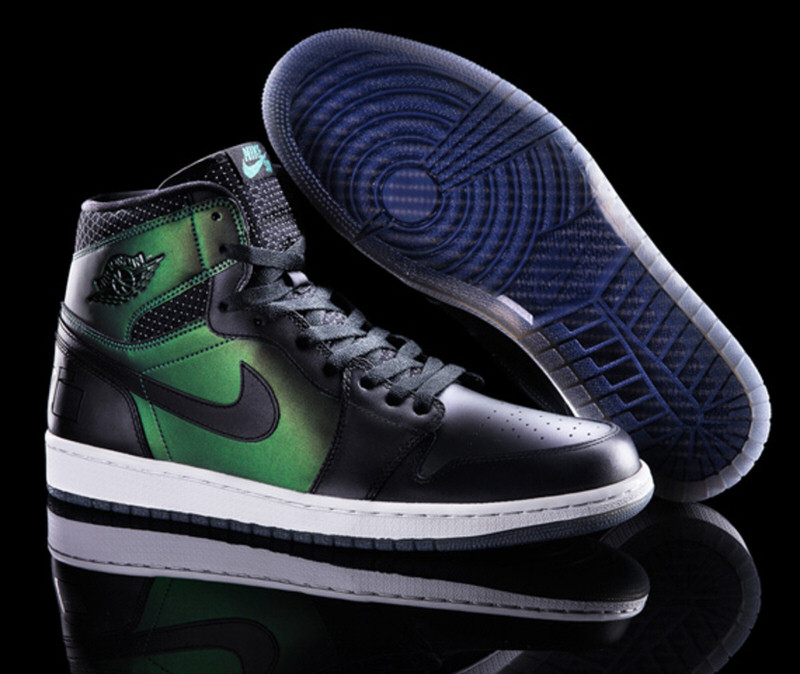 Nike SB x Air Jordan 1
Release Date: 03/15/2014
With help from artist Craig Stecyk (aka C. R. Stecyk III), who was there to document the birth of skateboard culture during the 1970s, Nike Skateboarding inscribed "AJ One SB" in Stecyk's original typeface across the heel panel.
In addition, Nike and Jordan Brand designers also took cues from Stecyk's Northwest Passage art installations with the metallic bronze casting and spray application on the Nike SB x Air Jordan 1's upper.
Most importantly, Craig's kicks officially (and publicly) bridged the gap between skateboarding and Air Jordans.
Note, P.Rod dropped Air Jordan inspired SBs (AKA the J-Rods), but there had never been an SB influenced pair of Jays before Craig Stecyk's collaboration.

Lance Mountain x Nike SB x Air Jordan 1
Release Date: 06/07/2014
Lance Mountain's Air Jordan 1 collabs were crazy in all the right ways. Sure, we've seen mismatched shoes in the past, but none of them utilized scratch-away uppers exposinggg the mismatch scheme!
Authentic feeling collabs are always welcomed, and few collaborations (regardless of model) felt quite like this.
A perfect blending of two isolated sports that didn't feel quite so separated post-release. Nothing but good vibes…
fragment design x Air Jordan 1 High
Release Date: 12/27/2014
Time itself stopped when Hiro Jujiwara's Air Jordan 1s hit the shelves. Fragment Design, Jujiwara's brand, is extremely popular, and exists within the center of Streetwear Culture. Subsequently, these shoes had a massive impact on the Sneaker Culture. Ultimately they're just a simple spin on the 'Black Toe' Air Jordan 1s, but these blue grails absolutely snap necks from Austin to Tokyo.
All people need to see is the lightning bolt stamp on the heel to recognize the stunt. Be leery of fakes on the secondary market because Frags are some of the most replicated sneakers on the secondary market.
Dover Street Market x Air Jordan 1
Release Date: 2015
While technically a Nike Lab collab, the Dover Street Market Air Jordan 1 was surely premium and mixed today's trends with yesterday's construction as the shoes came dripped head to toe in navy patent leather.
Uber classy metal lace-tips combined with a monochrome upper and minimal branding made sure these Jordan 1s were gala-ready and street-ready.
Quai 54 x Air Jordan 1
Release Date: 07/08/2017
Pardon our french, but only stinkers thought these 1s weren't dope. In retrospect, we suspect more than a few sneakerheads out there wish they would've copped these at retail. Dope brushed suede, mismatched reds and blues and namesake Quai 54 tongue branding made the Parisian street-ball tournament inspired kicks run!
Want to see what a slept on Air Jordan 1 collab looks like? See above.
Want to see what a super hyped Air Jordan 1 collab looks like? See below…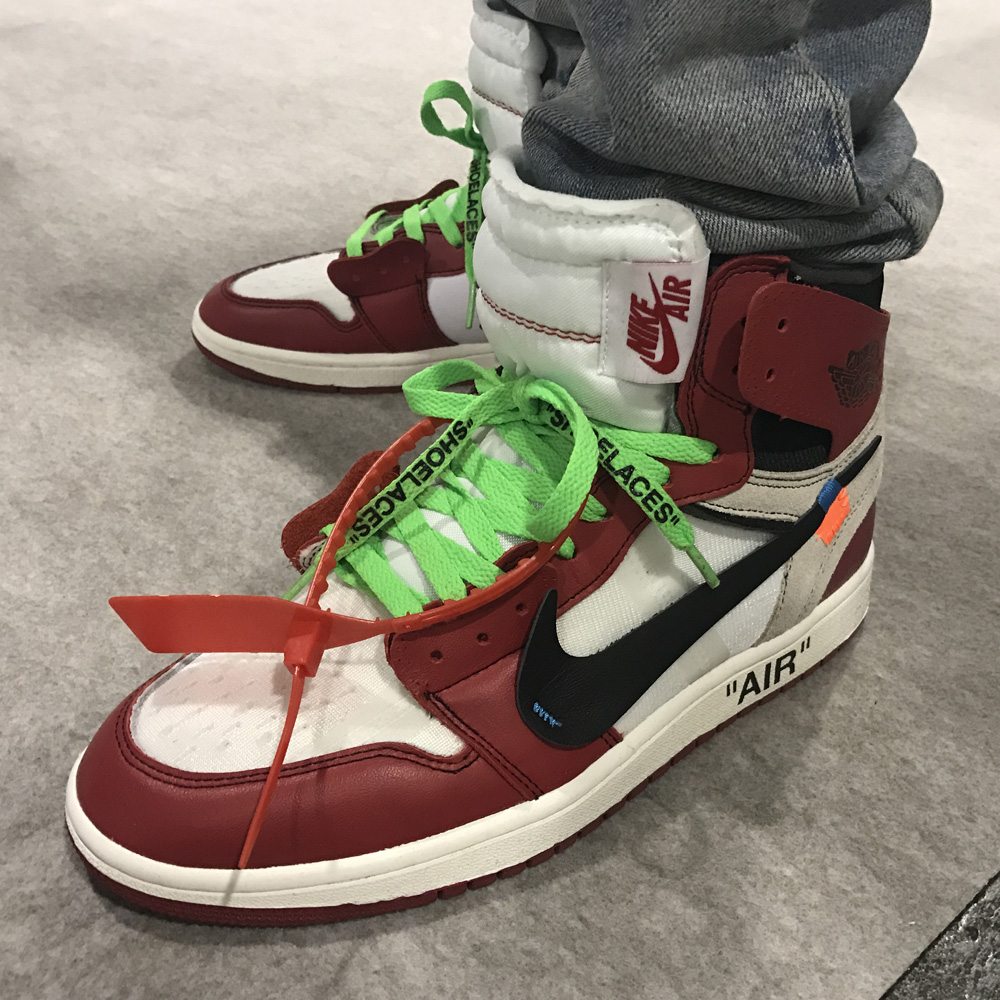 Off-White Air Jordan 1 "Chicago"
Release Date: 09/09/2017
Bold statement: The first Off-White™ x Air Jordan 1 collab is one of the five most talked-about sneakers in footwear history.
Virgil's iconic take on the 'Chicago' colorway of the Air Jordan 1 has spawned many imitators, clones, and fakes — but most importantly they married couture streetwear and sport to create something unapologetic and legendary.
Yeah people kept all the tags on, yeah the stitching was exposed… and what?! No one can say anything to you with these on other than, "Damn bro, heavy flex." Unless they're fake…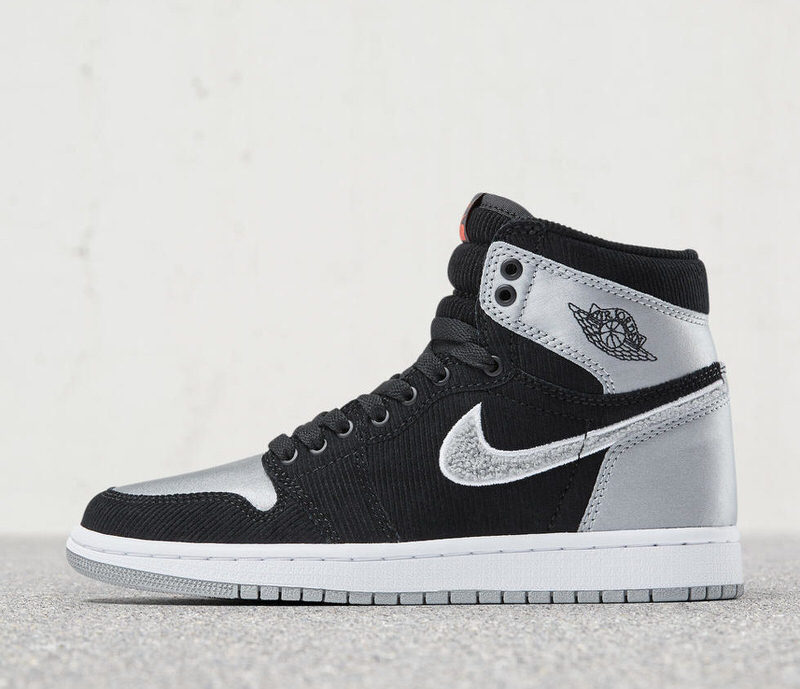 Aleali May x WMNS Air Jordan 1 Retro High
Release Date: 10/28/2017
Sometimes Jordan Brand does it just for the ladies, and that's exactly what we got with the Aleali May x Air Jordan 1 collab. Partial inspiration obviously came from the Shadow 1s, but Aleali took things up a notch by adding premium materials into the mix via corduroy, carpet, and satin. However, the kicks were also inspired by May's hometown, Los Angeles.
With a little Raider's vibes, a dash of house slipper textures, and a hint of throwback Starter Jackets the Aleali May x Air Jordan 1 collab was born. Easily the cleanest women's exclusive Air Jordan 1.
Union LA x Air Jordan 1 "Gold Toe Top-3"
Release Date: 11/03/2017
Gold Toe Top-3 Air Jordan 1s?!?! Yes please!
Chris Gibbs, owner of Union LA, didn't even think these 1s would release at ComplexCon '17 because the whole concept was brought to the table last minute. Once the masses caught word of the collaboration a frenzy ensured at Union's ComplexCon booth.
More than 2,000 people lined up trying to score a pair of these golden treasures, but obviously, not everyone left happy. If you copped a pair of these on ground-zero then you're a true soldier.
Gatorade x Air Jordan 1 High
Release Date: 12/26/2017
Ol' heads undoubtedly remember MJ's Gatorade commercials from the 1990s – they were iconic. Twenty-plus years later Jordan Brand decided to rekindle the partnership and release a grip of Air Jordan retros based off of the popular sports drink.
A quartet of Air Jordan 1s were included with monochrome tones: lemon-lime, orange, purple, and cool blue. Did they make everyone thirsty? No. Was the premise cool, yes.
Off-White x Air Jordan 1 High "White"
Release Date: 03/03/2018
You had to Euro-step like Ginóbili to get your hands on these all-white, Off-White™ jawns.
If exclusivity is the name of your game then look no further than this pair because they're easily the rarest pair of "released" Off-Whites™.
Same motives as the Chicago colorway seen by deconstruction and high-end execution.
Off-White x Air Jordan 1 High "UNC"
Release Date: 06/23/2018
Off-White™ + UNC colorway = the jam.
You know what it was, same 'ish different day… in a good way.
Vogue x WMNS Air Jordan 1 High Zip
Release Date: 07/23/2018
Shout out to Anna Wintour (editor of Vogue Magazine) for taking luxury from the sheets [of paper] into the streets.
Jordan Brand has done some exceptional things in the women's category in recent years and the Vogue collab is just another prime example of how JB thoughtfully caters to the needs of female consumers by providing quality footwear options.
It's not necessarily easy to make a men's basketball shoe from 1985 look sleek and fashionable for women, but Jordan Brand really knocked it out of the park by replacing the 1's laces with a zip construction and adding premium, monochrome, materials.
High fashion, darling.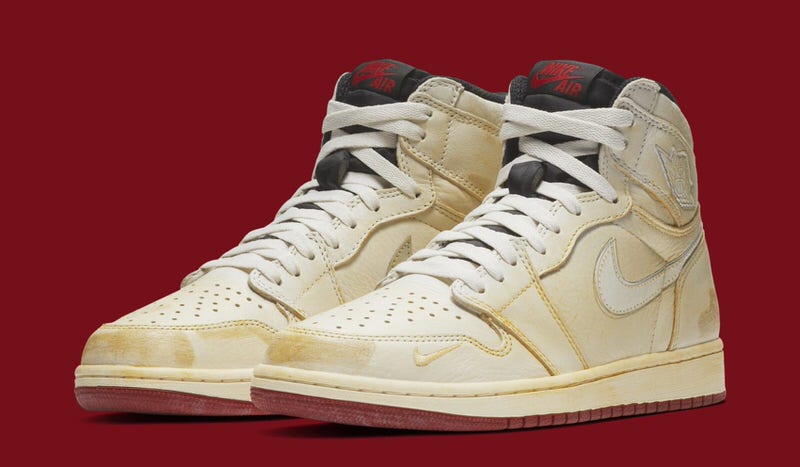 Nigel Sylvester x Air Jordan 1
Release Date: 09/01/2018
Youtube BMX star Nigel Sylvester is no stranger to the Air Jordan 1. He's spoken on record many times about his love for the silhouette and how awesome they are for biking, so it was only right that his first Jordan collab was on the AJ1.
Sylvester's collab got really creative in the storytelling department – the scuffed brown marks throughout the upper paid homage to the 1s of yesteryear that Nigel had completely messed up.
The out-of-the-box aged look can be a little played out; but these 1s rocked the look perfectly. It's impossible to find another pair of Air Jordan 1s that look like this… and that's a calling- card of a successful collaboration right there.
Paris Saint-Germain x Air Jordan 1 Retro High
Release Date: 11/03/2018
Soccer fans recognize the PSG name instantly, but if you're unfamiliar then know that Paris Saint-Germain is one of France's (and Europe's) premier soccer [football] clubs.
In terms of collaborations, the PSGs played it very safe with a super approachable BRED (black and red) color scheme that let nylon upper do the talking. The only real heavy PSG reference was found on the inner tongue and insole with nods to the club's logo and crowd chant.
Union x Air Jordan 1
Release Date: 11/17/2018
Here we have a duo of coveted Air Jordan 1 collaborations from Union Los Angeles. If you're still pretending to know what Union Los Angeles is then here's the shop in one sentence: Union LA is an organic space where music, art and fashion collide.
Construction game was bananas on this collab – JB and Union basically Frankenstein'ed the Black Toe & Storm Blue AJ1s with collars that emulated the weathering found on vintage, OG, Air Jordan 1s. Union's design ethos fuses old and new – so their election to literally stitch the past and present into one shoe was very on-brand for them.
Units were extremely limited upon release, so adding either pair to your collection will easily cost north of $1k on the secondary market. Resell value isn't everything, but in this case, it helps convey the rarity of this collaboration.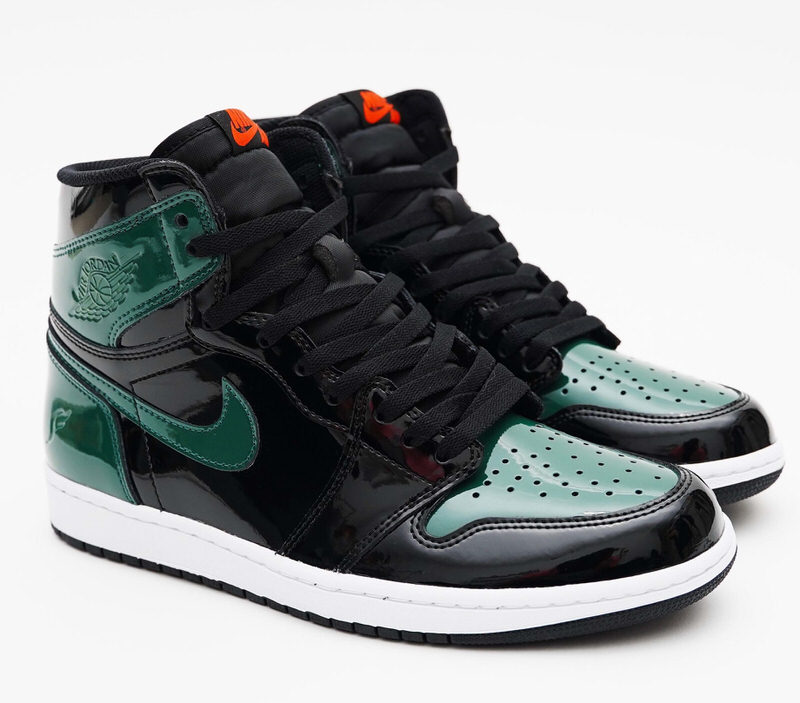 Solefly x Air Jordan 1 High
Release Date: 12/08/2018
Like the Union LA drop, the SoleFly AJ1 released in two colorways both inspired by the Miami Hurricanes and both were next level limited.
In fact, it's said that the black patent leather pair was limited to 23 pairs – making them the most exclusive Air Jordan 1 collab ever.
Solefly's collab on the Air Jordan 1 literally shut it down on release day:
Spider-Man x Air Jordan 1 OG High "Origin Story"
Release Date: 12/14/2018
Nike and Jordan Brand collaborate with droves of people, places and things; with so many collabs in the universe you'd assume they've worked with Marvel Comics a million times… well you'd be wrong.
Sure, we've seen Iron Man, Hulk, and Spider-Man Nike Dunks but those were just nicknames, but the Air Jordan 1 Origin Story was the first bonafide Marvel collab!
Released in conjunction with Spider-Man: Into the Spiderverse, the Origin Story 1s borrowed the makeup of the OG Chicago Air Jordan 1 and added accents reminiscent of Spider-Man's hero suit.
Aleali May x WMNS Air Jordan 1 Retro High Court Lux
Release Date: 12/22/2018
Aleali May did it again in 2018 with her second Air Jordan 1 collaboration. Furry tongue, waxed laces, and rich suede gave this collab a distinct look.
Ladies started getting a lot of heat by way of Aleali May and her various Air Jordan 1 collabs, but this colorful take on the Air Jordan 1 was one of our favorites.
Travis Scott x Air Jordan 1 High
Release Date: 05/11/2019
We get these goosebumps every time we see the Air Jordan 1 High collab with Travis Scott. Simply reversing the lateral swoosh was a gaudy move at first, but it gave the Travis Scott 1s their unmissable look.
Added features like a hidden stash pocket and Cactus Jack branding on the heel rounded out this collab's high profile aesthetic. Hype circulated around the Travis Scott 1s like a tornado, so we doubt this shoe needs much more of an introduction.
Shoe Palace x Air Jordan 1 OG High 'SP Gina'
Release Date: 05/25/2019
Go Gina, go Gina, go get your get right mama! Super unexpectedly, Jordan Brand partnered up with Shoe Palace and longtime educator and sneaker enthusiast, SP Gina, for a special collab. Packaging is commonly overlooked in the sneakers, but the SP Ginas got an A+ in this department.
A lunchbox-like tin brought something new to the table and reminded everyone that presentation is key. Metallic and shiny uppers can be hit-or-miss on shoes, we'll let you decided if these were 'dope' or not. Can we please get a pin of that hang tag too?
Nike SB x Air Jordan 1 Defiant 'LA to CHI' &  'NYC to Paris'
Release Date: 05/25/2019
"Defiant" has been used to designate special editions of the Air Jordan 1 for a few years now, but none have looked as good as these two.
The Lakers themed pair paid homage to MJ's 1991 NBA Finals victory against the Los Angeles Lakers, and the Bone colorway symbolized two of JB's most important cities – New York City and Paris.
Applying some acetone to either pair will expose a second layer of color much like the Lance Mountain collaborations. Customization possibilities were endless on this collab so you could rock them your way no matter your geo-tag.
Quai 54 x Air Jordan 1 Mid
Release Date: 06/08/2019
Take two on the Quai collabs, but this time Jordan Brand got really colorful. Geometric shapes on the collar and heel, a jeweled swoosh and mismatched color blocking?
Sign us up. Oh, and the apparel for this collab was on-point too!
Nike SB x Air Jordan 1 Low "Eric Koston"
Release Date: 06/17/2019
True icons of the skateboarding world are rare. Countless great athletes have killed it on a skateboard but few have achieved Eric Koston's levels of success, admiration, longevity and notoriety.
Pairing buttery suede with crisp leather never disappoints, especially when it is used with clean colors. Air Jordan 1s look great when thoroughly worn so if you have a pair of these then make sure you properly thrash them – it'll look great.
Travis Scott x Air Jordan 1 Low
Release Date: 07/20/2019
Reversed Swoosh, check. Brown and black blocking, check. Insane hype, oh yeah.
Travis Scott showed everyone yet again that his name has real clout in the sneaker world. Perfect, straight up!
Nike SB x Air Jordan 1 Low Eric Koston "UNC"
Release Date: 08/12/2019
Koston collab 2.0 minus the toe box Jumpman logo and dressed in Carolina blue.
Which one do you prefer?
Comme Des Garçons x Air Jordan 1
Release Date: 09/14/2019
Punk rockers and metal heads with a glamorous side rejoiced when this Air Jordan 1 collab hit shelves in September.
CDG x Nike collaborations rarely obey conventional design methods and these AJ1s were probably the most 'out there' CDG collabs in the brand's history.
Metal embellishments all over the place and a premium monochrome build gave the CDG x Air Jordan 1 it's distinct and aggressive look.
When you really think about it, the Air Jordan 1 is just a Nike Dunk Hi collaboration with Michael Jordan… have a great day, everyone!