The smoke is starting to clear and the aftermath of Ye's departure from adidas is beginning to set in. In a new report from the Financial Times, adidas reveals that its left with over $530 million worth of unsold Yeezys. The German sportswear giant is now trying to find a way to sell the Yeezys under the adidas name in order to cash in on the potential revenue to prevent irreparable damage to the business.
Over the years, many of adidas' own have criticized departing-CEO Kasper Rørsted for the company's over-reliance on the Yeezy brand. Rørsted announced in October that he would be leaving adidas, prompting Ye to post an altered obituary for the CEO.
Financial Times spoke with 17 current and former executives, with numerous employees believing that Rørsted set adidas up to fail as he fired key personnel and led with "management by fear," causing a lot of adidas' best talent to leave the company.
With Yeezy out the window, adidas is projected to lose half the company's 2022 earnings. This major setback also comes at an inherently difficult time as sales plunged in China and adidas withdrew from Russia. These hardships stacked up one after another causing adidas to lose three major profit pools in a single year.
In 2019, sales for adidas already started to slow down, but a former adidas employee claims that Yeezy profits remained steady. Regardless, the gap between leading sportswear brand Nike and runner-up adidas began to widen.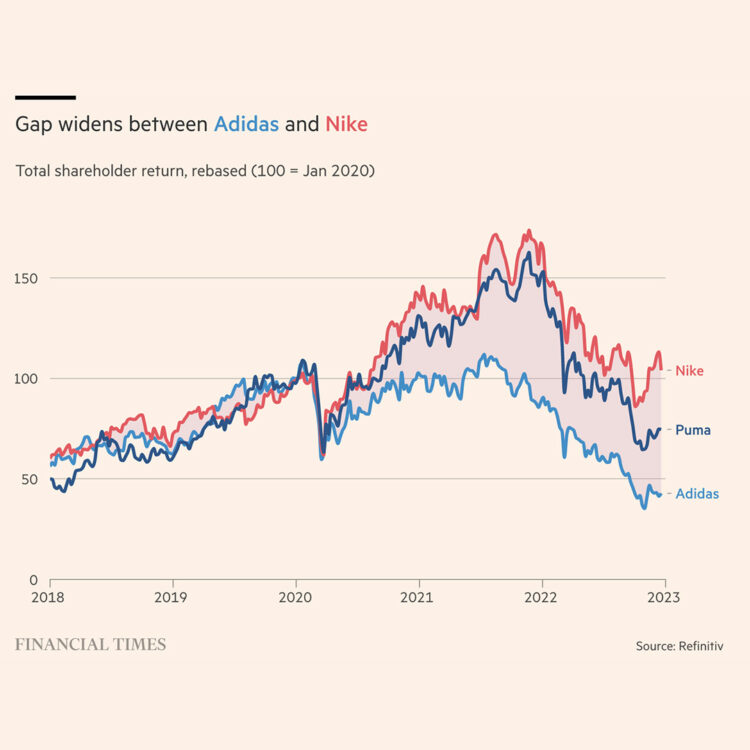 Adidas dismissed the gap and told Financial Times that it was actually generating double-digit growth in fitness and basketball. Additionally, adidas execs also mentioned that the brand spearheaded new partnerships with celebrities such as Beyoncé, Bad Bunny, Jerry Lorenzo, and more in effort to achieve growth not dependant on Yeezy.
Adidas also told Financial Times that in addition to all partnerships, Yeezy was regularly reviewed in a formal risk management process.
Throughout his career, Ye has been a controversial figure and had previously put adidas at reputational risk in 2018 when the creative said that 400 years of slavery "sound like a choice" on TMZ.
Despite the blasphemous remarks, the Yeezy brand continued to grow and nearly doubled in size by late 2022. Yeezy was contributing $1.8 billion in annual revenue, making up about 7% of adidas' total profit. Investors complained that adidas did not disclose this information.
"They did not give us enough of an indication of how big [Yeezy] was and how important it was to growth," one analyst told the Financial Times. "Probably, they didn't want to highlight how reliant they've become on the brand."
Only time will tell how adidas plans to move the remaining Yeezy stock, but leaked images of a potential unbranded Yeezy have already given us a first look as to what could be expected.
For more sneaker news and release dates, follow @NiceKicks on Instagram.
Yeezy accounted for about 7% of adidas sales in 2022 and the brand said it would take a $247 million hit to its profits as a result ? pic.twitter.com/c6HeDjGIRl

— Nice Kicks (@nicekicks) December 23, 2022