words // Nick DePaula:
As one of the top projected picks in this summer's NBA Draft, UCLA's one-and-done star point guard Lonzo Ball is generating non-stop conversation around his potential shoe deal partner.
Of course, much of that conversation can be attributed to his outspoken father LaVar, who launched the Ball Sports Group agency to represent his son, created Big Baller Media to promote highlight videos of his sons, and also founded Big Baller Brand to potentially outfit his sons in not only apparel, but potentially sneakers too. He's appeared on countless TV and radio shows over the last two months to discuss his sons, and himself, for good measure.
No matter where you stand in your view of LaVar, his love for his family and children, and the aspirational bar he has set for his kids to attain along the way, is both undeniable and admirable.
As Lonzo is just over a month away from being a top NBA Draft pick, now the talk is being put to the test. Real marketing dollars are at stake, with real branding work to be done ahead. With all of the attention that's come the family's way, does Big Baller Brand have a legitimate shot at breaking through the competitive NBA footwear market, which is becoming increasingly tougher to crack into? What's Lonzo's potential, both on and off the court? To tackle some of the more pressing options and scenarios at hand, as LaVar navigates through their ongoing negotiations with interested brands, the Nice Kicks team sounds off below in our first edition of The Word.
What is the value and demand for a Big Baller Brand sneaker if they enter into the footwear space?
Ray P, Content Director: BBB's value and demand for a sneaker is potentially HIGH, because the Ball brothers are exciting to watch. Truth be told, if Curry can sell Under Armour sneakers, any brand can sell with the right talent. To me, he proved your hoop shoe doesn't need to look good at all to sell. If Lonzo Ball goes on to have a reputation as a winner in the league, he will have a flock of young athletes admiring him, from his style of play to his kicks on court. I stress the importance of winning, because without the Ws, no one will want to wear your shoe.
Ian Stonebrook, Editor: With no tech, I don't see it selling for more than $90. I think there actually is demand for something new in the market, as the signature shoe space is down and it's probably not the worst time to break in. While Lonzo has the game and the family has the social media presence, they've really gotta get a good designer in there. Even then, it's tough to sell anyone on a logo that's not a Swoosh or Stripes.
Nick DePaula, Features: The name is really, really tough. Big Baller Brand — it's just awkward and feels like something that would've came out when I was in High School…in the early 2000s. Oftentimes, it's of course the actual player that kids and young athletes want to emulate, with less regard for the brand, if it's not Nike. In the case of AND1's Tai Chi, the Reebok Question, and more recently, even some of the early adidas DRose models, kids would prefer to have subtle branding and logos for a breakthrough model. My fear for Big Baller Brand is that the triple Bs would be prominently featured directly on the side of the shoe. LaVar isn't exactly known for subtle taste so far. There's also an amazing lack of awareness between value and pricing that we've seen on the Big Baller Brand clothing. If they're planning for anything priced above $100 — let alone $200, as I've heard some say — then there will have to be some major technical elements, performance attributes or premium materials involved. Out the gate on a first crack for a debut shoe? That's a tough equation to nail right away, that we've seen some brands spend a decade to figure out.
Matt Halfhill, Nice Kicks Founder: Jim Jones was the last person to successfully sell anything with the name "Ball," "Baller," or in his case "Ballin." The term has been in pop culture for years, but considering that the last successful launch using the term was in 2006, I'd hold off on launching a full line like that. Big Baller Brand is just too literal of a name and screams overt screen printed branding (which is exactly what we've already seen on the brand's webstore) in a world where the vast majority of consumers want less and less names, or even logos on their gear.
A brand is supposed to be exactly that – a brand.
Branding, from the very beginning, was nothing more than a means to distinguish your product from others in the market. In the roots of branding, a ranch would brand their herd and finest pedigree of cattle to make a name for the ranch. The branding iron in the very beginning was used as a way just to distinguish who's cattle belonged to whom, but over time the brands that were burned into the hide of these beasts made a name for the ranch that raised them.
We aren't talking cattle here, but we are talking product. A strong brand is one that you find on a great and consistent product. Brands can also become known for their technical innovation, or a distinct and strong design language. As a new brand, BBB unfortunately will have no reputation or quality product to date, and will have a longterm uphill battle to make a name for itself – especially in a crowded and competitive market featuring billion dollar companies with decades of foothold in the business. Good luck.
How marketable do you think Lonzo Ball is in the NBA?
Ray P: Lonzo is super marketable because he's been in the spotlight since the beginning. His fans and young athletes literally watched him grow up and know his story, whether they care or not. You do not need to make up a superhero story, because it's already been playing out naturally via social media. I believe LaMelo, the youngest Ball brother, is exponentially more marketable, but when I saw Lonzo do the 'So Far Gone' Challenge, that showed me his awkward yet shy personality resonates with fans, because real people act the same way. He could literally be the Drake of the NBA. People like him because he's just a normal guy who's great at hooping and has his otherwise normal human traits and quirks, similar to how Drake appeals to his fans.
Ian: I think Lonzo Ball is incredibly marketable in the NBA. There hasn't been a pass first point guard with his size or athleticism really since Jason Kidd, and he went on to have multiple signature shoes, numerous All-Star appearances and won both Gold Medals and a NBA championship. He also raps like Jason — revisit Jason Kidd's "What the Kidd Did" on the Basketball's Best Kept Secret album!
Nick: A lot of people have been worried that Lonzo lacks personality and flair, but I think that's mostly because of how much he's been in the shadow of LaVar's oversized persona. Plus, he's 19, so he's just starting to figure things out and evolve when it comes to his comfort in front of media, on social media and in shaping who he is as a dude. I think he'll break through that shell and kids will really take a liking to Lonzo over time. On the court, he's an all-around point guard with incredible court vision that makes winning plays for his team. His shooting form is funky, but he's still impacted winning at all times on the court in one way or another, and I can see that translating to the next level well. With an exciting style of play, a willingness to lead and take ownership of a team, and a personality that's still developing, I think he'll definitely have a huge marketing profile in the league.
Matt: As much as Lavar has gotten attention in sports media recently for sometimes not the best of reasons, I think that Lonzo does have some good marketable potential. On the surface, you have a very young kid with a very young face from the LA area, who went to college at UCLA and played a great season before declaring for the NBA Draft. If he lands in the LA market, or even Phoenix for that matter (lets think about teams that also have high picks), I think the great story continues for him. The biggest consumer of performance basketball shoes are middle and high school boys. A 19 year old NBA prospect with a baby face has longevity with that age bracket. See: Steph Curry.
What do you make of LaVar Ball's insistence on a "co-branded partnership" with brands looking to sign Lonzo?
Ray P: I cannot sit here and hate on LaVar Ball for trying to shift the Basketball business culture. He's aiming really high and if he's looking to co-brand, I support that fully. Just because athlete deals have been working one particular way for a long time, doesn't mean change can't happen. One thing Papa Ball can't do is package his other two sons in any deals until they complete at least one year of College basketball — so he can forget about that. However, for Lonzo, if they ran his social presence better, I think he would have a good case. Lonzo Ball has many many many eyes on him, more than anyone else at his level right now. What brand doesn't want that kind of exposure and influence on the next generation? I don't think the co-branding deal is a big issue like everyone else does. If he pulls this off, it could change Brand x Athlete deals forever, and who knows what happens after you open Pandora's box?That's exciting.
Ian: I think the only big brand with an American audience that would ever take that risk is adidas, and they have too much momentum to gamble on that at this juncture. It's cool that LaVar is stirring the pot. I think our guy Darren Griffin is on the right track, when he tweeted that things will eventually move this way, but likely with someone else with more leverage and star power. I don't see any big brand here doing it. With that said, I could definitely see AND1 doing it. They have tech, roots and relationships in LA and a background in basketball. That actually makes a ton of sense to me.
Nick: On paper, it's completely ridiculous. No incoming rookie has ever tried it before, and for good reason. Brands aren't willing to simply absorb or license your own clothing line that has no proven track record to date, with a following of less than a fraction of their own. On top of that, no incoming rookie has the resources or wherewithal to launch a brand on their own — the design and development expertise, production timelines and costs of the entire process are no joke. The last thing we'd want for Lonzo is to see him step on the pro court Day 1 in some Big Baller Bricks. It's a very fine line to aspire to build your own brand, own your own likeness and market yourself as a star as you see fit — against brands with millions in development resources that have proven performance capabilities on court and in the marketing world. It's perhaps the boldest and loftiest thing I've ever seen in hoops marketing. If you look through the course of history, there's less than a handful of comparable cases. Patrick had his "Ewing" brand with Pony's founder, Stephon had "Starbury" with the Steve & Barry's retailer, and Mike launched "Jordan Brand" with Nike during his last season in Chicago. That was after twelve of the most iconic years the combined worlds of the NBA and global marketing had ever seen. Maybe only LeBron could've pulled off the co-branded concept early in his career, but in 2009 and not 2003, closer to when his initial rookie Nike shoe deal was expiring and he'd already proven himself as a generational player. Entering the draft with a co-branding demand for an endorsement deal? I don't see it.
Matt: Let's not get ahead of ourselves here. The brand has next to no sales on its own — how much would a brand put behind it instead of their own label? If LaVar wants to make a big market for his kids outside of apparel and footwear, GO FOR IT, but the apparel and footwear business is not only a crowded and largely competitive one, but also one that is in decline. If I was LaVar, I would be putting on Ball Clinics for middle school and high school kids in every High School gym across America, every summer. His background is in personal training. He's clearly taught his own kids how to work hard, and they each have a great feel for the game as well. Millennials want Instagramable moments, not another T-shirt.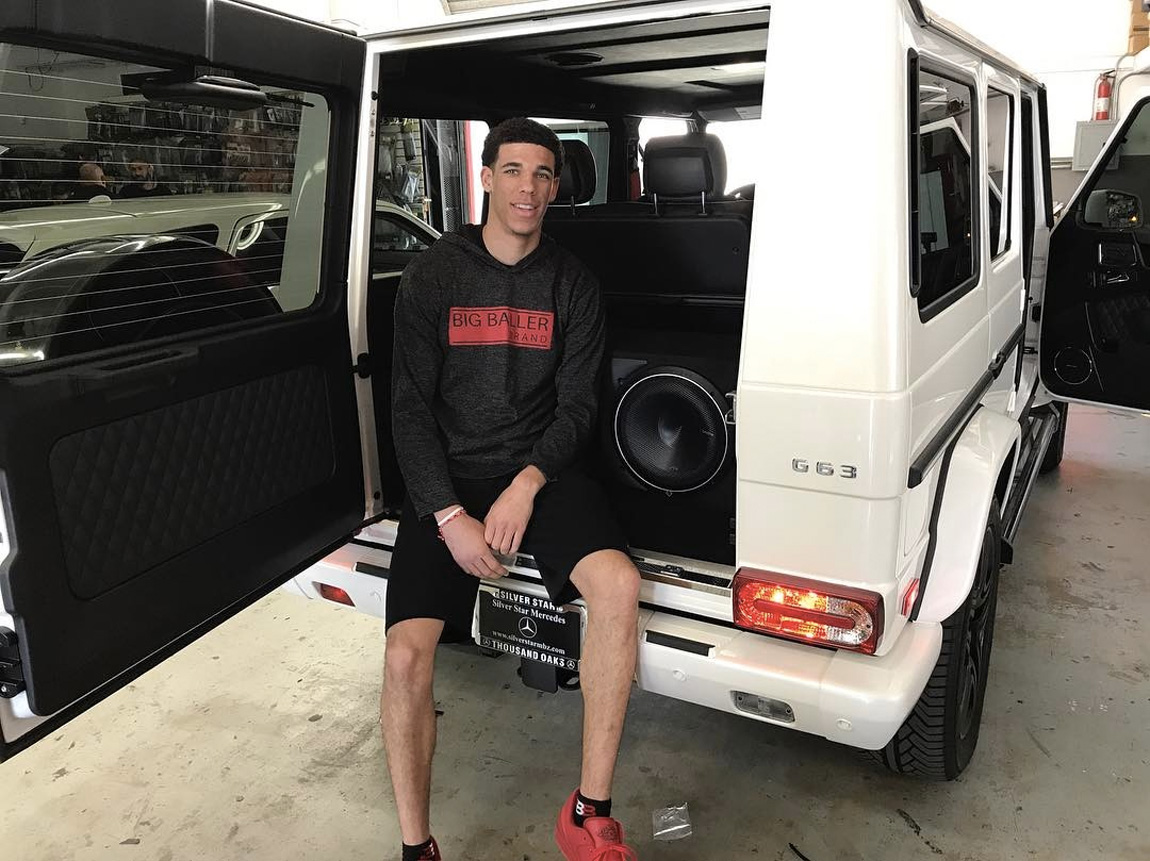 What do you think happens for Lonzo's shoe deal?
Ray P: Lonzo will get a traditional deal from one of the three major footwear brands. Adidas would be crazy not to sign him. They've got nothing to lose and we're used to seeing him in the Crazy Light and Harden Vol 1 from his time at UCLA. I believe Lonzo is worth a high number simply because he is very appealing to the youth, more so than any NBA rookie we've seen in a long time, in my opinion. And if the kid lands in Los Angeles with the Lakers… definitely cash him out!
Ian: I hope he does no deal and brings Kicks on Court back! If not, AND1 or a heritage company like British Knights could be really cool. I'd like to see that.
Nick: I think LaVar is hopeful and prideful enough to really try this all on their own, and have Lonzo wear the first Big Baller Brand basketball shoe for his rookie year. I also think it's important we give them a chance — it's of course daring, but also interesting and exciting to see someone shake up the traditional endorsement model. Hopefully they have the process in place to make sure the shoes are thoroughly tested, playable and will hold up over the course of the season. The last thing Lonzo needs to be worried about his rookie year is his sneakers, when he could be matching up with Russ one night, Steph the next, and then James a few nights later.
The downside of doing it on their own is they'll be bypassing quite a bit of guaranteed money from an established brand — somewhere around $5 Million — along with the added marketing costs that go with your typical regional, and potentially national, athlete activations. Is Big Baller Brand funding all of the Ball Sports Group payroll and footwear development costs off of Lonzo's NBA rookie contract? I'm worried about the finances of the investment here, and I'm also worried that shunning the major brands now will also hurt future opportunities for LaMelo, who just might be the most exciting player in the family. Who knows, maybe the first few Big Baller Brand sneakers rely on Lonzo as a bit of a guinea pig with some early hiccups, and by the time LaMelo potentially goes pro, BBB is hitting their stride and unveiling the next generation's Hyperdunk.
Matt: Which shoe deal? The $1 Billion dollar, ten-year deal is not happening ever, on any planet, so let's just stop that right now. Many footwear brands are at best clearing 15% after all costs on wholesale sales of performance footwear, when factoring in marketing and R&D. Do some quick math and you'll see how impossible it would be for any brand to take this chance.
Is Lonzo a marketable person for shoes? That is a big question as well. Right now the shoe walls and product development teams at many brands are slap full. Nike has signature basketball shoes with 4 active NBA players and 1 recently retired legend in Kobe, so the chances of them adding yet another face to the marketing deck is very unlikely at this point or any time in the very near future. Adidas perhaps does have some space on their roster with signatures for Harden, Dame Lillard and DRose's ongoing franchise, and there's also potential for more established NBA players to slide over to the brand this fall. (Follow NDPs sneaker free agency coverage!) Under Armour could use another face with the brand, which would also give less dependency on one signature athlete and one signature shoe to carry an entire brand's category. Considering LaVar said Lonzo is better than Stephen already — right now — that ship has probably sailed.
There's a reason very few guys enter the NBA with a signature shoe out the gate though — only LeBron and John Wall have done it since the 2000s with a major brand — let's wait and see how things go.