This year's NBA Draft is the most promising in recent years as teams tank for talent and trade talks tempura in the days leading up to both the lottery and selection showcase.
While Washington's Markelle Fultz and Coach Cal's kids at Kentucky all look to make waves with their smooth games and crazy upside, Lonzo Ball is definitely making the most noise due to both his play on the court and promotion from his pops off court. As only time will tell, LaVar's outspokenness will either prove to be marketing genius or insanity, likely depending heavily on the play from Lonzo.
As a prospect, Lonzo is phenomenal. Drawing comparisons to Jason Kidd and for good reason, his poise, pace and court vision make him a standout at the 1 spot. The position has doubled its scoring output in recent years around the league, and effectively become a glorified ballhandling 2. A true passer known for impacting winning, his play and production speak for themselves with averages at UCLA of nearly 15 points and 8 dimes an evening, that appear capable of translating even better in the league thanks to his 6'6 listing.
For those reasons, all the attributes listed in the last paragraph are more than enough to get any struggling team fanatic and even a few thriving ones curious. While the lottery balls are yet to bounce, it's already easy to imagine how he could fix a franchise or even kickstart a contender. Theoretically, just how? His addition to the Sixers could spark a passing frenzy next to Ben Simmons similar to J Will and C Webb's Kings. Even the playoff pushing-yet lottery loaded Celtics could bring in Lonzo and allow IT to play off the Ball, while Marcus Smart and Avery Bradley expend energy on defense. Just the same, point guard heavy teams like the Lakers and T'Wolves could trade creators for finishers to find space for the UCLA product. Lofty expectations? For sure, but definitely not out of the realm of possibility.
While the NBA Draft Lottery won't take place until May 16th, the conversation now centers around Lonzo and his looming sneaker deal. Contrary to reports ran recently and even backed — extremely eloquently at that — by this very site, we've been able to confirm that those initial reports are mostly true but not 100% accurate. While Nike and Under Armour have not shown interest in meeting with Ball — or more likely Big Baller Brand — adidas is yet to either meet with Lonzo or turn him down, effectively leaving that door open. Adidas is still interested in signing Lonzo outright, to a traditional sneaker endorsement deal. None of the brands are interested in LaVar's "co-branded partnership" concept.
What other deals could still be on the table? Well, we can imagine after LaVar's comments about a fictional game of one-on-one with MJ that Jordan Brand will not show interest, but that's just an educated assumption. From a stylistic and playing approach, Lonzo would actually be a great fit for JB on court. The noise around him and off the court? Not like Mike, or their "Let Your Game Speak" mantra.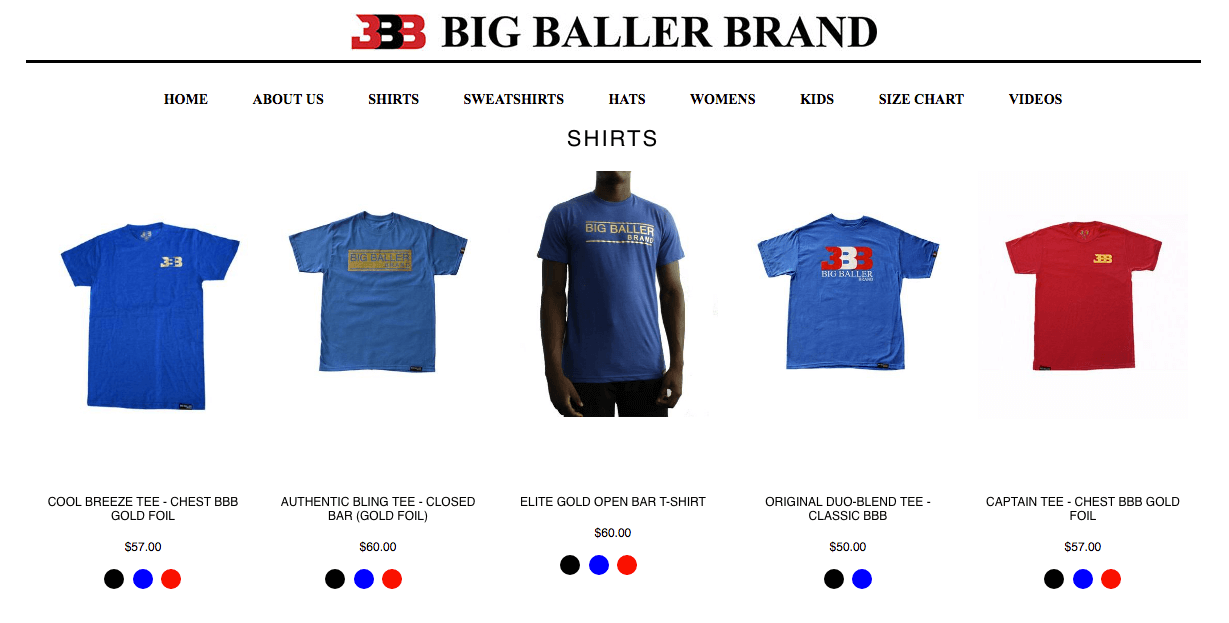 In an era angled by aesthetics and defined by design, it's hard to imagine the visual appeal of Big Baller Brand making for a realistic partnership with any major sportswear company. While LaVar is an entertainer and press magnet comparable to Kanye and that guy who won the election, in regards to pull quotes and hot takes, he's still talking sports and keeping things light, making him much safer than people make him out to be. Still, there's going to be resistance from any proven power in sportswear in aligning with BBB, just the same as there was with Kanye.
While we can all point to adidas exec Wex as a genius for signing West, in hindsight and resistance unjust just the same, Yeezy as a brand had proven commercial success coming into the deal and proven critical praise just the same. At this juncture, BBB does not appear to have the sales or style to make it a worthwhile bet for the big brands. Could a China-based brand like PEAK or ANTA align with Big Baller Brand and see success? Definitely possible, with family unity as a strength.
Historically though, the incredibly important and influential Asian market relates more to the undersized underdog more than the bigger body star, or they take interest in already-crowned champions entering the twilight of their career, like Kevin Garnett and Shaq. Just the same, they value winning which could be in the cards for the Ball boys but will definitely take sometime.
It's certainly possible that Big Baller Brand could find a way to produce and sell their own sneakers. This would definitely be exciting, but even if Lonzo wins Rookie of the Year and Finals MVP in the same season, it's gonna be a tough sell as today's market cares more about design than on-court accolades. Turnaround time on a product wouldn't see shoes on shelves until after what would or could be the greatest first season ever. Guys like Stephon Marbuy and Patrick Ewing have been able to find success in the sneaker market on their own, but Steph was selling shoes for $15 (a worthy cause by the way), and Patrick was a proven star in the kick capital of the world and largest media market, long before social media somewhat evened the field.
Big Baller Brand t-shirts range from $50 to $60 a pop, likely translating to at least $100 a shoe on the very low end, with no proprietary tech that we know of at this point. That's a tough sell against a Kyrie or a Dame shoe at a similar price-point with Zoom Air or even Bounce cushioning. To the Ewing point, Pat wasn't a rookie when he birthed his brand, but rather an 3-year vet with Rookie of the Year and NBA All-Star accolades already to his name, not to mention shoe steeze since college and a built-in market in the Big Apple.
Because of said scenario, it would likely make the most business sense or at least be the most calculated risk to sign with a company. As our Nick DePaula has reported, if Ball Sports Group were interested in a more traditional endorsement deal and engaged in negotiations with each brand along the way, Lonzo could realistically sign a 4-year deal worth as much as $1.5 Million per year. In addition to the guaranteed and quarterly cash payments, these brands also have built-in infrastructures to market said star on a global scale and provide athlete tested tech that's getting it done in games at the highest level.
Make no mistake, I'm rooting for Lonzo. He's my favorite new player since Ricky Rubio, and I think his dad is hilarious. I appreciate that his hot takes and candid claims give me something to talk about and laugh about with my own dad. Stubborn or silly, you still kinda gotta love somebody having the confidence and faith to bet on themselves. LaVar loves his sons and he loves himself. You can't be mad at that. Even though a parody account may have been the source of an amazing-but-faux LaMelo Ball Tweet, the way the Ball family rides for each other can still be inspiration even when it's also promotional.
So, can Big Baller Brand thrive in the footwear company? Though possible, it's going to be awfully tough to do solo. Based on their apparel angling it's likely going to be tough for a sportswear giant to agree to any type of licensing. While Kanye, Bari and other contemporaries have caked off of a similar shirt strategy in regards to printing and price point, Big Baller Brand's cool cache is not even close at this juncture to tour merch those artists, or A$AP (and Nike) backed VLONE, nor is BBB offering anything unique from a graphic design standpoint.
In an era where older fans assume modern athletes would rather update their closet than stack their trophy case, the old school appeal of Big Baller Brand's alpha male aesthetic and new school approach to owned and operated endorsement could hit at just the right time, as many feel a shift is coming. Still, is the risk worth a potential $6 Million gamble? Probably not. Just the same, it's new, creative and brash — and it's gonna be fun to watch.
Lead image by Cal Sport Media via AP Images via ESPN