The first-round of the NBA Playoffs is the best pro basketball we've been privy to in years. Upsets are going down, play is physical and it legit feels like anybody can win.
What's even better? The young kids are showing out.
Rookie of the Year candidates Donovan Mitchell and Ben Simmons are playing certifiably great in their postseason debut, leading their team's statistically and emotionally while lining upon against some of the game's all-time greats.
While Mitchell and Simmons are not alone as stars on the rise without a shoe of their own namesake, they may be the best suited. Keeping in mind those already said to get their own shoe and those that still could, we hypothesize the future Kicks On Court for the best rising talent in the league.
Donovan Mitchell
Donovan Mitchell is a certified stud. Smooth and explosive like a young Dwyane Wade and able to score in bunches like Allen Iverson in his early days, Mitchell possesses a swagger on court that's fun to watch and easy to want to imitate.
Already with a Dunk Contest win under his belt and well-deserved Rookie of the Year chatter, Mitchell's rookie resume is almost that of Steve Francis. Based on his deal with adidas and how they've put their money where their mouth is in regards to rewarding accolades, it's easy to draw comparisons to Damian Lillard. Regardless, Franchise and Dame both saw shoes of their own namesake.
Our Prediction: Next season Donovan wears PE takes from Dame's line, helps lead the new Crazy Explosive and maybe even gets to rock the Yeezy basketball shoe. If he makes the 2019 All-Star Game he gets his own shoe for the 2019-20 season.
Anthony Davis
AD is a monster. Is he the next Shaq? The next KG? The next Duncan? It's hard to tell just how his game will grow, but we'd be willing to bet he's a franchise player for at least the next five years and a champion once it's all said and done.
Pushing price-point Air Maxes for Nike, it's been said big men can't move signature shoes. Is this true for AD?
Our Prediction: Sadly, the big man stigma of not being able to sell sigantures will likely plague AD, K Towns and Joel Embiid. A more mobile game and the counter-culture market could shift that stigma, but we don't see brands taking the risk.
Giannis Antetokounmpo
This one is kind of unfair because we already know Giannis is getting his own signature shoe. Yes, he's rocking kicks from the Kobe collection right now but in a year it won't be that way.
Our Prediction: Giannis will front new basketball technology for Nike the same way KG pushed Flightposite. If his star continues to rise, he'll be positioned right where Kobe was in regards to price point and innovation.
Devin Booker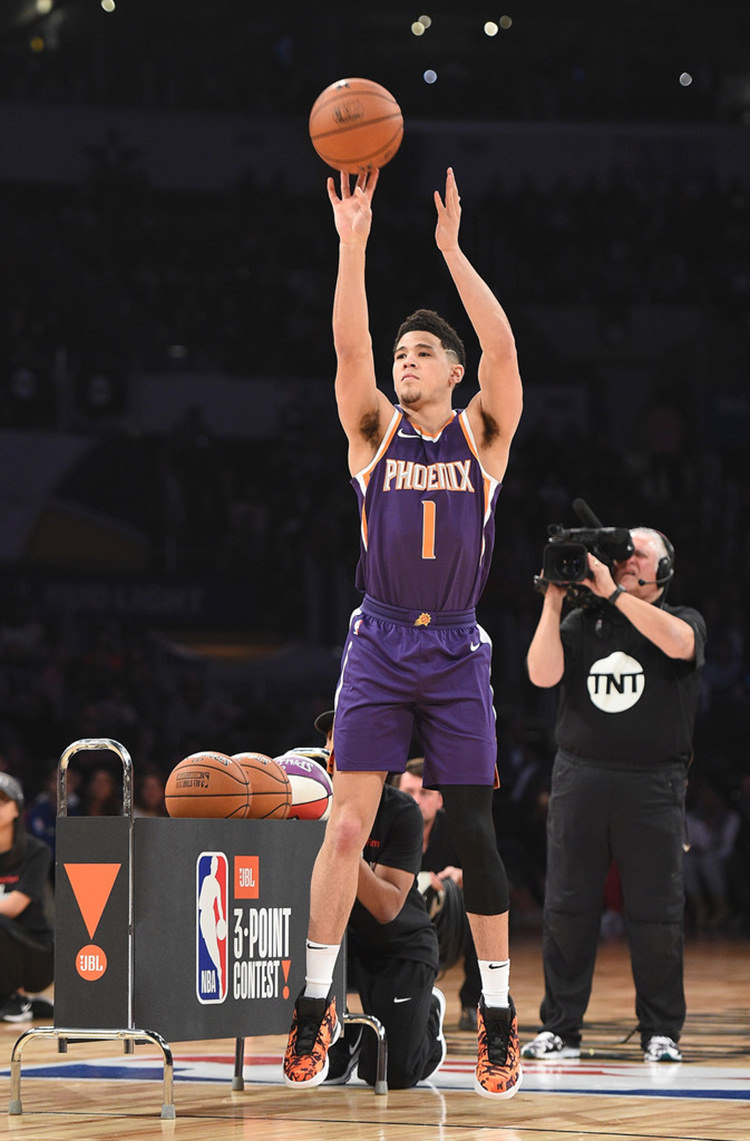 Devin Booker is a star. He's cool, he works hard and he's somebody fans want to be.
Is he the next Kobe Bryant? Is he the next Eddie Jones?
Regardless of where he ends up, he's an All-Star for many years to come and a win for his brand. The real question is whether or not Nike will utilize him as a signature star himself or the backer for a broader initiative.
Our Prediction: Devin Booker seems the like perfect player to the push the Protro series from Kobe. While that should mean some sick PEs it might not mean a signature shoe. With that said, if he continues to progress as a player and push from a business standpoint like say Paul George, we might see Book get his own shoe from Nike or even another brand.
Ben Simmons
Knighted by LeBron James himself, Ben Simmons is the best big guards we've seen in a while with the potential to be one of the best ones ever. His size, court vision and leadership skills make him the best passer in more than a minute all with the ability to bang and finish with the best of them.
Strikingly similar to Penny in regards to size and skillset, a signature shoe for Simmons seems like a must because this guy wearing inline Hyperdunks — sans Flyknit at that — is a waste.
Our Prediction: Simmons will be the face and feet of the next Hyperdunk with Nike warming him up the same way they did PG and Kyrie. If he continues to progress, he could be the next signature star for the Swoosh once LeBron retires but likely pushing a lighter model in regards to tech, weight and price.